You can't go wrong with dinner and a show. Just pick one of our acclaimed theatres, then match it with a nearby restaurant for a perfect night out in Chicago.
Restaurants near Broadway In Chicago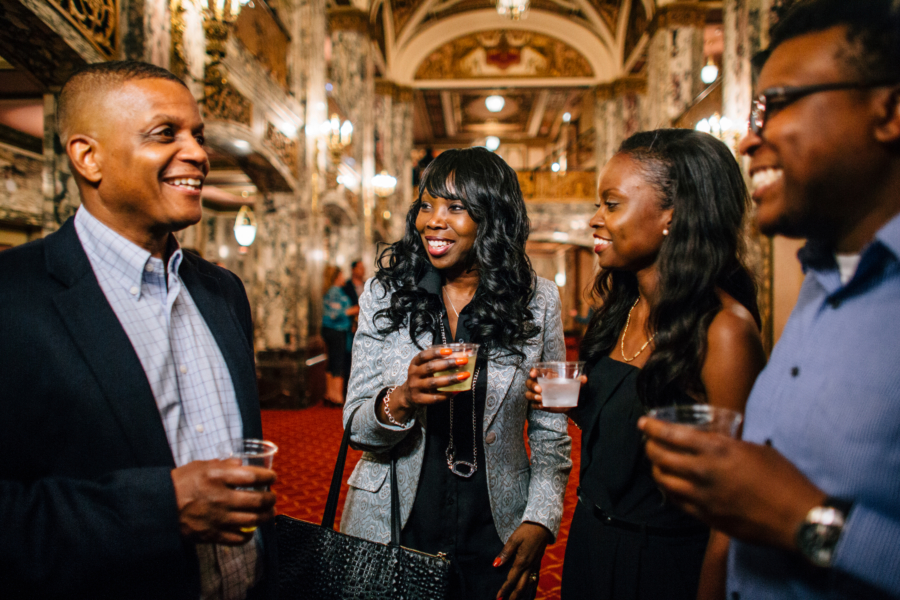 Broadway In Chicago brings the latest hits and timeless classic to Chicago's theatre district. These three classic Chicago theatres are all home to Broadway In Chicago productions — CIBC Theatre, Cadillac Palace Theatre, and the James N. Nederlander Theatre — and are all surrounded by amazing restaurants.
Chicago restaurants near the CIBC Theatre
The Gage: Slide into the leather booths for hearty American fare with Irish influences at the upscale tavern/restaurant.
Rosebud Prime: The homegrown Italian steakhouse chain is a must-visit downtown restaurant.
Italian Village: Enjoy an authentic Italian meal at one of the three restaurants under the same roof.
Chicago restaurants near the Cadillac Palace Theatre
Francois Frankie: The revolving carousel bar is a showstopper at this French-American brasserie.
Prime & Provisions: Splurge with a reservation at this slick American steakhouse just a quick stroll two blocks up on Clark Street along the Chicago River.
312 Chicago: A long-standing classic in the theatre district, serving Italian fare in a historic building.
Chicago restaurants near the James M. Nederlander Theatre
Atwood: A refined spot for American classics, craft cocktails, and people watching.
The Dearborn: This buzzy American-inspired tavern features comfortable booths and a stylish scene.
Petterino's: Dine on classic American dishes, prime steaks, and fresh seafood at the old-school Italian supper club.
If you're looking for dinner and a show all in one place, Cabaret ZaZou offers theatre-goers a dynamic and hilarious whirlwind of cabaret, music, cirque, and more (plus a multi-course meal) in a unique setting.
Restaurants near opera, symphony, and ballet theatres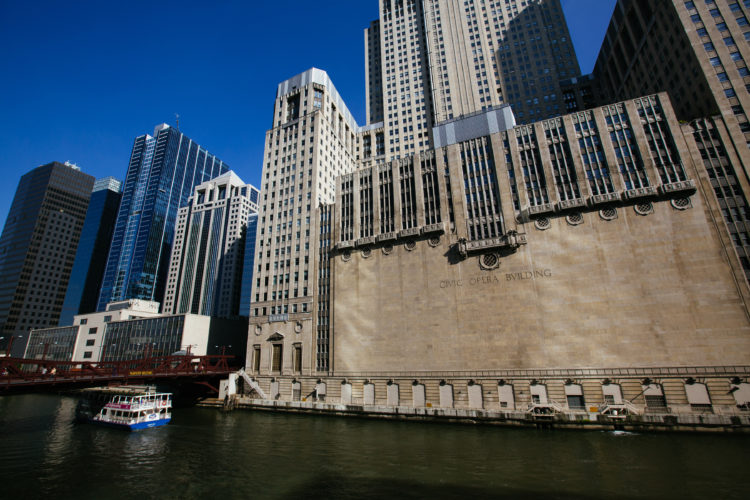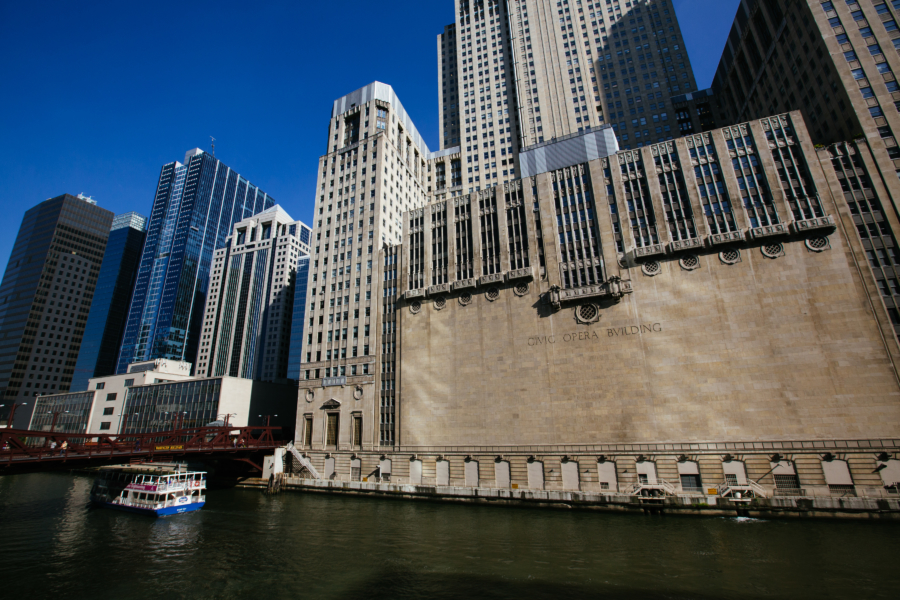 Catch exciting, diverse performances of music and dance at the Harris Theater, see classic ballet performances, contemporary dance, and philharmonic concerts come to life at Auditorium Theatre of Roosevelt University, watch the world-famous Chicago Symphony Orchestra play at its home, or experience breathtaking operas at Lyric Opera of Chicago. No matter which you choose, there's a great meal nearby.
Chicago restaurants near Auditorium Theatre
Taureaux Tavern: This French-American spot features an elevated but inviting atmosphere with traditional and creative dishes.  
Mercat a la Planxa: Nosh on Catalan-inspired tapas from Chef Jose Garces before heading to Michigan Avenue's storied Auditorium Theatre.
Plymouth Restaurant & Rooftop Bar: This year-round rooftop is a popular spot for drinks and bar fare.
Chicago restaurants near Chicago Symphony Center​
Acanto: Approachable Italian cuisine, plus a large wine list, in a relaxed setting.
The Berghoff Restaurant: Enjoy German classics and locally made beer at this Chicago institution.
Chicago restaurants near Lyric Opera of Chicago
Sepia: This award-winning West Loop spot serves rustic, seasonal dishes in an 1890 print shop.
Chicago French Market: Choose from some of the city's best restaurants and vendors, all under one roof.
Chicago restaurants near Harris Theater
Park Grill Chicago: Grab a bite to eat at Millennium Park and sit right beneath Cloud Gate, also known as "The Bean".
Avli on the Park: This airy space serves elevated Greek favorites within steps of Millennium Park.
Restaurants near Chicago's independent theatres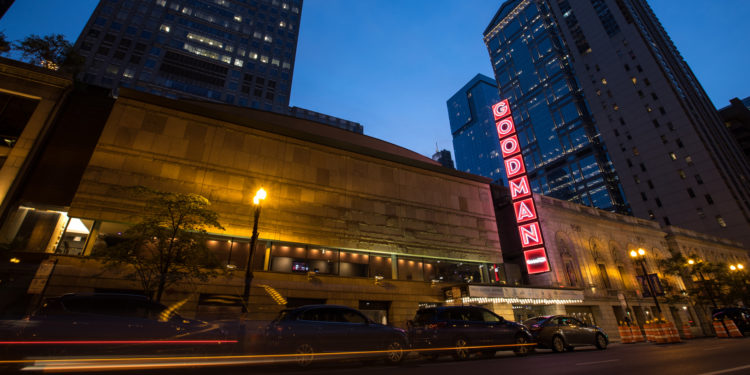 Chicago's independent theatres like Steppenwolf, Lookingglass, Goodman, and the Chicago Shakespeare Theater are the heart and soul of the city's cultural scene. These local gems regularly debut original show and cutting-edge work. Bonus: You can take advantage of Chicago's diverse neighborhood restaurants.
Chicago restaurants near Steppenwolf Theatre Company
BOKA: A Michelin-starred restaurant, where innovative, seasonal dishes are served in a whimsical yet sophisticated atmosphere.
Summer House Santa Monica: A sunny spot with wood-fired dishes and locally sourced ingredients.
Willow Room: An industrial chic space with refined plates and an impressive wine list.
Chicago restaurants near Lookingglass Theatre Company
Bistronomic: Dine on modern-day interpretations of French classics.
Marisol: Enjoy a dinner surrounded by modern art (both on the walls and on your plate) inside the Museum of Contemporary Art.
Chicago restaurants near Goodman Theatre
Petterino's: Dine on classic American dishes, prime steaks, and fresh seafood at the old-school Italian supper club right next door.
The Dearborn: An upscale take on a classic Chicago tavern, with refined food and craft cocktails.
Chicago restaurants near Chicago Shakespeare Theater
Pinstripes: Sneak in some Italian-American fare (and maybe a round of bowling) before the show.
Carsons Ribs: A classic spot for barbecue ribs and all your favorite sides.
Navy Pier restaurants: This lakefront attraction is jam-packed with dining options, from casual to sit down.
Restaurants near Chicago comedy clubs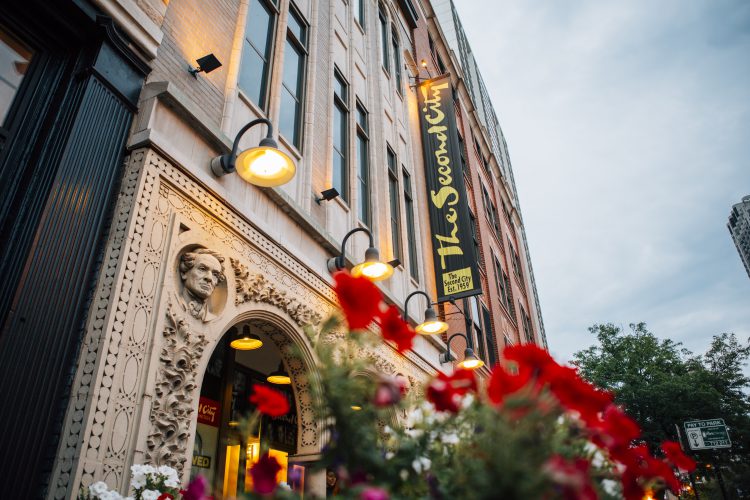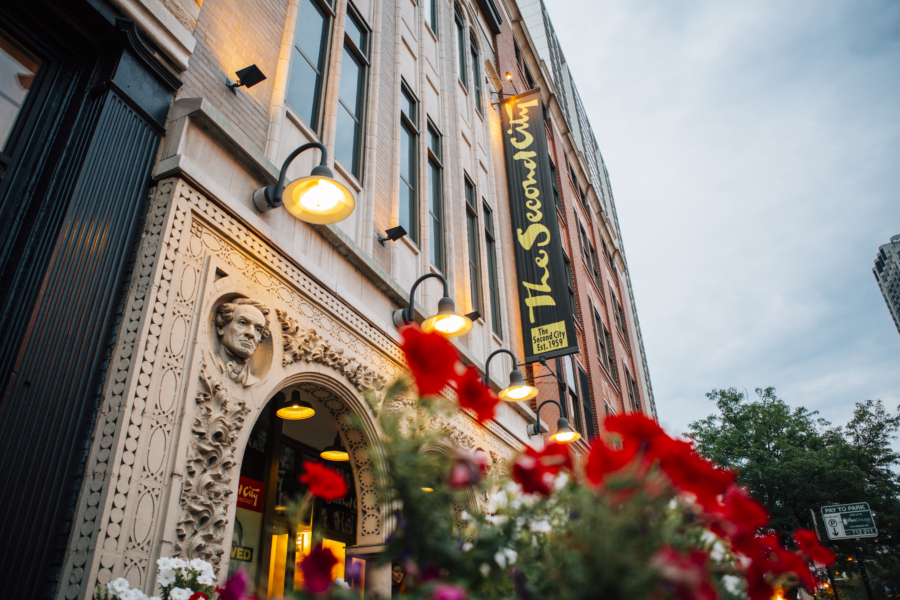 No trip to Chicago would be complete without experiencing the premier talent at one of the comedy clubs like The Second City, Zanies, and Laugh Factory. Laugh the night away at sketch comedy, standup, and improv in the Old Town neighborhood.
Chicago restaurants near The Second City and Zanies Comedy Nightclub
Gussie's Handmade Italian: Enjoy dishes made from fresh ingredients in a modern, airy environment. 
Twin Anchors: Ribs and comfort food classics can be found at one of the city's oldest restaurants.
Orso's: A cozy, family-owned Italian getaway on bustling Wells Street.
Chicago restaurants near Laugh Factory
DryHop: House-brewed beer and refined American fare at this local hangout.
Wilde: An upscale Irish pub with a cozy library vibe.
Buena Vista: A laid-back spot with front patio and casual Mexican fare.