Sports bars by Wrigley Field
Head to Chicago's Wrigleyville neighborhood for all things Cubs. Check out gameday at Gallagher Way where ticket holders can enter before or after the ballgame at no extra charge or visit Budweiser Brickhouse Tavern or Madden's Post along Gallagher Way.
The streets around Wrigley Field are lined with sports bars, and you really can't go wrong with whichever one you choose. Join the party before, after, and during the game at places like the Cubby Bear and Murphy's Bleachers. These long-time favorites are nearly as much fun as being at the stadium.
Here are a few more to put on your list:
Sports Corner
Three levels are filled with fan madness on game day at this Wrigleyville sports bar. Facing Wrigley Field at the corner of Addison and Sheffield, you can look right out at the stadium from the open-air roof deck. 
Deuces Major League Bar
An industrially hip bar complete with a Miami-style patio and gourmet burgers that won't disappoint.
Sluggers
You'll find batting cages, skeeball, and other games on the second floor, along with a dueling piano bar.
Stretch Bar & Grill
A sleek, cedar-paneled room awaits, plus draft beer, craft cocktails, and refined American bar food.
The Irish Oak
Classic Irish meets classic Cubs, with Irish food, Guinness on draft, and Cubs-themed decor.
Casey Moran's
Spacious, warm, and inviting, this Irish-influenced gastropub hosts six full bars, 30 plasma screens, an outdoor patio (with a retractable roof in case of rain), a VIP lounge, and rooftop garden.
Sports bars by Guaranteed Rate Field
Chicago White Sox fan? You're a little spoiled for choices at the ballpark itself. Guaranteed Rate Field's very own ChiSox Bar & Grill is a lively hangout where you'll enjoy drinks, pub grub, flat-screen TVs for miles, and a fair bit of memorabilia.
Here are a few more spots close to Guaranteed Rate Field.
Cork & Kerry
Sox fans flock to this Bridgeport bar to drink beer and indulge in Irish fare. The venue hosts live music after every Sox home game.
Turtle's Bar & Grill
Indulge in homemade appetizers, sandwiches, salads, and pastas. Check the chalkboard for specials and pick your ideal seat indoors or outdoors.
Mitchell's Tap
A low-key spot for classic bar grub, live music, and TVs for all us sports fans.
Maria's Packaged Goods & Community Bar
Maria's boasts a large rotating menu of bites, rare craft beers, and signature cocktails. New features include a Warped Space Beer Hall, front and back patios, and Kimski, a counter-service concept, highlighting Korean Polish Street food, helmed by Chef Won Kim.
Sports bars by Soldier Field
Located right on the shores of Lake Michigan, the views from Soldier Field are hard to beat. When it comes to pre- and post-game sports bar hopping, however, locals have a few favorites. Here's where to pre-game the Chicago Bears games.
Kroll's South Loop
A modern environment, Kroll's South Loop is the perfect setting for classic American bites like pizza and burgers, plus drink specials and TVs for sports fans.
The Scout Waterhouse + Kitchen
Warm and rustic, you'll be welcomed with a long beer list, innovative pub bites, patio seating and, of course, lots and lots of TVs.
A top-shelf beer list and TVs nestle within this vintage storefront bar.
Sports bars by United Center
Located on the Near West Side, the United Center sits in the midst of a vibrant, urban setting, surrounded by lots of food and drink options. Here are a few sports bar go-tos for Chicago Bulls and Chicago Blackhawks fans.
Park Tavern
Go upscale at the Park Tavern, where you'll find refined American fare and craft brews in a modern lodge setting, with TVs and a beer garden.
The Ogden Chicago
A gourmet pub menu, craft beers, and DJs spinning await.
WestEnd
If TVs are your thing, then WestEnd is your place. Thirty-three screens give patrons the ultimate viewing experience, while enjoying classic American bar food. The bar also offers free shuttles to and from United Center games.
Wise Owl Drinkery & Cookhouse
A beer garden, TVs, local brews, cocktails, and a creative menu of American classics are on offer here.
Chicago sports bars for watching soccer
Whether it's the World Cup or a local match, you can catch all the action on the pitch at these sports bars for soccer fans in Chicago.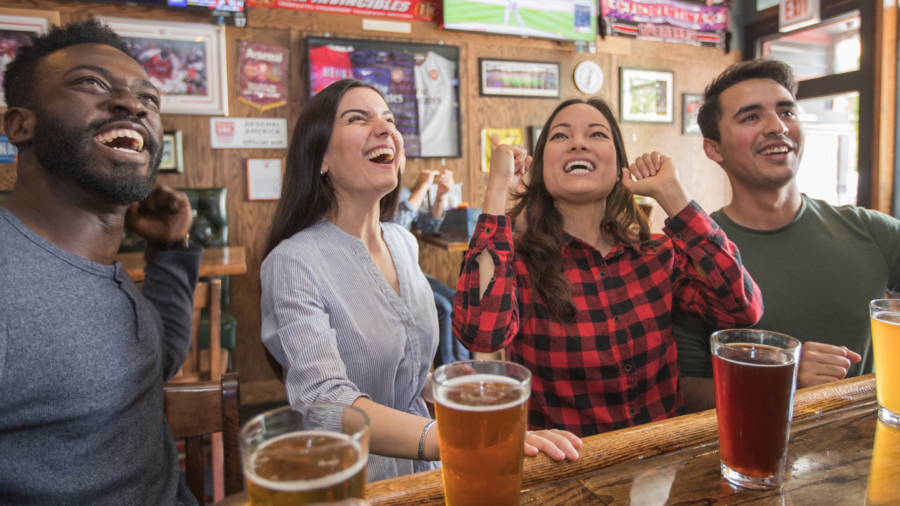 Locals know this spot as a haven for soccer fans. The Globe Pub is housed in a 100-year-old building and feels like a British pub — with 20 smart TVs playing as many international and national sporting events possible. They also have one of the longest beer lists in the city.
Cleo's Bar and Grill
This casual neighborhood spot is popular with game day crowds. You can catch all the American and international match-ups at Cleo's, particularly the Premier League games on the weekends.
GO Tavern
A liquor store/full-service bar, GO Tavern hosts regular watch parties for Chicago Fire away games and most United States men's national soccer team games. They've also got an extensive beer list, plus lots of bottles to bring home with you.
fado
This classic Irish pub in the heart of River North opens early for English premier League games on the weekends. Fado is also considered the official Chicago home of Manchester United fans.
Loop and River North sports bars
If sports bars are your thing whether or not you have tickets to a game, Chicago's Loop, and River North areas are a great place to be.
Harry Caray's 7th Inning Stretch
Located next door to The Chicago Sports Museum, where you'll find one of the biggest Chicago sports memorabilia collections on display, Harry Caray's 7th Inning Stretch is named after the legendary sportscaster. The menu here is dominated by local craft beers and classic comfort foods.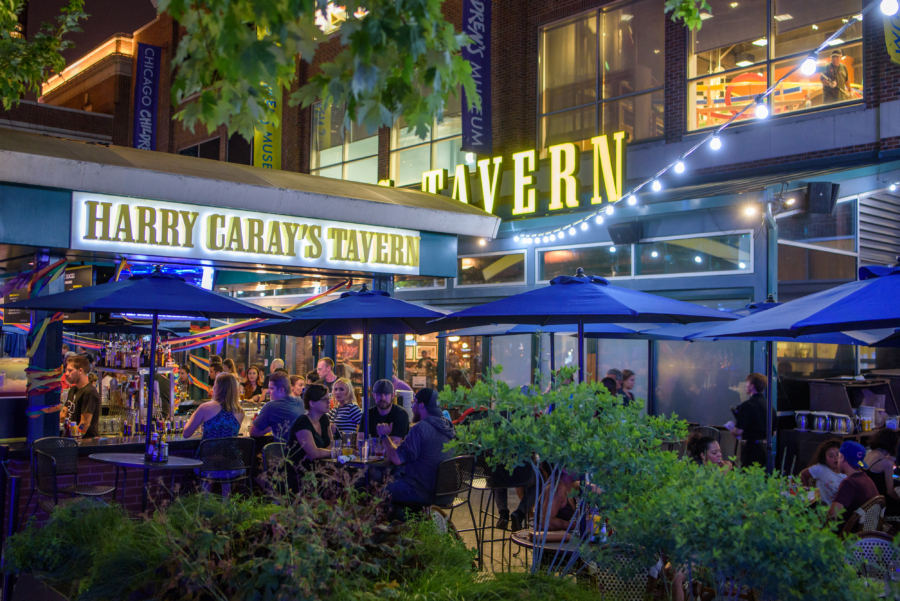 Harry Caray's Tavern
If you're headed to Navy Pier, hang out at the Harry Caray's Tavern outpost there. And if it's summertime (aka baseball season), have your drinks on the patio where TVs light up the outside bar.
Municipal Bar + Dining Co.
This River North hot spot has a cool warehouse vibe, plus booze, pub food, and TVs (and it's open late!).
Public House
You'll find elevated pub grub in a modern, rustic environment at the Public House in River North. There are over 100 beers to choose from (some booths even have their own beer taps!). And, of course, lots of TVs.
Butch McGuire's
This has been a staple since the advent of singles bars; even Hugh Hefner used to frequent the place!
Miller's Pub
Reopened in 1935, this is a favorite Loop locale. Grab a beer during the week and toast to the legendary Bill Veeck, who has his own honorary corner of the bar. "Veeck's Corner" pays tribute to the man who brought ivy to Wrigley Field, home of the Chicago Cubs, and fireworks to home run moments for the Chicago White Sox.