Chicago's stunning cityscape has been shaped by some of the biggest names in architecture — Louis Sullivan, Frank Lloyd Wright, Mies van der Rohe, Jeanne Gang, Daniel Burnham, and beyond. No matter where you look, the city is full of architectural wonders, from soaring skyscrapers in the heart of downtown to historic landmarks in our vibrant neighborhoods.
If you're looking to dive into Chicago architecture, explore our must-see sites and packed list of architecture events, tours, and cruises where you can learn the fascinating stories behind the buildings.
Chicago architecture styles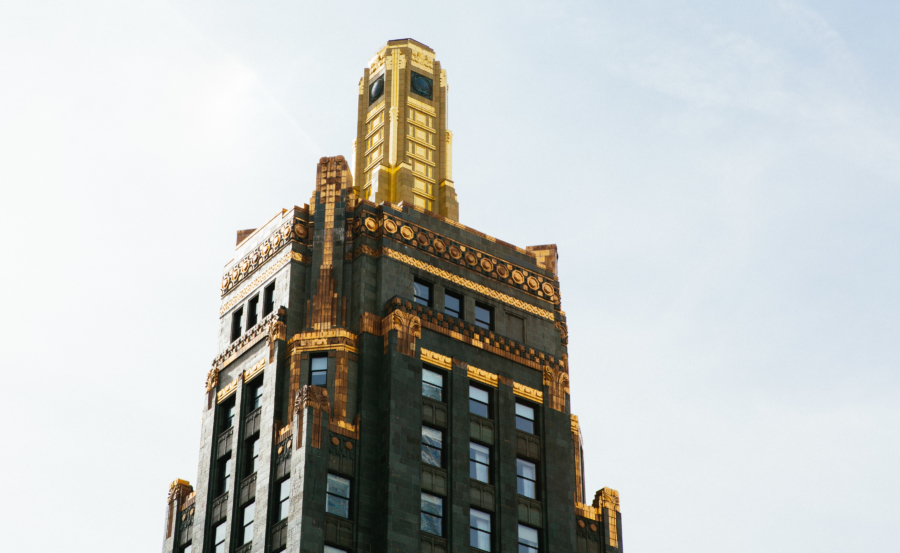 Art Deco: Maybe one of the most famous styles of architecture, Art Deco shines in Chicago's downtown. Created in the exuberant optimism of the Roaring Twenties, Art Deco has come to represent opulence and glamour. One striking example is Chicago's Carbide and Carbon Building, designed to look like a Champagne bottle and finished with real gold.
Notable examples: Carbide and Carbon Building, The Merchandise Mart, Chicago Board of Trade Building 
Chicago School: After the Great Chicago Fire, the city began to rebuild at an extraordinary pace, leveraging the latest techniques and technology to take the city's architecture to new heights that were previously unimaginable. Legendary architects like Burnham and Root, William Le Baron Jenney, and Louis Sullivan finished these structures with decorative elements and delicate details, making Chicago School instantly recognizable. 
Notable examples: Reliance Building, Monadnock Building, Sullivan Center
International Style: The International Style is a type of modern architecture born after World War II, known for its steel-and-glass exteriors, minimal (if any) ornamentation, and open interiors. Perhaps no one did it better than Mies van der Rohe, who crafted many important Chicago buildings (the city has more of his designs than any other).
Notable examples: One Illinois Center, 330 N. Wabash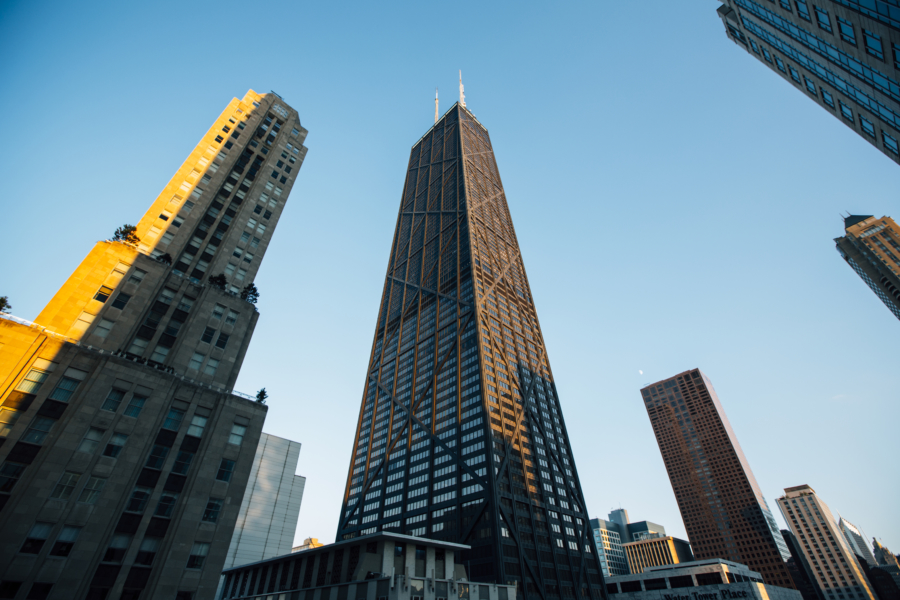 Mid-Century Modernism: This distinctive style comprises many of the Chicago skyline's most instantly recognizable buildings. Mid-Century Modern takes the technical precision of the International Style and experiments with new materials like concrete and more sculptural, organic forms (like the iconic Marina City corn cobs).
Notable examples: 875 N. Michigan Ave., Willis Tower, Marina City
Postmodernism: Some of the city's most eye-catching buildings are those that follow the Postmodern style. While the International style adheres to clean lines and minimal decoration, Postmodernism is all about being creative, eclectic, and sometimes a little quirky. Think curved forms, asymmetry, bright colors, and generally breaking with tradition. 
Notable examples: James R. Thompson Center, Harold Washington Library, 333 West Wacker Drive
Other architectural styles represented in Chicago include Deconstructivism (Pritzker Pavilion), Gothic Revival (Tribune Tower, Chicago Water Tower), Spanish Colonial Revival (Wrigley Building), and more.
The city's neighborhoods are also filled with the city's distinctive styles of residential architecture: bungalows, worker's cottages, greystones, and more. See for yourself in our neighborhood historic districts. You'll also find plenty of examples of Frank Lloyd Wright's Prairie style throughout Chicago and the surrounding suburbs. 
Chicago architecture events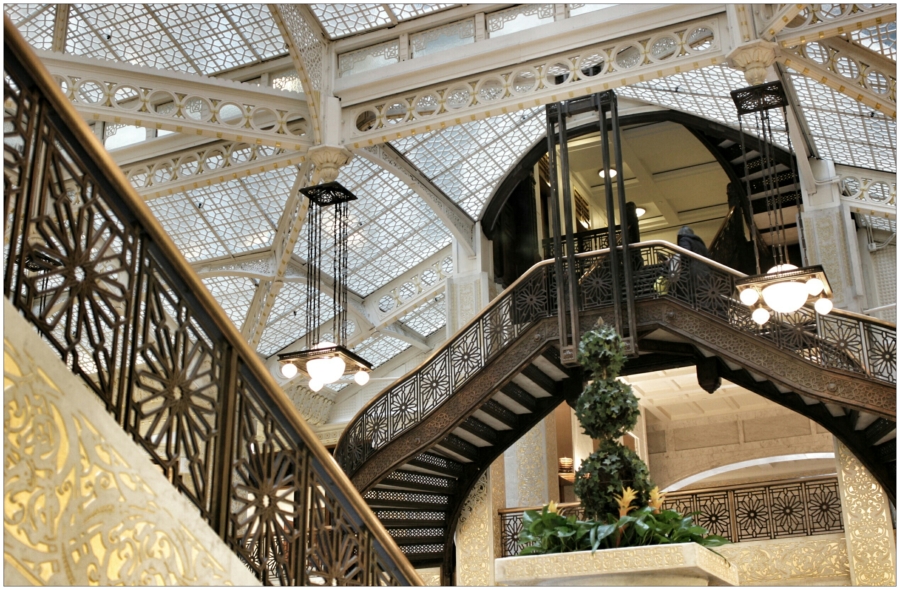 Open House Chicago: Have you ever walked by an interesting Chicago building and wished you could take a peek inside? You'll get your chance during Chicago's annual Open House Chicago, a free festival hosted by the Chicago Architecture Center each October. 
More than 100 significant buildings open their doors for the public to explore. Sites range from soaring skyscrapers to opulent mansions and exclusive private clubs, many of which are rarely open to the public. 
Chicago Architecture Biennial: Explore the past, present, and future of architecture at the Chicago Architecture Biennial. The free event, which happens every other year, takes over the Chicago Cultural Center and other sites around the city with events and exhibits. Each exhibition is developed by a new group of curators from a variety of art and design disciplines and features new themes and collaborators from around the world.
Check out more art and architecture events in Chicago throughout the year.
Chicago architecture boat tours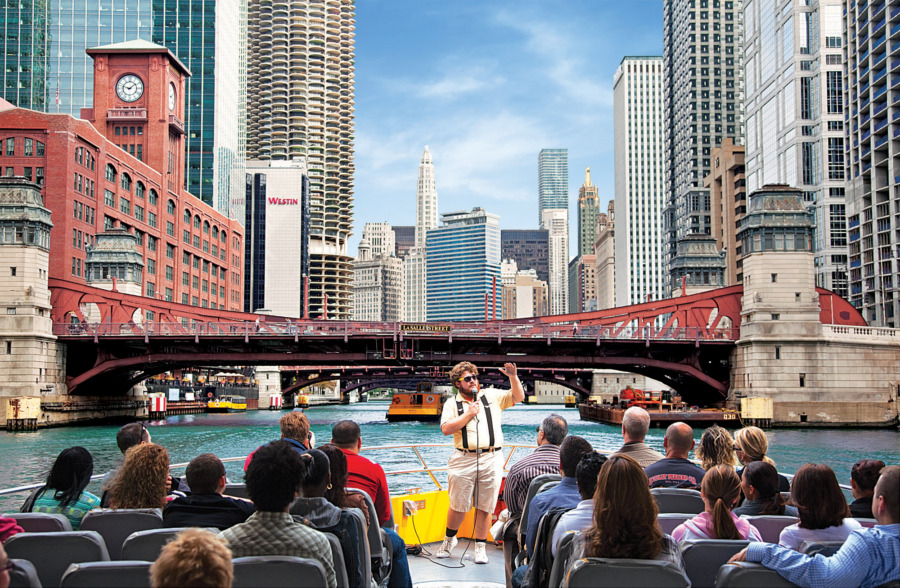 City Cruises: City Cruises offers a variety of architecture tours, including elegant brunch cruises on a glass-enclosed river boat.
Mercury, Chicago's Skyline Cruiseline: Admire epic skyline views from the river and lakefront, while enjoying narration about the city's history.
Chicago Architecture Center River Cruise: Expert docents share the fascinating stories behind more than 50 buildings along the Chicago River from aboard Chicago's First Lady. 
Wendella Tours & Cruises: Billed as Chicago's original architecture tour, Wendella offers tours of the city's waterfront buildings on the Chicago River and Lake Michigan. 
Shoreline Sightseeing: Gaze skywards as you sail past dozens of Chicago landmarks along the Chicago River on this engaging architecture tour. 
Ready to set sail? Check out more Chicago architecture boat tours on the lake and river.
Chicago architecture walking tours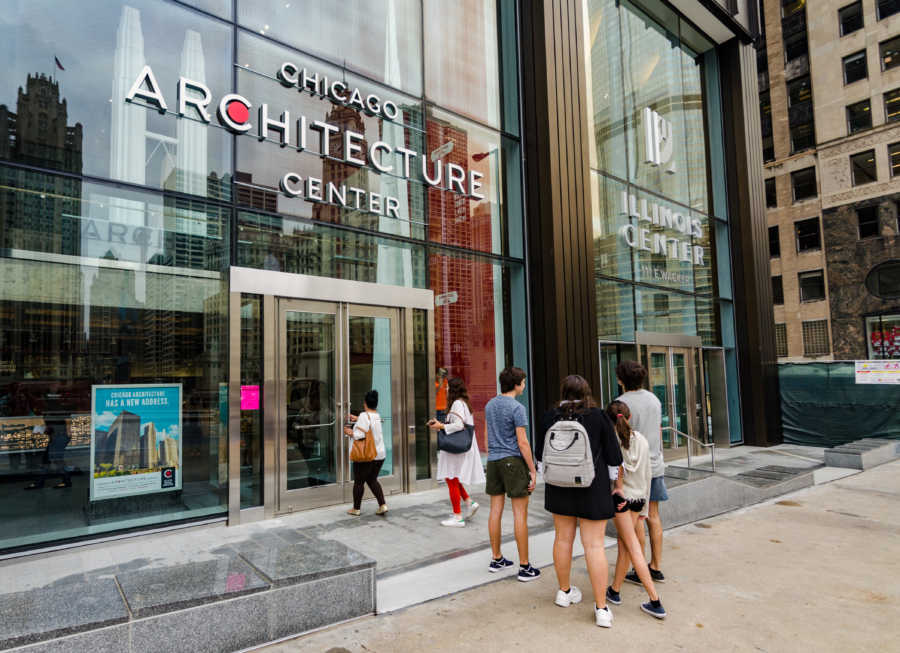 Chicago Architecture Center tours: Explore the city on foot, on the train, or on a bus — all with a highly trained docent as your guide. Choose from tours that explore must-see sites and Chicago icons or head into the neighborhoods to uncover hidden gems.
Inside Chicago Walking Tours: This locally owned tour company specializes in architectural interiors, so you can step inside some of the city's most famous buildings. Tours explore the downtown Loop, Art Deco masterpieces, and even allegedly haunted spots. 
Tours With Mike: You can take Mike's Architecture's Greatest Hits tour. Or you can take his irreverent Ugly Buildings tour, a unique experience that shares the untold stories of some of the city's lesser known, but no less interesting, structures. 
L Stop Tours: A family-owned company, L Stop Tours offers walking tours incorporating the city's 'L' trains for a unique local perspective. Their tour of the Loop focuses on the area's one–of–a–kind architecture, from the spectacular lobby of The Rookery to soaring skyscrapers. 
Explore more Chicago architecture tours by foot, bus, train, and boat.