.Chicago is full of truly unique architectural wonders. The birthplace of the world's first skyscraper, the city's downtown has always been a place for architectural innovations. Today, it's home to some of the most striking and recognizable structures in the world. If you're looking to explore Chicago's downtown architecture, you're in for a packed day of breathtaking buildings and one-of-a-kind gems in the Loop, River North, and beyond.
Architecture in the Loop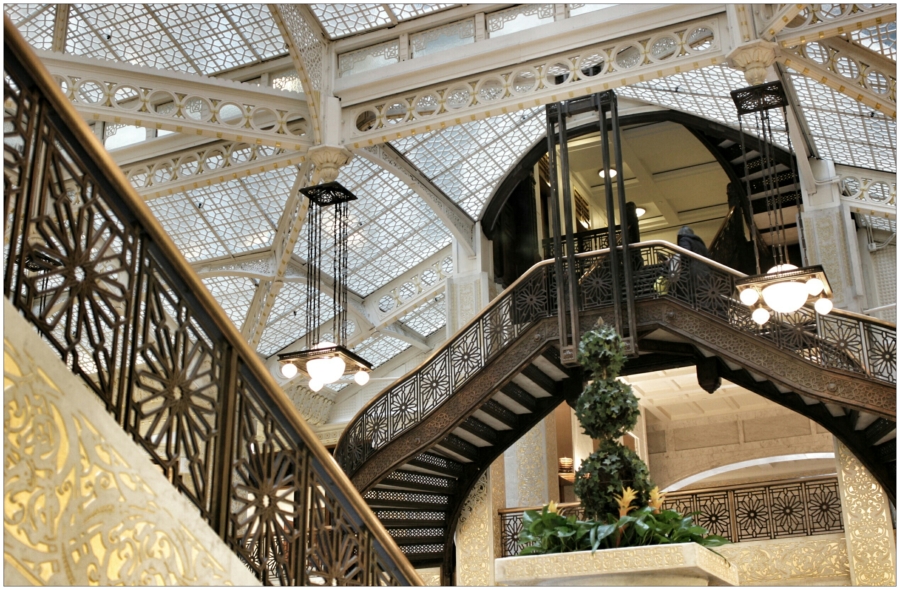 Rookery Building
On the National Register of Historic Places and a Chicago Landmark, the picturesque Rookery was designed by famed architectural partners Burnham and Root. Built during a transition period in architectural construction, it uses both load-bearing masonry and steel frame elements of the Chicago School of Architecture. Frank Lloyd Wright redesigned the two-story skylight lobby in 1905 – 1907. 209 S. LaSalle St.
Willis Tower
An architectural achievement, the skyscraper designed by the renowned firm Skidmore, Owings & Merrill rises to a height to 1,450 feet. See breathtaking, 360-degree views of Chicago from one of the Western Hemisphere's tallest buildings on its observatory Skydeck Chicago and experience The Ledge. 233 S. Wacker Dr.
Aqua Tower
Located near the shores of Lake Michigan, this water-inspired tower is no standard skyscraper — it's more like outdoor sculpture. This shimmering multi-use high rise by "genius grant" MacArthur Fellowship winner Jeanne Gang connects strongly to the outdoors and the city, with outdoor terraces that give it its distinctive undulating appearance. 225 N. Columbus Dr.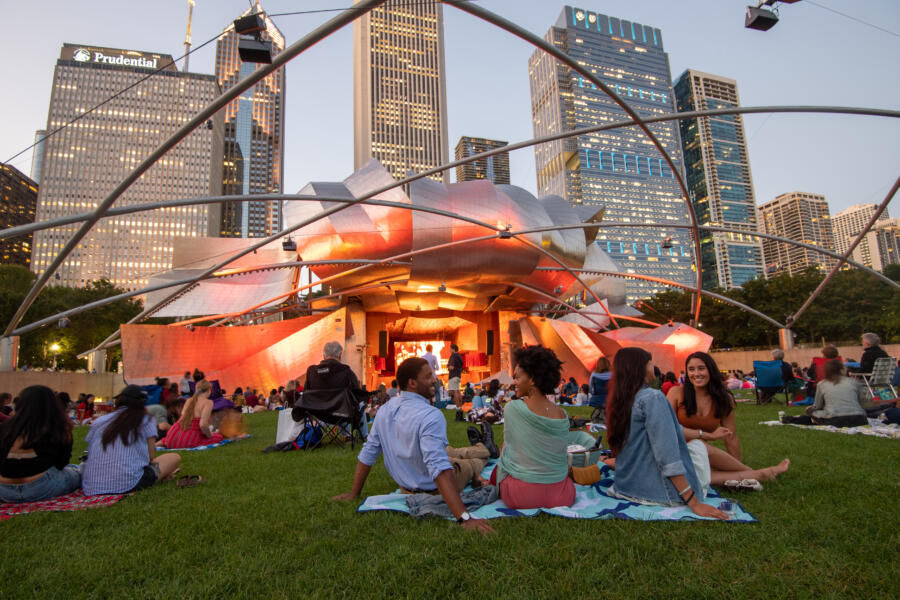 Pritzker Pavilion
Located in the heart of Millennium Park, Pritzker Pavilion is a show-stopping venue for music, dance, film, and more. The dynamic stainless steel bandshell, designed by legendary architect Frank Gehry, captures the feeling of movement and energy. The trellis system overhead provides precisely placed speakers for a perfect acoustic experience. Set against the skyline, it's an unforgettable place to see a show. 201 E. Randolph St.
Monadnock Block
The last of the great masonry skyscrapers, the Monadnock's solid block form conveys strength and sturdiness, though it is actually comprised of two narrow, connected office towers. Its architects Burnham & Root insisted on vertical simplicity and it is famed for its absence of ornamentation. The south addition is an early example of steel-frame construction. A harmonious combination, they mark the end of one architectural tradition and the transition into a new one. 53 W. Jackson Blvd.
Architecture near The Magnificent Mile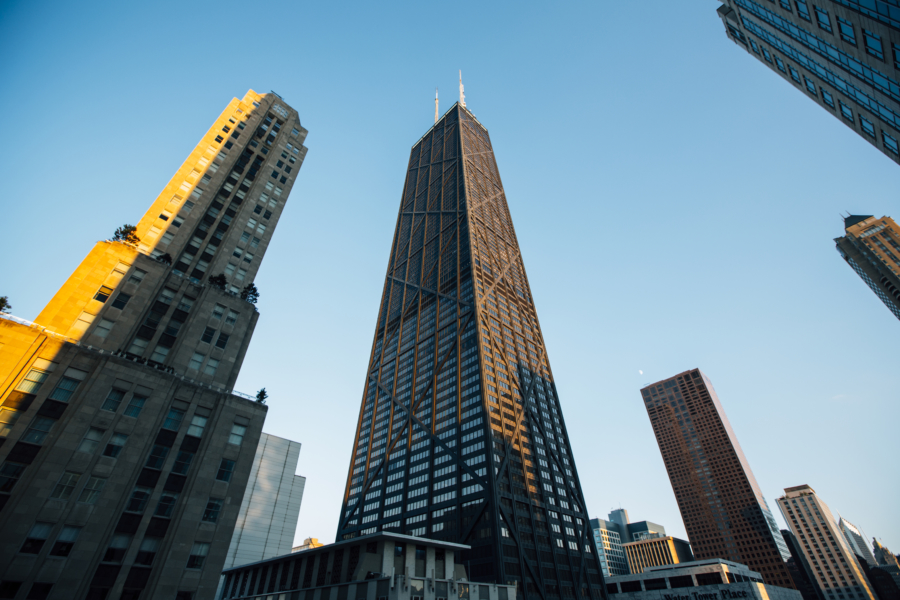 875 N. Michigan Ave. (formerly the John Hancock Center)
One of the most iconic buildings of the city's skyline, 875 N. Michigan Ave.— with its gutsy design in the tradition of industrial Chicago — offers a stunning view 1,000 feet up from the award-winning 360 CHICAGO (formerly the John Hancock Observatory). Additionally, The Signature Room at the 95th and The Signature Lounge at the 96th both offer terrific views of the city while you enjoy food and drinks. 875 N. Michigan Ave.
Wrigley Building
For over 75 years, the Wrigley Building has been recognized as one of Chicago's most attractive buildings. Its dazzling white terra-cotta cladding, striking architecture, and nighttime lighting have established it as a symbol of Chicago in many books, films, and television programs. This splendid building is an unforgettable site, day or night. 400 N. Michigan Ave.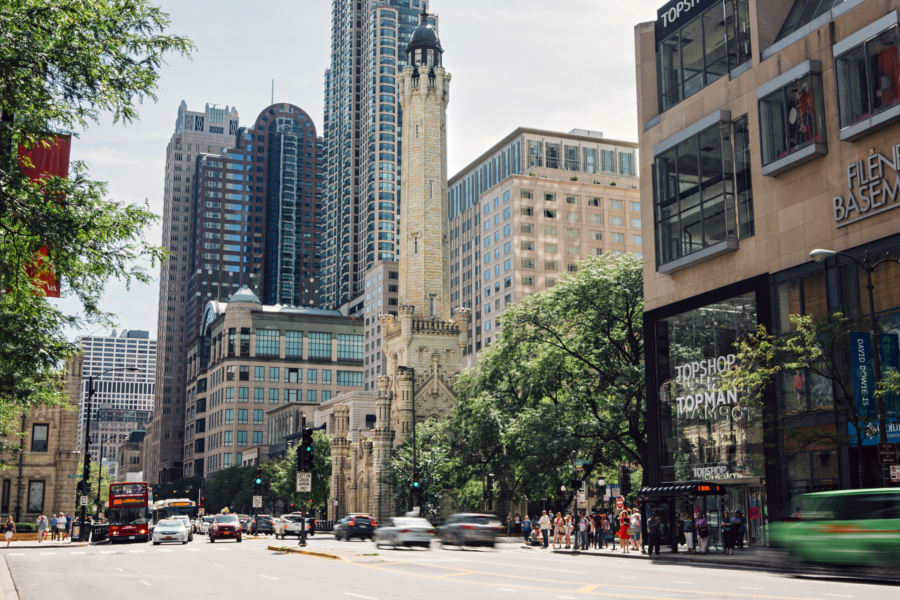 Historic Water Tower
This diminutive limestone tower stands proud in a cityscape of sleek glass and steel architecture. As one of the few buildings to survive 1871 Great Chicago Fire, it is a beloved symbol of Chicago's enduring spirit. Resembling a miniature medieval castle, the Gothic-style structure was built in 1869 by William W. Boyington and is part of the Old Chicago Water Tower District, which includes the Chicago Avenue Pumping Station and a Fire Station built in 1904. 806 N. Michigan Ave.
Tribune Tower
A Chicago Tribune competition in 1922 spurred a flood of international entries all vying to create "the most beautiful and distinctive office building in the world" for the newspaper's new headquarters. The design by the New York firm Howells and Hood was selected out of over 250 concepts and today their Neo-Gothic limestone tower — complete with elegant buttresses, beautifully carved stonework, and an octagonal campanile — forms a grand gateway to The Magnificent Mile. 435 N. Michigan Ave.
Architecture in River North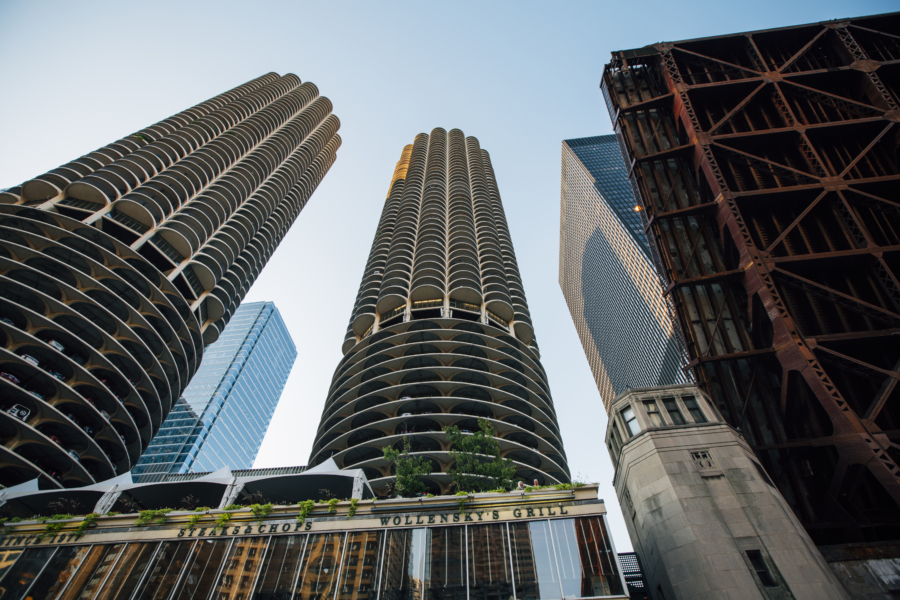 Marina City
Designed by the great Chicago architect Bertrand Goldberg, these riverside twin "corn cobs" fascinated Chicago and the world when it opened in 1962. At that time, the mixed-used complex was the tallest residential building and tallest concrete structure in the world. 300 N. State St.
Trump Tower Chicago
The 92-story condo/hotel tower is Chicago's second-tallest building, with a height of 1,398 feet including its needle-like spire, and was designed by acclaimed firm Skidmore, Owings & Merrill (who also brought Chicago the Inland Steel Building, Willis Tower, and the 875 N. Michigan Ave.). The gleaming glass, steel, and concrete structure rises prominently from its base at an oblique angle along the Chicago River's curve, though a series of three setbacks that are level with the height of its surrounding neighbors and provide visual context within the skyline. 401 N. Wabash Ave.
330 N. Wabash (aka IBM Plaza and AMA Plaza)
Developed by a master of the modernist movement, Ludwig Mies van der Rohe, this straightforward, rectangular monolith was the last American office building he designed. Steel and glass combine in shades of black and gray to form an archetypal example of the "Miesian" skyscraper and his aesthetic: minimalist, exact, symmetrical, functional…an ethos famously summed down to "less is more." 330 N. Wabash
theMART
Encompassing 4.2 million square feet, theMART is the world's largest commercial building, largest wholesale design center, and one of Chicago's premier international business locations. The massive space hosts many trade shows and events, and public areas include high-end kitchen and bath showrooms and retail shops. And in the evenings from March through December, the landmark building's facade lights up with Art on theMART. 222 N. Merchandise Mart Plaza
Architecture boat tours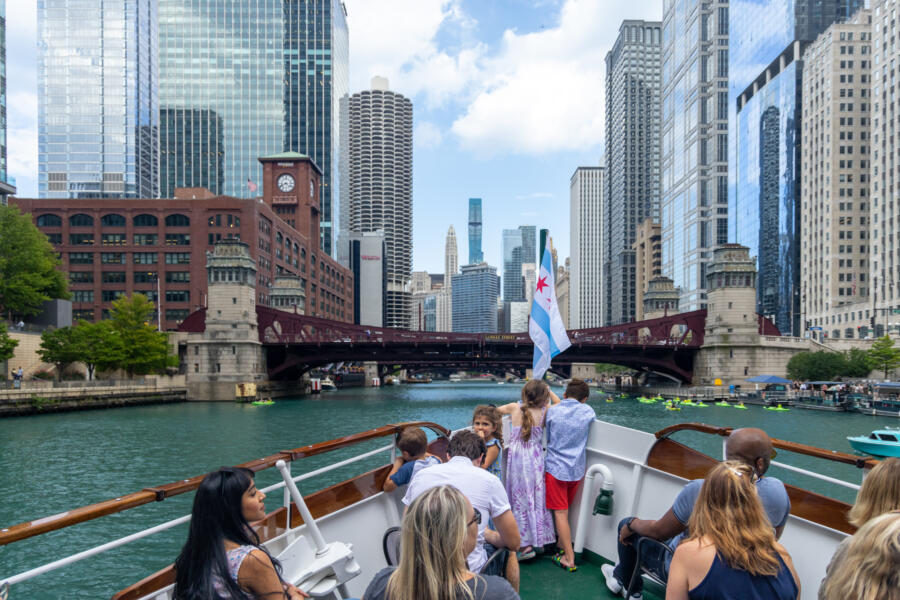 One of the best ways to learn more about the downtown cityscape is through an architecture cruise along the Chicago River. One of the most popular options is the Chicago Architecture Center River Cruise aboard Chicago's First Lady, which covers the stories behind more than 50 buildings and structures along the waterway.
Other skyline tours by boat are held aboard Shoreline Sightseeing, City Cruises, Chicago Fireboat Tours, and Wendella Sightseeing Boats. All offer great views and great stories of Chicago's iconic skyscrapers.