It's the inspiration kids find in all the things to do and see in Chicago that makes the city feel like home — if home was the ultimate playground. From toddlers to teens, there's a family friendly activity or attraction to satisfy every interest and fuel all imaginations.
Kid-friendly attractions & museums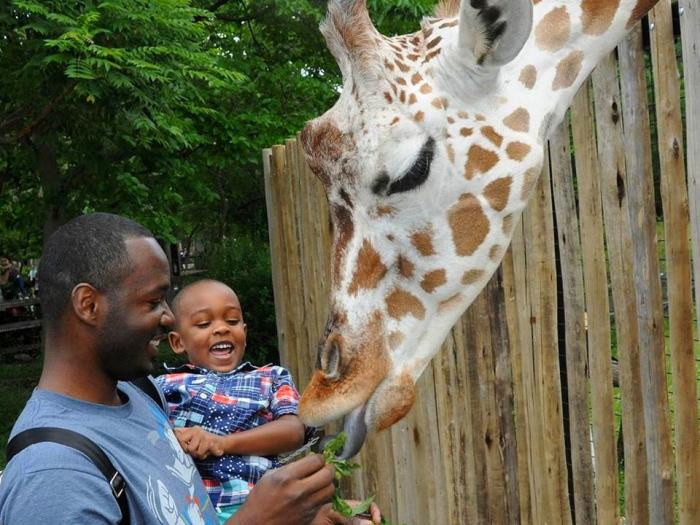 Lincoln Park Zoo
Free to the public, this is one of the nation's oldest zoos. Kids love the old-school carousel, locomotive rides, and the Pritzker Family Children's Zoo, a kid-friendly home for North American animals. Just next door is the Farm-in-the-Zoo, which gives kids the chance to pet goats, cows, and ponies, and experience a little country life in the city.
Brookfield Zoo
Brookfield Zoo is set within a 216-acre nature park. World-renowned, the zoo's 2,000+ residents have captivated and educated visitors since 1934. Don't forget to take in a dolphin show at Seven Seas, and sign up for seasonal giraffe feedings, penguin encounters, and education-focused animal kingdom experiences.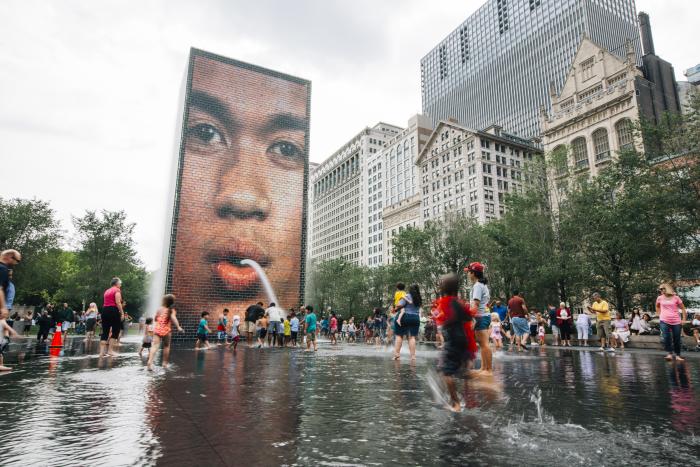 Millennium Park
In the Millennium Park each summer, kids splash around in Crown Fountain's shallow pool and dash under water spouting from the lips of video-projected Chicago locals. Springtime is perfect for a self-guided scavenger hunt through Lurie Garden. In winter, skate with the city skyline as your backdrop at magical McCormick Tribune Ice Rink. And no matter the season, and make faces in the reflective surface of the stainless steel sculpture Cloud Gate, aka "The Bean."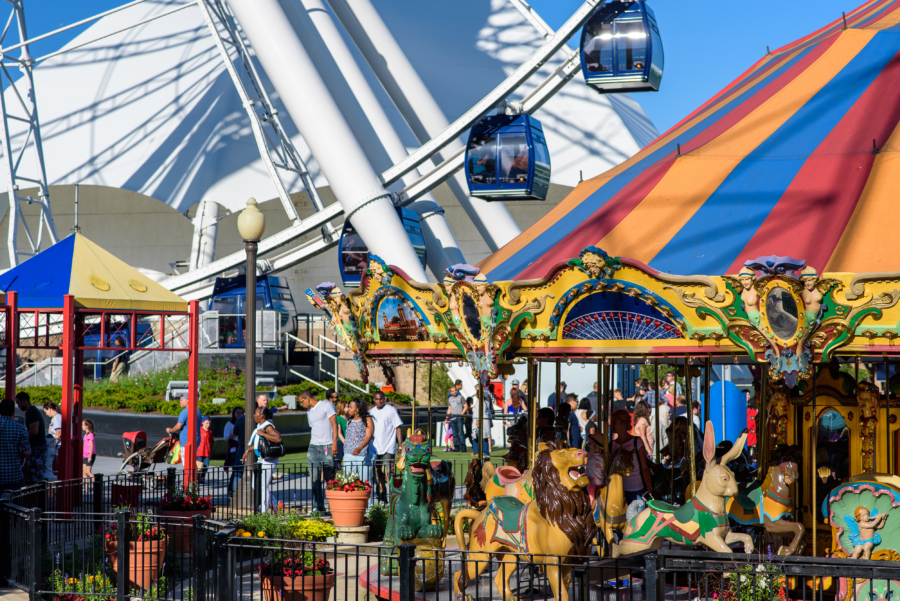 Navy Pier
Iconic Navy Pier is the place for rides on a towering climate-controlled Ferris wheel, an old-fashioned Wave Swinger, and a whimsical 1920s-inspired musical carousel at Pier Park. And it's the place to feel the excitement of summer fireworks, sightseeing cruises, Segway tours, an amazing maze, the Chicago Children's Museum, fun stores, and movies at a mind-blowing IMAX theatre.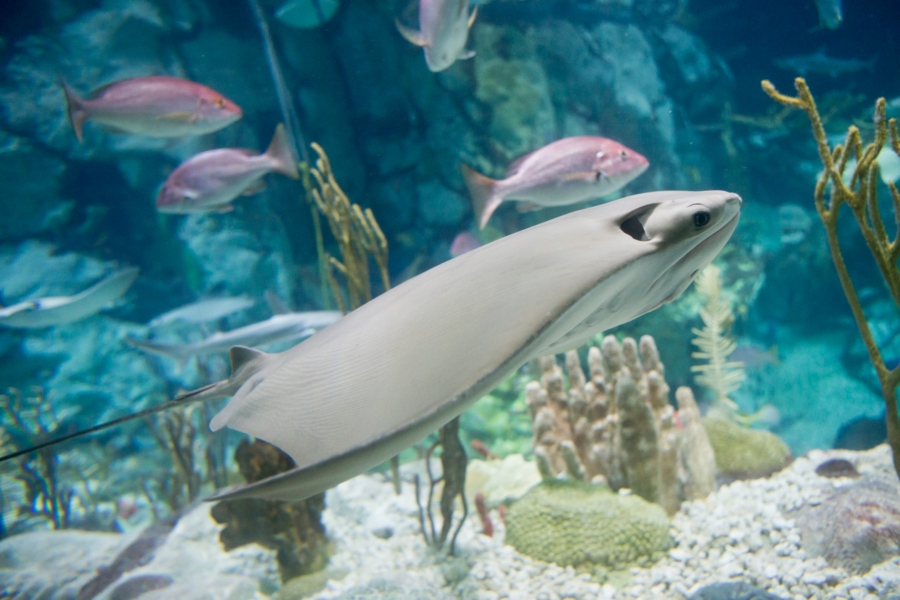 Shedd Aquarium
Right next door to Adler Planetarium and Field Museum on the Museum Campus, Shedd Aquarium gives new meaning to "wow." Not only can you explore underwater worlds from across the globe, but the Shedd offers unique, up-close-and-personal experiences, like museum sleepovers, behind-the-scenes tours, and extraordinary animal encounters, like joining in a shark feeding tour, being a trainer for a day, and interacting with stingrays.
Art Institute of Chicago
Don't think the kids will enjoy an art museum? Then you haven't visited the Art Institute's Thorne Miniature Rooms. These meticulously reproduced miniature rooms bring the world of art and architecture to a kid's level. There's also free admission to the Ryan Education Center, which hosts special events, interactive workshops, and family programming for kids 14 and under.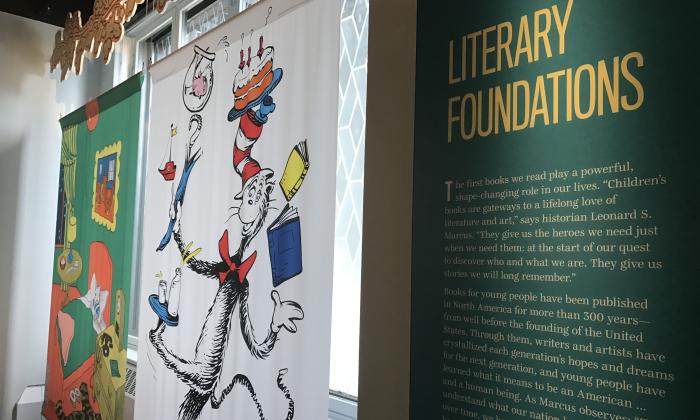 American Writers Museum
Visit the Children's Literature Gallery at the American Writers Museumto get the kids all fired up about reading. A fabulous mural created by celebrated illustrator and author Paul O. Belinsky adorns the gallery, depicting friendly squirrels reading classic kids' books.
Bronzeville Children's Museum
The Bronzeville Children's Museum is the first African American children's museum in the country. It's filled with exhibits for children aged 3 to 9, with a unique tour format that ensures kids get maximum educational value from each exhibit.
Chicago Children's Museum
Kids can stretch out, crawl, and use all five senses throughout interactive exhibits such as WaterWays, Dinosaur Expedition, and Treehouse Trails. Best of all, the Chicago Children's Museum is located at Navy Pier — a goldmine of family-friendly things to do on Chicago's scenic lakefront.
Chicago History Museum
Climb aboard the very first 'L' train car, ride a high-wheel bicycle, hear the Great Chicago Fire, catch a fly ball at Comiskey Park, smell the Union Stock Yard, dive into a giant Chicago-style hot dog — all at the Chicago History Museum.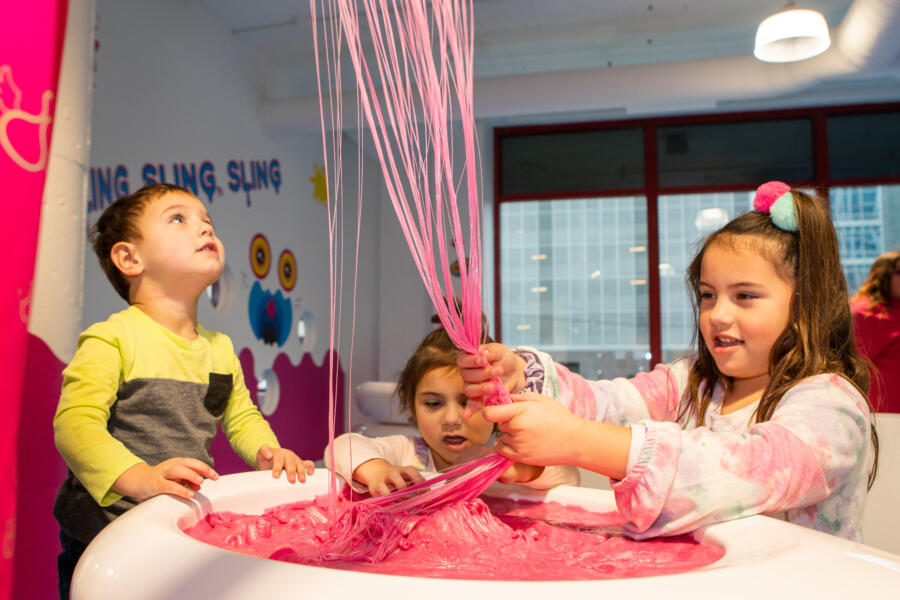 Sloomoo Institute
Kids — and kids at heart — and invited to experience the Sloomoo Institute's interactive slime museum. Visitors can explore a variety of hands-on exhibits featuring all sorts of textural, scented slimes. Come experience the joys of sensory play, soothing ASMR, and contemporary art.
Chicago Sports Museum
The Chicago Sports Museum combines high-tech interactivity with unique sports memorabilia and an impressive collection of game-used treasures and other artifacts. Kids can test their skills against some of the all-time greats, use CSI-type technology to unravel some of Chicago's most infamous sports mysteries, step into a replica broadcast booth and call a game just like Harry Caray, and so much more.
Field Museum
Field Museum takes adventure to a whole new level with the likes of SUE the T. rex, man-eating tigers, and Máximo the Titanosaur, the largest dinosaur known to man. The Field sits on the lakeside Museum Campus, along with Adler Planetarium and Shedd Aquarium. Take a Shoreline Sightseeing boat from Navy Pier or Willis Tower and explore all three.
Museum of Science & Industry
The Museum of Science & Industry is the largest science museum in the Western Hemisphere, which means there's plenty of room for spinning tornados, a real-life U-boat, trains, planes, and, well, just about everything else you could possibly imagine. Oh, and don't miss screenings at the five-story, wraparound Giant Dome Theater.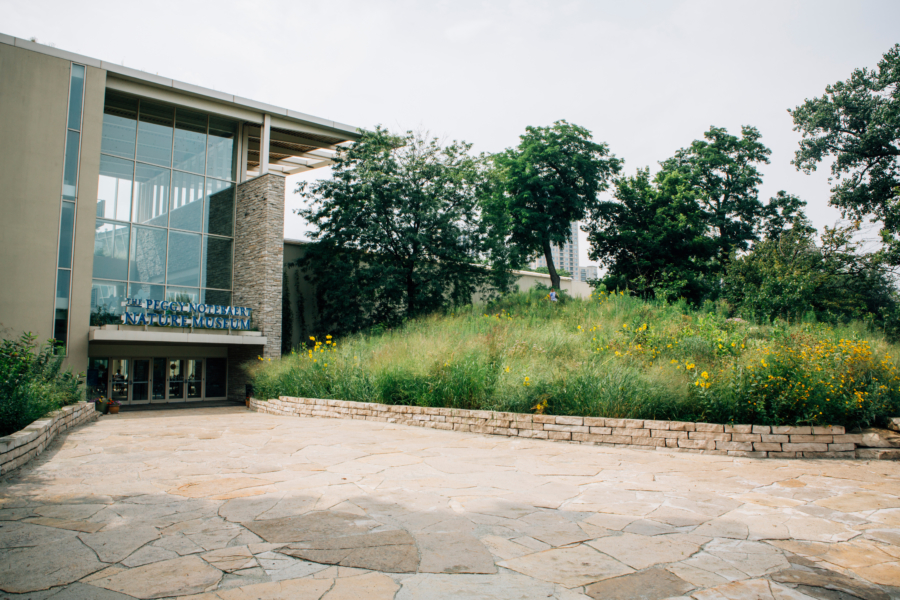 Peggy Notebaert Nature Museum
From native animals and nature-inspired art, to toddler-friendly play spaces and an exotic butterfly house, the exhibits at Peggy Notebaert Museum are sure to thrill young visitors (and grown-up ones, too). As an added bonus, the museum sits within the grounds and gardens of Lincoln Park, where kids can run wild among shady trees, blossoming flowers, and chattering squirrels.
Adler Planetarium
Part of the lakeside complex known as Museum Campus, Adler Planetarium is the oldest planetarium in the Western Hemisphere. It's also a great museum. Future explorers and astronomers of tomorrow will marvel at interactive exhibits, immersive planetarium shows, and special programming designed to inspire the rocket scientists of tomorrow.
Kid-friendly outdoor activities
Maggie Daley Park
Maggie Daley Park is a magical place where you'll find a Skating Ribbon, a 3-acre Play Garden created in the spirit of Alice in Wonderland and Charlie and the Chocolate Factory, a mini golf course that takes you through Chicago-themed obstacles (like a mini Willis Tower), and a climbing wall right on the lakefront.
Bike tours
Sign up for Bobby's Bike Hike's kiddie edition, Bobby's Tike Hike, designed specifically for kids aged 10 and under. Both Bobby's Bike Hike and Bike and Roll Chicago give you the option of buying infant/toddler tickets that include special equipment such as child seats, comfy trailer carriers, and tag-a-long attachments.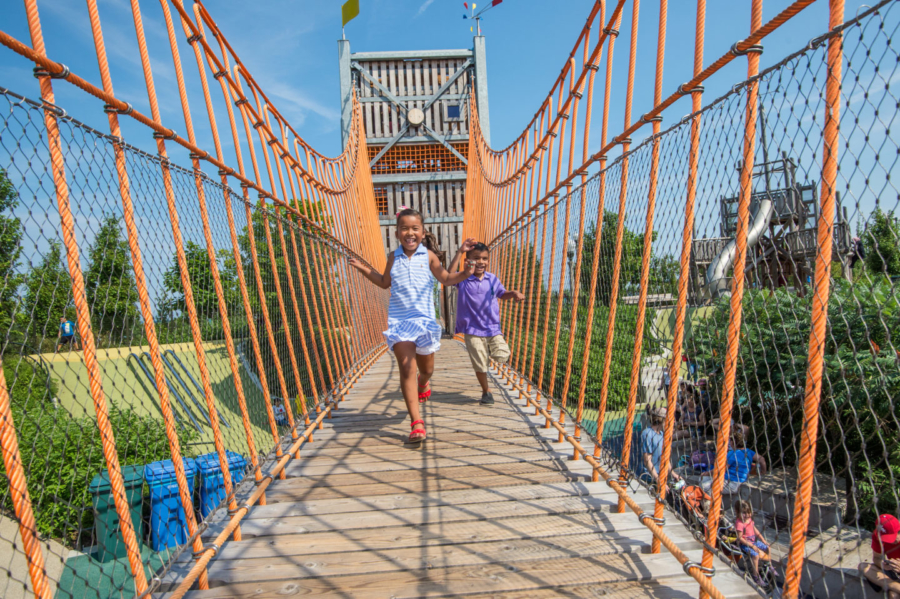 Grant Park Skate Park
It's not only skateboarders who love the skate park at Grant Park. You'll see rollerbladers and BMX bike enthusiasts making the most of the park's multi-skill-level concrete ramps and grinding rails — all with a lakefront view.
Kayaking
Take the kids on a kayak tour of Chicago's waterways from Monroe Harbor or the Chicago River. Sail along with Urban Kayaks and be guided through breathtaking city vistas. No experience necessary, guided tours are provided.
Kid-friendly experiences
American Girl Place
For little kids with big imaginations, a visit to Chicago would not be complete without a trip to American Girl Place, the first store of its kind in the United States. Consider making a reservation for the café at the downtown doll mecca, which serves brunch, lunch, afternoon tea, and dinner. American Girl is located in Water Tower Place on The Magnificent Mile.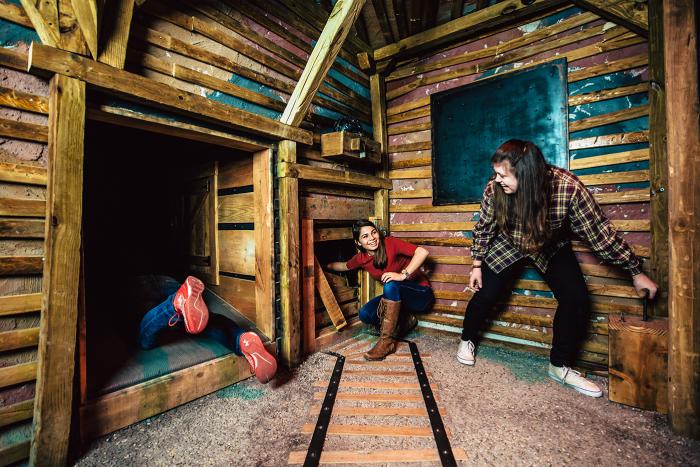 Escape rooms
Take the kids on the greatest adventure ever with a Chicago escape room. Make a prison break, escape an 'L' car, and even take a mission to Mars while testing kids' problem-solving and team-building skills. Take your pick from Escape Artistry, The Escape Game Chicago, and Fox in a Box – Chicago, among others.
Indoor skydiving
It's like skydiving, without the sky — or the dive. iFLY is the ultimate indoor body-lift experience, and you don't need any prior experience to give it a whirl. This is a sure win for teen and tween visitors in particular.
LEGOLAND Discovery Center
Take a day trip to LEGOLAND Discovery Center, a giant indoor playground located in nearby suburban Schaumburg. Two rides, 10 LEGO build-and-play zones, and a 4D cinema are just a few of the great LEGO-themed experiences you'll have here. Once back in the city, visit the colorful building-block wonderland that is The LEGO Store at Water Tower Place.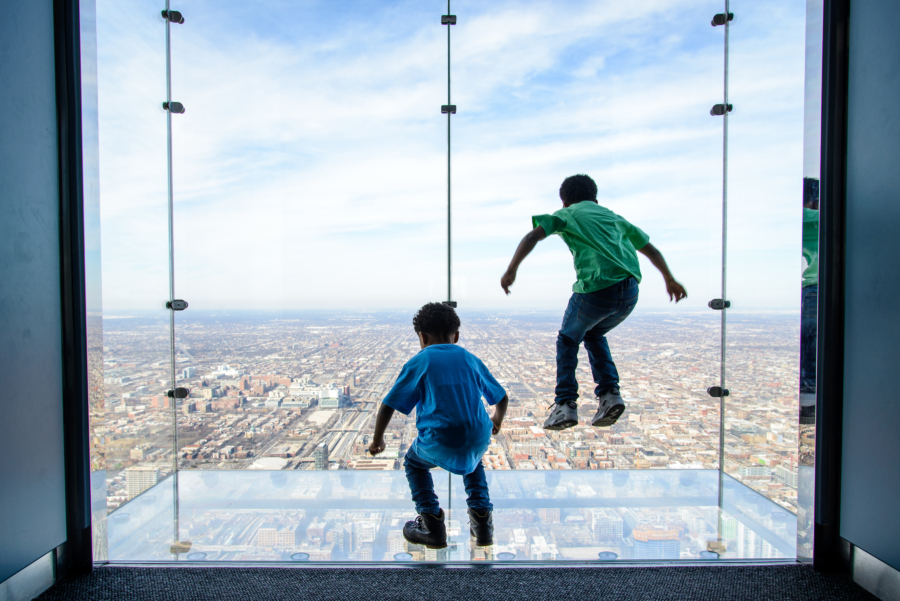 Skydeck Chicago
Walk on air at Skydeck Chicago. Located in Willis Tower, one of the tallest buildings in the world, glass boxes extend approximately 4 feet from the skyscraper's facade, more than 1,300 feet above ground level.
TILT at 360 CHICAGO
Literally tilt outward over 1,000 feet above The Magnificent Mile and get 360-degree views of four states. Located at 875 N. Michigan Ave., TILT is housed in the former John Hancock Building, one of Chicago's most iconic buildings.
SafeHouse Chicago
Do your little ones dream of becoming secret agents? SafeHouse Chicago let the whole family become undercover spies for the day. Provide the secret password to enter this immersive restaurant experience, where you'll find a world of interactive espionage, plus fun food and drinks, for all ages.
Urban Adventure Quest
Experience an adventurous city tour by competing in a family-friendly Urban Adventure Quest scavenger hunt. Incorporating elements of the Amazing Race, this competition involves solving clues and completing challenges, all while learning about local history.
Kid-friendly theatre
PlayMakers Laboratory
PlayMakers Laboratory has been celebrating the power of children's imaginations since 1997, with arts programs that focus on storytelling, theatre, and social-emotional skills. In fact, the professional actors perform material written by Chicago Public School students, providing a unique outlet for their creative works.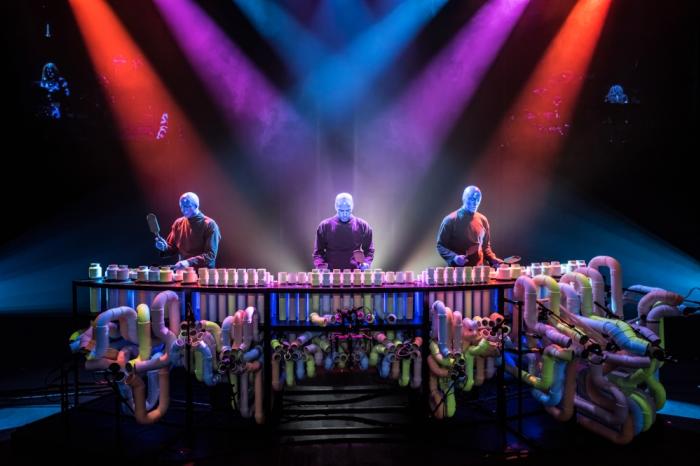 Blue Man Group
Blue Man Group is the epitome of theatre fun — a multi-sensory, performance art experience that keeps kids wide-eyed from the moment the curtain goes up. And if you pick a seat in the "Splash Zone," expect things to get pretty messy!
ComedySportz
ComedySportz's interactive 90-minute show has kids in stitches as two teams compete for laughs during improvised comedy scenes, songs, and games. Geared toward all ages, this is a great way to get kids in on the act, with audience suggestions as the actors' inspiration.
Emerald City Theatre
Creating fun productions especially for young audiences, Emerald City Theatre performs at The Broadway Playhouse on The Magnificent Mile. Emerald City specializes in shows for young audiences and hosts children's theatre classes and camps.
---
Free things to do in Chicago with kids
Outdoor things to do in Chicago with kids
Indoor things to do in Chicago with kids