If you're a Frank Lloyd Wright fan, you're going to love Chicago. We're a treasure trove of Wright buildings and Prairie-school gems, with nearby Oak Park holding the largest collection of Wright-designed structures in the world.
While some are private residences, many others roll out the welcome mat for visitors — one even welcomes you to stay overnight. And two are UNESCO World Heritage Sites, a global distinction given to locations with significant cultural and historic value.
Open the door to Frank Lloyd Wright's legacy with these stunning Chicago-area buildings, tours, and experiences.
Robie House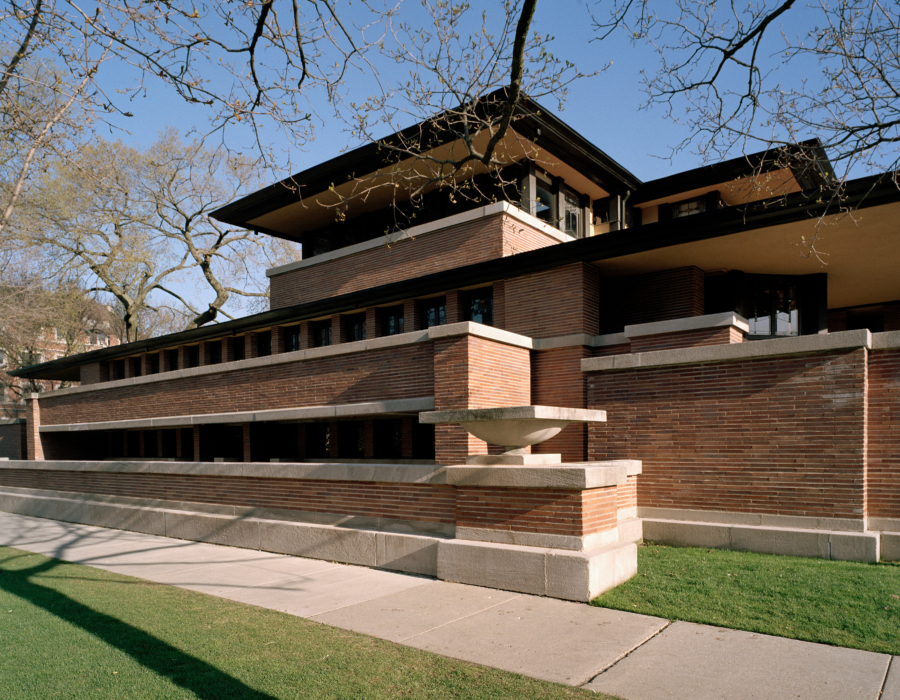 The Robie House in Chicago's Hyde Park neighborhood is considered one of the best examples of Wright's signature Prairie style — one of the reasons it was named a UNESCO World Heritage Site. Not only did Wright describe it as "a cornerstone of modern architecture," but the American Institute of Architects also named it one of the 10 most significant structures of the 20th century. You can explore this history-making home during a guided tour of the stunning interior. 5757 S. Woodlawn Ave., Hyde Park
The Rookery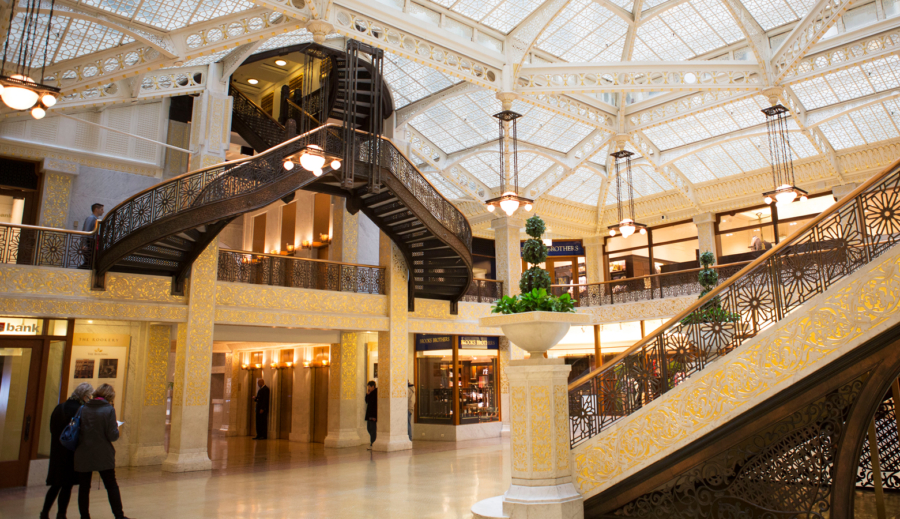 Chicago's downtown Loop is jam-packed with historic architecture, and The Rookery is definitely one not to miss. The building was designed by Burnham and Root in 1888, but in 1905, Frank Lloyd Wright was called in to redesign the light court and lobby. Today, its ornate ironwork and soaring glass ceiling make it one of the city's most photographed interiors. Take the guided tour to dive into the stunning details. 209 S. LaSalle St., Loop
Emil Bach House
If staying overnight in a Frank Lloyd Wright home is on your bucket list then you're going to be pretty excited about the lakefront Emil Bach House. The home was built in 1915 and is an example of Wright's later style, drawing on European and Japanese influences. Listed on the National Register of Historic Places, it's the only residence of its kind left standing in Chicago. Take a guided tour, or contact the Emil Bach House to book your stay. The house is also available for private events. 7415 N. Sheridan Rd., Rogers Park
Charnley-Persky House Museum
Get a double dose of architectural history at the Charnley-Persky House Museum, a home designed in 1891 by legendary Louis Sullivan with input from a young Frank Lloyd Wright, who was his junior draftsman at the time. While you'll clearly see Sullivan's love for geometric and abstract forms, Wright's touch is undeniable. Explore this pivotal work of American architecture on a guided tour. 1365 N. Astor St., Gold Coast
Frank Lloyd Wright Home & Studio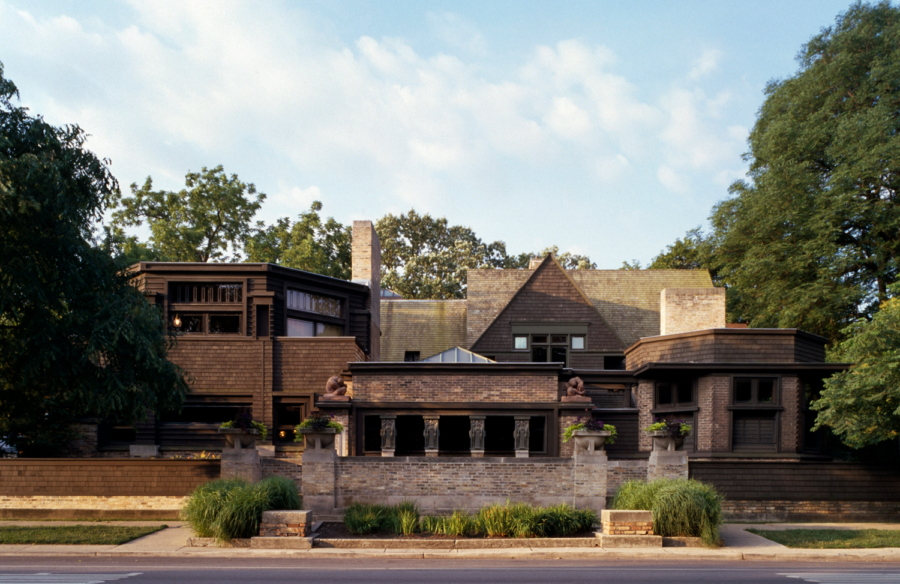 The Wright Home & Studio, located just outside Chicago in Oak Park, is the birthplace of the Prairie School of architecture and the first project Wright enjoyed complete artistic control over. Completed in 1909, this studio is where Wright designed and built roughly a quarter of his life's work. Guided tours are available with the Frank Lloyd Wright Trust. And make sure to explore the surrounding historic district, which contains the greatest number of Wright-designed residences in the world. 951 Chicago Ave., Oak Park, IL
Unity Temple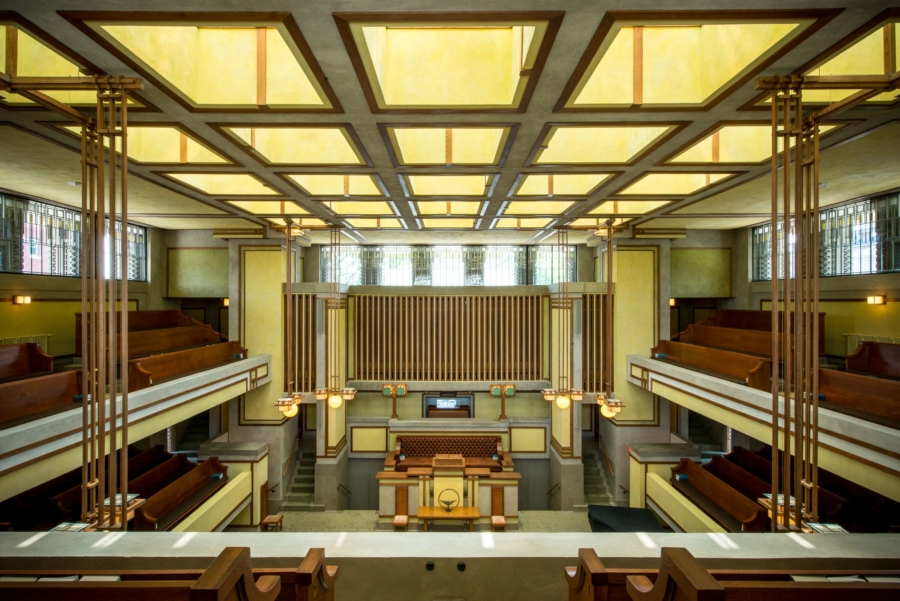 Located only three blocks from the Frank Lloyd Wright Home & Studio, Unity Temple is Wright's only surviving Prairie-style public building and was named a UNESCO World Heritage Site in 2019. Known for its innovative design and unconventional materials, the temple is still an active house of worship. Take a guided tour of this "little jewel box," as Wright called it, or tour this beautiful space at your own pace. 875 Lake St., Oak Park, IL
Frank Lloyd Wright tours around Chicago
Chicago Architecture Center
Join the Chicago Architecture Center for a one-hour Frank Lloyd Wright in Oak Park tour, which explores the exteriors of nearly a dozen Wright homes around the area. The tour covers both Prairie-style and Victorian buildings. Other Chicago Architecture Center tours delve into Wright buildings in the Chicago neighborhoods of Hyde Park, Beverly, and more.
Frank Lloyd Wright Trust
The Frank Lloyd Wright Trust tours delve into Wright's most beloved Chicago-area masterpieces. Get an in-depth look at the Frederick C. Robie House or the Unity Temple (both UNESCO World Heritage sites), admire the dramatic light court inside The Rookery, or visit Wright's Home and Studio in nearby Oak Park.
If you want an inside look at some of Wright's lesser known works, join the annual Wright Plus Housewalk. The popular event offers rare interior tours of private residences and public buildings designed by Wright and his contemporaries.
Frank Lloyd Wright Trail
See more than a dozen of Wright's architectural gems at your own pace on the Frank Lloyd Wright Trail. This self-guided itinerary takes you all the way from Chicago and Oak Park to destinations throughout Illinois, including Kankakee, Springfield, Dwight, Hampshire, Rockford, Belvidere, and Geneva. It's the ultimate architecture buff road trip.