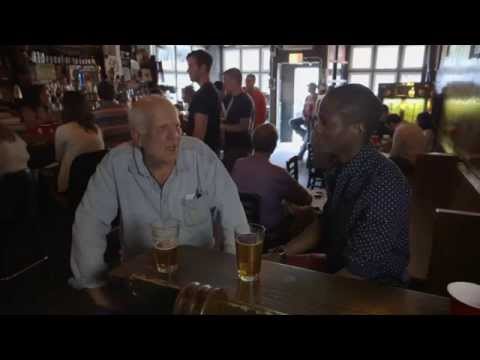 Episode 1 - Old Town
Full Episode - Things get started off right at one of Frank Sinatra's favorite old haunts, Twin Anchors Restaurant and Tavern, where Holly dives head first into a rack of baby back ribs that can't be beat. Edgar stops by "Le Premier Dive Bar" aka the Old Town Ale House for a drink. Finally they both meet up again to take you on a tour through their home at the world famous comedy theater, The Second City.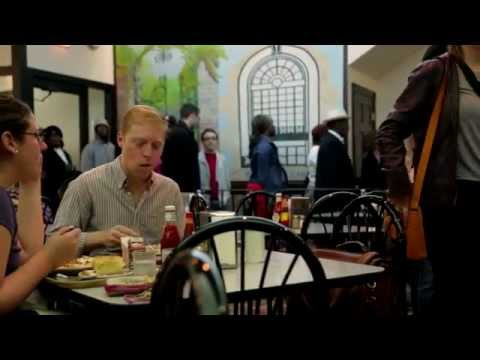 Episode 2 - Hyde Park
Full Episode - Holly and Edgar travel to Hyde Park to learn about the contemporary arts and culture scene. They gain a greater respect for the neighborhood's historic architectural masterpieces by visiting Frank Lloyd Wright's 
Robie House. Edgar gets presidential at the cafeteria-style breakfast hot spot, Valois. Meanwhile, Holly heads to Medici on 57th near the University of Chicago campus to try one of the Obama family's favorite dishes.
Episode 3 - Lakeview
Full Episode - Our cast and crew explore Lakeview in this episode of Beyond the Loop. First, Holly stops at Bar Pastoral to try some of the best artisan wine and cheese pairings on the planet. In the meantime, Edgar pays a visit to neighborhood staple Yoshi's Café to bite into Chef Yoshi's award winning Wagyu Beef Burger. Holly and Edgar attend one of the largest gay pride festivals in the world, the Gay Pride Festival in the Boystown quarter of Lakeview and then check out the Kit Kat Lounge and Supper Club. Finally, Edgar pre-games at Goose Island in Wrigleyville before meeting up with TV great Bill Kurtis at Wrigley Field to catch a Chicago Cubs game.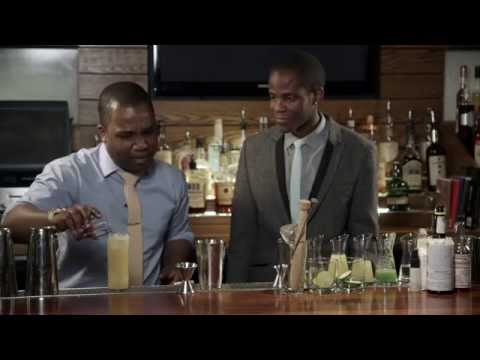 Episode 4 - Wicker Park/Bucktown
Full Episode - In this episode of Beyond the Loop, Holly and Edgar hop over to Wicker Park / Bucktown to explore the self-proclaimed "hipster haven" neighborhood. They embark on a record-shopping journey at Reckless Records w/ local rocker Archie Powell. Holly grabs brunch at Chef Mindy Segal's Hot Chocolate before meeting back up with Edgar for a late night cocktail in the bank vault lounge at the swanky night spot The Bedford.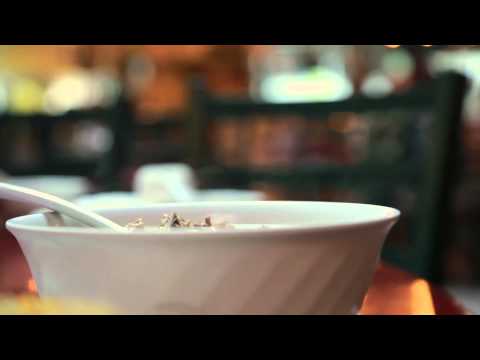 Episode 5 - Uptown
Full Episode - This time on Beyond the Loop, we explore Uptown, a neighborhood where Chicago's rich history and ethnic diversity intersect. Edgar heads to Sun Wah BBQ to try the Peking Duck and take in some musical theater at The Black Ensemble Theater. While Holly starts things off right at Chef Giuseppe Scurato's Sicilian/American restaurant - Ceres Table. Finally, Holly hops over to the legendary Green Mill Jazz Club to get the scoop on Al Capone's historic Uptown hangout.
Episode 6 - Bronzeville
Full Episode - This episode of Beyond the Loop explores the historic Bronzeville neighborhood on Chicago's south side. We get things started appropriately at the annual Gospel Music Festival, after all, the community is considered by many as the birthplace of Gospel Music. Holly and Edgar head over to Gallery Guichard to learn about the history of Bronzeville through this African diaspora art gallery. Holly goes to taste some of Chicago's finest chicken and waffles while Edgar heads over to Pearl's Place to try the soul food with local musician JC Brooks from the band JC Brooks and the Uptown Sound.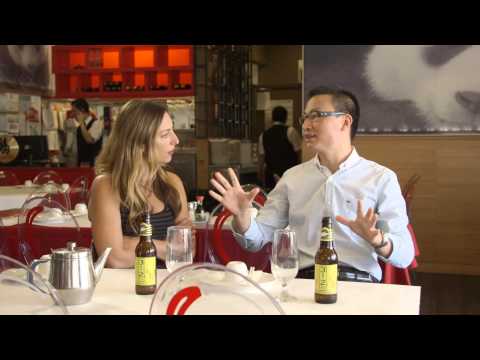 Episode 7 - Chinatown
Full Episode - Just a short water taxi ride down the Chicago River from downtown, Holly and Edgar explore Chinatown! Edgar starts things off with stops at the Chinese American Museum and the Chinatown Summer Fair. Later - Holly is treated to dinner at restaurant mogul Tony Hu's Lao Sze Chuan for a taste of China. That's coming up!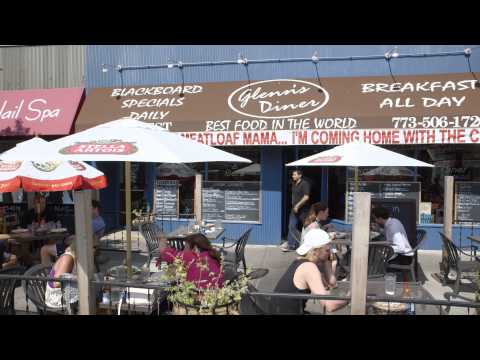 Episode 8 - Lincoln Square/Ravenswood
Full Episode - This time Edgar heads over to Lincoln Square/Ravenswood to get a taste of some art at the Lillstreet Art Center before heading over to try some of the finest homemade German style sausages and sauerkraut at Gene's Sausage Shop. Meanwhile, Holly goes for it at Glenn's Diner for the catch of the day! Then, the two meet up with "The First Lady of Children's Folk Song", Ella Jenkins at the Old Town School of Folk Music.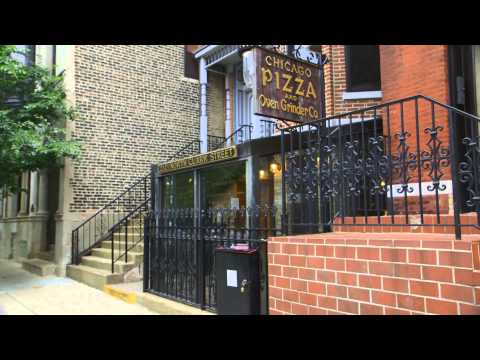 Episode 9 - Lincoln Park
We decided to drop by one of Chicago's best beaches, North Avenue Beach, to work up an appetite for a night out on the town. Edgar grabs one of the most unique pizzas to ever come out of an oven at the Chicago Pizza and Oven Grinder while Holly indulges in a French toast breakfast at Batter & Berries. Later, Holly takes a brewery tour at the Goose Island Brew Pub before she stops by Steppenwolf Theatre for a show with Artistic Director Martha Lavey. To cap the night off, they both head over to the home of blues music in Chicago: Kingston Mines.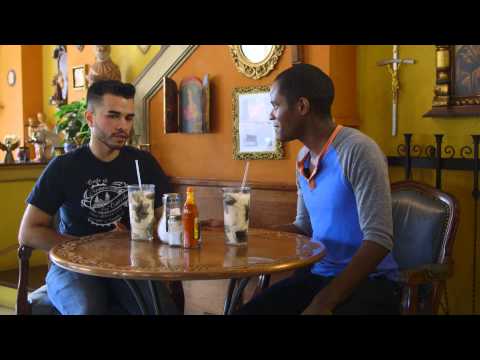 Episode 10 - Little Village
Full Episode - For a taste of Mexico 1500 miles north of the border, Holly and Edgar head to Little Village. First up, we explore the cultural mecca of Little Village and attend Mariachi Sundays, a traditional day of Mexican music in the square. Next, Edgar wakes up bright and early for breakfast at La Catedral Café & Restaurant.
Episode 11 - Bridgeport
Full Episode - The near south side community of Bridgeport is next on our list! Holly can't help but to check out U.S. Cellular field for a White Sox game with legendary announcer Ed Farmer. Edgar goes to check out the Zhou B Art Center and then gets some Italian food at Gio's Café and Deli! Bridgeport is right around the corner. www.whitesox.com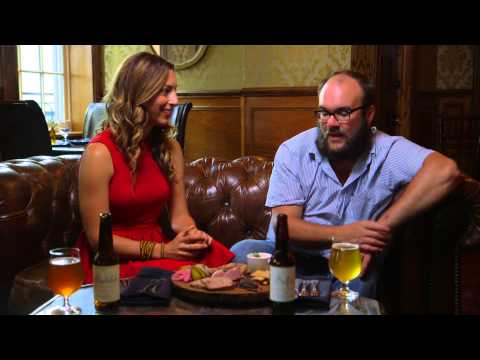 Episode 12 - Logan Square
Full Episode - Edgar ventures off to Logan Square for brunch at local favorite Jam, while Holly hops over to Owen & Engine to try one of the best burgers on the North West Side. Finally, they both join forces for some custom cocktails and a dance party at The Whistler.