The always-bustling, artsy-at-heart Wicker Park neighborhood is where you'll find vintage stores, record shops, and underground music venues nestled next to award-winning eateries, cool coffee houses, and popular fashion outposts. 
Along with neighboring Bucktown, both areas are beloved by residents and visitors — simultaneously classic and trendy, while remaining welcoming and walkable. You could spend all day exploring and discovering neighborhood haunts and hidden gems, but I'll give you a rundown on just a few of my favorite places. 
Where to eat and drink in Wicker Park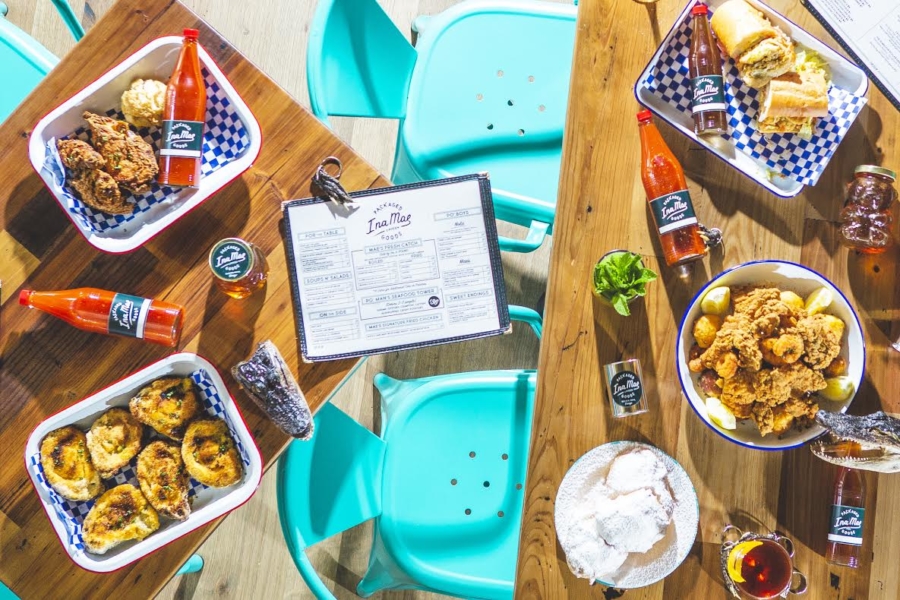 Restaurants
Wondering where you should stop for breakfast, lunch, dinner and everything in between? Don't worry, Wicker Park has a wealth of different all-day options for every palette. 
For some of the best breakfasts in the neighborhood, try Dove's Luncheonette — a modern diner with an unexpected menu of Southern-inspired Mexican cuisine. And Savannah Luncheonette is another great breakfast option located in Bucktown. Here you can find Southern classics like hot chicken or biscuits and gravy along with a bottomless brunch cocktail special. 
Speaking of Southern food, Ina Mae Tavernis not to be skipped if you're a fan of creole cuisine like gumbo, po' boys, and etouffee. 
Check out Tortello for delicious, handcrafted pasta in a casual counter-service setting. If you're looking for vegan and vegetarian options or just want to enjoy some great veggie-forward fare, try Bloom Plant-Based Kitchen.
Other great dinner options include pan-Latin restaurant Amaru, with a colorful menu and decor to match. Or head to Mama Delia, where you can split Spanish tapas with a group of friends. 
Etta, also great for groups, has wood-fired pizzas, housemade pastas, and farm-fresh salads that make the perfect shareable plates. Jack's Bistro is another nice option for casual dining. Enjoy craft cocktails and charcuterie by the bar or enjoy French-inspired fare on their breezy patio.
Bars and nightlife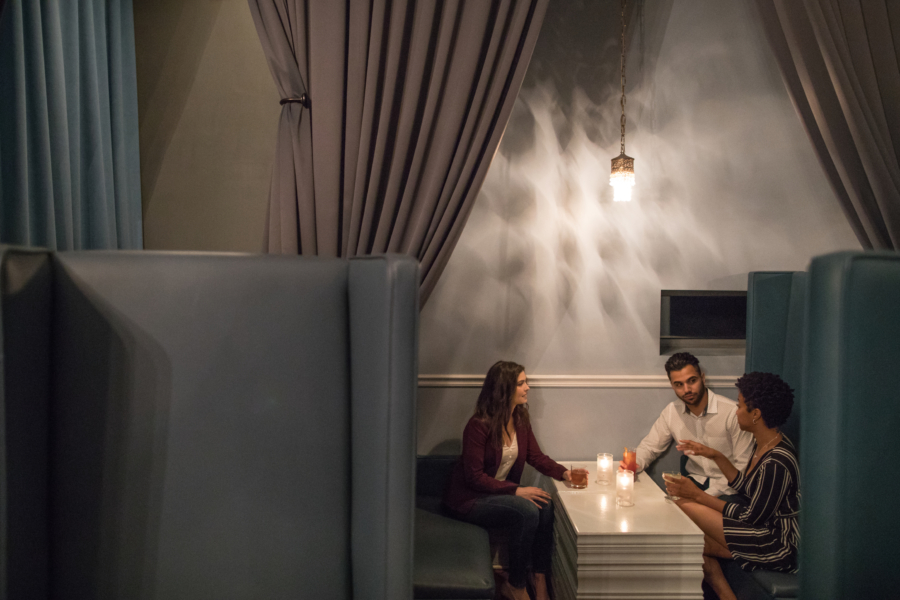 Rich with options ranging from dive bars to craft cocktail lounges and everything in between, Wicker Park is one of the city's best neighborhoods for bar hopping. 
If you're looking for a cocktail experience you can brag about, check out the award-winning bar program at TheViolet Hour or the colorful, imaginative cocktails over at Machine: Engineered Dining and Drink. 
For drinks with a magical touch, head over to The Cauldron for a potion-making class where you'll craft a few enchanted concoctions in a scene straight out of your favorite world of wizarding. 
Try Emporium Wicker Park for a wide selection of arcade games or Big Mini Putt Club to attempt a hole-in-one on any of their creative courses. Estelle's is another neighborhood staple that's been serving cocktails until late at night since 1999, it's the quintessential cocktail lounge for a nightcap. 
What to do in Wicker Park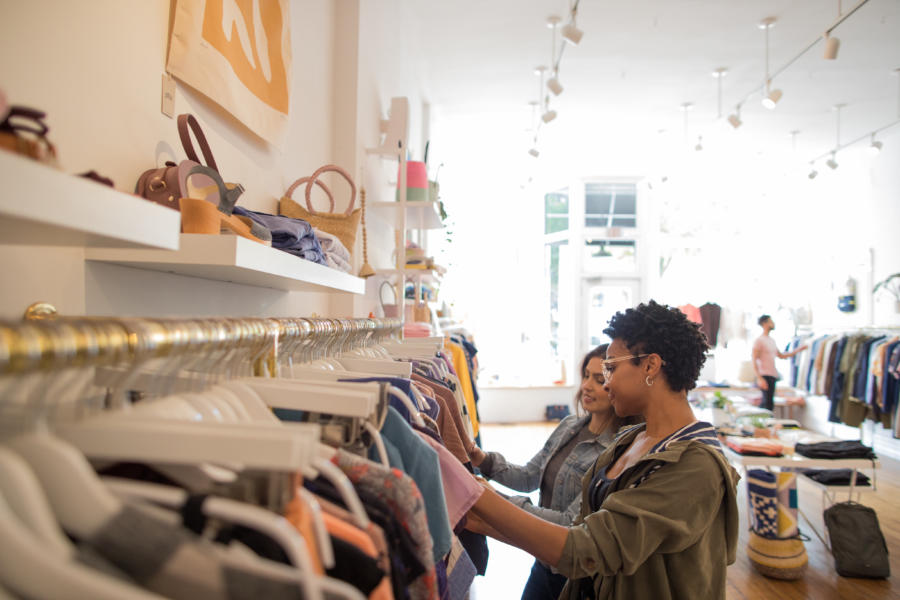 Shopping
In Wicker Park and Bucktown, you'll find 20+ year old vintage shops, popular brands, and small boutiques with unique offerings dotted throughout the neighborhood. The intersections of North, Damen, and Milwaukee Avenues (known as the Six Corners) is a great place to start. And Division Street just west of the Division Blue Line stop is another great area for shopping. 
If you're looking for vintage clothing, dig through the racks atVintage Underground, Kokorokoko, or Belmont Army. If you're in the market for something shiny and new, check out the carefully curated selection of clothes and accessories at Gemini or the on-trend picks from Penelope's.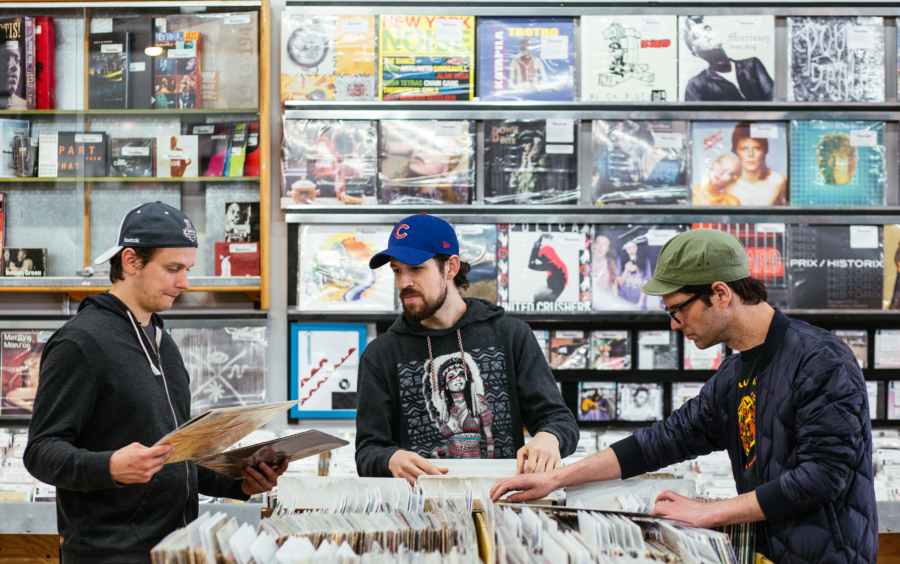 If you'd rather shop for gifts and decor than a new wardrobe, Asrai Gardensis known for their handmade goods, fine jewelry, and magical oddities. Browse the pages of the various pieces of pre-loved literature at Myopic Books or sample some lo-fi tunes at Reckless Records.
For kids, take them tobrowse the shelves at The Wicker Park Secret Agent Supply Co. for you guessed it, spy gear! It's a great option for curious kids. 
Music venues
Wicker Park and Bucktown are home to some of the oldest and newest music venues in the city.Subterranean is famous for its multi-level set-up and iconic history as the city's go-to spot for underground and undiscovered acts. 
At one ofthe city's newest music venues, The Salt Shed, you'll find an indoor/outdoor experience and a star-studded lineup at the renovated Morton Salt complex on the Chicago River.
And if you came to dance and party the night away, Concord Music Hall in nearby Bucktown is the place to be. 
Theatres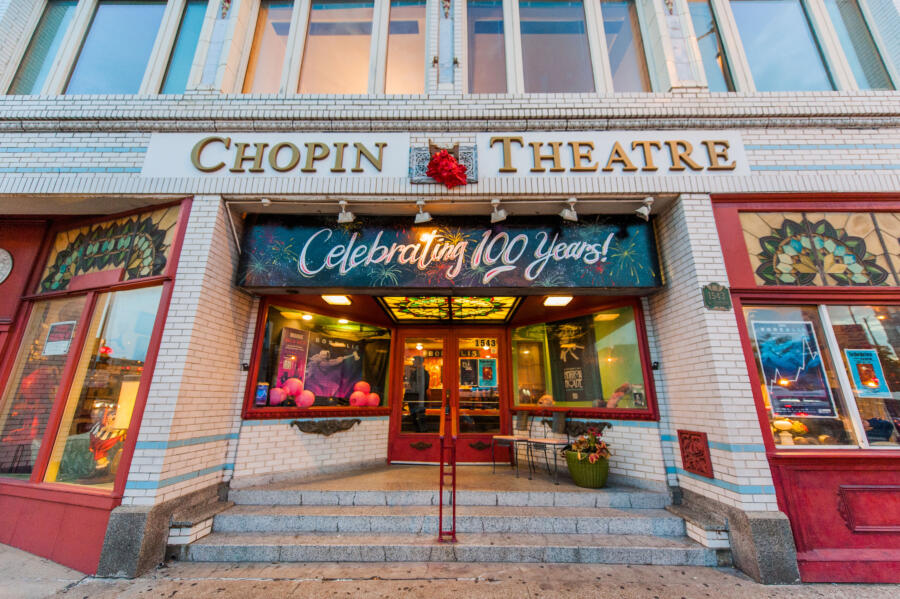 Whether you're looking to take in a musical, some improv, a standup set or something a bit more experimental. Wicker Park has a venue for you to experience some arts and culture on your visit to the neighborhood. 
For more than 100 years, The Chopin Theatre hosts music, film, and social events ranging from avant-garde to classic.
The Den Theatre is both a neighborhood and city-wide favorite that has remained a staple in Chicago's entertainment and comedy scene for over a decade. 
Outdoors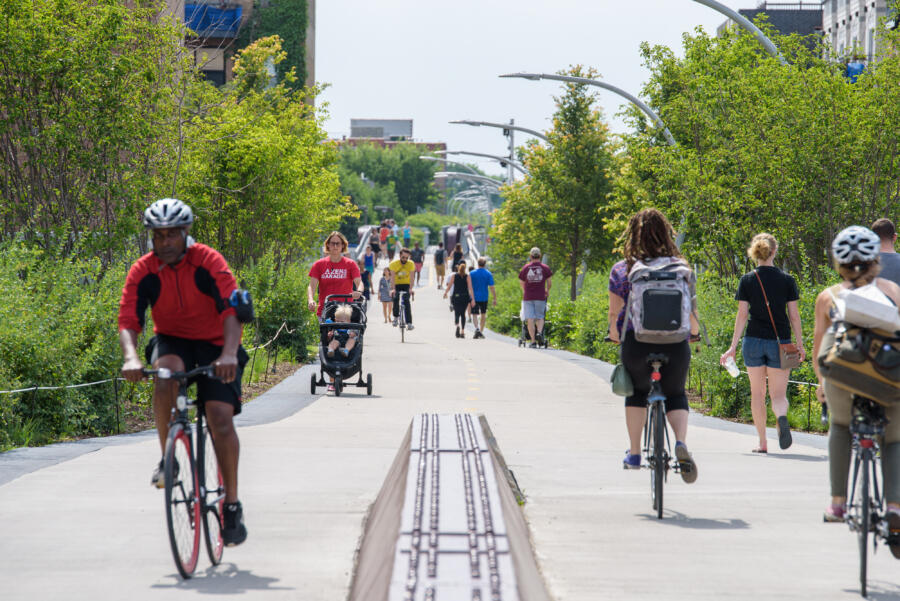 Head over to the 2.7-mile stretch of repurposed rail line, The 606, for an elevated view of Wicker Park, Bucktown, and the surrounding neighborhoods. The popular trail is perfect for biking, running, and walking — or exploring the many parks, public artworks, murals, bars, and restaurants along the way.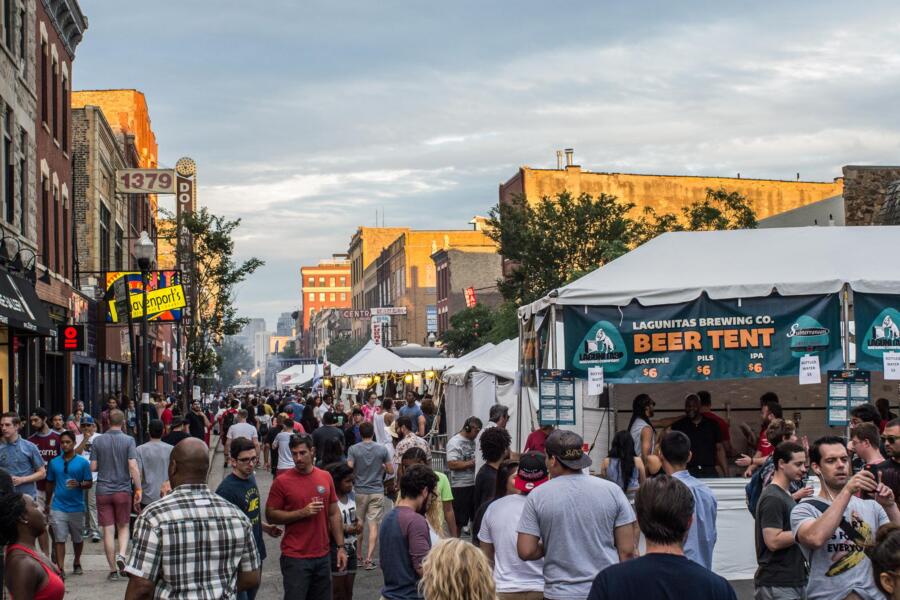 Events
One of Chicago's most anticipated summer events is the annual Wicker Park Fest, an outdoor street festival with a solid music lineup, local food, and lots of unique crafts and vendors.
In the area on a Sunday? Start your day at the seasonal Wicker Park Farmers Market — you'll find fresh baked goodies, local artisan crafts, and local food stalls in addition to fresh produce. 
Nearby, the Bucktown Garden Walk showcases dozens of local gardens, plus a neighborhood block party, each summer.
Where to stay in Wicker Park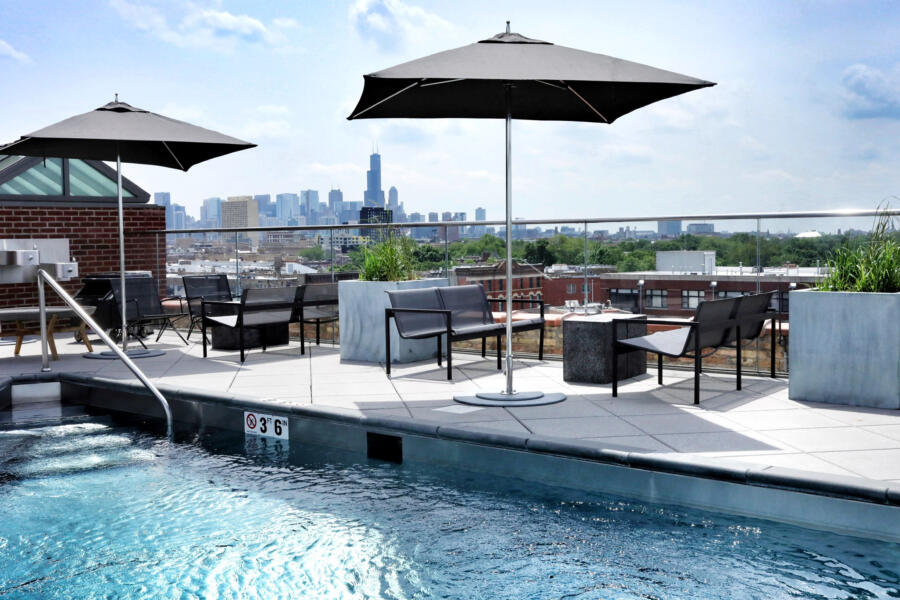 Hotels
If you're looking for somewhere to stay in Wicker Park, The Robeyis set right in the heart of the neighborhood, featuring beautiful rooms with luxury finishes. It also boasts some of Wicker Park's most popular bars and restaurants. You don't have to leave the building for experiences like city views and frozen drinks by a rooftop pool at Cabana Club or arcade games, billiards, and finger foods at the '90s tiki-inspired bar, Clever Coyote. 
How to get to Wicker Park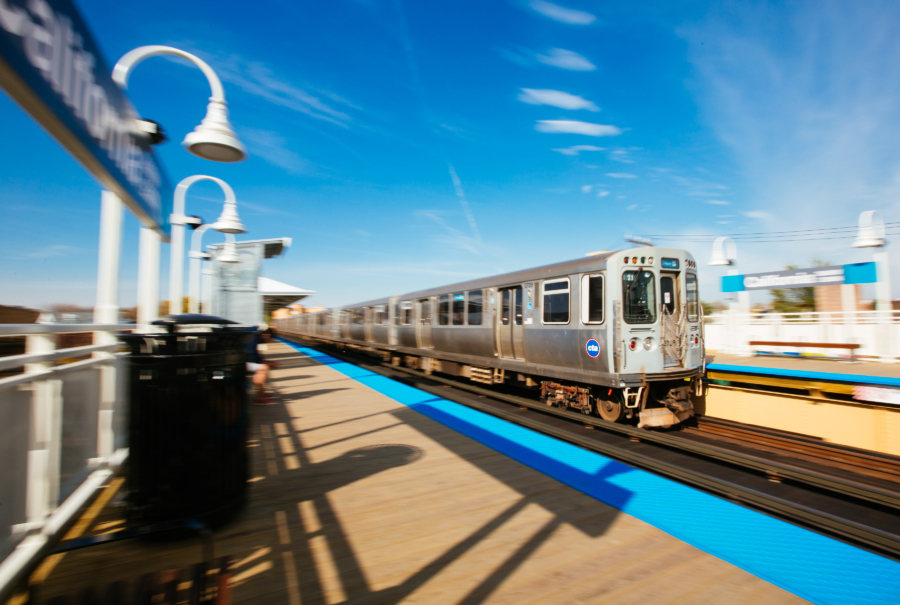 Public transit
Wicker Park is incredibly accessible via public transportation. Take the CTA Blue Line to any of the following stops:
The Division Blue Line sits in a bustling corner of Wicker Park, near the Chopin Theatre and tons of restaurants and bars along Division and Milwaukee Avenues.
Get off at the Damen Blue Line stop and you'll find yourself right in the midst of all the action of the Six Corners — the vibrant intersection where North, Milwaukee, and Damen Avenues meet.
Wicker Park is a straight shot for travelers flying into the city from O'Hare Airport on the Blue Line.
If you're flying in from Midway, take the Orange Line to Clark/Lake, where you can transfer to the Blue Line toward O'Hare.
There are also several CTA bus routes that travel through Wicker Park, including the 56 Milwaukee, 72 North, 50 Damen, and the 70 Division.