Welcome to our new series of self-guided Chicago Greeter tours, presented by Bank of America. Each walking tour is created by a knowledgeable local to showcase their favorite hidden gems and fascinating history behind Chicago's unique neighborhoods.
This tour is based on one created by Jared Wouters, who has been a Chicago Greeter since 2004. He describes Humboldt Park as "eclectic, vibrant, and artsy" and his tour explores the area's Puerto Rican heritage, colorful public art, and lush green space.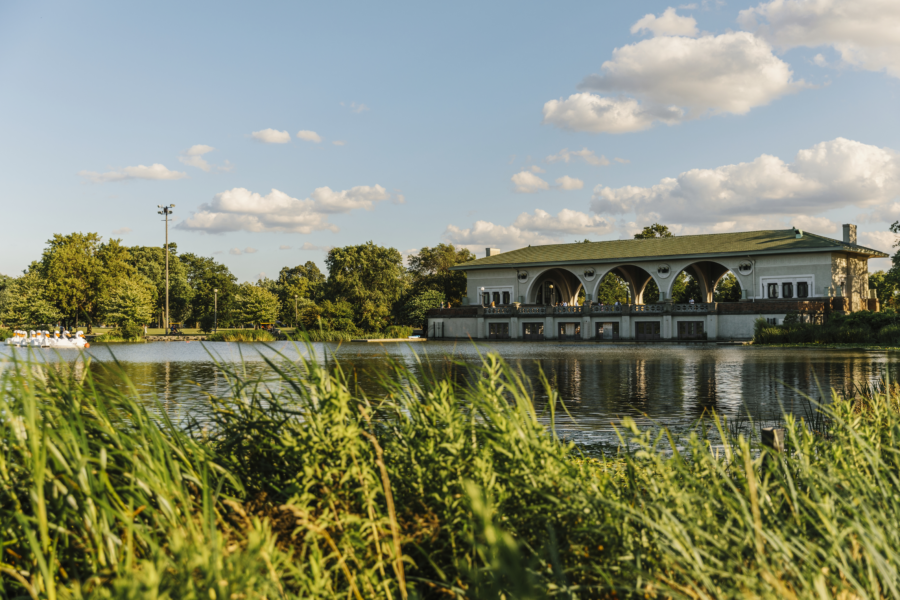 Start the day by grabbing a bite to eat at Roeser's Bakery or San Juan Bakery. The two spots are both located near North and Kedzie Avenues by the northwest corner of the park. Roeser's, one of the oldest bakeries in Chicago, is a family-owned spot that has been run by four generations of bakers. And San Juan specialized in traditional Puerto Rican pastries and baked goods.
Take your treats and go for a stroll in Humboldt Park, which is located right across the street. The park is truly the heart of the community. With almost 200 acres, it includes meandering lagoons, formal gardens, playgrounds, tennis courts, baseball fields, and plenty of open space for locals to gather. Don't miss the impressive boat house or Humboldt Beach (the city's only in-land beach) near the historic field house.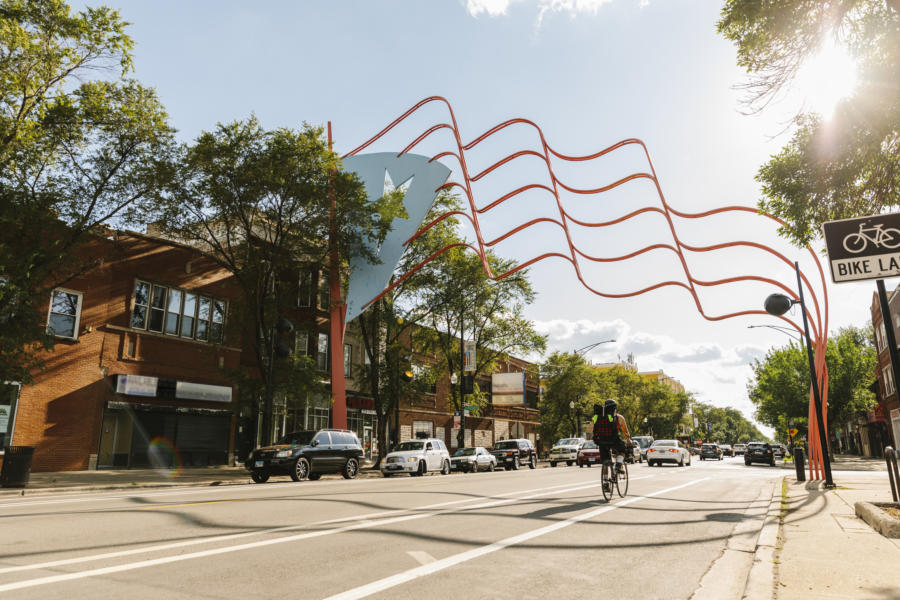 The park is also home to the National Museum of Puerto Rican Arts and Culture, the country's only museum devoted to showcasing Puerto Rican arts and cultural exhibitions year-round. It's worth a visit for the building alone — a dramatic brick structure that once housed the park's stables. Inside, you'll find a variety of exhibits that reflect the diversity of the Puerto Rican experience.
You started on the northern border of the park, now walk to its southern edge on Division Street. You'll be greeted by one of two metal Puerto Rican flags, standing almost 60 feet tall and arching across Division. 
The flags mark a six-block corridor known as the Paseo Boricua. Officially designated in 1995, the flags were meant to commemorate the residents' roots and the neighborhood's recent revitalization efforts. Today, the area is home to a diverse array of Puerto Rican-owned businesses, public art, a cultural center, old San Juan-style architecture, and more. 
Stroll east on Division to admire some of the vibrant murals that line both sides of the street. There are more than 50 in the area, many paying homage to Puerto Rican cultures and history. Jason's favorites are the Sea of Flags and the Paseo Boricua murals on Campbell, just north of the intersection with Division.
If you're ready for lunch, you've got plenty of options. Cafe Pachua is a small cafe serving baked empanadas known as "pastes" with delicious flavors like chorizo with potatoes and chicken tinga. And 1492 Cuban Fusion Cafe offers a unique fusion of Cuban and Spanish cuisine, from classic cubanos to hearty dishes like ropa vieja.
Make time to check out the shops in the neighborhood, including funky boutique Humboldt House, Lily's Record Shop, small business incubator Mercado Del Pueblo, bookstore Space Oddities, and more. When you're done, stop at neighborhood watering hole Humblebar and Lounge for a drink on their outdoor patio. It's the perfect way to wrap up a day exploring Humboldt Park.