Located on the south bank of the Chicago River, the award-winning, pedestrian-friendly Chicago Riverwalk stretches 1.25 miles from Lake Michigan to Lake Street. Along the way you'll discover intimate coves, breezy cafes, wineries and bars, public art, monuments, museums, and a boatload of excursions on the water.
Explore all the things to do and see on the Chicago Riverwalk:
Food and drink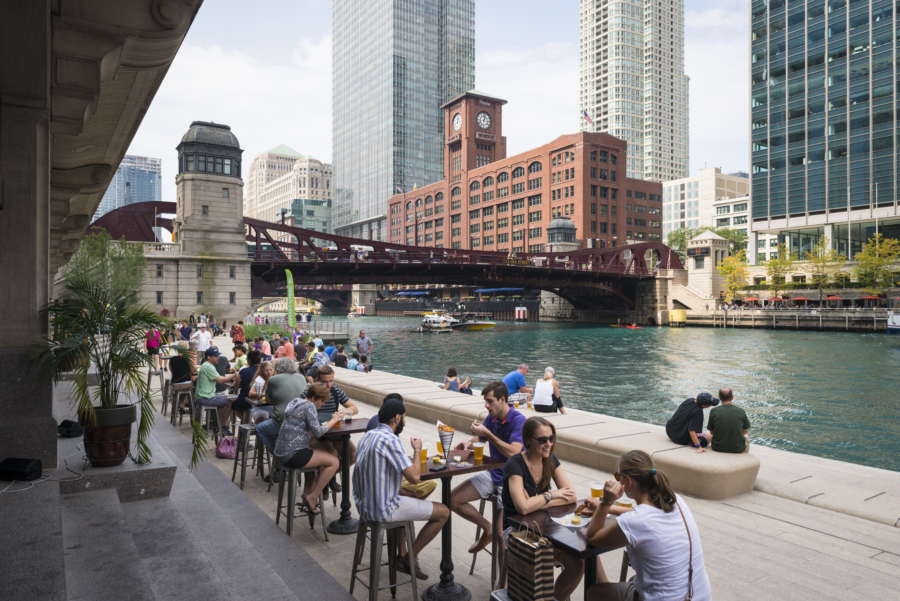 Savoring fine wines on a riverfront patio, going island style under light-strewn shade trees, devouring gastropub fare with a tantalizing craft cocktail — and all with views of the Chicago River.
One popular spot is City Winery at the Riverwalk. Enjoy a glass of their signatures wines on tap, a cheese plate, and a spot on their spacious waterfront patio. In the winter, reserve one of their heated domes to feel like you're in a giant snow globe.
Tiny Tapp serves beer, cocktails and casual bites, Island Party Hut brings the tropical vibes, The Northman Beer & Cider Garden offers locally made ciders, and a new Community Marketplace features women- and minority-owned vendors from all over the city.
There are so many food and drink options on the Riverwalk. Take a stroll and check them all out.
Boat tours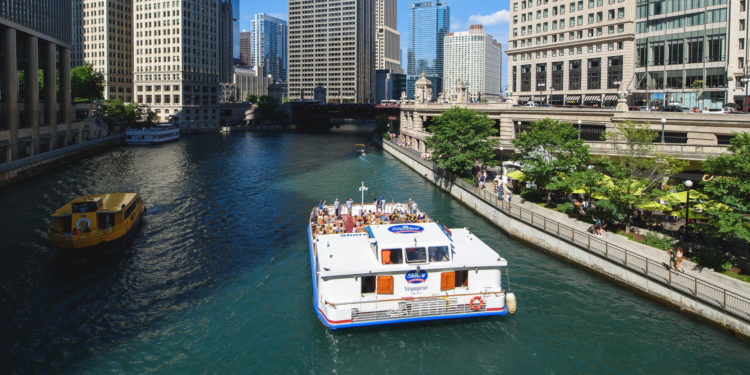 You can't visit the Riverwalk without getting out on the water. Generally running May through October, take your pick from glass-enclosed Odyssey Chicago River Cruises; the Chicago Architecture Foundation Center River Cruise aboard Chicago's First Lady; Mercury, Chicago's Skyline Cruiseline, Shoreline Sightseeing, and Wendella Sightseeing. A couple of unique boat tour options include Island Party Hut Charters, Chicago Cycleboats, and the eco-conscious Chicago Electric Boat Company.
Explore all Chicago boat tours.
Urban recreation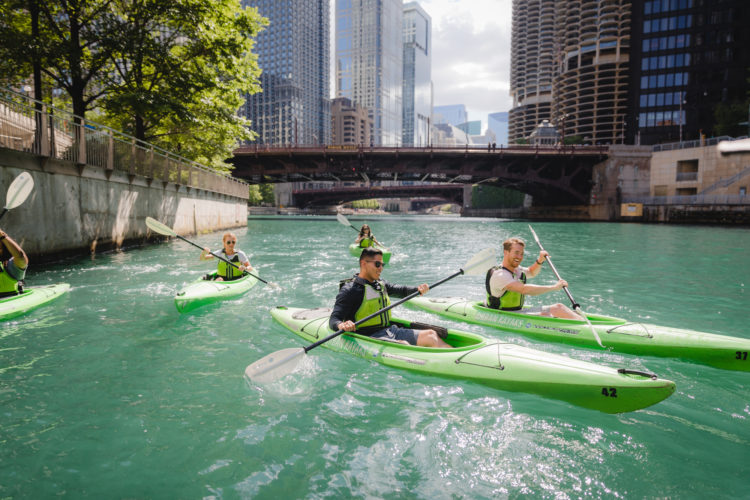 Head to Urban Kayaks, where you can hop in a kayak and paddle down the calm waters of the Chicago River. They offer kayak rentals and guided tours of the Riverwalk's skyscraper canyon, no kayaking experience required.
You can also fish for free from The Jetty, one of six coves that comprise the Riverwalk (make sure you get an Illinois fishing license before you go). Or watch mallards, ring-billed and herring gulls, rock pigeons, American robins, European starlings, and Peregrine falcons on an Audubon Great Lakes' walk.
Explore more: Keep your heart racing with these outdoor adventures in Chicago, from rock climbing to paddleboarding.
If biking is your thing, rent a Divvy, Chicago's bikeshare program. Find the closest Divvy kiosk located just one block from the Chicago Riverwalk at 300 N. Stetson Ave. Alternatively, Bike and Roll Chicago has a fleet of recreation bikes, transportation bikes, professional road bikes, and kids equipment for rent on the Chicago Riverwalk and also at Millennium Park. Note: Some sections of the Riverwalk are for pedestrians only.
Museums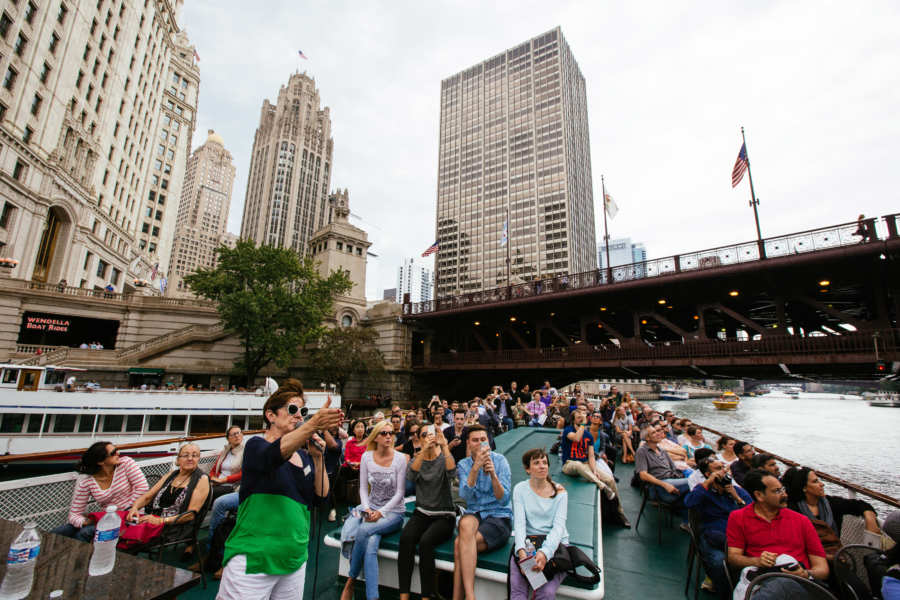 Fittingly, the Chicago Architecture Center is located at One Illinois Center in a building designed by modernist genius Ludwig Mies van der Rohe. The CAC is a gateway to discovering Chicago's architectural legacy. The center offers over 85 docent-led tours, as well as exciting programs and innovative interactive exhibits, including the engaging Skyscraper Gallery and Building Tall exhibit.
The five-story McCormick Bridgehouse & Chicago River Museum celebrates Chicago's famed moveable bridges, and gives you the opportunity to peek inside a historic landmark bridgehouse. At river level, you can view the massive gears that move Chicago's famous bridges up and down. As you ascend, you'll learn all about the Chicago River. Once at the very top, you'll be treated to magnificent 360-degree views of the city. You can also take tower tours, view the moveable bridges in action during a bridge lift viewing or breakfast, and sign up for other special tours.
Public art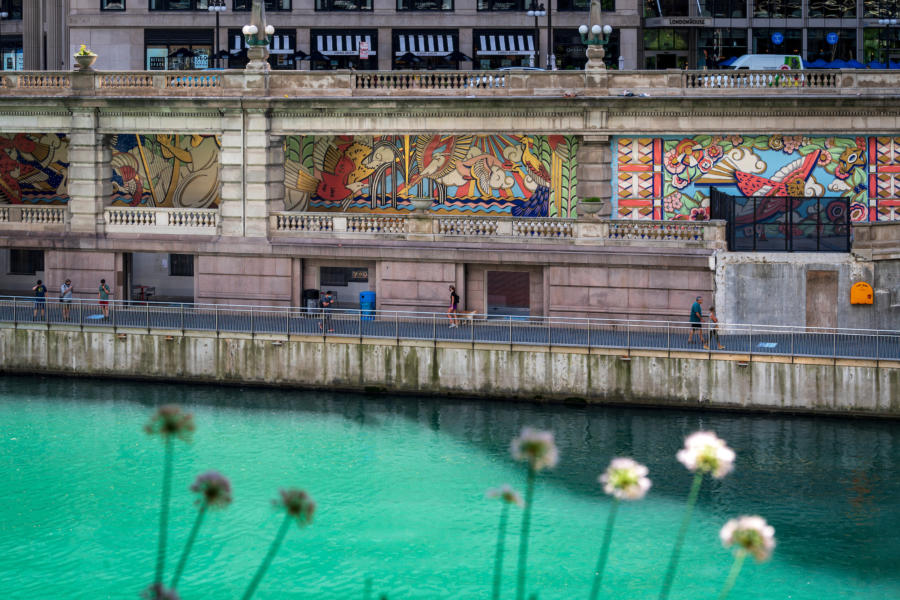 The Chicago Riverwalk is a 1.25-mile urban canvas, where you'll see permanent and rotating public art by some of today's leading artists. New additions include a mural celebrating 100 years of Art Deco by artist Kate Lynn Lewis and portraits of Chicagoans by street muralist Dont Fret.
Also take a stroll to Ellen Lanyon's Riverwalk Gateway. It's a 27-foot-long trellised walkway that links the Chicago Riverwalk with the lakefront with ceramic panels depicting the rise of Chicago and the significance of the river to the city. Then wander over to Carolyn Ottmers' Allium, a 10-foot-tall aluminum flower between Columbus Drive and Jean Baptiste Point du Sable Lake Shore Drive. It's one in a series of three sculptures, collectively called Equilibrium, that pay homage to Chicago's native plants.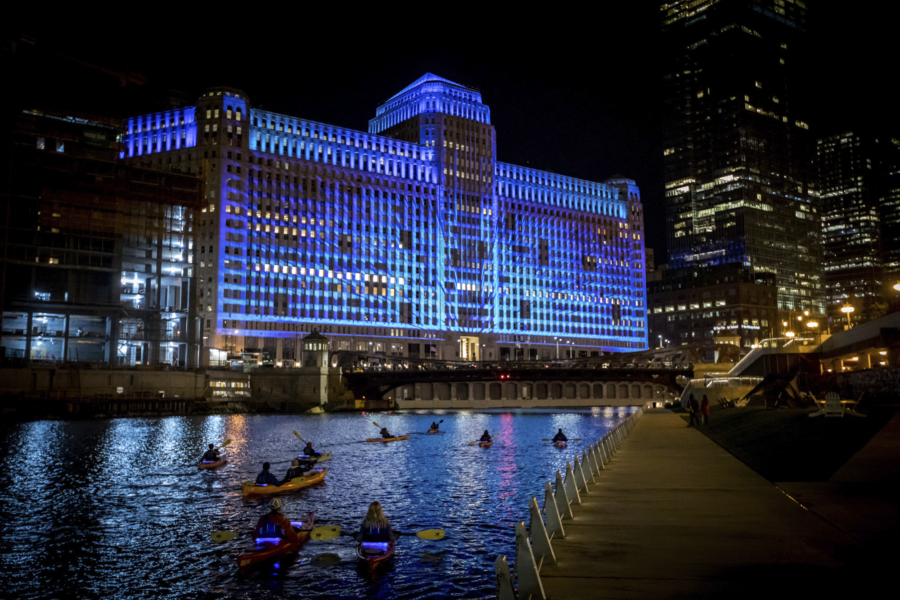 If you're looking for a tranquil spot for a timeout from the bustling city, stop by the Vietnam Veteran's Memorial Plaza. The monument here commemorates the men and women across America who lost their lives in the Vietnam War. It's one of the largest memorials in the nation outside of Washington, D.C.
Art on theMART is the Riverwalk's crown jewel. It's the largest digital art projection in the world, covering over 2.5 acres of theMART's river-facing façade. Catch Art on theMART on select evenings from March through December. Check out rotating public art on the Riverwalk.
Getting there
CTA
There are tons of 'L' stops near the Chicago Riverwalk: Brown, Purple, Red, Orange, Pink, and Green lines will all get you within walking distance. The CTA bus is also a convenient way to get there. Check out the CTA Quick Trip Planner for the quickest route to the Chicago Riverwalk.
Metra train
Both Union Station and Ogilvie Transportation Center are short walks to Lake Street, the western end of the Chicago Riverwalk. Walk east to the Lake Street stairway down to the Chicago Riverwalk. Find Metra maps and schedules.
Water taxi
For a picturesque trip to the Riverwalk, board the Chicago Water Taxi stop between Ogilvie and the Riverwalk's River Theater. Plan your trip by water taxi.