Free admission • Millennium Park
Every summer in Chicago, visitors and locals flock to the Jay Pritzker Pavilion in Millennium Park to kick back, picnic, and watch free movies against the city's iconic skyline.
This year's line-up includes blockbusters, award-winners, family classics, and cult favorites in an unforgettable setting. The annual Millennium Park Summer Film Series takes place on Tuesday evenings at 6:30 p.m. and admission is totally free.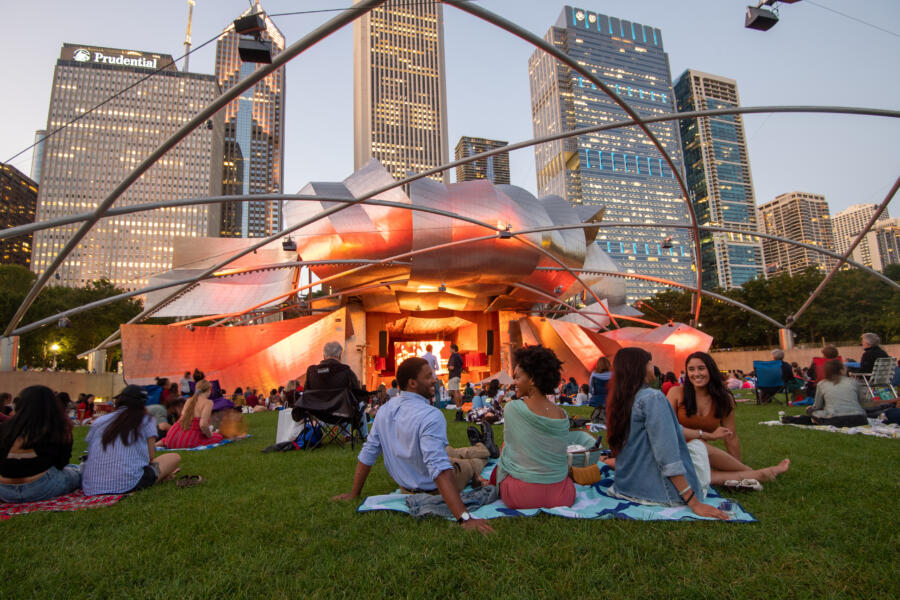 Millennium Park Summer Film Series schedule
Explore the full schedule for Millennium Park Summer Film Series 2023. All movies begin at 6:30 p.m. and gates open at 5 p.m. Guests may take a seat in the Jay Pritzker Pavilion or lounge on the Great Lawn.
Tuesday, July 11: Fast Five (130 minutes, PG-13)
Tuesday, July 18: Turning Red (100 minutes, PG)
Tuesday, July 25: Black Panther: Wakanda Forever (161 min, PG-13)
Tuesday, Aug. 1: Summer of Soul (…Or, When the Revolution Could Not Be Televised) (118 minutes, PG-13)
Tuesday, Aug. 8: Clueless (97 minutes, PG-13)
Tuesday, Aug. 15: Top Gun: Maverick (130 minutes, PG-13)
Tuesday, Aug 22: Barbershop (102 minutes, PG-13)
Tuesday, Aug. 29: Everything Everywhere All at Once (139 minutes, R)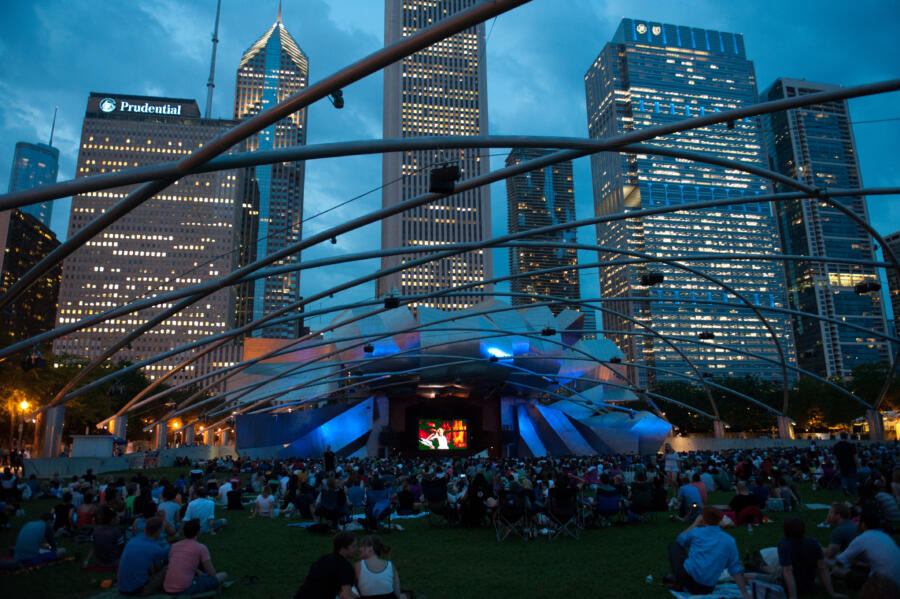 About the Millennium Park Summer Film Series
All seats within the pavilion's seating bowl and space on the Great Lawn are free and first come, first served. Arrive early to snag a spot! Guests can bring their own food and beverages to the events, so pack a picnic and make a night out of it.
Bright enough to be completely visible in the daylight, the screen illuminates the entire viewing area with crisp, clear images and combines with the Pavilion's concert-hall quality sound system to create one of the most memorable moviegoing experiences, no matter where you sit.
Millennium Park FAQs
Plan your visit to Millennium Park and learn more below.
What accessibility amenities are available at Millennium Park concerts?
Evert aspect of Millennium Park has been designed to be accessible and inclusive to all patrons. That includes:
All films are open-captioned (including pre-show)
Assistive listening devices and wheelchairs are available at all Millennium Park events from the Patron Service Tent
Accessible seating (with companion seats) is available throughout the Jay Pritzker Pavilion seating bowl
Learn more about accessibility in Millennium Park.
Can I bring a folding chair and blanket?
Yes, chairs and blankets are welcome on the Great Lawn. Folding chairs are not allowed in the seating area of the Jay Pritzker Pavilion.
May I bring a picnic basket?
Yes! Millennium Park is the perfect place for a picnic and a night of dining al fresco. However, in order to ensure that events are enjoyable for all attendees and to protect the lawn from wear and tear, please respect the following rules of the Jay Pritzker Pavilion: tents, oversized umbrellas, oversized blankets or plastic tarps, helium balloons, oversized flags, signs/banners, barbecue grills, open flame candles, or staking of any kind are not allowed on the Great Lawn area.
Can I buy beer or wine in the park? How about food?
Refreshments, including food, beer and wine, are available for purchase from the concessions tent located to the east of the Jay Pritzker Pavilion. In addition, concessions can be purchased throughout the Park, including from Millennium Hall, a multi-restaurant concept that includes Napolita Pizzeria, Double Clutch Brewing Company, and Casa Bonita.
Alcohol may only be consumed in the seating area and the Great Lawn during the events. Alcohol sales in the Millennium Park concession tent end one half-hour prior to the end of the event.
What is the rain policy?
Concerts and performances in the Jay Pritzker Pavilion are held rain or shine, unless there are severe weather warnings and/or the threat of lightning in the area. The Pavilion seats are not protected from the elements. The Great Lawn has a high-tech design with underlying layers of sand and gravel that allows water to drain quickly.
May I bring my dog along?
Animals are not permitted in Millennium Park, unless they are service animals.
Please note: Schedule is subject to change. For the latest on Millennium Park Summer FilmSeriesand all Millennium Park events, visit millenniumpark.org.