Does your next meeting or event require a screening room? Check out these venues that fit the bill.
Whether you're planning a new product launch, corporate presentation or just a fun viewing party, these 14 Chicago screening rooms should be on your checklist. From swanky private hotel theaters to architecturally stunning screening rooms in some of Chicago's leading museums, there's sure to be a spot you'll want to to view.
Hotels
1. Ambassador Chicago
The luxurious Screening Room/Back Room at the Ambassador Chicago hotel in Chicago's historic Gold Coast neighborhood features custom couches for lounging, a glowing domed ceiling, walnut wood-paneled walls, and a 110-inch, wall-mounted plasma screen with built-in sound system perfect for a private screening or cocktail party. The Screening Room accommodates 75 for theater seating and 80 for a reception.
Contact: sales@publicchicago.com.
2. Radisson Blu Aqua Hotel
Situated close to Lake Michigan in the Lakeshore East area, Radisson Blu Aqua Hotel features screening capabilities in all of its 13 flexible meeting rooms. But for an intimate viewing, book the cozy Theatre Room that seats 23.
Contact: Send a request for proposal
3. Soho House Chicago
The Screening Room at this industrial-chic hotel in Chicago's trendy West Loop neighborhood is a swanky 30-seat cinema with ultra-plush crimson recliners and individual cocktail tables topped with small glowing lamps. The Screening Room is available for private movie screenings and events, and food and drink is available.
Contact: (312) 521-8000
Museums
4. Adler Planetarium
The Adler Planetarium offers out-of-this world options for Chicago meetings and events. The Grainger Sky Theater is perfect for presentations (195 theater seating), and features a dramatic 36-foot-tall domed ceiling. The Samuel C. Johnson Family Star Theater is ideal for lectures and screenings, accommodating 215 for a seated program.
Contact: Request a quote
5. Art Institute of Chicago
Known around the globe for its priceless collection of artworks, the Art Institute is also an excellent place to hold a corporate event. The 950-seat Rubloff Auditorium is the museum's principal theater, featuring a state-of-the-art control booth, cyclorama stage, and multi-tiered seating on a main floor, loge, and upper balcony. The smaller 370-seat Fullerton Hall was built in 1898 and features an exquisite stained-glass Tiffany dome, creating a lovely setting for a lecture or film screening.
Contact: (312) 443-3530
6. Chicago Cultural Center
A true architectural showplace, the beautiful Chicago Cultural Center (which boasts the world's largest Tiffany stained-glass dome) offers a variety of free arts programs and exhibits. The 300-seat Claudia Cassidy Theater is fully equipped and works well for corporate presentations and performances.
Contact: Lara Ziemba, (312) 744-2080 or lziemba@mbres.com
7. Chicago History Museum
Although it maintains its original grand 1932 architecture, the museum's McCormick Theater features modern movie theater-quality projection, sound, and lighting. The 300-seat theater is ideal for keynote addresses or awards presentations, and includes access to exhibitions in the Wrigley Gallery, which can host a small cocktail reception.
Contact: (312) 642-4600
8. Field Museum
Founded in 1893 as part of the World's Columbian Exposition, the Field Museum is one of the world's leading natural history institutions. The museum's elegant 700-seat James Simpson Theatre features imposing Doric columns, a beautifully detailed recessed ceiling, and intricately carved molding. Its state-of-the-art digital cinema projection system can accommodate everything from standard definition to 3D high-definition, and the audio system is capable of full surround sound.
Contact: (312) 665-7600 or events@fieldmuseum.org
9. Museum of Contemporary Art
At the Museum of Contemporary Art (MCA), works by some of the world's foremost modern artists create a stunning backdrop for corporate events. The 300-seat Edlis Neeson Theater, featuring elegant oak-paneled walls and tiered seating, is ideal for annual meetings and film premieres.
Contact: (312) 397-3872 or mbiller@mcachicago.org
10. Museum of Science and Industry
The huge Museum of Science and Industry offers an array of interesting meeting spaces. Treat your attendees to a private film screening in the five-story, wraparound Omnimax Theater (300 seated), which comes with rental of the Henry Crown Space Center (150 seated/300 reception). Or book the full-stage Auditorium with customizable lighting (649 main level/200 balcony seated).
Contact: (773) 753-2583
11. Pritzker Military Museum & Library
Set on Michigan Avenue, this impressive war museum offers breathtaking views of Millennium Park. The two-story Lecture Hall is an extraordinary venue for film screenings, panel discussions, and press conferences, while the Broadcast Center provides services ranging from live interactive webcasts to high-definition, multi-camera broadcasts. Capacity is 104 people (66 main level/38 balcony).
Contact: rentals@pritzkermilitary.org
More venues
12. Gene Siskel Film Center
Named for beloved Chicago movie critic Gene Siskel, this Loop art film house offers two state-of-the art movie theaters, with seating for 196 and 63 people. An adjacent gallery/cafe space overlooking State Street is perfect for luncheons or private receptions. Because the Gene Siskel Film Center is open to the public seven days a week (as part of the School of the Art Institute of Chicago), it is primarily available for daytime rentals.
Contact: filmcenter@saic.edu
13. Venue SIX10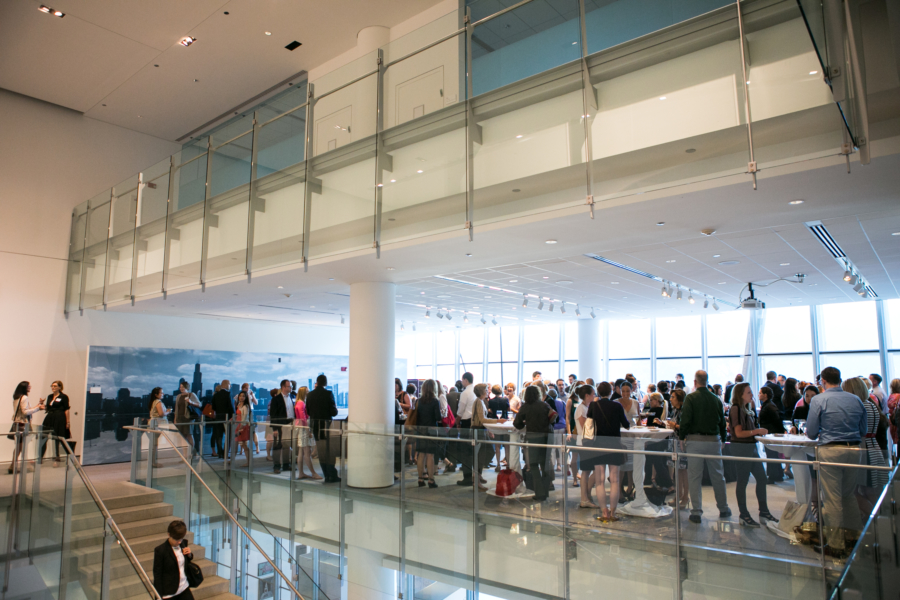 Located in the Loop on Michigan Avenue, Venue SIX10 features spectacular views of Grant Park and Lake Michigan. Its Feinberg Theater, which seats 408, has state-of-the-art acoustics, a proscenium stage, and a wraparound mezzanine and balcony. It's the ideal space for film screenings, lectures, and interactive meetings. Before or after your event, cocktails and appetizers can be served in the adjacent three-story atrium lobby.
Contact: (312) 322-1725 or events@venuesix10.com