Update: The 2020 Chicago Jazz Festival has been canceled to prevent further spread of COVID-19. We look forward to seeing everyone in 2021. 
The oldest of Chicago's free lakefront music festivals boasts an incredibly diverse lineup, which includes free neighborhood concerts leading up to the main show at Millennium Park each August. The range of artists comprising the Chicago Jazz Festival runs the gamut from jazz legends to influential modern masters and crucial new voices in the genre's continuing evolution.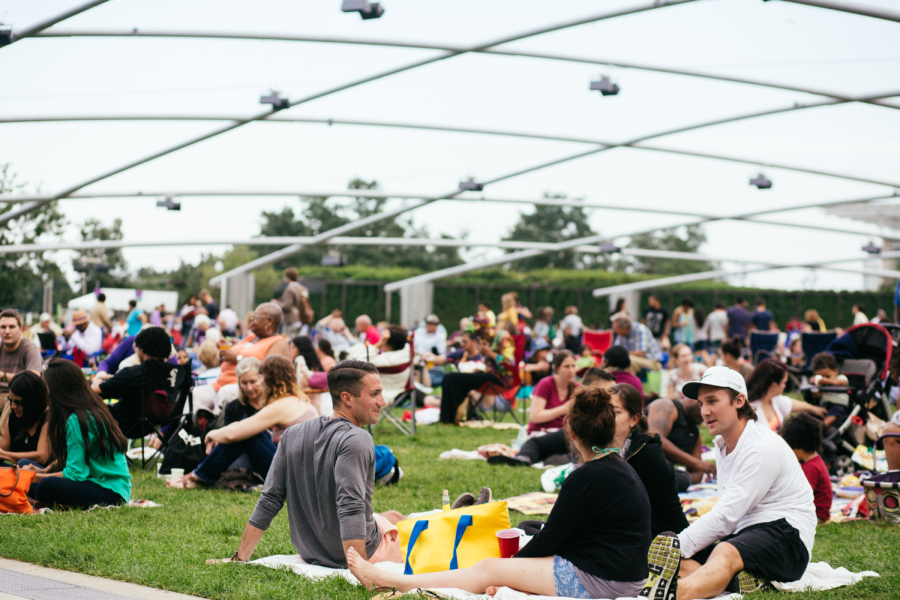 The 41st rendition of the free-admission festival will include a special tribute to Nat King Cole by his brother Freddy Cole and a celebration of the 50th Anniversary of the Jazz Institute of Chicago, the festival's programming partner.
An all-ages, multi-venue music event, the Chicago Jazz Festival brings free jazz to downtown's beautiful Millennium Park, as well as inside the nearby Chicago Cultural Center.
Here's a look at the 2019 Chicago Jazz Festival schedule of performances.
Chicago Jazz Festival free neighborhood shows
Friday, Aug. 23
JD Allen Trio, 8:30 p.m.
Constellation Studio B, 3111 N. Western Ave.
Saturday, Aug. 24
Brown Derby Jazz Revue, 6 – 10 p.m.
Great Lakes Elks Lodge, 5110 S. Prairie
Marc Ribot Solo, 8:30 p.m.
Constellation Studio B, 3111 N. Western Ave.
Sunday, Aug. 25
​Brown Derby Jazz Revue, 6 – 10 p.m.
Great Lakes Elks Lodge, 5110 S. Prairie
Cooper Moore, 9 p.m.
The Hungry Brain, 2319 W. Belmont Ave.
Monday, Aug. 26
Pop-Up Nu Jazz Festival featuring Thaddeus Tukes, Sam Trump, the Young Masters under the direction  of Ernest Dawkins along with special guest Jamila Woods and Alexis Lombre, with the Englewood Soweto Exchange, 5 – 7:30 p.m.
Whole Foods parking lot, 832 W. 63rd St.
​Anagram Fest featuring The Oh Years and the Alejandro Urzagaste Trio, 9 p.m.
Elastic Arts, 3429 W. Diversey Ave., 2nd Floor
Tuesday, Aug. 27
Tuesdays on the Terrace: Isaiah Collier and the Chosen Few, 5:30 p.m.
Museum of Contemporary Art Chicago, 220 E. Chicago Ave.
Ancient to the Future featuring Art Turk Burton Congo Square Ensemble and Ernest Dawkins, 6 – 8 p.m.
Jacob R. Caruthers Center, Northeastern Illinois University, 700 E. Oakwood Blvd.
Preservation of Fire hosted by King Hippo featuring Vibes Trio + 1 and Isaiah Spencer Collective, 8 p.m.
Co-Prosperity Sphere, 3219 S. Morgan St
Anagram Fest featuring Mobile Vanguard and the John Wojciechowski Trio, 9 p.m.
Elastic Arts, 3429 W. Diversey Ave., 2nd Floor
Wednesday, Aug. 28
100th Birthday of Nat "King" Cole with Bruce Henry, Henry Johnson and the Musical Arts Academy, 6 – 9 p.m.
Reva and David Logan Center for the Arts, 915 E. 50th St.
Preservation of Fire: QUARTETS hosted by Angel Bat Dawid & King Hippo featuring Eliel Sherman Storey Quartet and Angel bat Dawid & The Brothahood, 8 p.m.
Co-Prosperity Sphere, 3219 S. Morgan St.
Thursday, Aug. 29
Nois and the Dave Rempis Quartet Honor Fred Anderson with a Nod to Charlie Parker's 99th Birthday!, 6 p.m.
Fred Anderson Park, 1611 S. Wabash Ave.
Chicago Jazz Festival headlining performances
Thursday, Aug. 29
6:30 – 7:25 p.m.                        Jazz Institute of Chicago's 50th Anniversary
7:45 – 9 p.m.                             Tribute to Nat King Cole featuring Freddy Cole
Friday, Aug. 30
4:15 – 5:05 p.m.                        George Freeman and Billy Branch
5:25 – 6:10 p.m.                        Joel Ross
6:25 – 7:25 p.m.                        Ambrose Akinmusire Quartet
7:45 – 9 p.m.                             Art Ensemble of Chicago
Saturday, Aug. 31
4:15 – 5:05 p.m.                        Ben Wendel Seasons
5:25 – 6:10 p.m.                        Ryan Cohan's Originations
6:25 – 7:25 p.m.                        Christian McBride
7:45 – 9 p.m.                             Cécile McLorin Salvant
Sunday, Sept. 1
4:15 – 5:05 p.m.                        Dave Rempis Quartet
5:25 – 6:10 p.m.                        Camila Meza
6:25 – 7:25 p.m.                        Latino-America Unida
7:45 – 9 p.m.                             Eddie Palmieri Sextet
History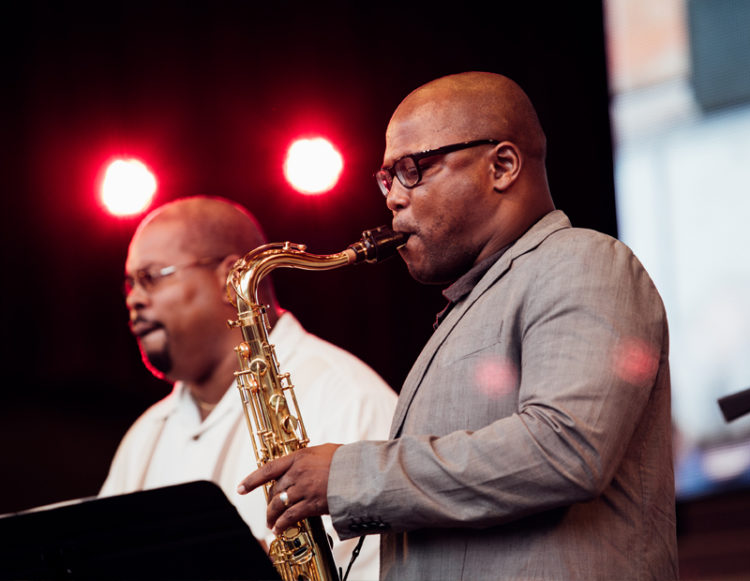 The great composer/bandleader Duke Ellington died in the summer of 1974. Just a few weeks later, several dozen Chicago musicians held a festival to honor him, at the old bandshell at the south end of Grant Park. Ten thousand music lovers came, marking the first of what would become annual memorial concerts that drew crowds of up to 30,000.
Then in 1978, musicians working with Chicago's Council of Fine Arts held the first John Coltrane Memorial Concert in Grant Park, another popular success.
The next year the Jazz Institute of Chicago began planning its own August festival. That meant that three different groups of jazz people were working to present concerts at the end of August.
The Mayor's Office of Special Events proposed the solution: Get together to create the first Chicago Jazz Festival. It had an Ellington night, a Coltrane night, and five other programs organized by the Jazz Institute and it was held at the new Petrillo Music Shell. And 125,000 people came to listen, dance, picnic on the grass, and enjoy the birth of what was to become the most extensive free jazz festival in the world.
Every year since then the Chicago Jazz Festival has been held on the week before Labor Day. The Department of Cultural Affairs and Special Events produces it and the Jazz Institute of Chicago programs it.
Frequently asked questions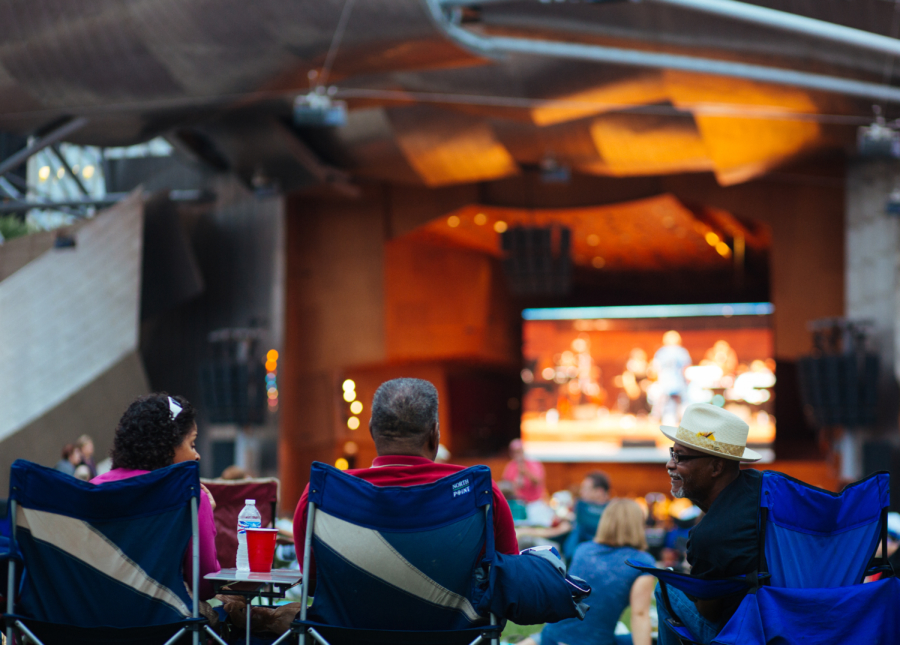 What items are prohibited from being brought onto festival grounds?
Barbecue grills (open flames)
Fireworks or explosives
Illegal substances & weapons
Pop-up tents/canopies
Beach/picnic umbrellas
Flag poles
All pets (except service animals)
Can I bring a folding chair and blanket into the Chicago Jazz Festival?
Yes, but folding chairs are not allowed in the seating area of the Jay Pritzker Pavilion.
Can I save seats in the Pavilion?
General seating in the Pavilion and on the Great Lawn is available on a first-come, first-served basis. In the seating bowl, you may save only one seat prior to the start of each show. Once the show has started, you must relinquish your seat. Please note that Millennium Park reserves the right to close the seating bowl and Great Lawn due to reaching capacity and appreciates your cooperation in ensuring the safety and enjoyment of your concert-going experience.
What about items I lost or found in the park?
To inquire about lost or found items in the park, please call (312) 744-6050.
May I bring a picnic basket?
Yes! Millennium Park is the perfect place for a picnic and a night of music and dining al fresco. However, in order to ensure that events are enjoyable for all attendees and to protect the lawn from wear and tear, please respect the following rules of the Jay Pritzker Pavilion: tents, oversized umbrellas, oversized blankets or plastic tarps, helium balloons, oversized flags, signs/banners, barbecue grills, open flame candles, or staking of any kind are not allowed on the Great Lawn area.
May I buy beer or wine in the park? How about food?
Refreshments, including food, beer and wine, are available for purchase from the concessions tent located to the east of the Jay Pritzker Pavilion. In addition, concessions can be purchased throughout the Park, including from the concession carts located on the Chase Promenade and at the Park Grill and Café on the McCormick Tribune Plaza. Alcohol may only be consumed in the seating area and the Great Lawn during the concerts. Alcohol sales in the Millennium Park concession tent end one half-hour prior to the end of the concert.
What is the rain policy?
Concerts and performances in the Jay Pritzker Pavilion are held rain or shine, unless there are severe weather warnings and/or the threat of lightning in the area. The Pavilion seats are not protected from the elements. The Great Lawn has a high-tech design with underlying layers of sand and gravel that allows water to drain quickly.
Are recording devices allowed during a concert?
Photography, video, or recording devices are prohibited at all concerts at the Jay Pritzker Pavilion.
May I smoke?
Smoking is prohibited in the seating area of the Jay Pritzker Pavilion, Great Lawn, the Lurie Garden, the east and west arcades by the restrooms, and the east and west Exelon Buildings.
May I bring my dog along?
Animals are not permitted in Millennium Park, unless they are service animals.
For additional questions regarding Millennium Park, visit millenniumpark.org.