Chicago is an urban outdoor playground with 26 miles of lakefront, 25 beaches, miles of green space, and hundreds of parks — all connected by an 18 mile lakefront path. That adds up to a slice of outdoor heaven for bikers, runners, boaters, sunbathers, culture lovers, and nature enthusiasts.
If you love your time in the sun, there's a Chicago park, garden, or beach you'll feel right at home in. Here are just a few of the many.
Park for arts and culture
Culture vultures find everything from live music, theatre, and film screenings to fountains, monuments, and public art in Chicago's parks. These three amazing urban green spaces in particular are filled with must-see arts and cultural attractions.
Grant Park
Affectionately known as Chicago's "front yard," Grant Park is among the city's loveliest and most prominent parks. At the center of the lakefront green space sits the famous Buckingham Fountain, one of the largest fountains in the world. Unveiled in 1927, it was inspired by the a fountain at the Palace of Versailles. The fountain produces a dazzling water display for 20 minutes every hour from early May through mid-October. During these shows, a center jet shoots water to a height of 150 feet, with lights and music beginning at dusk.
If you love music and dance, Chicago Summerdance is a free summer festival that features an open-air dance floor in Grant Park's Spirit of Music Garden. Professional instructors lead dance lessons in styles like samba and tango, followed by live music and dance in the park.
Summers also welcome Lollapalooza to Grant Park. This four-day music festival, begun by Jane's Addiction frontman Perry Farrell, features headlining alternative rock, heavy metal, punk rock, hip hop, and techno bands. Check out more summer festivals inChicago.
Millennium Park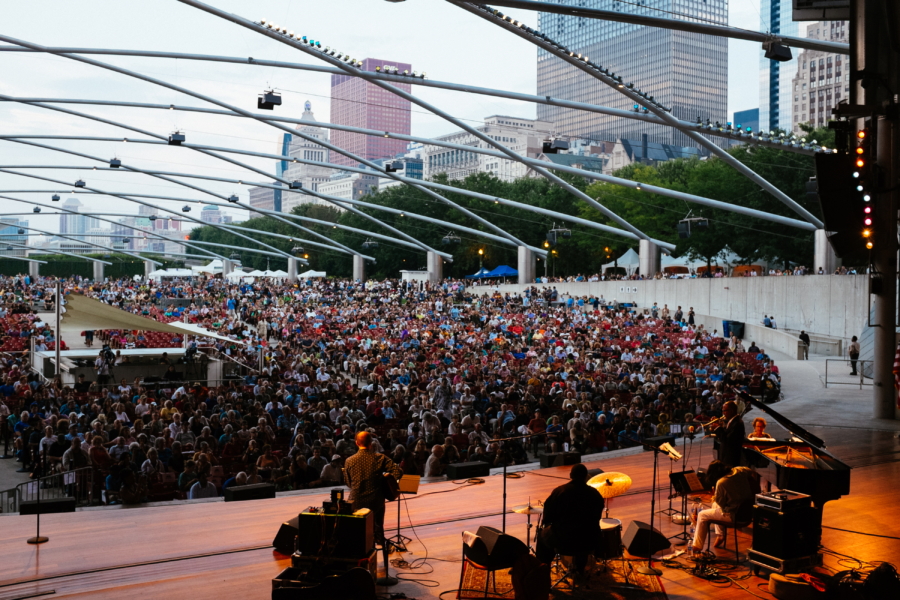 This award-winning Millennium Park has become one of the city's most-visited attractions since opening in 2004. The park transformed former railroad tracks and parking lots into a haven for nature and the arts, and now hosts hundreds of outdoor concerts and performances in Frank Gehry's stunning Jay Pritzker Pavilion. A couple of events not to miss include the Chicago Blues Festival, the Chicago Jazz Festival, and the Grant Park Music Festival, which are all free to the public.
The pavilion also hosts a free Summer Music and Summer Film Series, where you can grab a seat or spread out on the Great Lawn with a picnic to enjoy live music or movies under the stars.
Harris Theater for Music and Dance is also located at Millennium Park, and a great place to immerse yourself in the performing arts any time of year.
Perhaps Millennium Park's most famous feature, however, is its public art. Anish Kapoor's stainless steel sculpture, Cloud Gate, aka "The Bean," the Boeing Galleries outdoor art exhibits, and interactive Crown Fountain, with its video-projected towers displaying the 50-foot faces of Chicago residents spouting water, make it impossible not to fall in love with this iconic park.
Northerly Island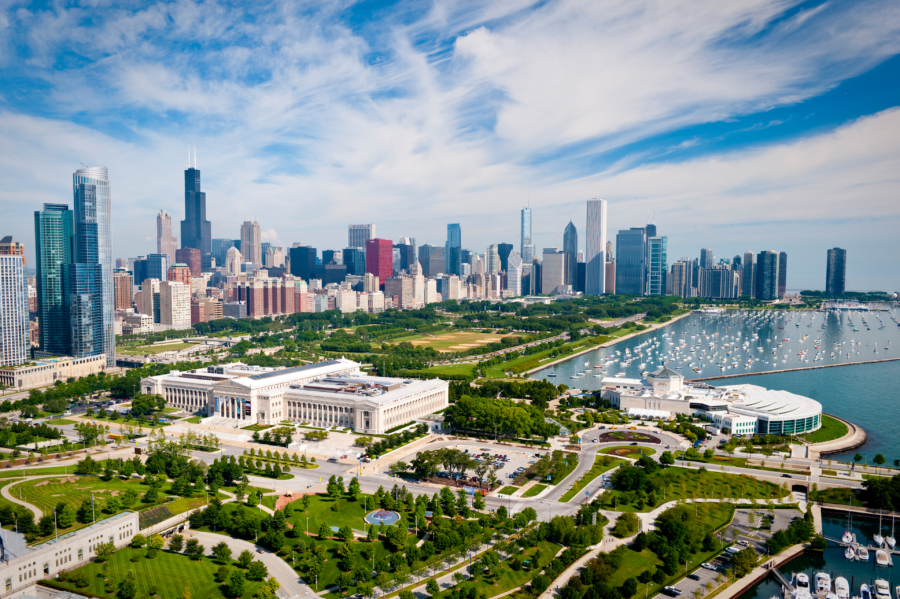 Northerly Island is a man-made peninsula that juts dramatically into Lake Michigan. It's populated with beautiful strolling paths, prairie grasses, casual play areas, great fishing spots, public art, and spectacular lake and city skyline views — just as architect and planner Daniel Burnham had envisioned.
Most famously, Northerly Island is the site of Adler Planetarium, the oldest planetarium in the Western Hemisphere, and home to Doane Observatory. Both Northerly Island and the Adler are part of the city's phenomenal Museum Campus, which includes the Field Museum (packed with natural history marvels, and Shedd Aquarium (one of the world's largest aquariums).
Concert venue Huntington Bank Pavilion is also located at Northerly Island. This huge outdoor amphitheater holds over 30,000 people and commands incredible views of the city and lakefront.
Chicago parks for kids
From fantasy-inspired playgrounds for toddlers to skate parks and climbing walls for teens and tweens, Chicago's parks inspire and entertain kids all through the year. Here are just three of the many to visit.
Maggie Daley Park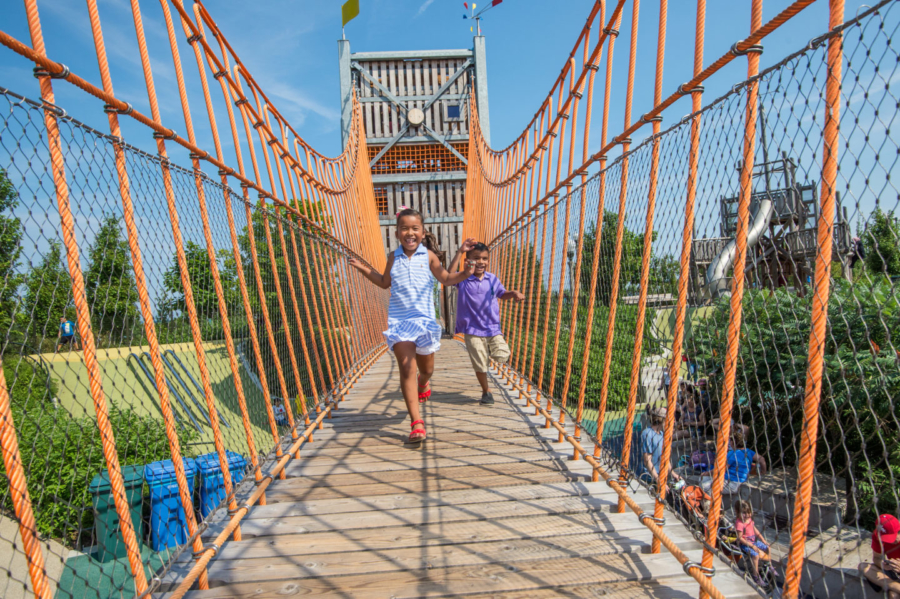 Kids of all ages run wild at Maggie Daley Park, a mega playground modeled after the fantasy worlds of Alice in Wonderland and Charlie and the Chocolate Factory. The park's Play Garden spurs kids' imaginations with everything from a giant water-spraying whale, a boat to climb and captain, huge upside-down trees, and even a Tower Bridge. You'll also find mini golf, climbing walls, and an all-seasons Skating Ribbon where you can skate and scooter in the summer and ice skate in the winter.
Grant Park Skate Park
For active teens and tweens, Grant Park Skate Park is a great place to be. It features a lakefront course with concrete ramps, grinding rails, quarter pipes, two stair sets, and a cool gap jump. There are also wheel-friendly courses for BMX bikes, rollerblades, and scooters.
Oz Park
Located in the Lincoln Park neighborhood, Oz Park is an intimate green space celebrates kids' classic, The Wizard of Oz. Dorothy's Playlot is filled with play equipment for little ones to climb, swing on, and run around. In the Emerald Garden, families enjoy a leisurely afternoon among beautiful blooms. And most magical of all are the statues of the Tin Man, Scarecrow, Cowardly Lion, and Dorothy and Toto that greet you.
Outdoor spaces for nature lovers
Unique habitats and rare flora and fauna thrive in Chicago's great outdoors. Whether you're a nature hiker or wilderness watcher, there's a perfect park, garden, or beach just for you. Start exploring with these three great picks.
Lincoln Park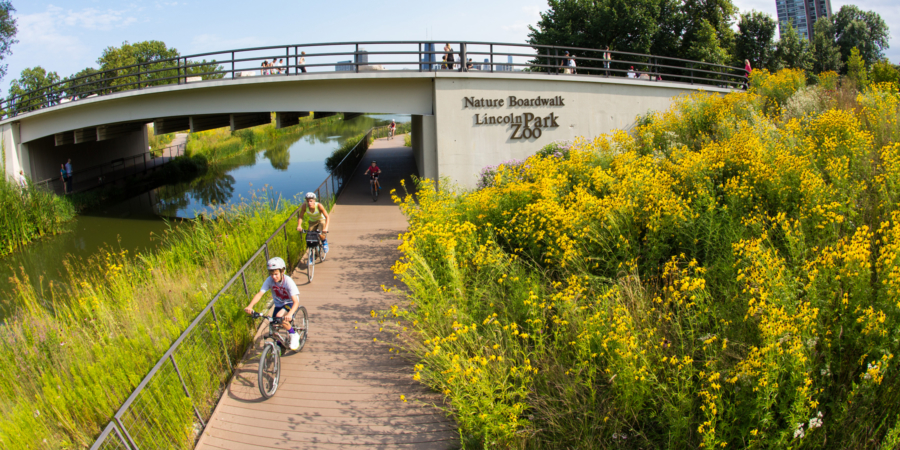 Lincoln Park is a nature and wildlife haven that includes the Lincoln Park Conservatory, Lincoln Park Zoo, Farm-in-a-Zoo, Nature Boardwalk, Alfred Caldwell Lily Pool, the Bill Jarvis Migratory Bird Sanctuary, and the Peggy Notebaert Nature Museum. Trails lead you through flowering gardens and tree-shaded green spaces, and around North Pond and South Pond, where ecology and wildlife conservation live large. Feed ducks and geese, watch for birds, explore native plants, and picnic in the park.
Montrose Beach
Montrose Beach is so much more than sand and pretty views. Migratory birds flock to this location over the fall and spring seasons, with Montrose Point Bird Sanctuary recording over 300 species to date, including some of the rarest birds ever recorded in the state. Additionally, a serene area of naturally forming dunes features a unique habitat specific to the Lake Michigan shoreline, where endangered plant life thrives. And about those pretty views — yeah, it has those, too.
North Park Village Nature Center
Whether you're in search of serenity, bird watching, deer spotting, or long hikes through the wilderness, this natural oasis in the heart of the northside is a true hidden gem. North Park Village Nature Center features over 58 acres, with trails that wind through woodland, wetland, prairie, and oak savanna. The Nature Center itself provides visitors with an opportunity to interact with and learn about wildlife and natural resources. A few of the things you'll find here are resident bees, drawers filled with scientific samples, and a hands-on table of bones, fur, and found objects. Special events for kids and adults, all focused on nature, complete the North Park Village Nature Center experience.
Outdoor adventure for fitness gurus
Get supercharged with paddleboards or find your zen with beachfront yoga. Whatever gets you moving, you'll find it at a Chicago beach or park. Start your workout right here.
Lakefront Trail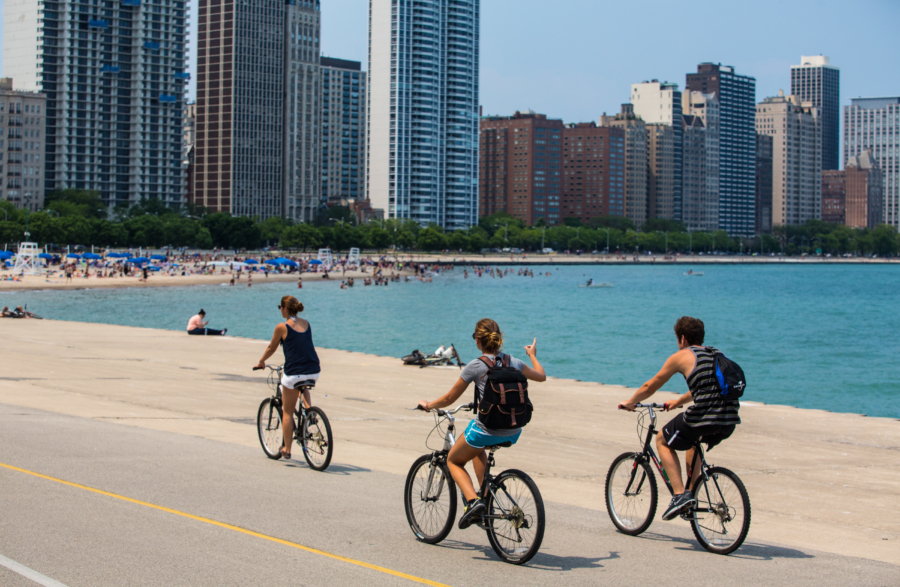 The Lakefront Trail is an 18.5-mile, multi-use path along the shores of Lake Michigan. Run, walk, bike, or skate from its northernmost point at Ardmore Avenue south to 71st Street, touring diverse and vibrant neighborhoods such as Lincoln Park, Streeterville, the Loop, and Jackson Park as you go.
North Avenue Beach
If you love the sun at your back and sand beneath your feet, then make a bee-line for North Avenue Beach, one of 24 Chicago beaches located along Lake Michigan's shores. Rent a powerful WaveRunner at Jet Ski Chicago, or hit the waves with a wave board or paddleboard at Great Lakes Board Company. Or do a little outdoor yoga with Sun and Moon Beach Yoga. And if you love volleyball, then know that the Chicago Sport and Social Club — the world's largest volleyball league — has called Chicago home for the last three decades. Rent a court and equipment at North Avenue Beach — and try not to be distracted by the great city and lakefront views.
Washington Park
There's nothing like a beautiful green space to inspire your fitness kick. Located close to Hyde Park, you have your pick of two gymnasiums, a dance studio, racquetball court, fitness center, game room, three playgrounds, basketball and tennis courts, a baseball diamond, football and soccer fields, and even a cricket field at Washington Park. There are lots of outdoor attractions to walk, run, and bike around, too, including a nature area, the Harvest Garden, a lagoon, softball fields, and an arboretum. Don't miss the popular Fountain of Time sculpture while you're there.