Free admission • Millennium Park

Experience a summer of extraordinary music with dozens of free classical concerts. The Grant Park Music Festival has been a Chicago tradition for almost 90 years. Held at Millennium Park and neighborhood venues around the city, the festival is the nation's only free, summer-long outdoor classical music series.
The festival features 10 weeks of concerts, mainly held in Chicago's iconic downtown Millennium Park. Grab a spot on the lawn, set up a picnic, and kick back while Pritzker Pavilion's state-of-the-art acoustic system delivers an extraordinary sonic experience — all with the Chicago skyline as a backdrop.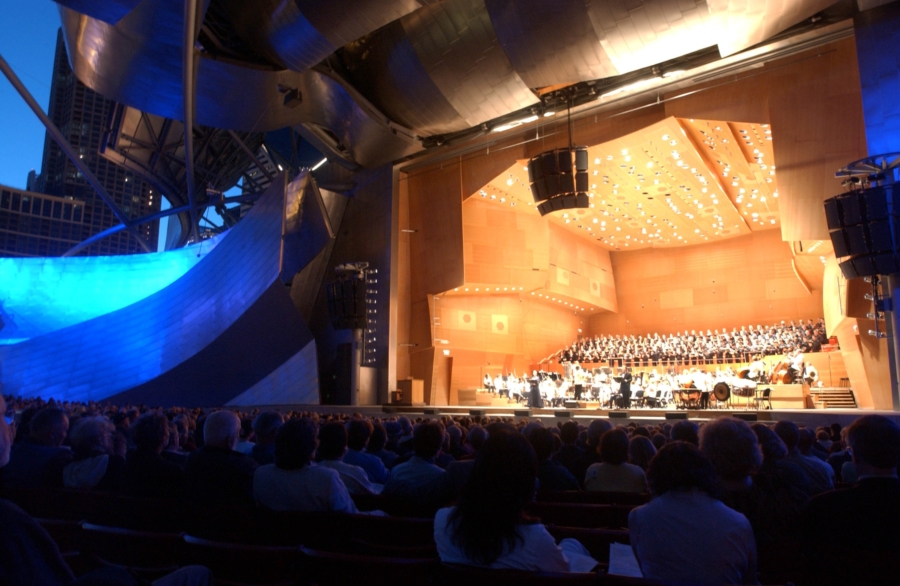 The 2023 Grant Park Music Festival line-up includes almost 30 shows featuring the world-class Grant Park Orchestra. This year's shows include a variety of renowned conductors and musicians, including violinists, cellists, and pianists. Events also include an ode to Broadway, chorus singers, a Beethoven  Symphony, and a Cirque collaboration. Check out the full details on this season's schedule.
Festival concerts in the Jay Pritzker Pavilion offer free seating on the Great Lawn (spread out on a blanket or settle into some lawn chairs!) just beyond the stage. Lawn seating is first-come, first-serve and no admission tickets are required. The seating closest to the stage in the Seating Bowl is reserved for members, groups, and visitors with single-night passes.
You'll also find a variety of shows held in neighborhood parks and venues around the city, including the South Shore Cultural Center, Columbus Park, Jefferson Park, Marquette Park, Lake Shore Park, and more.
For further information, visit grantparkmusicfestival.com.
Please note: Schedule is subject to change. For the latest on all Millennium Park events, visit millenniumpark.org.