Chicago's McCormick Place attracts close to 3 million visitors each year. The largest convention facility in the Western Hemisphere is committed to creating a great experience for all, from event space to dining options.
Here's everything you need to know about food and beverage at McCormick Place.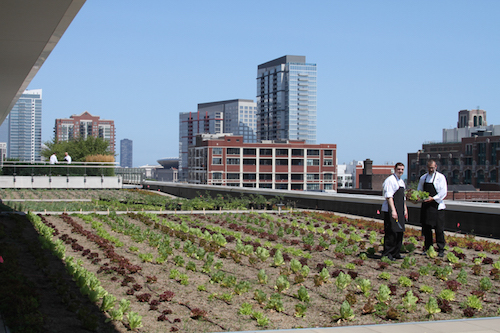 SAVOR…Chicago Catering Services
As the exclusive food and beverage provider at McCormick Place, SAVOR…Chicago provides a top-of-the-line food experience. Their fresh menus take convention center dining to the next level.
Fresh and healthy options are paramount as SAVOR… sources from its 2.5-acre rooftop garden (the Midwest's largest) and small regional purveyors specializing in organic breads, meats raised without antibiotics and other farm-to-fork picks. The Windy City Harvest menu at the 23rd Street Café includes locally sourced fresh menu choices for sit-down or grab-and-go.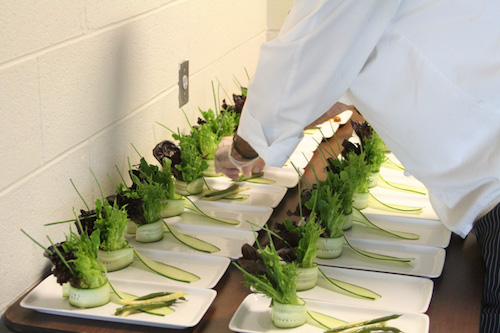 Events at McCormick Place are met with world-class catering options. The dedicated culinary team at SAVOR… works with you on every detail, from site coordination to rentals to securing a pleasant service staff. Customize meals your guests will talk about long after the conference is over.
Catering menu highlights:
(This is just a sampling of offerings)
Breakfast
Rustic Strata Breakfast: A display of seasonal sliced fruit, slow baked strata with egg and cream, tri-color tortilla, cumin and fresh seasonal vegetables, salsa verde, turkey bacon, sausage patties, breakfast potatoes, assorted yogurt, cereals with milk, and assorted breakfast pastries.
Refreshment break
Sweet & Salty: Assorted ice cream bars, chocolate covered raisins, salty pretzels, yogurt covered pretzels, honey roasted peanuts, freshly brewed regular and decaffeinated coffee, and hot tea.
Box lunch
Thai Beef Salad: Thai spiced marinated seared beef with Thai basil, bean sprouts, carrot, cucumber, spinach, arugula, mint with lemon grass-ginger vinaigrette.
Hors d'oeuvres
SAVOR… Seafood Display: Pan seared prawns, day boat scallops with olive oil, and sustainable harvested seafood with fresh herbs garnished with grilled lemon, micro greens, and sauce trio.
Chef-attended action stations
Crab cakes, Tokyo Ramen, Slow Roasted Short Rib, Agnolotti Pasta, Beef Sliders.
Premium bar and wine service options and bartending services are also available.
Green Meeting menu highlights:

(This is just a sampling of offerings)
McCormick Place breakfast buffet 
Assorted whole fruit, assorted muffins, frittatas with egg, ham, Wisconsin cheddar, spinach breakfast potatoes, crisp Applewood smoked bacon, Big Fork maple & brown sugar sausage, yogurt, assorted cereal, regular and decaffeinated coffee, assorted hot tea.
Rooftop lunch buffet 
Garden herb salad with sun-dried Michigan cherries, duo of chef's choice of vinaigrettes, Wisconsin beet salad with frisée, Carr Valley goat cheese, white balsamic marinated potato salad, pickled onion with caraway, red wine grainy mustard, Midwest New York strip steak, mirepoix of vegetables, star anise, cabernet reduction turkey breast with sage chips, natural pan jus with fume blanc and shallots, warm lentil salad with fresh mint, sun dried cranberries, edamame, crushed potatoes with roasted onion, seasonal vegetables, snickerdoodle cookies, lemon almond cake dots, regular and decaffeinated coffee, assorted hot tea, lemonade.
View full Green Meetings Menu options.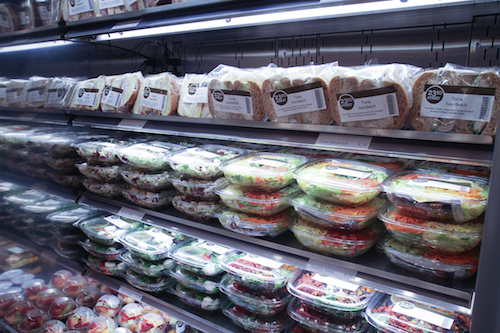 23rd Street Café & Market
McCormick Place's newest dining spot, The 23rd Street Café is located on Level 3 of the North Building (easily accessible to both A and B halls) and offers fresh pastries; healthy, tasty sandwiches and salads; and "Windy City Harvest" selections built from Rooftop Garden ingredients. Guests will also find beer, wine, water, and organic coffee at the café and enjoy touch-screen ordering and fast check-outs.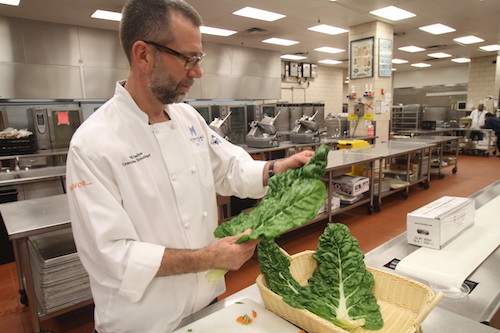 The rooftop garden
The 2.5-acre rooftop garden atop the West Building yields seasonal harvests of around 8,000 lbs. The garden produces beets, kale, carrots, lettuce, peppers, beans, and herbs used in SAVOR… catering and restaurant operations, including Windy City Harvest menu items served in the 23rd Street Cafe & Market.
The Midwest's largest rooftop garden works in partnership with the Chicago Botanic Garden to promote sustainable local agriculture by serving as training soil for locals seeking careers in urban agriculture.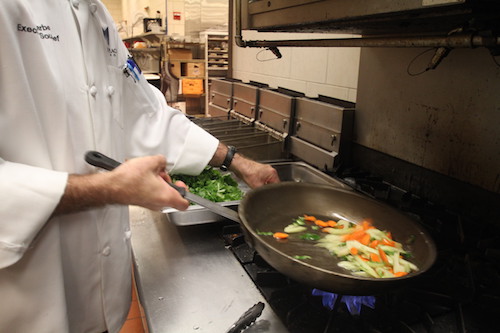 Cost-effective pricing
In spite of costs escalating 14.5 percent since the last price analysis, SAVOR… holds their price increases to an aggregate 3.5 percent.
"Our prices remain comparable to, or better than, prices with our biggest competitors, Las Vegas and Orlando," says Alison Parks, Director of Catering Sales and Marketing.
SAVOR… staff boasts some of the most extensive experience in high-volume, high-quality food and beverage service in the country. An integral part of the team at McCormick Place, the SAVOR… Vice President of Culinary has decades of U.S. and international experience in planning and directing the food and service for some of the highest-profile events in the world.
A commitment to sustainability
"Our focus is on tasty, beautifully presented, professionally served food, made on-site, using local, sustainable ingredients at a cost effective price," Parks says.
The SAVOR… teams' philosophy revolves around:
High-quality, well-presented food
Sustainability: award winning, certified programs
Using meats and poultry that are antibiotic-free
Well-managed waste programs
By the numbers: organic and responsible
33% of all food purchased at McCormick Place is local, organic or environmentally preferred
80% of all seafood purchased is sustainable
All coffee served on McCormick Place campus is UTZ certified
SAVOR donated more than 41,000 pounds of food to local charities including the Pacific Garden Mission
Learn more about McCormick Place's food and beverage programs.