Public art is practically around every corner in Chicago. Tour the city with your camera at the ready — in fact, don't even bother putting it away. The Chicago Public Art Collection alone includes more than 500 works, and makes up only part of what you'll see displayed on sidewalks, in parks, on university campuses, and even at airports throughout the city.
For something a little out of the ordinary, wander off the beaten path to the city's neighborhoods. That's where you'll find striking works of public art, along with colorful murals and street art by local and national artists.
Here are just a few of the many public artworks in Chicago's neighborhoods.
Monument to the Great Northern Migration
Alison Saar's bronze figure is a testament to the thousands of African Americans who migrated to Chicago in the early 20th century in search of greater freedom and opportunity. The traveler depicted bids hello to his new home, while carrying a worn suitcase that represents his journey and dreams. The bollards surrounding the work are also suitcases, textured with a pattern inspired by the era's tin ceilings. The figure faces north, symbolizing his progress toward his destination. Dr. Martin Luther King Jr. Dr. & 26th Place, Bronzeville
The Haymarket Memorial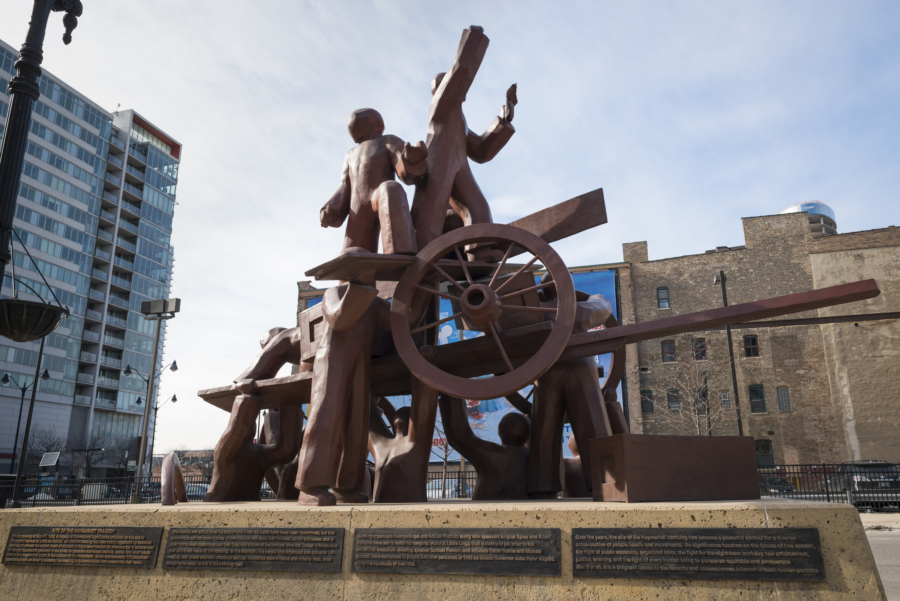 On May 4, 1886, a meeting organized by anarchist activists to protest the deaths of workers during a labor lockout resulted in a tragic bombing that claimed the lives of seven policemen and at least four civilians. Over the years, the site of the Haymarket bombing has become a powerful symbol of the right to free speech, public assembly, organized labor, and justice. The wagon that anchors Mary Brogger's sculpture in The Haymarket Memorial alludes to the speakers' platform used during the meeting, and marks the precise spot where the bombing occurred. 175 N. Desplaines St., West Loop
Rara Avis
Located at Chicago Midway International Airport, Ralph Helmick and Stuart Schecter's installation is a monumental suspended sculpture that symbolically links natural and manmade aviation. It consists of thousands of pewter elements, employing 3D pointillism to achieve the impression of a graceful cardinal, Illinois' state bird. Move closer, and you'll notice more than 2,500 small renderings related to air travel. Over 50 different aircraft are represented, including Leonardo da Vinci-inspired designs, 19th-century balloons, and classic passenger airliners. S. Cicero Ave. & W. 63rd St., Midway
Nuclear Energy
Henry Moore's 12-foot bronze sculpture commemorates the birthplace of the world's first man-made, self-sustaining nuclear chain reaction in motion in 1942. This achievement occurred at Chicago Pile 1, the world's first artificial nuclear reactor, built under the original site of the University of Chicago's Stagg Field. The sculpture was installed in 1967, exactly 25 years later. Moore remarked that, "Like anything that is powerful, it has a power for good and evil…the lower part [of the sculpture] is more architectural and in my mind has the kind of interior of a cathedral with sort of a hopefulness for mankind." Ellis Avenue between 56th and 57th Streets, Hyde Park
Snow Sculpture for Chicago
Chicago artist Tony Tasset created this whimsical, conceptual piece as a hyper-realistic depiction of a pile of snow, displayed in the west window of the Goldblatt's building façade (the former department store's only remaining display window). Tasset even included pieces of handcrafted debris, including coffee cups and matchbooks. He explains that, "these piles of snow are sublime; both ugly and beautiful, like life." 1613 W. Chicago Ave., West Town
Fountain of Time
Famed artist Lorado Taft created a sculptural allegory of humanity's relationship with time, set within picturesque Washington Park. A reflecting pool and a 110-foot-long mass of figures represent the themes of love, war, and the cycle of life. All seem to strain in unison across the pool toward a tall, solitary figure, making this one of Chicago's most hauntingly beautiful public artworks. Cottage Grove Ave. & 59th St., Hyde Park
I Will
"I Will" was the motto adopted by Chicagoans after the Great Chicago Fire of 1871. The hollow, minimalist column, crafted from stainless steel, rises from the ground as a symbol of Chicagoans' determination in overcoming the fire's destruction. The simple column shape also alludes to Chicago as the birthplace of the modern skyscraper, part and parcel of the city's rebirth, and an enduring symbol of the city's architectural influence. Fullerton Ave. & Cannon Dr., Lincoln Park