With just one day to explore, you can make the most of your time with iconic, one-of-a-kind attractions and city experiences. Mix and match from the 10 itinerary stops below to create your perfect combination of restaurants, parks, museums, music, clubs, and rooftop views.
How to spend 24 hours in downtown Chicago:
Stop 1: Visit Art Institute of Chicago
Stop 2: See "The Bean" at Millennium Park
Stop 3: Wander the Chicago Cultural Center
Stop 4: See Buckingham Fountain at Grant Park
Stop 5: Explore the lakefront Museum Campus
Stop 6: Enjoy the view at SkyDeck Chicago
Stop 7: Hear local legends at jazz & blues clubs
Stop 8: Admire colorful street art
Stop 9: Take an architecture river cruise
Stop 10: Relax on the Chicago Riverwalk
Stop 1: A museum fit for Ferris Bueller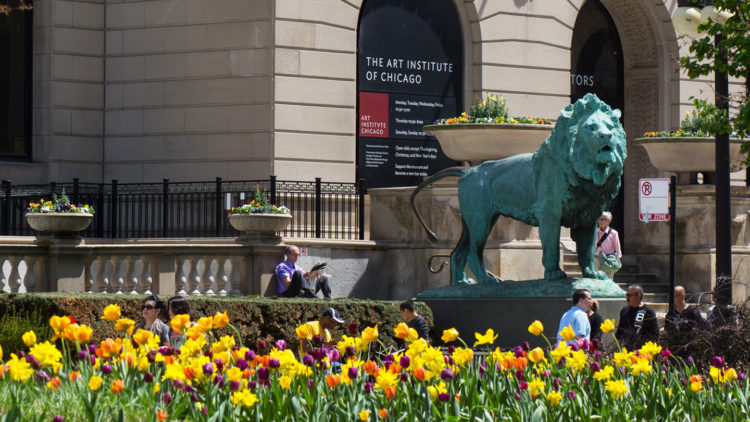 Anyone who loves the movie Ferris Bueller's Day Offwill know the Art Institute of Chicago. As you walk along Michigan Avenue, you'll be greeted by two enormous bronze lions at the museum's grand entrance. 
Once inside the Art Institute, you'll experience one of the largest and oldest art museums in the United States, and one of the most expansive collections of Impressionist and Post-Impressionist artwork outside of the Louvre in Paris.
Make sure you visit the critically acclaimed Modern Wing, too, which houses an extraordinary collection of modern and contemporary masterpieces by Chagall, Dali, Matisse, Picasso, Pollack, Warhol, Magritte, and more. If you'd like to indulge in a little fine dining afterwards, head to Terzo Piano on the Modern Wing's upper level. In the summer, you can dine on the Bluhm Family Terrace amid rotating art installations and fabulous views of Millennium Park.
Stop 2: A giant bean and enormous rock climbing wall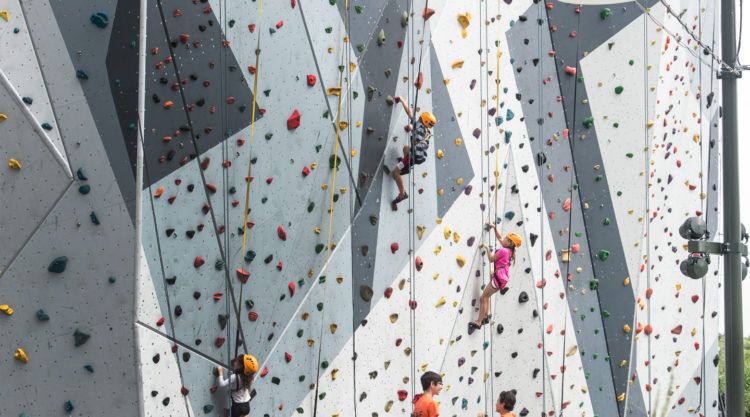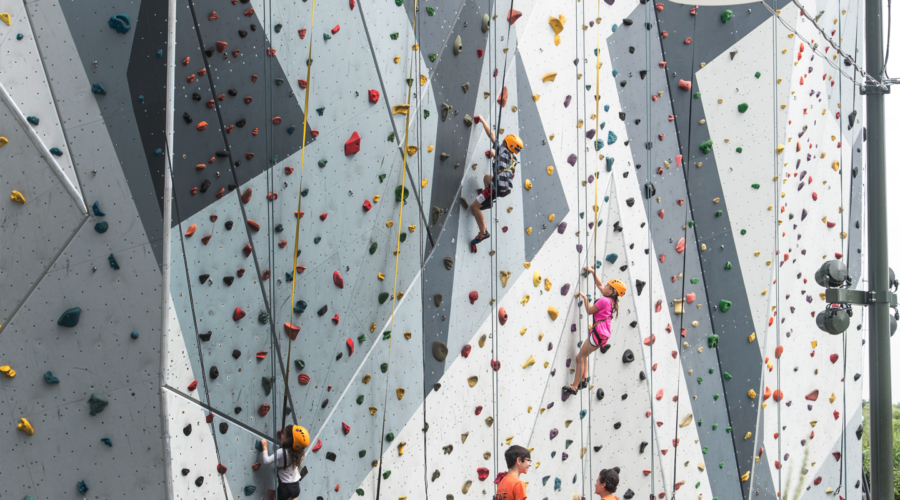 Take the Nichols Bridgeway from the Modern Wing across toMillennium Park and you'll find an unprecedented combination of stunning architecture, sculpture, and landscape design all in one place. From the towering faces of Chicagoans at Crown Fountain to your own face reflected in the polished steel surface of Cloud Gate, aka "The Bean," you'll see exactly why Millennium Park is one of Chicago's top bucket list contenders.
Exit Millennium Park via the BP Bridge, a 935-foot-long winding walkway that offers incomparable views of the Chicago skyline, Grant Park, and Lake Michigan. On the other side of the bridge sits Maggie Daley Park, a spectacular green space with massive rock-climbing walls, mini golf, picnic groves, tennis courts, and an amazing play garden. In the winter, the park's in-line Skating Ribbon is transformed into a unique, meandering ice skating path. There's another ice-skating rink at McCormick Tribune Plaza in front of "The Bean." Over the summer months, ice makes way for a scenic outdoor patio right on the plaza.
Stop 3: A Tiffany jewel in the crown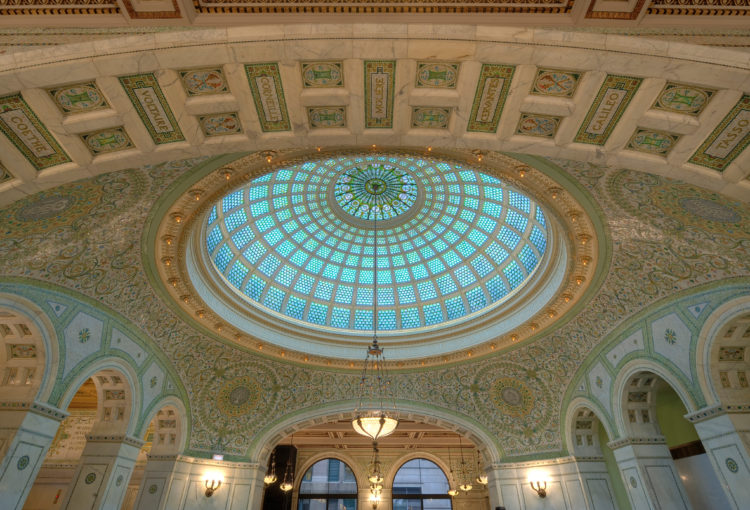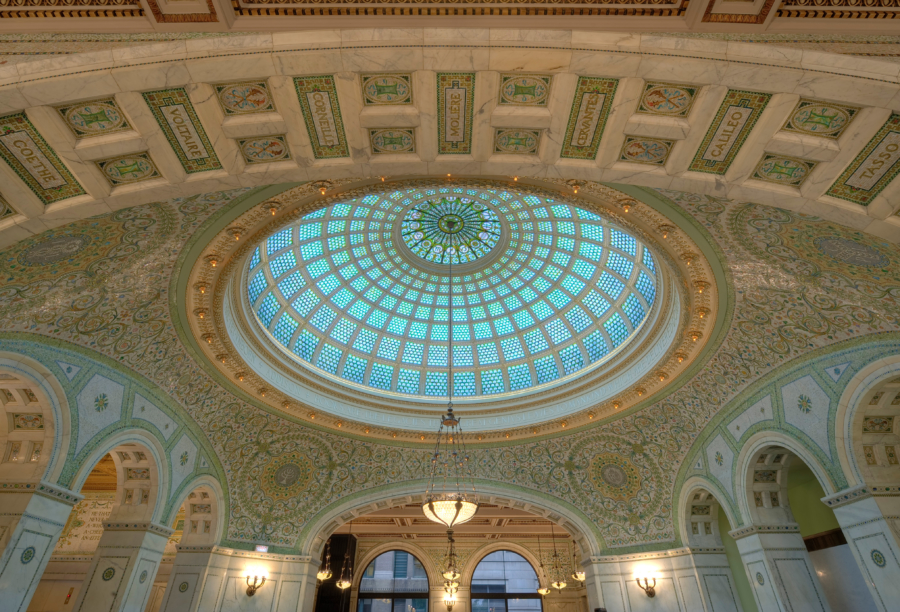 On the corner of Michigan Avenue and Randolph Street, you'll encounter the Chicago Cultural Center, a neoclassical landmark that houses the largest Tiffany stained-glass dome in the world. This stunning building is a humanities haven, with concerts, dance performances, theatre productions, films, lectures, art exhibitions, tours, and family events scheduled throughout the year — and all for free.
Stop 4: A waterfront landmark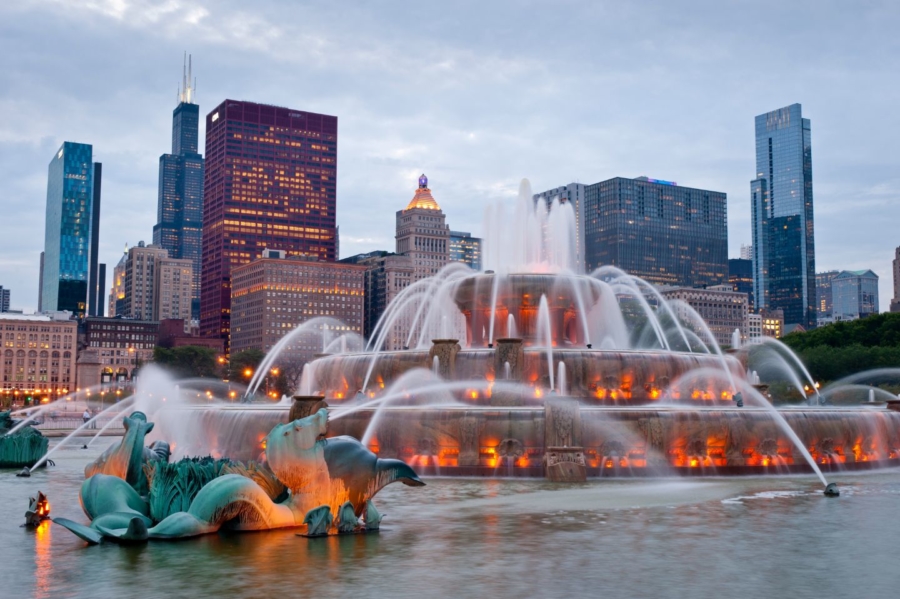 Walking south and east through Grant Park, you'll find yourself in the heart of a 319-acre green space, anchored by mesmerizing Buckingham Fountain. This Chicago landmark, one of the largest fountains in the world, was dedicated in 1927 and inspired by the Latona Fountain at the Palace of Versailles. Typically from early May through mid-October, the fountain produces a dazzling water display for 20 minutes every hour throughout the day. During these displays, a center jet shoots water to a height of 150 feet, with lights and music beginning at dusk.
Stop 5: Explore museum campus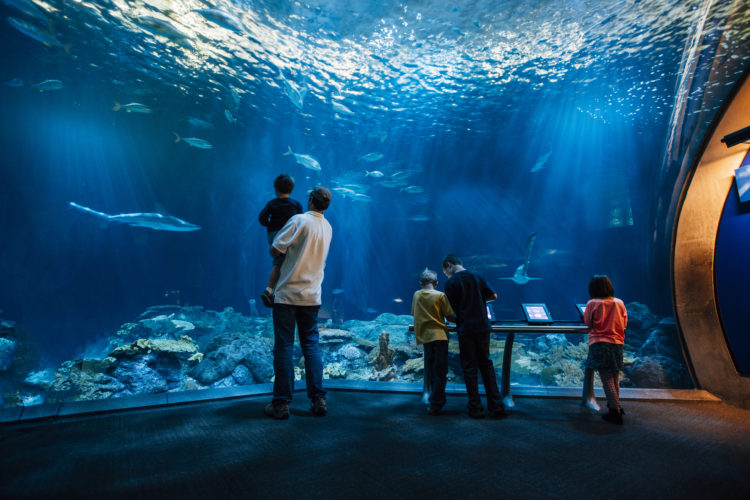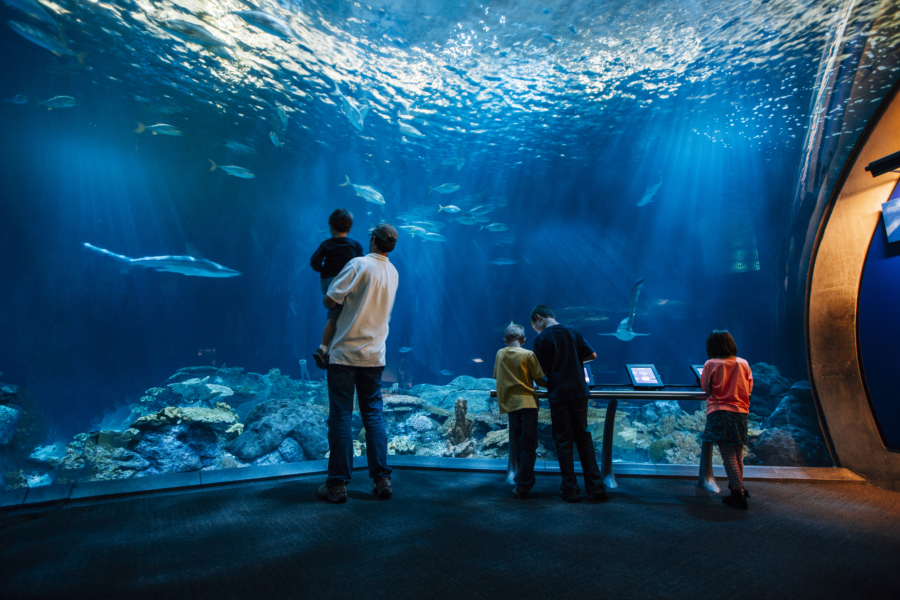 Walking south from the fountain, head to Chicago's legendary Museum Campus. This gorgeous green space directly on Lake Michigan and is home to three of the city's most popular museums. The Field Museum will be the first museum you encounter and well worth a trip inside. It's home to thousands of natural history artifacts spanning thousands of years, including the largest dinosaur ever discovered.
Shedd Aquarium sits right next door. Here, in one of the largest aquariums in the world, you'll meet 32,000+ aquatic creatures, including beluga whales, dolphins, sea otters, sea lions, penguins, stingrays, and sharks.
Just beyond the Shedd is Adler Planetarium, which, upon opening in 1930, became the first planetarium in the Western Hemisphere. The building is more than a museum; it's a laboratory, a classroom, and a community exploring the universe together. Visitors flock to the Adler to experience interactive exhibits, live planetarium shows, hands-on educational programs, and world-class collections.
Stop 6: Views from towering heights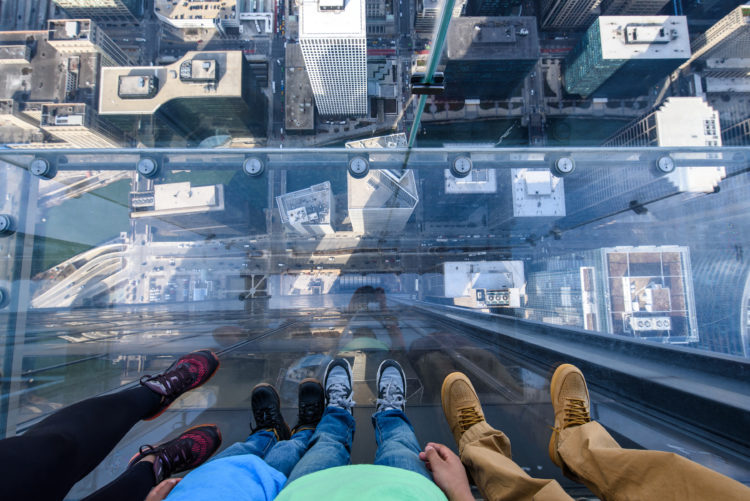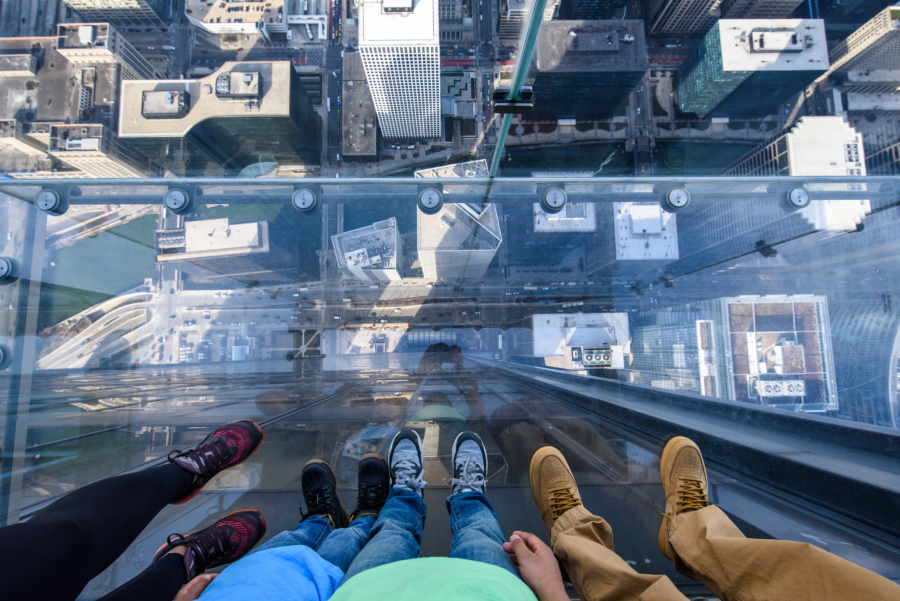 Skydeck at Willis Tower invites you to step on The Ledge, a glass box that extends approximately four feet from the building's facade — over 1,300 feet above ground level. Willis Tower is one of the tallest buildings in the world, and, as you might expect, the views from Skydeck are amazing.
Stop 7: A music mecca or two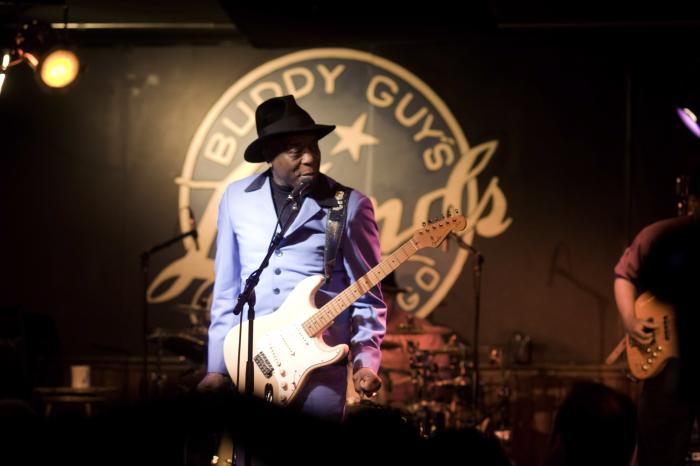 Two neighboring music clubs, one blues and one jazz, are must stops for the full Chicago experience. Buddy Guy's Legends was made famous around the world by its namesake, Grammy-award-winning blues guitarist Buddy Guy. There's live music every night of the week, with free acoustic shows during lunch and dinner hours. Established in 1947, Jazz Showcase has hosted some of the greatest names in the business. The 170-seat club features local, national, and international acts nightly.
Stop 8: Picasso and Chagall on the street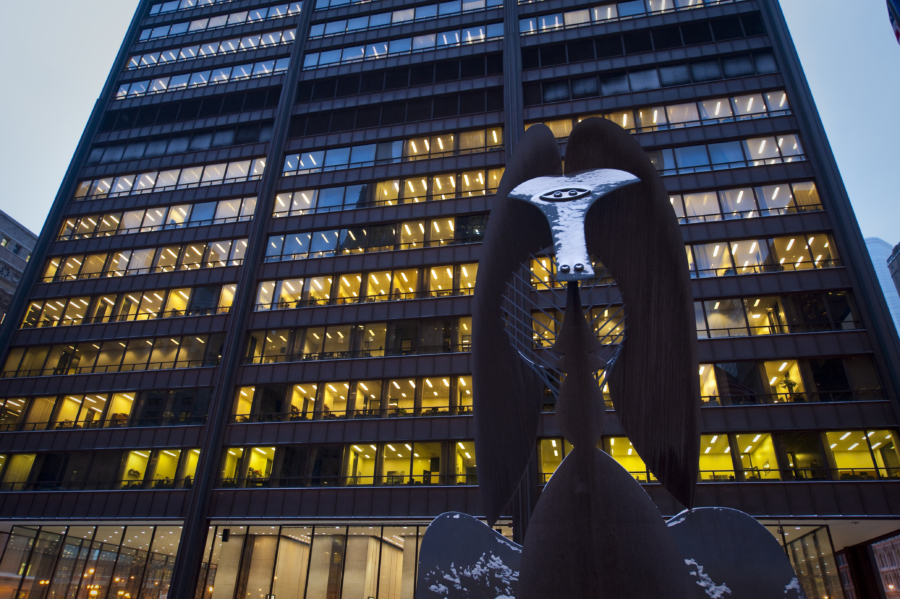 Public art lives large in Chicago. And nowhere is this better seen than at Daley Plaza and nearby Chase Tower Plaza. Picasso's 50-foot-tall untitled sculpture takes center stage at Daley Plaza. When it made its debut in 1967,The Picasso, as it's known, caused some controversy, with people comparing it to a large insect or baboon. Today, it's an enduring symbol of Chicago itself.
At Chase Tower Plaza, Chagall's monumental The Four Seasons mosaicmural represents the arrival of spring, summer, winter, and fall. It's composed of thousands of inlaid fragments in over 250 colors, and was created in Chagall's studio in France before being dedicated to the city in 1974.
Stop 9: Architectural history on the waterfront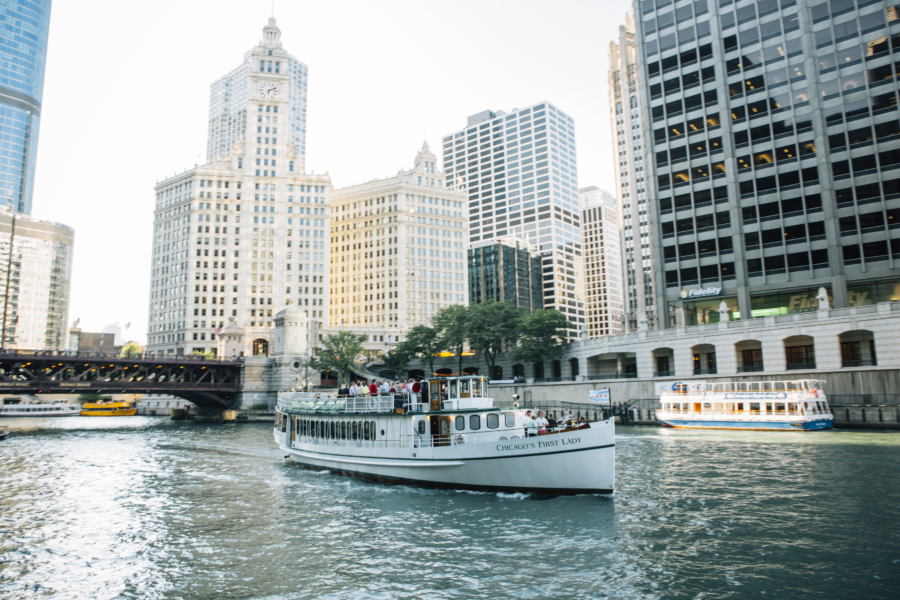 Head toward the river and you'll find One Illinois Center, the Mies van der Rohe-designed home of the Chicago Architecture Center. Check out the to-scale skyscraper models in the Skyscraper Gallery and the approximately 4,200-piece immersive City of Chicago model on the main level, before picking the perfect architectural walking, bus, or boat tour at the center's box office.
The Chicago Architecture Foundation Center River Cruise aboard Chicago's First Lady is a crowd pleaser, and was voted Chicago's #1 tour by TripAdvisor users. It's led by knowledgeable Chicago Architecture Center docents who'll tell you the fascinating history behind approximately 50 of the city's iconic downtown buildings.
Stop 10: Relax along the river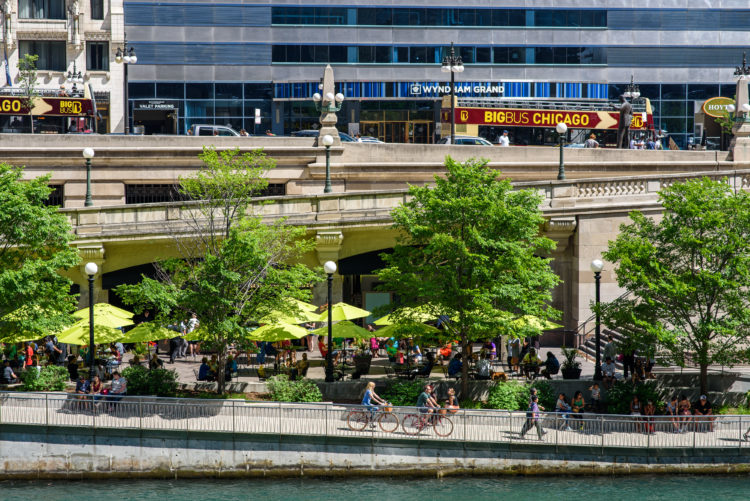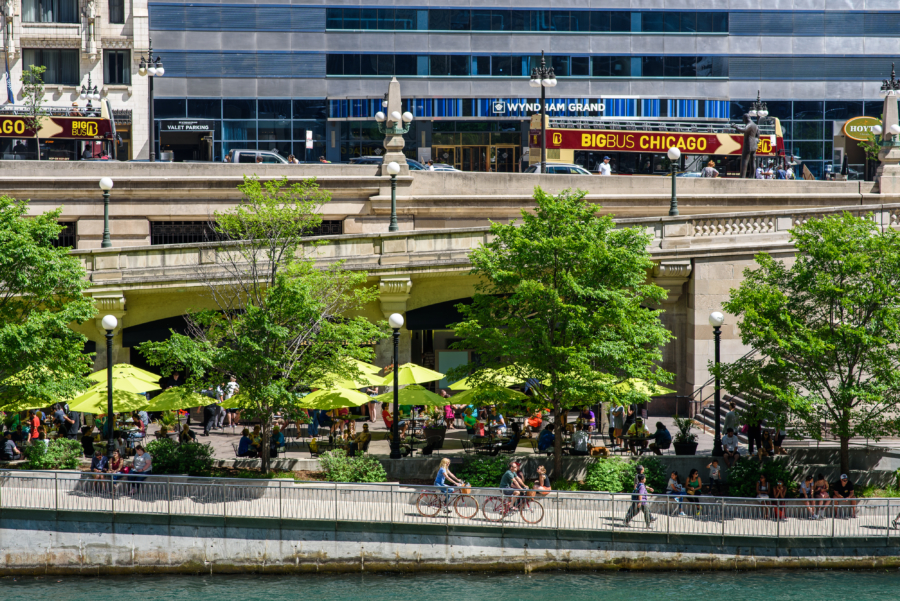 The award-winning Chicago Riverwalk is a 1.25-mile pedestrian stretch filled with coves, restaurants, bars, museums, public art, kayaking, boat excursions, bird-watching, fishing — and Art on theMART, the largest video projection art installation in the world. Illuminating over 2.5 acres of theMART's river-facing façade, you can view the work of notable video artists from 7:15 – 9:15 p.m. Wednesday through Sunday, from March through April, and daily from May through December
Inside tip: Take a free Chicago Greeter tours
See Chicago like a local, with a local, with a free, customizable Chicago Greeter tour. Pick your neighborhood, theme, and language, then team up with a friendly guide who'll show you both classic Chicago and its off-the-beaten-track gems. Book today.