From Prairie School to skyscraper cool, you'll find architecture that's just your style in Chicago. Here's the inside scoop on touring groundbreaking buildings throughout the city, and getting a Chicago style welcome at every door.
Day one
Morning and afternoon: Loop architectural highlights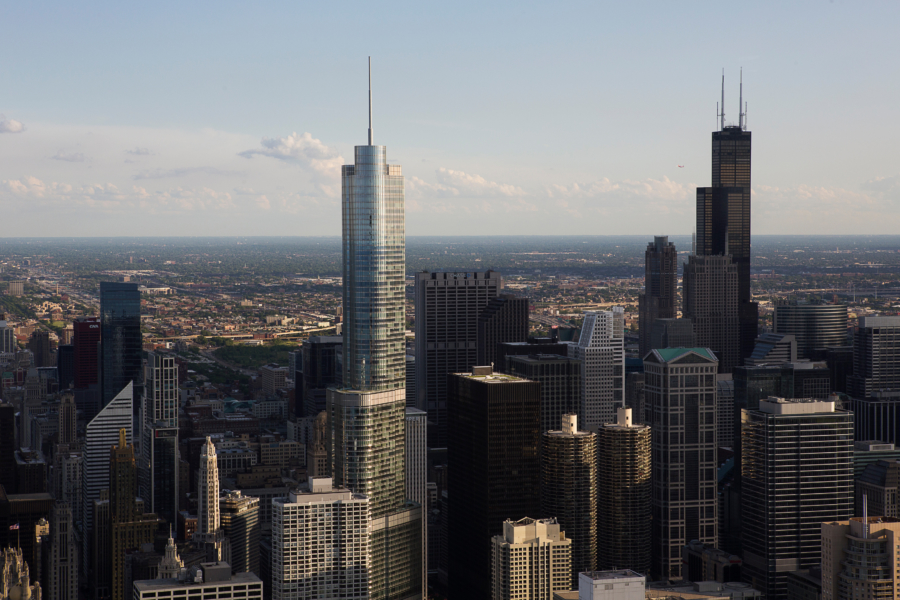 Willis Tower 
233 S. Wacker Drive
Willis Tower (formerly the Sears Tower) may be one of the world's tallest buildings, but that's not the only amazing thing about it. Head up to the 103rd floor and be wowed by The Ledge at Skydeck, an enclosed glass box that extends roughly 4 feet from the building facade, 1,353 feet up. You're literally walking on air — with your heart pounding.
Before you leave, stop by the 66th and 67th floors for fine dining and fabulous views over Chicago at The Metropolitan. While the restaurants here traditionally were reserved for members only, the East Room debuted in 2018 to give visitors a taste of all that Willis Tower luxury.
The Rookery 
209 S. LaSalle St.
The Rookery, originally designed by Burnham and Root, is where you'll find one of the city's most photographed interiors — Frank Lloyd Wright's two-story skylight lobby. It's airy, industrial, and picturesque all in one go. Start snapping and sharing.
Monadnock Block
53 W. Jackson Blvd.
Architecture buffs will love the fact that this Burnham and Root building is the last of Chicago's great masonry skyscrapers. Shoppers will love the fact that the Monadnock Block is home to unique boutiques and custom shops, including fragrant blooms at A New Leaf, hip women's clothing at Florodora, and old-school millinery at Optimo Hats.
Aqua Tower
225 N. Columbus Dr.
Take a moment to gaze in awe at the Aqua Tower — it's as much outdoor sculpture as it is architecture. This shimmering high rise features undulating outdoor terraces that mimic the movement of Lake Michigan's waters. It's the tallest building in the world designed by a woman-owned architectural firm, Studio Gang Architects, and it's home to the Radisson Blu Aqua Hotel. So if you're looking for a unique downtown place to stay, this just might be the spot. (FYI: Jeanne Gang is set to beat her own record with the Vista Tower, coming to Chicago in 2020.)
One Illinois Center (Chicago Architecture Center)
111 E. Wacker Drive
You get double the architectural history at One Illinois Center. Not only was it designed by Ludwig Mies van der Rohe, but it's also the location of the Chicago Architecture Center, the perfect starting point for your discovery of Chicago's downtown architecture. Enter through the main doors and you'll have your pick of over 85 walking, bus, and boat tours.
Wander up one level for the main attraction, Building Tall in the Skyscraper Gallery. Towering scale models of the world's most famous skyscrapers frame views through massive windows onto, well, some of the world's most famous skyscrapers. The center is located above the Chicago Riverwalk, with a dedicated dock for the center's signature Chicago Architecture Foundation Center River Cruise aboard Chicago's First Lady.
Afternoon and evening: The Magnificent Mile
875 N. Michigan Ave.
Just about everybody recognizes 875 N. Michigan Ave., formerly the John Hancock Center. But what you may not know is it's home to an amazing 94th-floor observation deck. TILT at 360 CHICAGO is a hydraulic platform that literally tilts you out and over The Magnificent Mile, at a height of 1,030 feet. After your adrenaline rush, take an elevator one floor up to the Signature Room at the 95th for fine dining, delicious cocktails, and even more stunning views.
Historic Water Tower
806 N. Michigan Ave.
Looking a lot like a mini fairytale castle, Historic Water Tower bursts with charm. It was built as part of Chicago's municipal water system, originally housing a 135-foot iron standpipe used to regulate water pressure. Today, though, it's the City Gallery at Historic Water Tower, and the place to go for free rotating art exhibits. Maybe its biggest claim to fame, though, is being one of the few buildings to survive the Great Chicago Fire. (Insider tip: You'll see another survivor of the fire just across the street, now home to the critically acclaimed Lookingglass Theatre Company).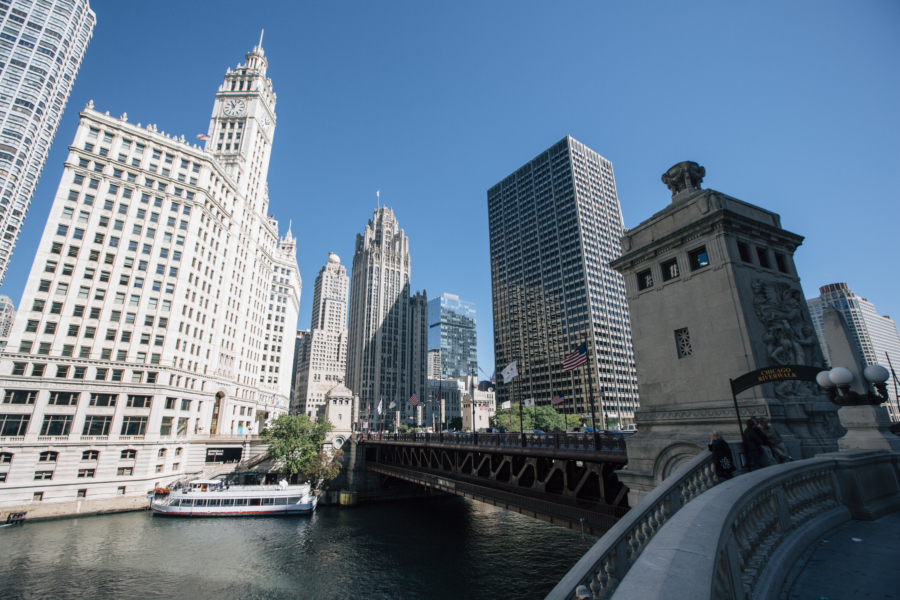 Wrigley Building
400 N. Michigan Ave.
The Wrigley Building's dazzling white terra-cotta exterior was modeled after the Giralda tower in Spain — with some French Renaissance details thrown in. The combo works incredibly well, creating a shimmering vision of loveliness just above the Chicago Riverwalk. Walk through the Wrigley Building's outdoor passageway to descend to river level. You'll find coves, restaurants, bars, public art, boat rides, and a whole lot more waiting for you.
Tribune Tower
435 N. Michigan Avenue
Standing across from the Wrigley Building, the Tribune Tower takes "borrowing from the past" to a whole new level. The building facade includes roughly 150 fragments from the world's most important historic buildings and sites, including the Winter Palace in Beijing, Westminster Abbey in London, the Great Pyramid in Giza, and the Parthenon in Athens.
Day 2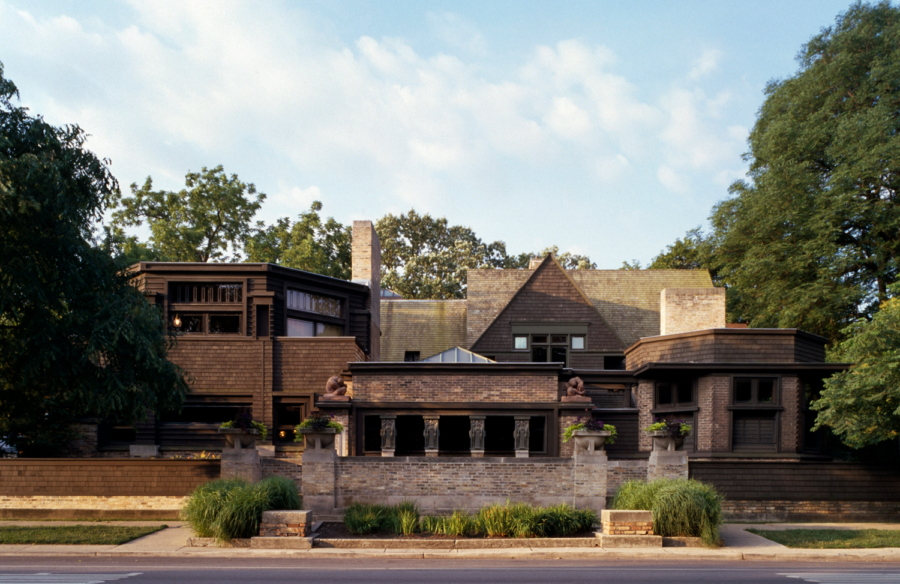 Morning: Frank Lloyd Wright in Oak Park
Just eight miles west of Chicago, Oak Park is lucky enough to have the largest collection of Frank Lloyd Wright-designed buildings in the world. A quick ride on the Green line 'L' train will drop you off in downtown Oak Park, the perfect spot to start exploring Wright's local legacy. While many are private residences, the Frank Lloyd Wright Trust offers interior tours of some of the greats. Here are two you shouldn't miss.
Frank Lloyd Wright Home and Studio 
951 Chicago Ave.
It's not often that you get a glimpse inside a legendary architect's home and studio — let alone the birthplace of the Prairie School of architecture. But that's exactly the chance you'll get when you visit this groundbreaking residence.
Unity Temple
875 Lake St.
Did you know that Frank Lloyd Wright also took on commercial commissions? Well, Oak Park's Unity Temple was the first. This was also one of the first times exposed concrete was used on a public building, ushering in a whole new era in architectural design. On the inside, though, this "little jewel box," as Wright called it, is full of natural light and a sense of airiness.
Afternoon: Prairie Avenue
Head back to Chicago for an afternoon in one of the city's most scenic historic districts. If you were one of the Chicago elite in the late 1800s, then the Prairie Avenue District in the South Loop was where you made your home. Hence the area's nickname, "Millionaire's Row."
Must-sees here include:
Clarke House & Museum
1827 S. Indiana Ave.
Let the experts tell you all about Chicago's oldest home on a free docent-led tour. You'll get a glimpse of frontier life, an eyeful of beautiful period furniture and decorative arts, and views onto the lovely Chicago Women's Park and Gardens right next door.
Glessner House
1800 S. Prairie Ave.
The neighbors were just a little upset when fortress-like Glessner House made its appearance in 1887. Today, it's loved for its architectural genius and progressive design. Take a guided tour to discover a secret central courtyard, warm oak-paneled interiors, a grand staircase, stately fireplaces, and an impressive collection of antique furniture and decorative arts.
Late afternoon/evening: River North gems
Downtown Chicago's River North neighborhood is jam-packed with significant skyscrapers and reminders of Chicago's Gilded Age. Spend the late afternoon touring historic buildings and stunning interiors, and then wrap up the day with a little public art.
Richard H. Driehaus Museum 
40 E. Erie St.
Welcome to the "Marble Palace," with grand staircases, decorative arts, imposing fireplaces, and antique furnishings as far as the eye can see. The Driehaus Museum hosts rotating exhibits and fun special events, including whodunnits and afternoon teas. It's a beautiful glimpse into Chicago's Gilded Age, and a definite must-see.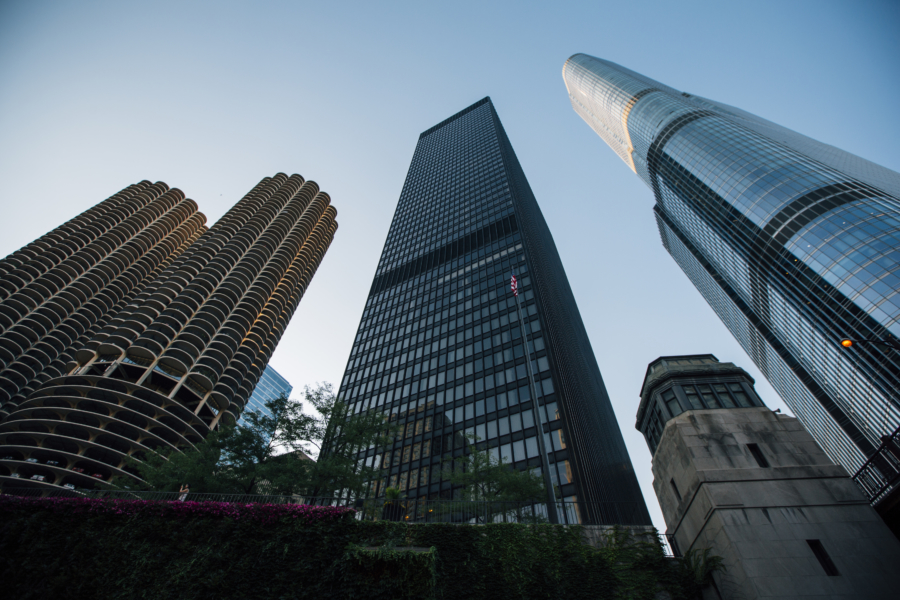 Marina City
300 N. State St.
When you see two giant corn cobs reaching for the sky, you know you've arrived at Marina City. When it opened in 1962, it was the tallest residential building and tallest concrete structure in the world. Check out the marina level, where you can rent a small electric boat and explore the Chicago River. And for great live entertainment, walk over to House of Blues right next door.
theMART
222 N. Merchandise Mart Plaza
Size does matter to theMART. When it opened in 1930, it held the record as the largest building in the world. Today, it's breaking another record — for the largest digital art projection on the planet. Art on theMART covers 2.5 acres (the equivalent of two football fields) of theMART's Riverwalk-facing façade. See it in action 7:15 – 9:15 p.m. Wednesday through Sunday, March through April, and daily May through December.
Chicago Greeter is a unique, free program that teams you up with a local for an insider's look at the city. You can pick a theme — like downtown architecture or Frank Lloyd Wright buildings — and be whisked away for an in-person account of the city's iconic spots and hidden gems. Book today