From Frank Lloyd Wright's Prairie School to skyscraper cool, you'll find architecture that's just your style in Chicago. This self-guided architecture tour covers some of the city's most iconic buildings throughout the city, from historic landmarks to ground-breaking modern wonders.
Chicago architecture tour day one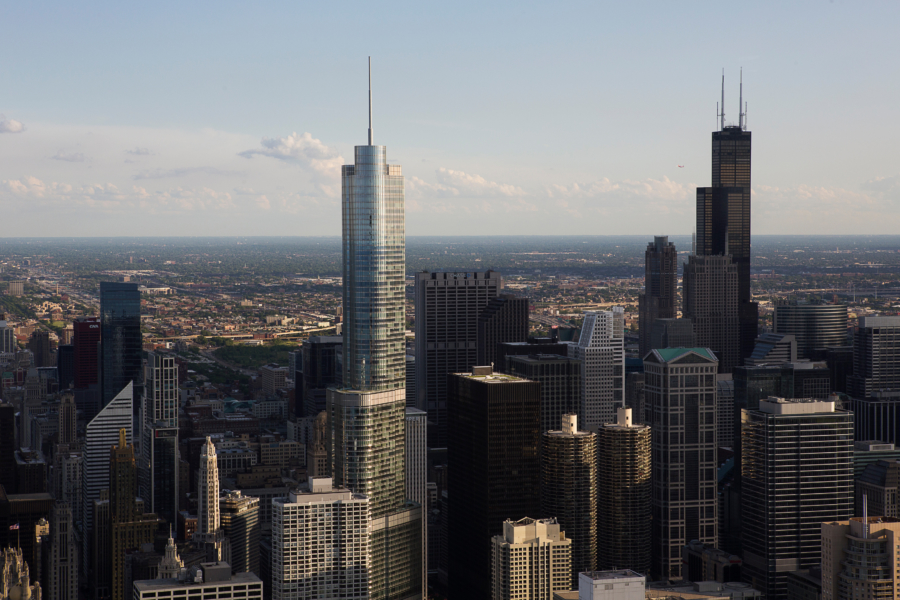 Morning and afternoon: Loop architectural highlights
Willis Tower
Willis Tower (formerly the Sears Tower) may be one of the world's tallest buildings, but that's not the only amazing thing about it. Head up to the 103rd floor and be wowed by The Ledge at Skydeck, an enclosed glass box that extends roughly 4 feet from the building facade, 1,353 feet up. You're literally walking on air — with your heart pounding.
The Rookery
The Rookery, originally designed by Burnham and Root, is where you'll find one of the city's most photographed interiors — Frank Lloyd Wright's two-story skylight lobby. It's airy, industrial, and picturesque all in one go. Start snapping and sharing.
Monadnock Block
Architecture buffs will love the fact that this Burnham and Root building is the last of Chicago's great masonry skyscrapers. Note for the buildings north and south facades represent two very different styles: a more modern and minimalist look vs. a traditionally ornamented display designed by Holabird & Roche two years after the first half.
Aqua Tower
Take a moment to gaze in awe at the Aqua Tower — it's as much outdoor sculpture as it is architecture. This shimmering high rise features undulating outdoor terraces that mimic the movement of Lake Michigan's waters. It's the second-tallest building in the world designed by a woman-owned architectural firm, Studio Gang Architects, and it's home to the Radisson Blu Aqua Hotel.
The St. Regis Chicago
A true feat of engineering, the stunning St. Regis skyscraper rises from the banks of the Chicago River. Jeanne Gang is set to beat her own record with the Vista Tower, making it the third tallest building in Chicago and the tallest structure in the world designed by a woman. Note how the sleek design complements the look of the nearby Aqua tower.
Chicago Architecture Center
You get double the architectural history at One Illinois Center. Not only was it designed by Ludwig Mies van der Rohe, but it's also the location of the Chicago Architecture Center, the perfect starting point for your discovery of Chicago's downtown architecture. Enter through the main doors and you'll have your pick of over 85 walking, bus, and boat tours.
Wander up one level for the main attraction, Building Tall in the Skyscraper Gallery. Towering scale models of the world's most famous skyscrapers frame views through massive windows onto, well, some of the world's most famous skyscrapers. The center is located above the Chicago Riverwalk, with a dedicated dock for the center's signature Chicago Architecture Foundation Center River Cruise aboard Chicago's First Lady.
Afternoon and evening: The Magnificent Mile
360CHICAGO
Just about everybody recognizes 875 N. Michigan Ave., formerly the John Hancock Center. But what you may not know is it's home to an amazing 94th-floor observation deck. TILT at 360 CHICAGO is a hydraulic platform that literally tilts you out and over The Magnificent Mile, at a height of 1,030 feet. After your adrenaline rush, take an elevator one floor up to the Signature Room at the 95th for fine dining, delicious cocktails, and even more stunning views.
Historic Water Tower
With a detailed Gothic Revival facade, Historic Water Tower bursts with charm. It was built as part of Chicago's municipal water system, originally housing a 135-foot iron standpipe used to regulate water pressure, and one of the few city structures to survive the Great Chicago Fire. Today, it's the City Gallery at Historic Water Tower, and the place to go for free rotating art exhibits. The original pumping station, another survivor of the fire, is just across the street.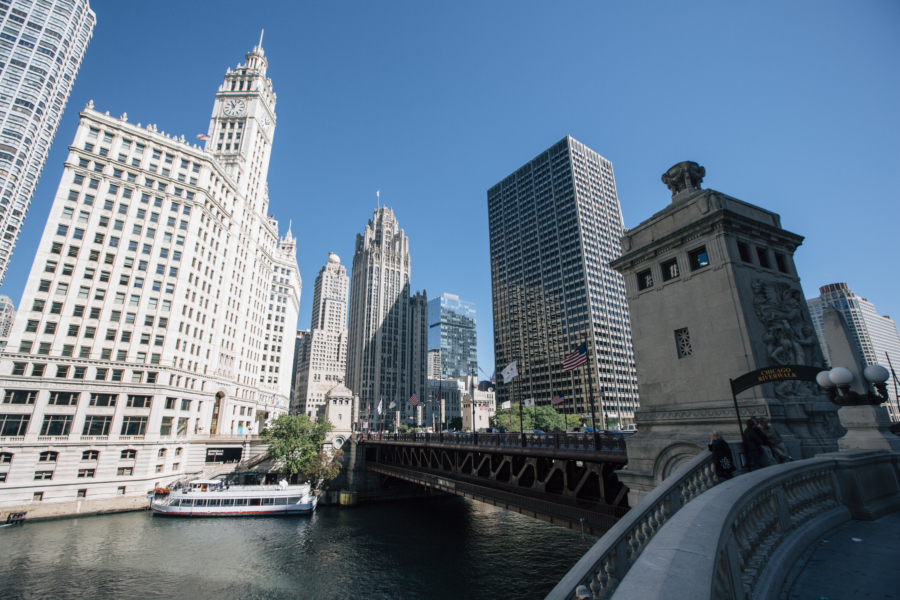 Tribune Tower
The Tribune Tower is a striking Gothic Revival tower that formerly housed the Chicago Tribune newspaper. Made of Indiana limestone, the design incorporates Art Deco, Medieval, and French cathedral inspired details.
The building's first story walls are embedded with roughly 150 fragments from the world's most important historic buildings and sites, including the the Berlin Wall, the Winter Palace in Beijing, Westminster Abbey in London, the Great Pyramid in Giza, and the Parthenon in Athens.
Wrigley Building
The Wrigley Building's dazzling white terra-cotta exterior was modeled after the Giralda tower in Spain — with some French Renaissance details thrown in.
Next, head down to the Chicago Riverwalk. You'll find scenic coves, restaurants, bars, public art, and a whole lot more waiting for you. For the perfect end to your day, hop on an evening architecture tour to learn more about the city's riverfront structures and get a whole new view of these iconic buildings.
Chicago architecture tour day 2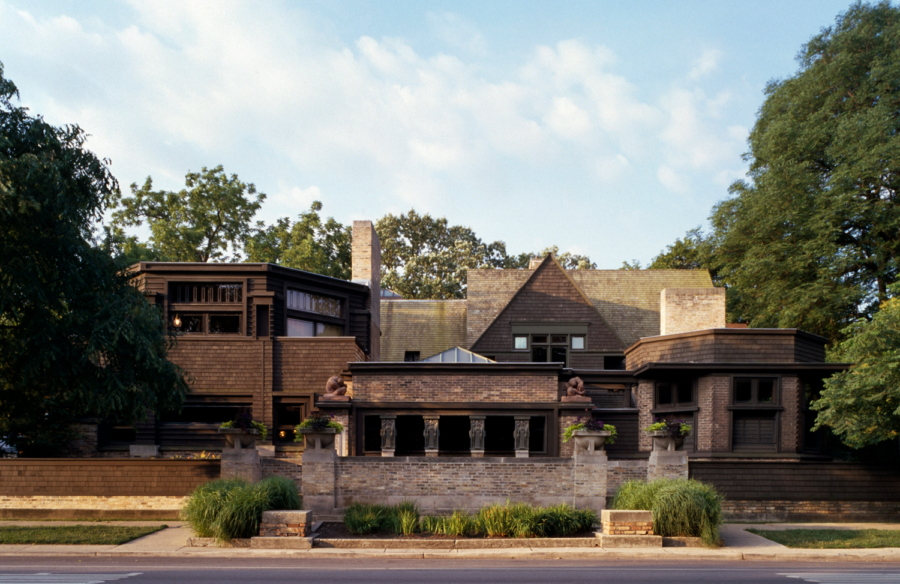 Morning: Frank Lloyd Wright in Oak Park
Just eight miles west of Chicago, Oak Park is lucky enough to have the largest collection of Frank Lloyd Wright-designed buildings in the world. A quick ride on the Green line 'L' train will drop you off in downtown Oak Park, the perfect spot to start exploring Wright's local legacy. While many are private residences, the Frank Lloyd Wright Trust offers interior tours of some of the greats. Here are two you shouldn't miss.
Frank Lloyd Wright Home and Studio
It's not often that you get a glimpse inside a legendary architect's home and studio — let alone the birthplace of the Prairie School of architecture. But that's exactly the chance you'll get when you visit this groundbreaking residence.
Unity Temple
Did you know that Frank Lloyd Wright also took on commercial commissions? Well, Oak Park's Unity Temple was the first. This was also one of the first times exposed concrete was used on a public building, ushering in a whole new era in architectural design. On the inside, though, this "little jewel box," as Wright called it, is full of natural light and a sense of airiness.
Tip: If you're a fan of Wright's work, you can see more of his iconic works throughout Chicago. Head to the Hyde Park neighborhood for a tour of Robie House, a UNESCO World Heritage site and one of the best known examples of Prairie style architecture. In the lakefront Rogers Park neighborhoods, the Emil Bach house is open for both tours and overnight stays.
Afternoon: Prairie Avenue
Head back to Chicago for an afternoon in one of the city's most scenic historic districts. If you were one of the Chicago elite in the late 1800s, then the Prairie Avenue District in the South Loop was where you made your home. Hence the area's nickname, "Millionaire's Row."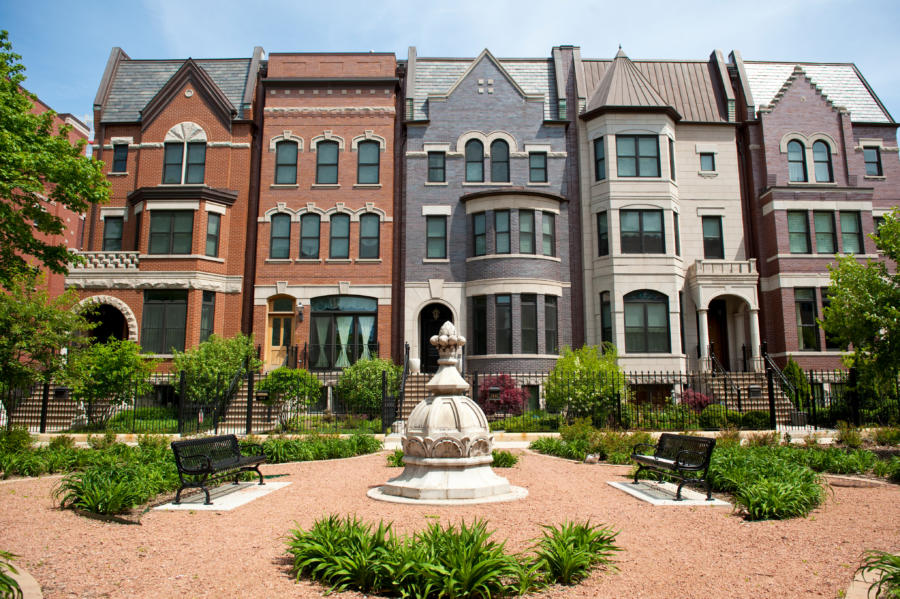 Must-sees here include:
Clarke House & Museum
Let the experts tell you all about Chicago's oldest home on a free docent-led tour. You'll get a glimpse of frontier life, an eyeful of beautiful period furniture and decorative arts, and views onto the lovely Chicago Women's Park and Gardens right next door.
Glessner House
The neighbors were just a little upset when fortress-like Glessner House made its appearance in 1887. Today, it's loved for its architectural genius and progressive design. Take a guided tour to discover a secret central courtyard, warm oak-paneled interiors, a grand staircase, stately fireplaces, and an impressive collection of antique furniture and decorative arts.
Late afternoon/evening: River North gems
Downtown Chicago's River North neighborhood is jam-packed with significant skyscrapers and reminders of Chicago's Gilded Age. Spend the late afternoon touring historic buildings and stunning interiors, and then wrap up the day with a little public art.
Richard H. Driehaus Museum
Welcome to the "Marble Palace," with grand staircases, decorative arts, imposing fireplaces, and antique furnishings as far as the eye can see. The Driehaus Museum hosts rotating exhibits and fun special events, including whodunnits and afternoon teas. It's a beautiful glimpse into Chicago's Gilded Age, and a definite must-see.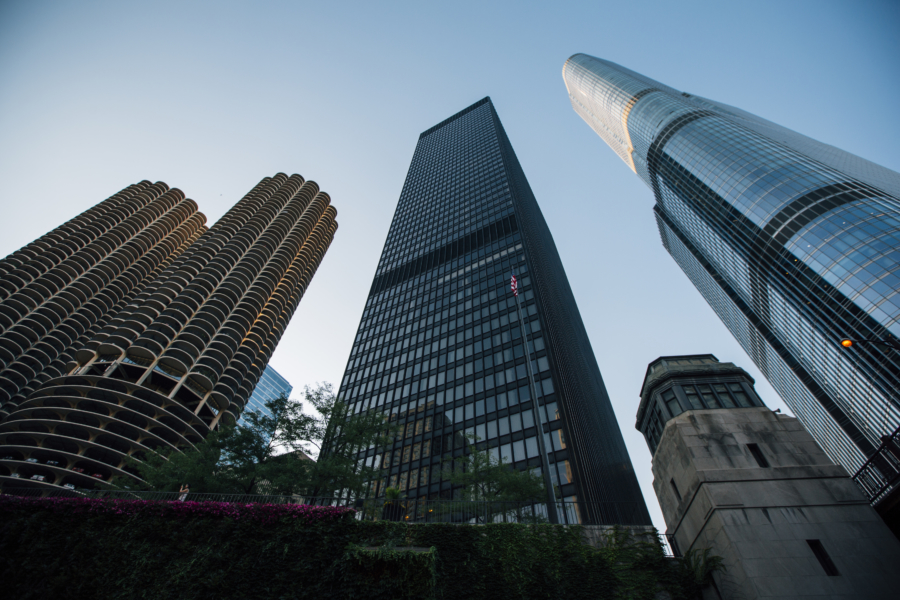 Marina City
When you see two giant corn cobs reaching for the sky, you know you've arrived at Marina City.
When it opened in 1962, it was the tallest residential building and tallest concrete structure in the world. The unique structure was envisioned as a "city within a city", with residential space, a theatre, parking for cars and boats, and plenty of retail.
Check out the marina level, where you can rent a small electric boat and explore the Chicago River. And for great live entertainment, walk over to House of Blues right next door.
theMART
When it opened in 1930, theMART (originally named Merchandise Mart) held the record as the largest building in the world. It was so big, it had its very own ZIP code up until 2008.
The space originally served as Marshall Field's wholesale warehouse, where retailers could buy stock. In 1945, the building was bought by the Kennedy family, who owned it for more than three decades.
Today, theMART is breaking another record — for the largest digital art projection on the planet. Art on theMART covers 2.5 acres (the equivalent of two football fields) of theMART's massive Art Deco façade. End your architecture tour by grabbing a spot on the Riverwalk and watching the colorful projections light up the night.
Keep exploring: Mark your calendars for these can't-miss architecture events in Chicago.