Chicago has one of the most exciting music scenes in the country. We're the birthplace of influential genres (ever heard of house, modern gospel, or Chicago-style blues?) and a hotbed for new and exciting musical innovations. So it only makes sense that we're also one of the best cities to see live music — especially in our neighborhoods.
While there are great venues all over the city, these five neighborhoods stand out for their dynamic music scenes. From legendary concert halls to intimate stages, you'll find a show to get excited about in one of Chicago's top neighborhoods for music lovers.
Uptown
Culturally diverse Uptown has been an entertainment hotspot since the Roaring Twenties. It's home to some of the city's most beloved music venues, plus one of Chicago's oldest jazz clubs.
When the Byline Bank Aragon Ballroom was built in 1926, it was one of the most elaborate venues of its time. Today, the opulent interior is still a stunner, with intricate mosaics, soaring arches, and ornately decorated balconies. But what's on stage is the real showstopper — the Aragon hosts everything from alternative acts to pop stars.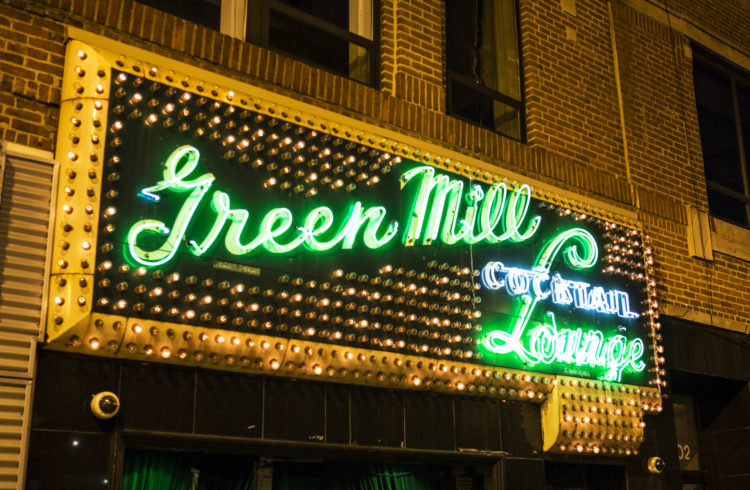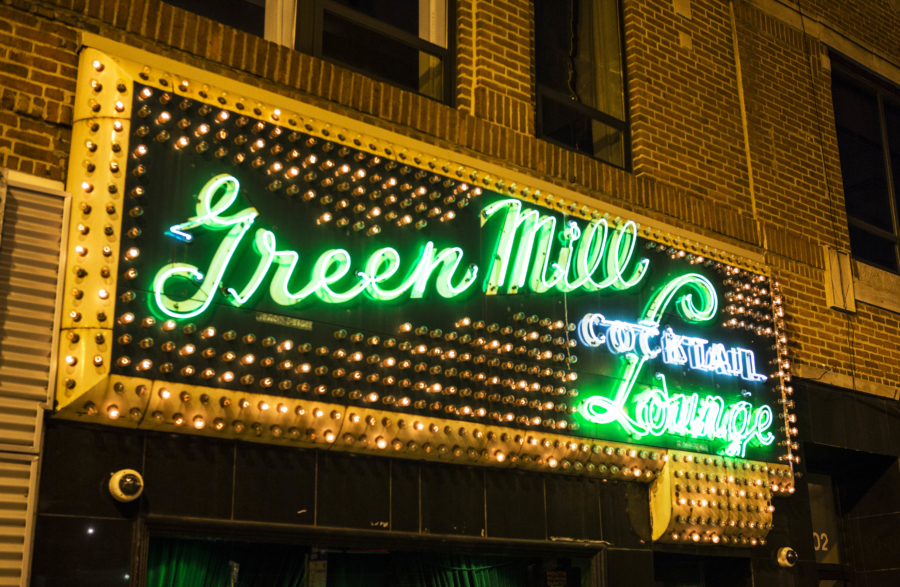 Legend has it that secret tunnels link the Aragon Ballroom's basement to the nearby Green Mill, a Prohibition-era hideaway and a favorite of Al Capone. You can still sit in Capone's favorite booth — just ask the bartender to point you to the spot. Locals love the Green Mill for its nightly jazz shows that keep the music going till late into the night.
Just around the corner, the Riviera Theatre is a great place to catch popular national acts and indie bands. Built in 1917, it was used as a movie theatre before being transformed into a concert venue in the 1980s. The space has retained its grand interior, with French Renaissance Revival flourishes that create an amazing backdrop for performances by some of today's top musicians.
Wicker Park
The indie spirit lives large in Wicker Park, a haven for artists and musicians. You'll find music venues all around the six corners (the heart of the neighborhood at the spot where North, Milwaukee, and Damen Avenues intersect), where you can see well-known acts or discover some of the latest local talent.
Subterranean is a two-story venue with a cabaret-style stage upstairs and an intimate performance space downstairs. Both floors host live acts almost nightly, from DJs to local musicians to burlesque dancers. Check out local weeknight favorites, like Open Mic Hip Hop on Tuesdays and Reggae Gold on Wednesdays.
Just a couple doors down, you'll find one-of-a-kind venue Chop Shop. The industrial chic building includes a restaurant, bar, butcher shop, and music venue — all housed inside a 100-year-old former auto body shop. The concert space includes 20-foot ceilings, exposed brick walls, and a state-of-the-art sound system, making it the perfect spot to catch live shows (and maybe grab some house-roasted meats on your way out).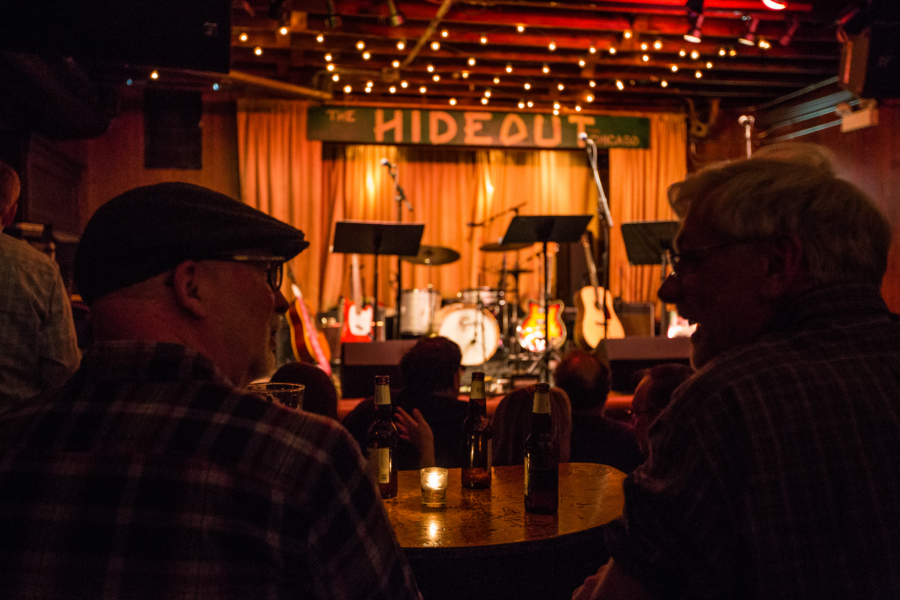 On the outskirts of Wicker Park, you'll find two local gems that are worth the trip outside the heart of the neighborhood. The Hideout is a community bar and venue tucked inside a 100-year-old house on a quiet street. You'll find live music and events there almost every night of the week, often spilling out into the front lawn. And the Empty Bottle is a rarely-empty hole-in-the-wall that happens to be a musical institution on Chicago's west side, featuring an eclectic concert schedule with a side of grunge.
Logan Square
Logan Square is a hipster hangout that locals love for its dive bars, art galleries, coffee shops, and cocktail lounges. It's also where you'll find the cutting edge of the local music scene, with venues that aren't afraid to spotlight under-the-radar bands and experimental sounds.
To get a feel for the neighborhood, head to Milwaukee Avenue. The trendy thoroughfare stays busy long after dark with bar hoppers and concert goers. That's where you'll find the Whistler. It's easy to miss — there's no sign, just a front window with rotating art installations and plenty of locals lined up for nightly no-cover shows. See who's playing next at this hip-but-relaxed cocktail bar and music den.
A few blocks down, you'll hit Concord Music Hall. This mid-size venue draws a young and trendy crowd for the diverse concert line-up, from nationally touring bands to up-and-coming acts. On any given weekend, you'll find a spectrum of artists taking the stage, including punk, electronic, indie, hip hop, metal, and everything in between.
If you're looking for a chill night in a neighborhood watering hole, then head across the street to Cole's Bar. Grab a drink (and maybe shoot a round of pool) in the front, then head to the cozy back room to hear everything from cover bands to folk musicians. No matter who's on stage, admission is always free.
Tucked away from the crowds on Milwaukee Avenue, Rosa's Lounge welcomes new and seasoned blues musicians to their intimate stage. The family-owned spot is one of the city's most beloved venues, and a tribute to the old-school clubs where Chicago-style blues was born.
Lincoln Park
It's known as a haven for great shopping, stunning Victorian mansions, and one of the oldest free zoos in the country. But Lincoln Park is also home to amazing music venues, all within a few blocks of each other near Halsted Street.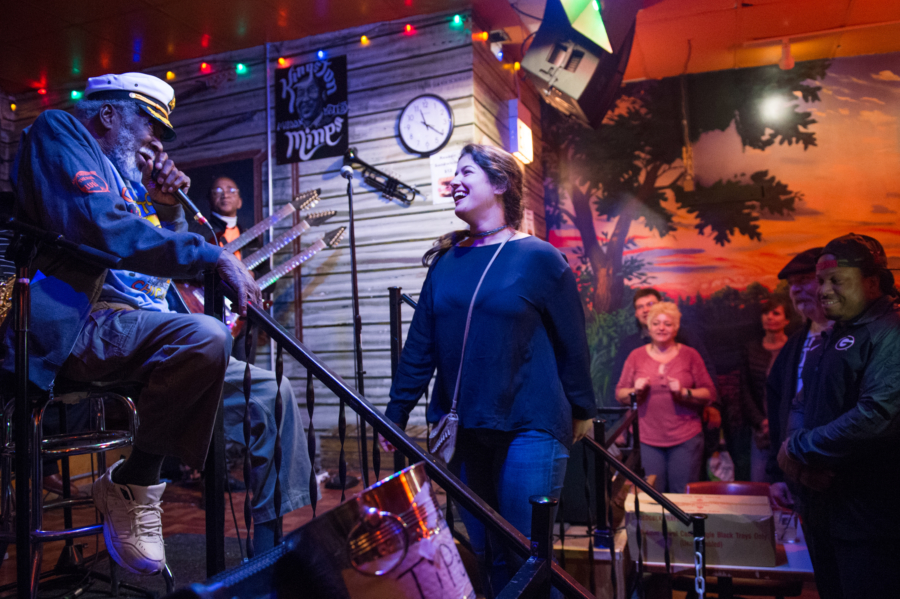 Start your night with a classic at the legendary Kingston Mines. This iconic blues venue is known for its non-stop music — there are two stages and two bands that play each night, so there's never a dull moment. The city's largest and oldest continuously operating blues club, it's hosted some of the greats: Magic Slim, Koko Taylor, Sugar Blue, Billy Branch, Junior Wells, Joanna Connor, and Carl Weathersby, and more. Check out what's coming up.
Right across the street, B.L.U.E.S. offers more live music in an intimate atmosphere. You'll find an old-school blues crowd almost every night of the week, who come for one thing — the music. Well, the cheap drinks don't hurt, but the main draw is the varied lineup of blues musicians from Chicago and all around the country.
If Caribbean beats are more your style, head a block north to Wild Hare & Singing Armadillo Frog Sanctuary. For the last 30 years, Wild Hare has been bringing reggae and world beat artists from all over the world to Lincoln Park, earning them a loyal following of regulars. Plus, they serve up some mean Caribbean-inspired eats.
For indie and alternative bands, head to Lincoln Hall. Built in 1912, it's been a movie theatre and even an auto garage. Today, it's one of the most popular concert venues on the city's north side. The intimate space routinely books a slew of up-and-coming local talent, plus shows from touring national acts.
Pilsen
Pilsen is known for its miles of colorful murals, rich Latino culture, and authentic Mexican cuisine. It's also home to a vibrant nightlife, including the ultimate destination for music lovers — Thalia Hall, a landmark building that's home to some of the city's hottest bars and venues.
Catch live music three days a week at the Tack Room, located in the building's former stables. The lively piano bar offers a curated cocktail list, views of Pilsen nightlife from the intimate patio, and plenty of cozy vibes. Check out the line up at Tack Room.
You can also eat dinner at Michelin-starred Dusek's Board & Beer or grab a drink at retro Punch House — all under the same roof. Dusek's is known for their high-end pub grub, while revelers head to Punch House for contemporary cocktails served in vintage punch bowls.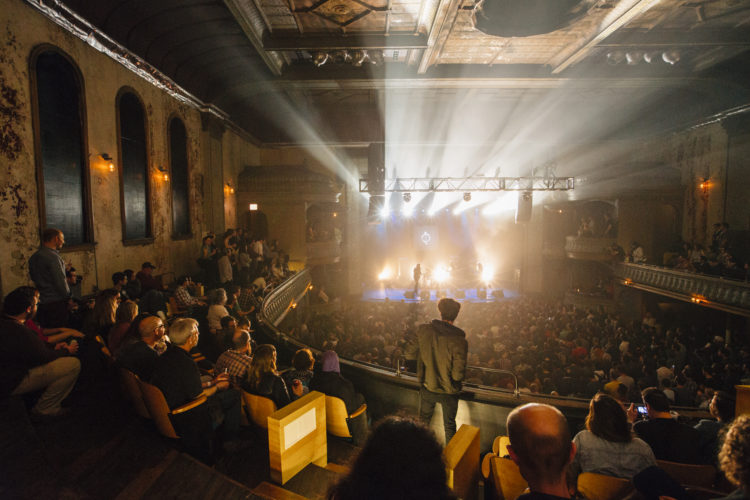 The centerpiece of the building is Thalia Hall itself, a concert venue built in 1892 and modeled after the ornate opera house in Prague. Today, the hall retains all of its old-world glory, plus a thoroughly modern line up of must-see live music and entertainment.
You could spend the whole evening at Thalia Hall, but if you want to venture outside the building there are plenty of other bars and restaurants along 18th Street. Simone's is an eclectic and artsy space that features DJs accompanied by dancers and live performances on weekends. And Honky Tonk BBQ features live music (like western swing, rockabilly, bluegrass, and soul) on most nights.