Chicago is an architectural and urban design mecca — and we have architect Daniel Burnham to thank for a lot of that. Two of Burnham's projects, the 1893 Chicago World's Fair and the 1909 Plan of Chicago, changed the face of the entire urban landscape, rebuilding the city after the Great Chicago Fire. Today, you can tour historic architecture and picturesque neighborhood pockets where the World's Fair and the Plan of Chicago live on.
Daniel Burnham-designed buildings in Chicago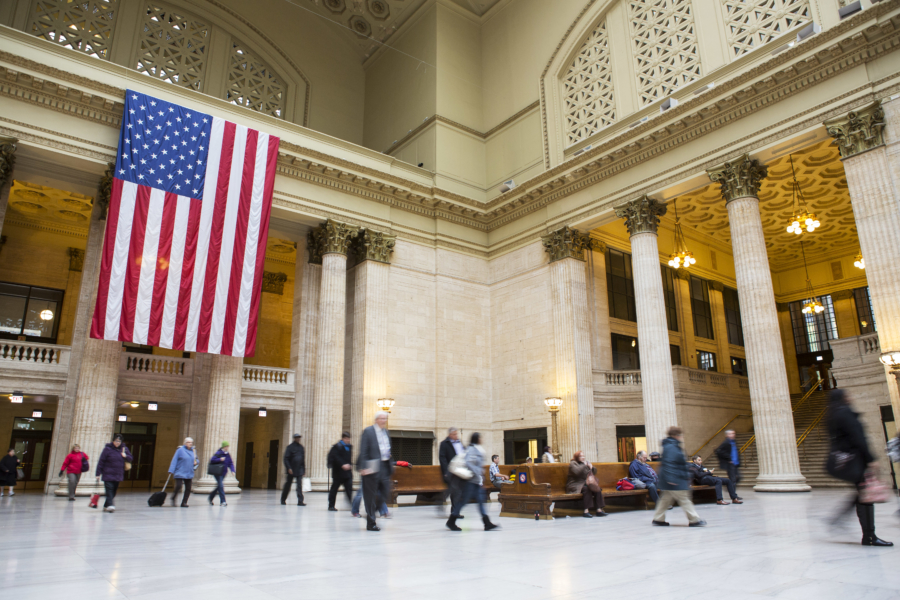 Union Station
Union Station is huge — literally and historically. The Beaux-Arts building that's home to Chicago's central train station covers an entire city block, with a soaring Great Hall that features a 219-foot-long barrel-vaulted skylight. It was part of Burnham's master plan for the development of Chicago's West Loop. 210 S. Canal St.
The Rookery
Completed in 1886, this Burnham and Root building is one of the oldest high-rises in Chicago, and features one of the most photographed interiors in the city. Enter into a stunning lobby light court redesigned by Frank Lloyd Wright in 1905. 209 S. LaSalle St.
The Reliance Building
The Reliance Building is all about light and airiness. Unlike its heavy, blocky counterparts of the time, this window-covered building, with its thin bands of creamy terra cotta, almost seemed to defy gravity. Beautifully restored, it's now home to the boutique Staypineapple Hotel and The Atwood restaurant, named for Charles B. Atwood, who completed the project after Root's death in 1891. Stop in for a bite and feast your eyes on the stunning interior. 1 W. Washington St.
The Monadnock Building
Built 1889 – 1891, the Monadnock Building is as weighty as it sounds — it's actually the last of Chicago's great masonry skyscrapers. It's a solid example of load-bearing masonry construction, which was common in the earliest skyscrapers. 6-feet-wide walls at the base give it its sturdy bearing, and support the full weight of the building's 16 stories. Today, you'll find unique boutiques and custom stores here, including beautiful flowers and plants at A New Leaf, hip women's clothing at Florodora, fine cigars at Monadnock Tobacco, and old-school millinery at Optimo Hats. 53 W. Jackson Blvd.
Santa Fe Building
Also known as the Railway Exchange Building, the Santa Fe Building's white terra cotta is a nod to Burnham's famed "White City," which took center stage at the 1893 World's Fair. The Santa Fe Building also was once the location of Burnham's office, and where the Plan of 1909 was developed and written. 224 S. Michigan Ave.
Macy's on State Street
Macy's on State Street is a Chicago landmark and icon. The famous Great Clocks on the exterior of this Classical Revival building keep watch over State Street, while lavish interiors dazzle with stained glass, Tiffany mosaics, and the Burnham Fountain (also known as "The Lost Fountain"). 111 N. State St.
Relics of the 1893 Chicago World's Fair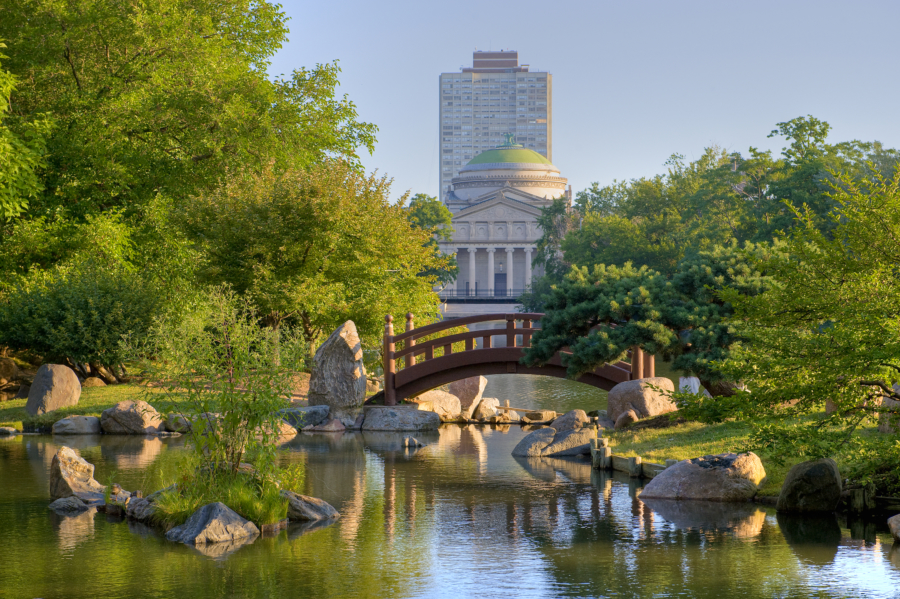 The World's Fair was a defining moment in the nation's history. And it was Burnham's vision for a "White City" of boulevards, gardens, and Beaux-Arts buildings that forever changed the face of Chicago. Get a glimpse of the World's Fair at these sights.
Jackson Park
Jackson Park is where all that World's Fair magic happened back in 1893. Today, the park is home to the Garden of the Phoenix on The Wooded Island. The Ho-o-den pavilion (Phoenix Temple) was once its centerpiece, built by the Japanese government specifically for the World's Fair. Today, you'll see blossoming cherry trees in the spring, koi ponds, waterfalls, bridges, and authentic Japanese horticulture. The garden is also home to SKYLANDING, Yoko Ono's first permanent art installation in North America. 6401 S. Stony Island Ave. 
Statue of the Republic
Jackson Park is also where you'll find Chicago's "golden lady," the Statue of the Republic. It was installed in 1918 to commemorate the 25th anniversary of the World's Fair, and is a much smaller and slightly modified version of Daniel Chester French's original 65-foot-tall statue, one of the most iconic features of the World's Fair. 6401 S. Stony Island Ave. in Jackson Park
Museum of Science & Industry
The largest museum of its kind in the Western Hemisphere, the Museum of Science and Industry is an amazing place. It was built as the Palace of Fine Arts for the 1893 World's Fair, and is the only surviving building from Burnham's "White City." The "palace" is organized in the form of a cross, with a large dome that rises above its center. True to the Beaux Arts style, it's perfectly symmetrical and decorated with classical structures and motifs, including Ionic columns, garlands, and caryatids (female figures that serve as columns). 5700 S. Lake Shore Drive
Daniel Burnham's Plan of Chicago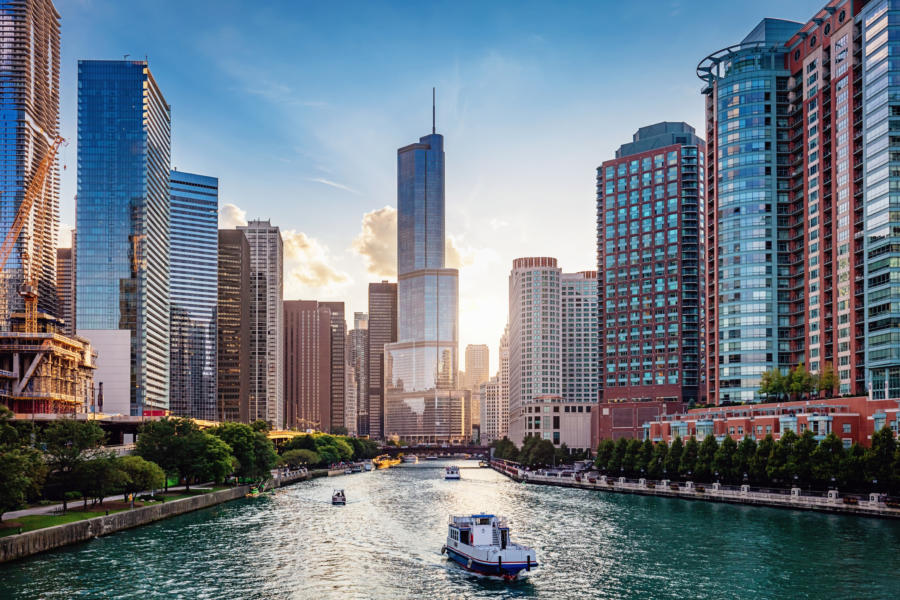 The Plan of Chicago is Burnham's vision for a redesigned Chicago lakefront, with parks, waterways, and public spaces connecting Jackson Park with Lake Park (now known as Grant Park). The plan imagined many of the iconic city features you see today, including:
Navy Pier
Navy Pier was a major part of Burnham's plan to redesign the city and connect the people of Chicago with the lakefront. It's one of two piers he originally planned. Today, it's a multi-sensory attraction, with sights, dining, nightlife, theatre, entertainment, boat excursions, and more. Don't miss the Centennial Wheel at Pier Park while you're there. It was modeled after the world's first Ferris wheel, unveiled at the 1893 World's Fair. Today's model measures almost 200 feet in height and features year-round, climate-controlled gondolas (and even VIP ones). 600 E. Grand Ave.
Chicago Riverwalk
First envisioned as part of Daniel Burnham's 1909 Plan of Chicago, the Chicago Riverwalk was completed in 2016 as part of the city of Chicago's Building on Burnham initiative. True to Burnham's plan, the initiative invested in natural and recreational opportunities for neighborhoods across the city. The result is one of the city's most beautiful star attractions in place of a former shipping channel and sewage dumping ground. Today, the Riverwalk's 1.25-mile pedestrian stretch is a pleasure ground for boating, dining, drinking, enjoying nature, and experiencing the city's arts and culture. 376 N. Michigan Ave.
Northerly Island
Burnham originally planned for five man-made islands stretching south along the shore of Lake Michigan, but only one became a reality. Today, Northerly Island is part of Museum Campus, where you'll find the Field Museum, Shedd Aquarium, and Adler Planetarium sitting side by side on the lakefront. Northerly Island is also home to Huntington Bank Pavilion, a dramatic outdoor amphitheater with spectacular views of the city skyline and Lake Michigan. 1521 S. Linn White Drive
Grant Park
Grant Park, aka Chicago's "front yard," lives and breaths Burnham's dream of a lakefront for the people. This is where you'll find some of the city's many free summer festivals, including Taste of Chicago and Chicago SummerDance, as well as Buckingham Fountain, one of the largest fountains in the world and inspired by the Latona Basin at the Palace of Versailles. Typically from early May through mid-October, the fountain produces a dazzling water display for 20 minutes every hour, from 9 a.m. to 10:35 p.m. During these shows, a center jet shoots water to a height of 150 feet, with lights and music beginning at dusk. 337 E. Randolph St.