---
Why we love it
One of Chicago's largest and most populous neighborhoods, the Austin community is home to a diverse collection of historic homes that will impress any architecture buff. And the neighborhood's sprawling Columbus Park is a true gem of landscape architecture.
Explore like a local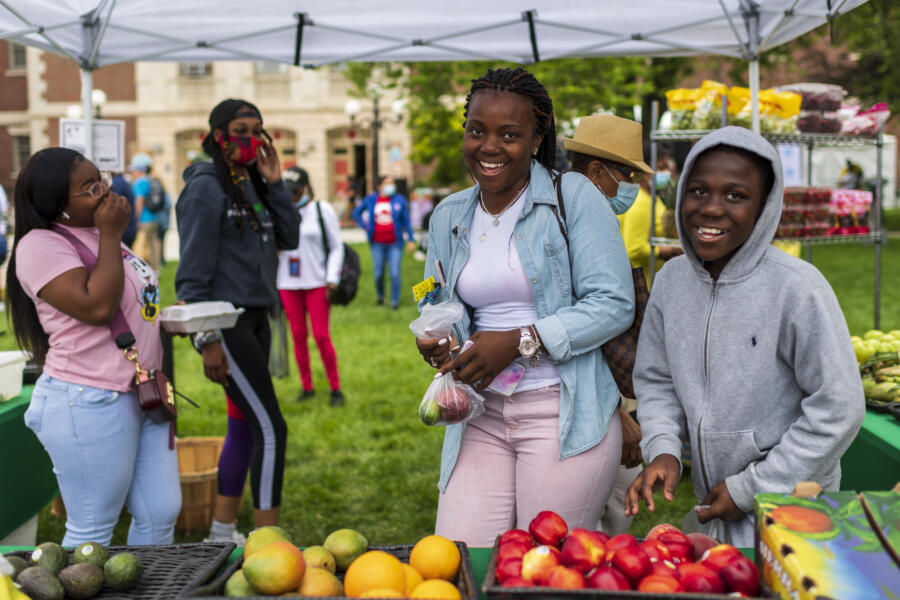 Insider tips
Stroll through a historic green space: One of the nation's only parks to be designated a National Historic Landmark, Columbus Park is known as the masterpiece of legendary landscape architect Jens Jensen.The 140-acre park contains a lagoon, waterfalls, a nine-hole golf course, athletic fields, a swimming pool, and paths for walking, jogging, and biking.
The park's most recognizable landmark is the gorgeous Columbus Refectory. The Spanish-inspired structure is set on the picturesque lagoon and contains ornate terracotta detailing, arched entryways, and soaring windows that fill the space with sunlight.
During the summer, people gather in Columbus Park for concerts in the Refectory building, Movies in the Park, shows from Chicago Shakespeare Theater, and more.
Be immersed in the arts: The Kehrein Center for the Arts is a recently restored auditorium, originally built in 1954, that is now a center of Austin's artistic community. The space hosts all types of events, including music, dance, theatre, spoken word, and beyond. You'll find performances by local artists along with major cultural groups, like the Chicago Symphony Orchestra.
Admire Austin's historic homes:First founded as "Austinville" in 1865, the Austin neighborhood is home to a wealth of stunning residential architecture. 
The neighborhood's oldest home is the more-than-150-year-old Seth Warner house, one of the city's few structures to pre-date the Great Chicago Fire. Listed on the National Register of Historic Places, the home has served as a private residence, music school, and even a hotel during the Chicago World's Fair in 1893.
Other notable residences include the J. J. Walser Jr. house, designed by Frank Lloyd Wright in his classic Prairie style, and the F.R. Schock House, considered one of the finest examples of Queen Anne architecture. The Austin Historic District in the Midway Park area north of Central and Lake includes many striking examples of Victorian, Queen Anne, and neoclassical homes.
Take a guided tour: The lauded Chicago Architecture Center offers guided walks of Austin, diving into the history of the area's more notable structures designed by prominent local architects. 
Chicago Greeter: free guided tours
Taste, shop and explore the neighborhoods with a friendly local as your guide. Explore rich histories, diverse cultural traditions and hidden treasures. See sides of the city you may not have adventured out to on your own, and take away a truly authentic Chicago experience. Greeter visits are customized based on your choice of neighborhoods, language and interests.
Request a tour with a Chicago Greeter