Interested in hosting an event in the heart of Chicago? These Chicago hotels have meetings in mind with amenities and on-site dining. Use this list to explore what Chicago's downtown area has to offer in terms of meeting locations. From on-site dining options to hotel perks and amenities, these hotels will help make your next meeting event great.
Trump International Hotel & Tower Chicago
Situated along the Chicago River at the juncture of the Loop and North Michigan Avenue, Trump International Hotel & Tower offers the best in five-star service. Standard guest rooms start at a roomy 600 square feet and showcase panoramic views of the Chicago skyline, Lake Michigan, and the Chicago River. 401 N. Wabash Ave. 
Meeting space: 26,000 square feet of function space include the Grand Ballroom, Skyline Room, Grand Salon, five additional Salons, an Executive Boardroom, and the newly added Bridgeview and Riverside Rooms—all featuring video-conferencing capabilities and private entrance access for outside guests. View seating capacities.
On-site dining: Trump Hotel Chicago's culinary team is on-site to plan a customizable catering menu for your event or guests can dine at the Michelin-rated Terrace 16 restaurant.
Contact: (312) 588-8000
Radisson Blu Aqua Hotel, Chicago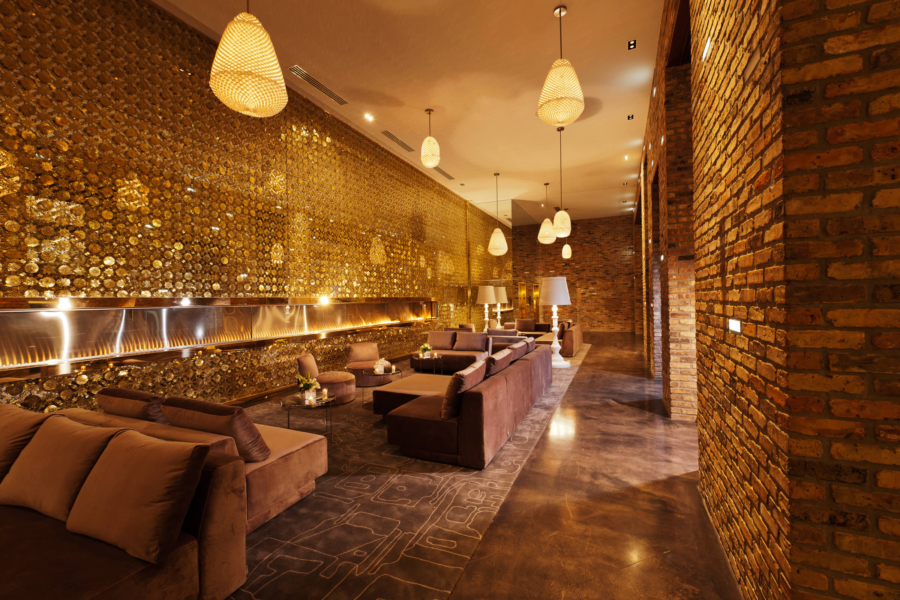 The Radisson Blu Aqua Hotel is focused on customer service with its design, style, and staff, while the building's architecture grabs the attention of visitors with its undulating, wavy floors. 221 N. Columbus Dr. 
Meeting space: With nearly 28,000 square feet of meeting and event space consisting of 13 configurable meeting rooms, the 12,000 square foot Atlantic Ballroom offers the best views of Lake Michigan.
On-site dining: Attendees can experience a sensational Italian meal at Filini, the on-site restaurant, and bar while in-house catering options can be arranged for your meeting.
Contact: (312) 565-5258
Park Hyatt Chicago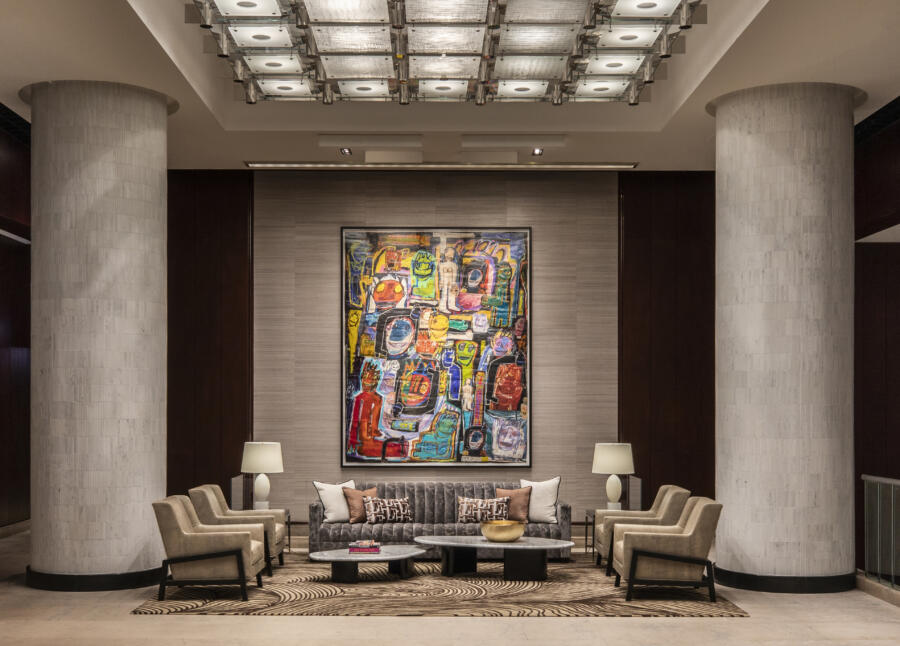 Located across from the historic Water Tower in the midst of The Magnificent Mile, the Park Hyatt offers personalized service and amenities (an on-site spa, custom local artwork in each room, and suites with panoramic views) that make for a memorable stay. 800 N. Michigan Ave. 
Meeting space: Choose from more than 5,000 square feet of event space options, including ballrooms, boardrooms, and private dining outfitted with sleek architectural and design details. Select spaces offer views of Chicago's Water Tower and Lake Michigan.
On-site dining: Meeting guests can experience an incredible meal at the highly acclaimed NoMI Kitchen, featuring contemporary cuisine and floor-to-ceiling views of Lake Michigan. The space seats up to 120 guests. The adjoining NoMI Garden is a rooftop oasis for alfresco dining.
Contact: (312) 335-1234
Hotel Essex
Hotel Essex offers a convenient location overlooking Grant Park, with colorful decorations, views of the lake and shoreline, and stunning onsite restaurant Grant Park Bistro and bar and nightclub SX Sky Bar. 800 S. Michigan Ave. 
Meeting space: Ideal for meetings and group events, Hotel Essex offers versatile 1,200 sq.ft. space with high-speed Internet access, large-screen image projection, and other audiovisual facilities.
On-site dining: Grant Park Bistro offers tasty, traditional and modern French cuisine, shared plates, all-day menu items and a wine menu focusing on French wines from the Loire Valley. Catering menus are available for each event.
Contact: (312) 939-2800
The Drake Hotel, A Hilton Hotel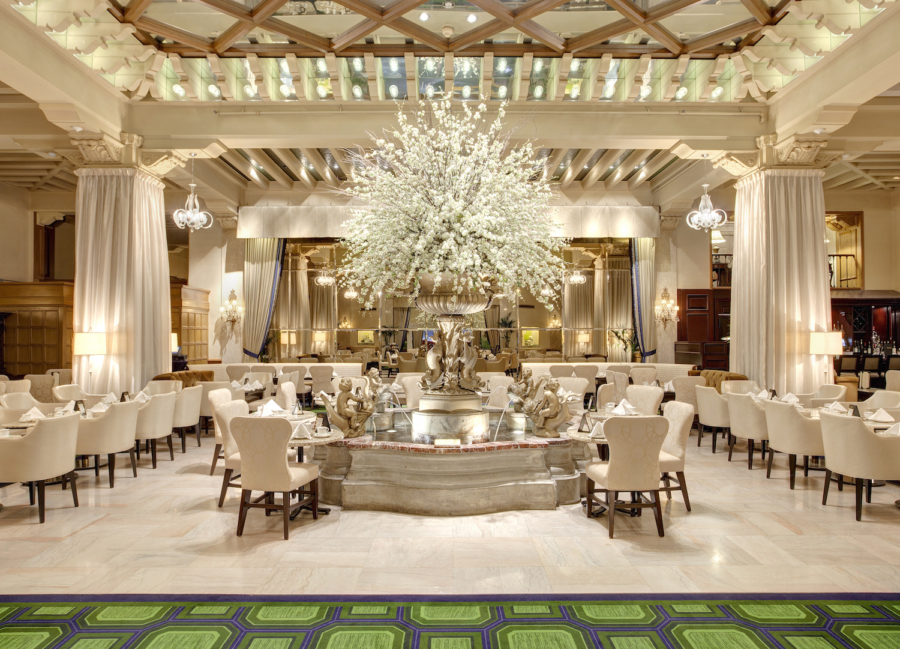 The luxurious history and elegant feel of  The Drake Hotel has been inspiring guests since 1920. Located on the Magnificent Mile, the historic hotel offers guests an atmosphere complimented with service and amenities to ensure their stay meets expectations. 140 E. Walton Pl. 
Meeting space: The Drake Hotel has 20 meeting rooms that can accommodate up to 600 people with 8 meeting rooms featuring beautiful views of Lake Michigan or the cityscape — making up more than 33,500 square feet of event space. Wireless internet, AV, and conferencing facilities are all available.
On-site dining: Four distinctive restaurants add an additional flare of personality to the hotel. Meeting attendees can start the day with breakfast at Drake Bros or enjoy a meeting break with elegant teatime at Palm Court. Fresh seafood dinners and retro-chic vibe of Cape Cod await attendees after a day of planning, and the speakeasy atmosphere of Coq d'Or, has been open every night since the repeal of Prohibition in 1933.
Contact: (312) 787-2200
Hyatt Regency Chicago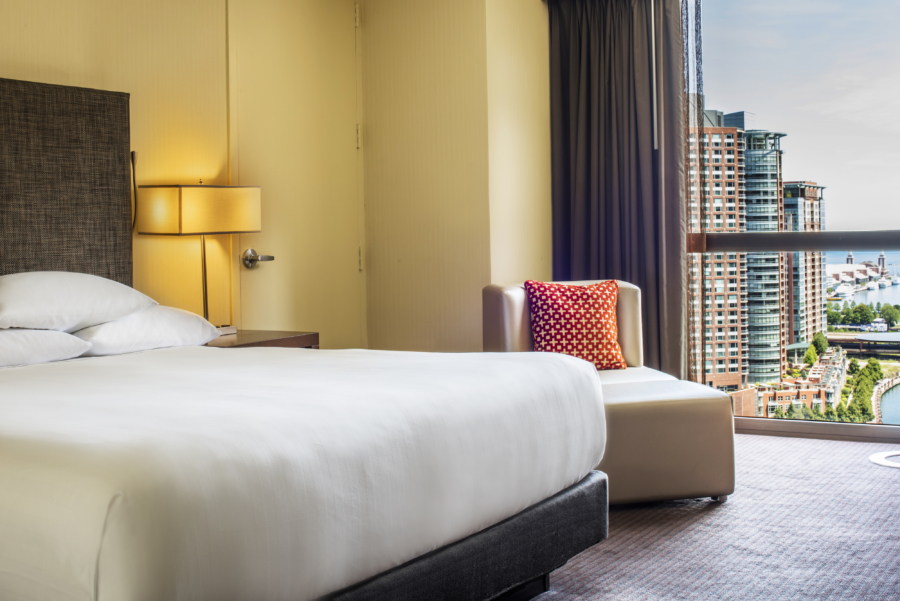 Hyatt Regency Chicago has dedicated $168 million to enhancing all aspects of the hotel and guest experience including new restaurant concepts and menus. 151 E. Wacker Dr.
Meeting space:  The Hyatt Regency Chicago offers experienced staff and planners, innovative technology, creative catering and a meeting concierge per event. Their large meeting space (more than 228,000 square feet) offers a variety of meeting and event space options equipped with state-of-the-art technology.
On-site dining: Catering options show the creativity and willingness to provide a menu that will fit the event perfectly. Discover their vast array of on-site catering menus. Guest may also dine in the four on-site restaurants including Stetson's Modern Steak and Sushi, American Craft Kitchen and Bar that is friendly to the laptop wielding bunch, Big Bar (yes—everything is large), and DaddyO's Pub and Game room for post-meeting debriefing.
Contact: (312) 565-1234
Sheraton Grand Chicago
The Sheraton is conveniently located in the heart of downtown Chicago and within walking distance to many of the city's attractions like Navy Pier and the Magnificent Mile. 301 E. North Water St. 
Meeting space: 120,000 square feet of meeting space can accommodate up to 4,600 people. Meeting space is dispersed amongst 4 floors with 34 breakout rooms and the Sheraton has the largest hotel ballroom (40,000 square feet).
On-site dining: Five distinctive restaurants and lounges offer different cuisine and atmosphere for guests dining at the Sheraton. Shula's Steak House is perfect for an incredible meal while hosting business guests. The Chicago Burger Company is perfect for a casual lunch while Chi Bar is the place to grab a drink and mingle over small plates and cocktails. View the full list of dining options.
Contact: (312) 464-1000