'Tis the season for holiday pop-up bars. Some of Chicago's favorite bars have temporarily transformed into full-blown winter wonderlands. Expect over-the-top decorations, seasonal cocktails, festive food specials, and plenty of photo opps at holiday-themed bars all around the city. And don't wait — many of these seasonal extravaganzas disappear after the new year.
Celebrate the season at these 10 festive pop-up experiences in Chicago:
Santa Baby at Deuce's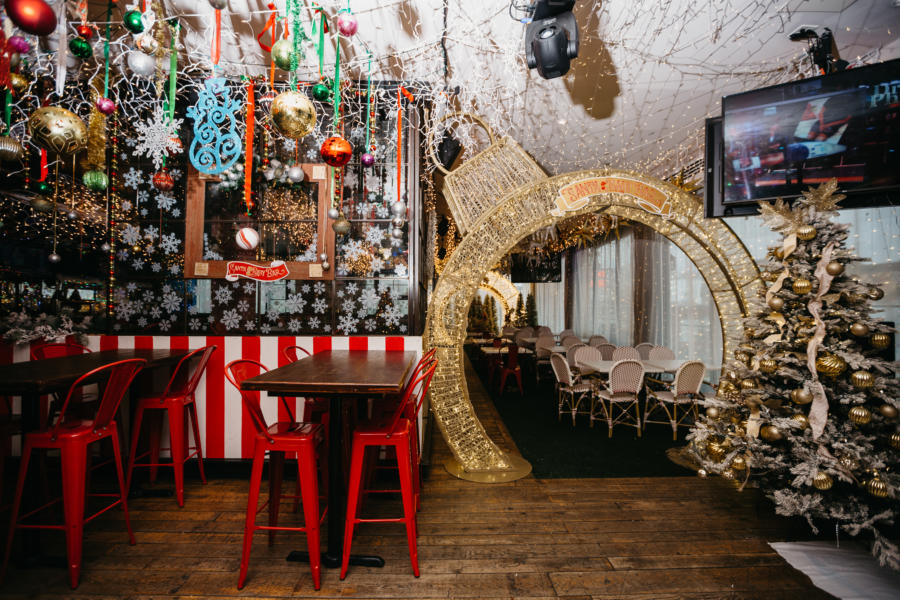 If you want to go all in on the holidays, why not celebrate at a multi-level, multi-room, interactive Christmas experience? Santa Baby at Deuce's in Wrigleyville features extensive decor, music, food and drinks, and weekly specials, including bottomless brunches, holiday movies, games, and karaoke nights. Get your tickets here; prices vary based on date and time.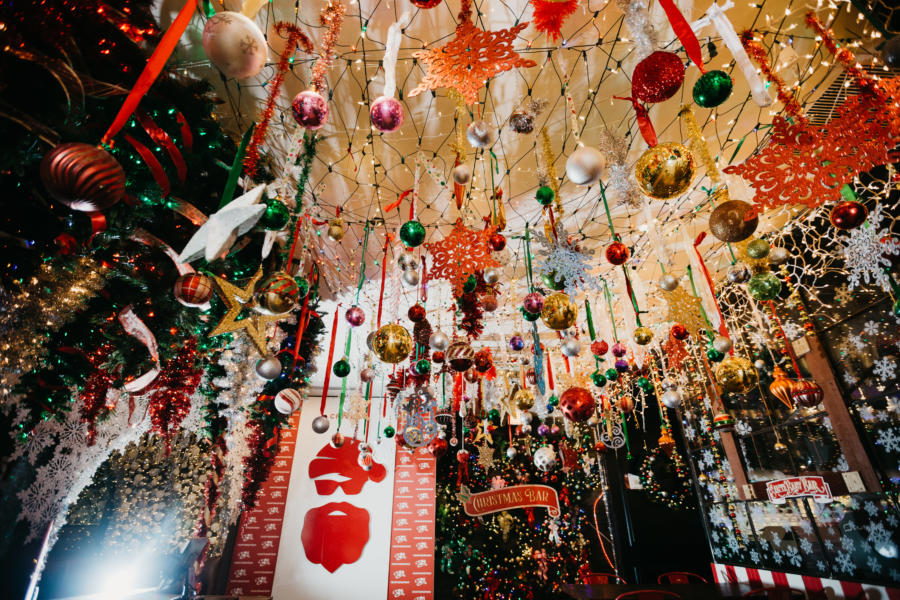 Dates: Open daily through January 6
Hours: Monday – Thursday, 1 – 11 p.m.; Friday, 1 p.m. – 2 a.m.; Saturday, 11 a.m. – 3 a.m.; Sunday, 9 a.m. – 11 p.m.
Location: 3505 N. Clark St.
Jingle Bell Square at Lost Lake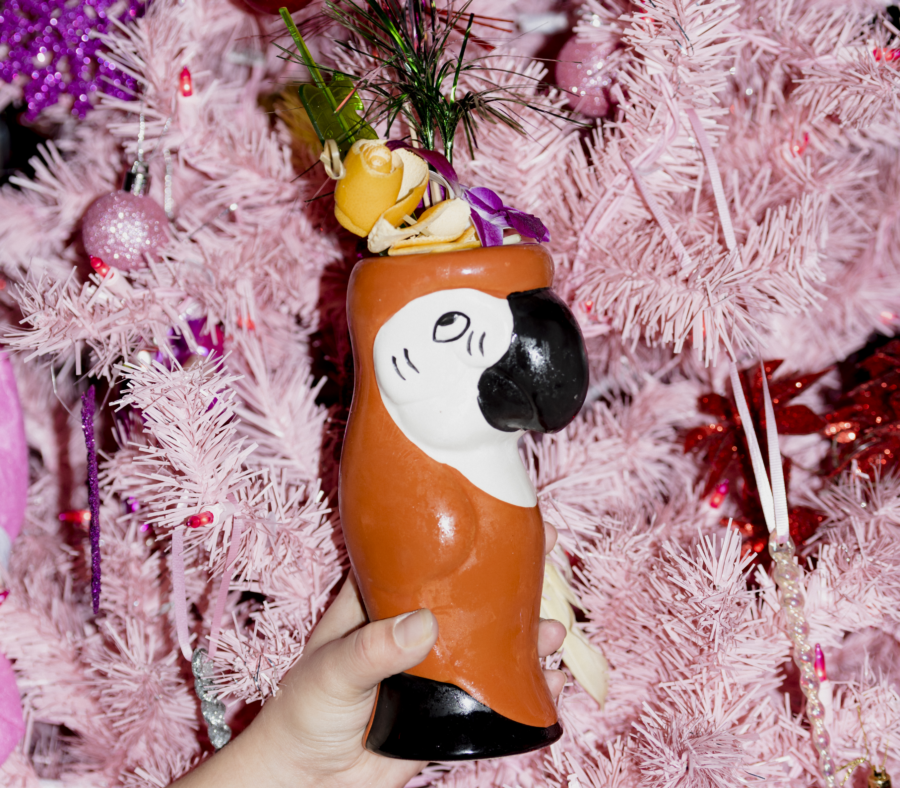 Tiki hot spot Lost Lake, located in Logan Square, is dressing up for the holidays with their December pop-up, Jingle Bell Square. All month long, enjoy the festive decor and sip on seasonal-inspired cocktails, including Down Through The Chimney with mezcal, sweet vermouth, amaro, coffee, whole egg, and mole bitters.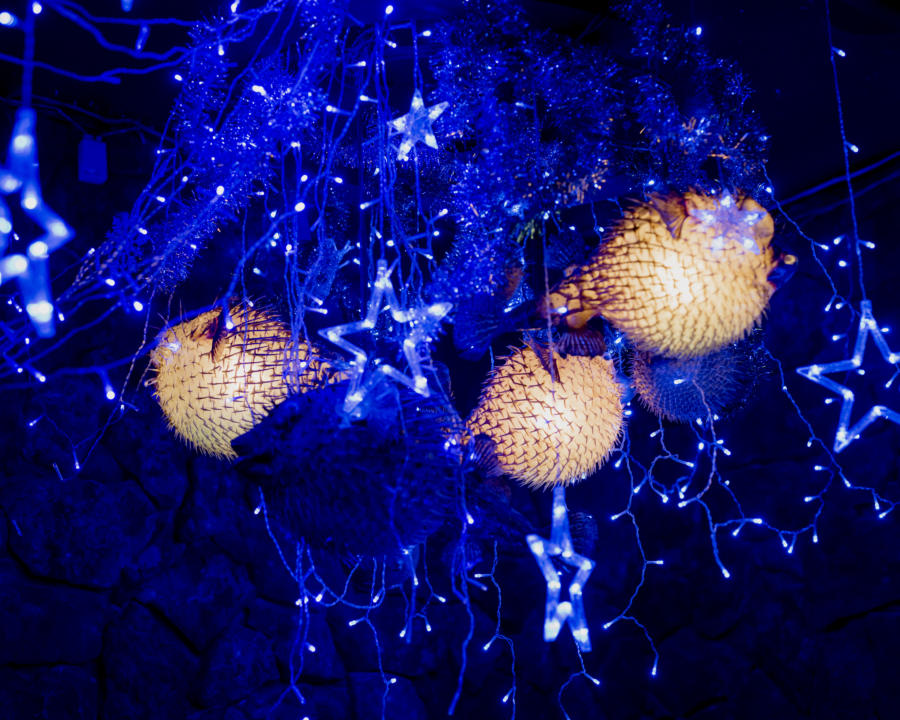 Dates: Daily throughout December
Hours: Saturday and Sunday, 2 p.m. – 2 a.m.; Monday through Friday, 5 p.m. – 2 a.m.
Location: 3154 W. Diversey Ave.
Santa's Bodega at La Bodega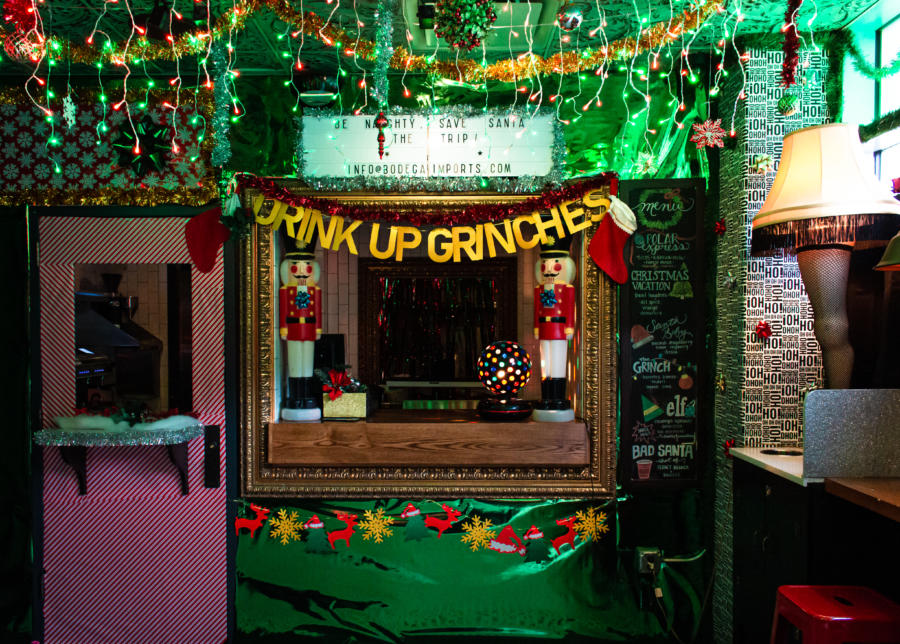 La Bodega in River North will now be home to Santa's Bodega, a decked-out pop-up featuring holiday cocktails and shot specials, including a wintery old-fashioned named Christmas Vacation. The themed experience will be open on Fridays and Saturdays after 5 p.m. and is available for private bookings.
Dates: Opens Friday, Dec. 6 and will be open every Friday and Saturday throughout December
Hours: 5 p.m. – close
Location: 335 N. Clark St.
The Reindeer Room at Tack Room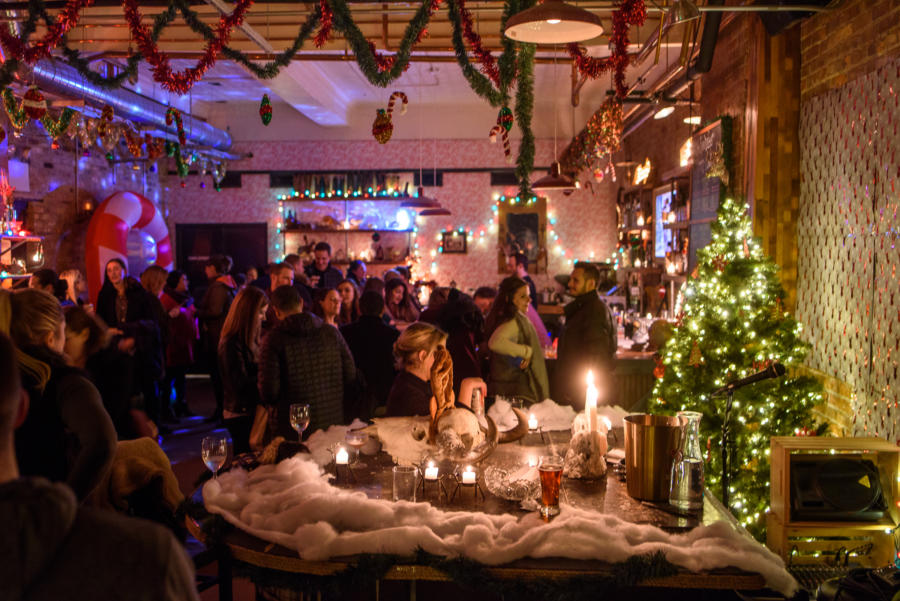 Tucked inside historic Thalia Hall in the Pilsen neighborhood, Tack Room is a carriage house turned cozy cocktail and piano bar. This holiday season, soak up the festive vibes at its seasonal pop-up, The Reindeer Room for live music, craft cocktails, and plenty of holiday decor. And if you're looking to give back, The Reindeer Room is offering a complimentary hot toddy for guests that bring a new and unwrapped toy to be donated to St. Procopius Catholic Church that sits across the street.
Dates: Thursdays and Fridays throughout December
Hours: 6 p.m. – 2 a.m.
Location: 1227 W. 18th St.
Mele Kalikimaka at Cerise Rooftop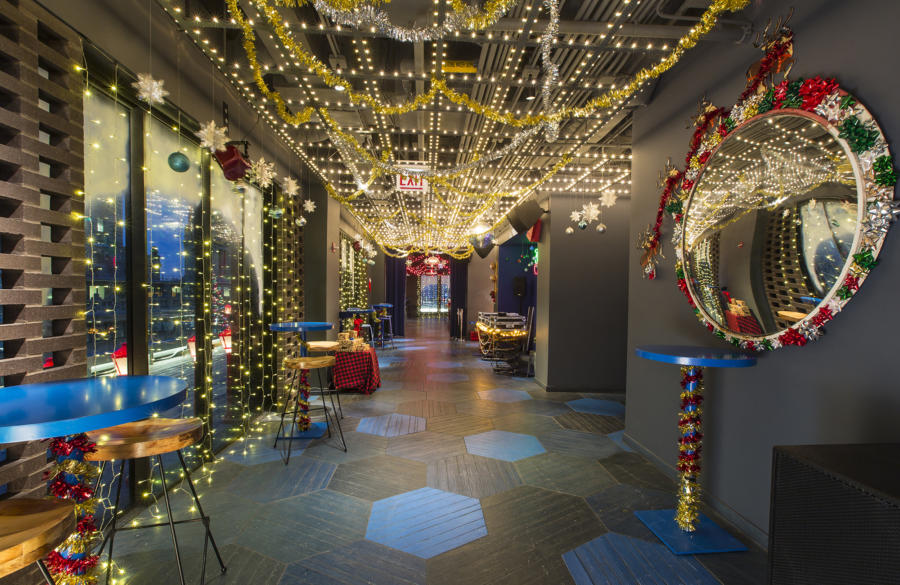 Trade the season's snow and cold for a tropical paradise at Cerise Rooftop's Mele Kalikimaka pop-up experience. Along with island-themed decor, the pop-up will feature heated domes, live entertainment, and a full menu of Hawaiian-themed specialties, like ahi tuna nachos and a Flamingo Floatie cocktail served in a pink pool float.
Dates: Opens Thursday, Dec. 5 and will be open every Thursday, Friday, and Saturday throughout December
Hours: 5 p.m. – close
Location: 203 N. Wabash Ave., 26th floor of the Virgin Hotel 
8 Crazy Nights at The Graystone Tavern
8 Crazy Nights, Chicago's first Hanukkah-themed pop-up, is coming to Lakeview's The Graystone Tavern throughout December. The bar will be adorned with seasonal decor, including over 8,000 blue and white lights, and feature a menu of Hanukkah favorites such as latkes, matzo ball soup, brisket platters, and more. Look out for special events, like a happy hour charity benefit, dreidel spinning tournament, and more.
Dates: Daily through Dec. 31
Hours: Monday through Thursday, 5 p.m. – 2 a.m.; Friday and Sunday, 11 a.m. – 2 a.m.; Saturday, 11 a.m. –  3 a.m.
Location: 3441 N. Sheffield Ave.
Happy's at the Chicago Athletic Association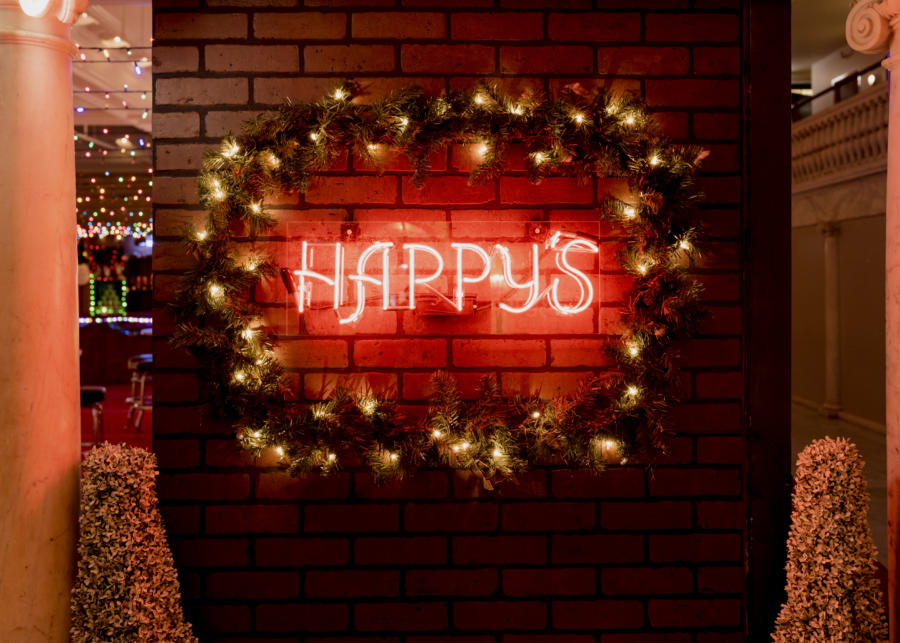 Happy's is back this year and bigger than ever. This seasonal favorite in the historic Chicago Athletic Association is an explosion of all things holiday, from seasonal decorations to a festive drink menu. This year, Happy's features an expanded food menu and special events throughout December, like a dog-friendly evening and a gingerbread house decorating competition.
Dates: Open Monday through Saturday through Dec. 28
Hours: Monday through Wednesday, 5 – 10 p.m.; Thursday through Saturday, 5 p.m. – 12 a.m.
Location: 12 S. Michigan Ave.
Griswold's at Houndstooth Saloon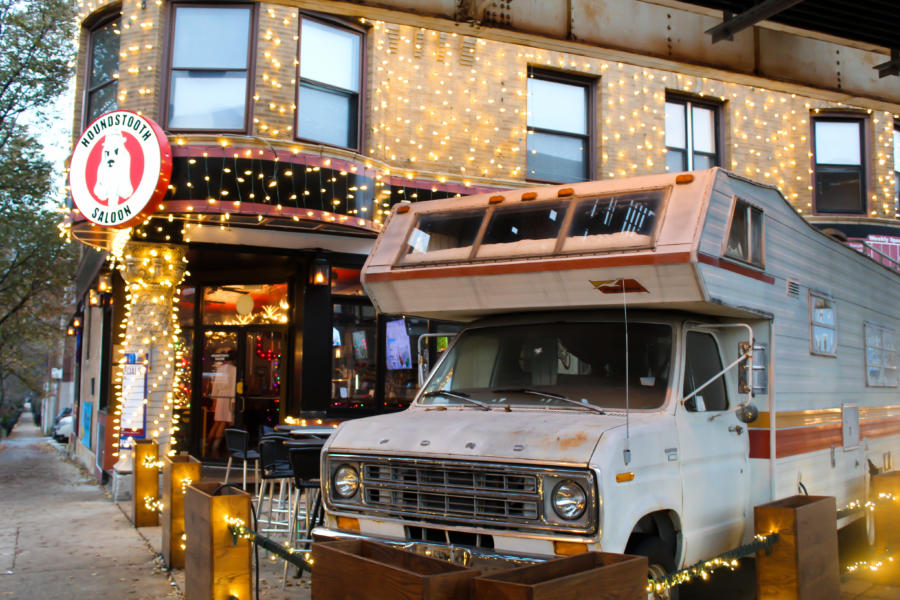 If you're a fan of the classic National Lampoon's Christmas Vacation (and who isn't?), then you'll definitely want to stop by Griswold's pop-up at Houndstooth Saloon. The whole space will be transformed into various scenes from the movie, including the Griswold's attic and a living room complete with a torched Christmas tree. To round out the theme, there will be '80s-centric food and drink and photo opportunities with Cousin Eddie's RV parked on the patio.
Dates: Open daily through Feb. 8
Hours: Monday through Thursday, 4 p.m. – 2 a.m.; Friday, 11 a.m. – 2 a.m., Saturday, 11 a.m. – 3 a.m., Sunday, 11 a.m. – 2 a.m.
Location: 3369 N. Clark St.
The Naughty List at Ludlow Liquors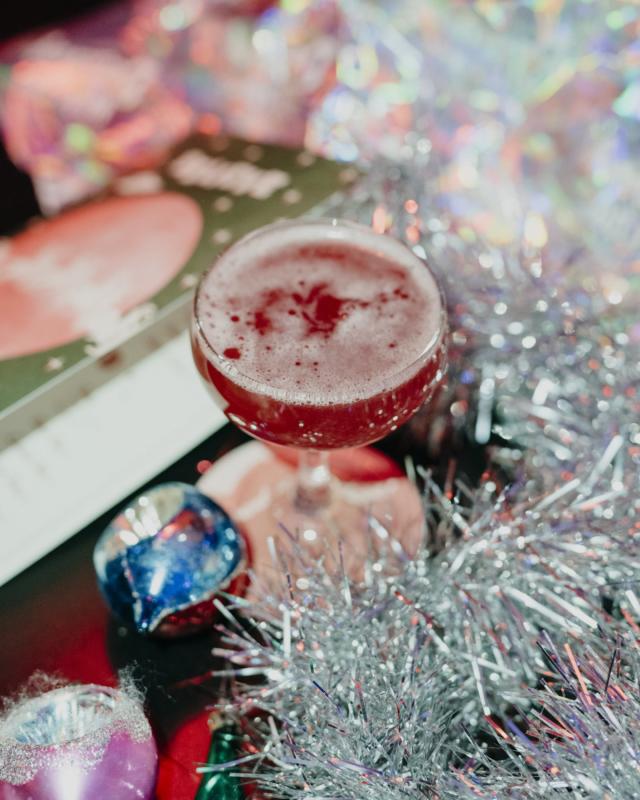 Avondale's neighborhood tavern, Ludlow Liquors, is bringing back their annual holiday-pop up with a villainous twist. This year's theme, The Naughty List: Ludlow Liquors' Villains of Christmas, will feature everyone's favorite bad guys from classic holiday movies like The Grinch, Home Alone, and Die Hard. Come enjoy the decor and seasonal food and beverage specials, including a cookie plate paired with milk punch.
Dates: Open daily through Dec. 31
Hours: 12 p.m. – 2 a.m.
Location: 2959 N. California
Frosty's Christmas Bar
One of the city's largest holiday pop-ups is the massive, three-level festive celebration at Frosty's Christmas Bar. Decked out with four bars, multiple dance floors, life-sized toy soldiers, festive music, and on-theme cocktails, Frosty's is a must-see for Christmas lovers in Chicago. Tickets start at $20 and include admission and one alcoholic or non-alcoholic beverage.
Dates: Open daily through Jan. 5
Hours: 4 p.m. – 4 a.m.
Location: 809 W. Evergreen