Rooftop bar season is year-round in Chicago. These seasonal spaces are the perfect place to cure your cabin fever while still staying warm and cozy. Sip festive cocktails, roast marshmallows over the fire, or even work up a sweat with a curling match. Just make sure to get a reservation — these winter rooftops will disappear when the weather warms up.
Winter Wonderland at I/O Godfrey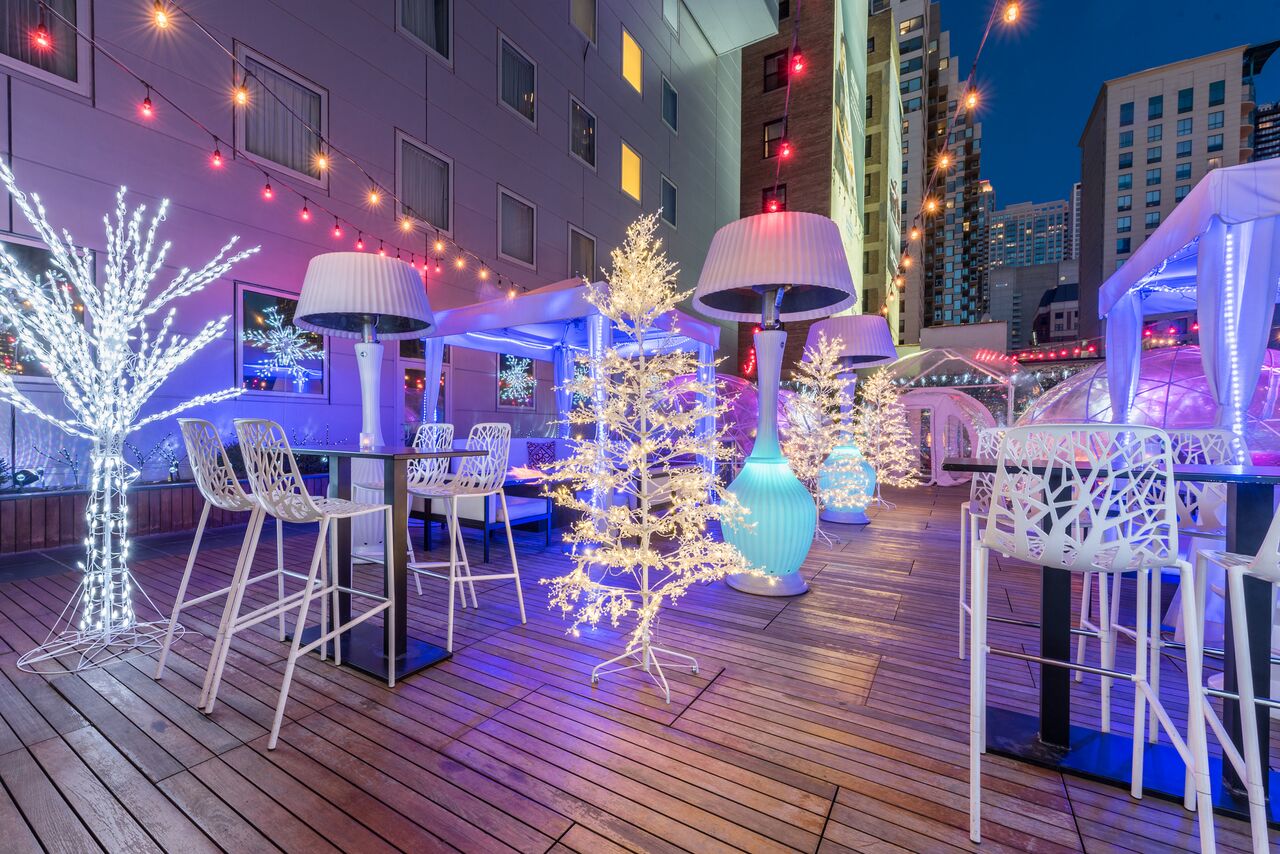 I|O Godfrey, the year-round rooftop bar atop The Godfrey Hotel in River North, will launch its annual Winter Wonderland on Saturday, Nov. 19, 2022. The ultra-festive space features their popular heated igloos, where guests can stay cozy no matter the weather. Guests can roast s'mores over the fire pits, order hot craft cocktails, and enjoy sweeping city view. Small igloos can fit up to six people, and the large igloo holds up to 10. Reserve your igloo today.
Curling & Cocktails at The Gwen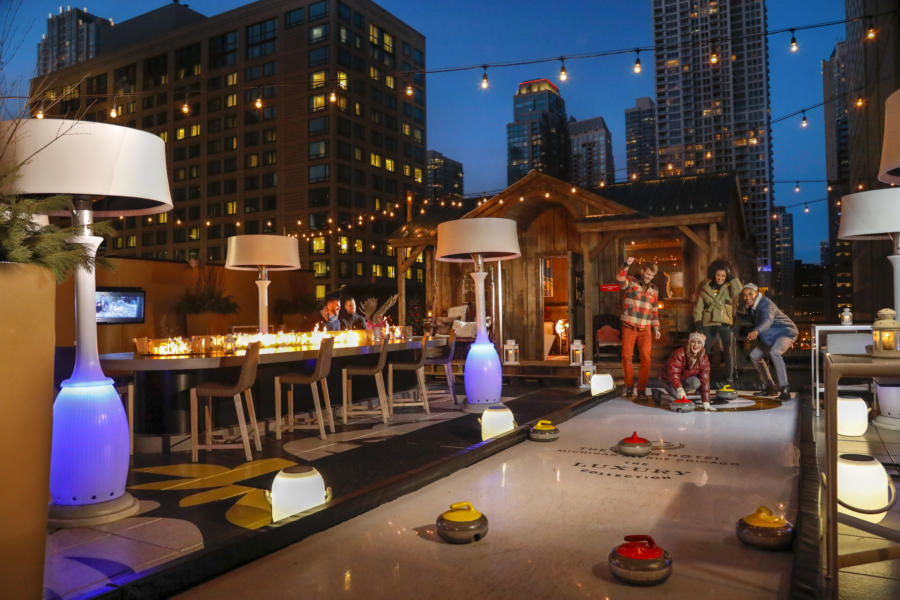 The Gwen's winter terrace is back. The fifth-floor rooftop features an iceless curling rink, where guests can play for up to 45 minutes while enjoying a signature curling cocktail. The rooftop terrace is also decked out with fire pits, where diners can cozy up and enjoy The Gwen's bar food and drink menu. Make your curling reservations starting Nov. 21, 2022.
Stone's Throw at The Emily
The new The Emily Hotel in the West Loop is debuting a new rooftop curling experience. Stone's Throw will feature two Olympic-sized curling courts, along with curated beverages. Between rounds, warm up inside heated yurts decked out in 80's nostalgia. Reservations are available for groups of two or four for one hour. All reservations come with a complimentary cocktail.
The Kennedy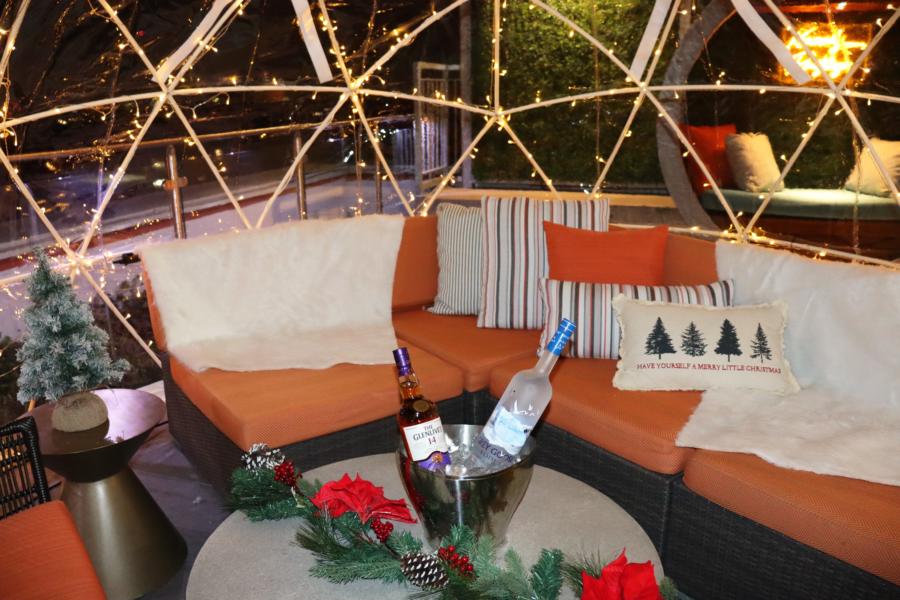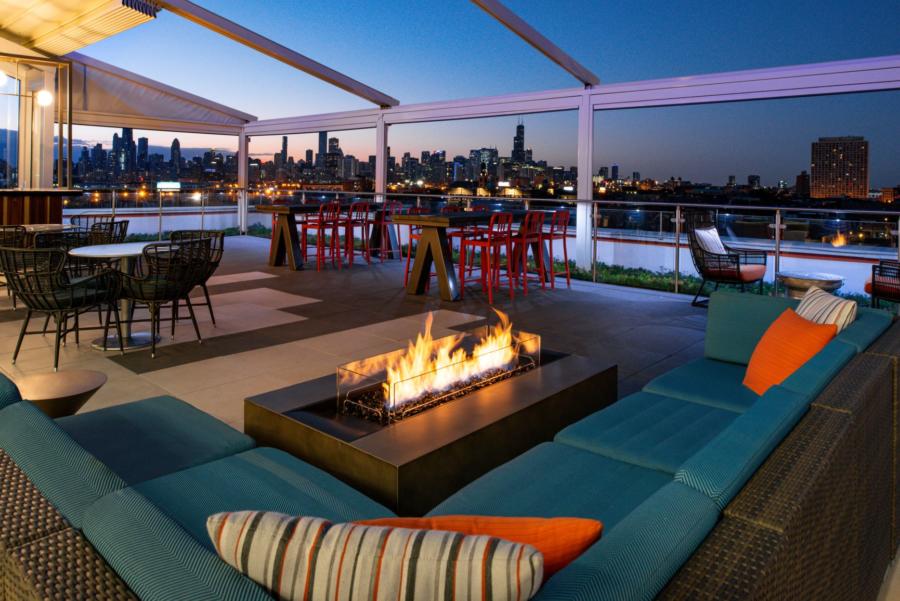 A popular rooftop spot in Wicker Park, The Kennedy offers a variety of ways to stay warm this winter. Cozy up by a firepit while soaking in the panoramic views of the city skyline. Or order bottle service from your private covered igloo that will protect you from the elements. Their igloos will be available for the season starting Nov. 10, 2022.
Château Carbide
Château Carbide, the rooftop lounge and bar at the Pendry Chicago atop the iconic Carbide and Carbon Building, will be transforming into a Winter Garden all season long. Guests will find private lodges built for up to six, each with cozy blankets and a personal fireplace. Enjoy a winter menu of small bites and cocktails, all served with a side of snowy city views.
Offshore Rooftop & Bar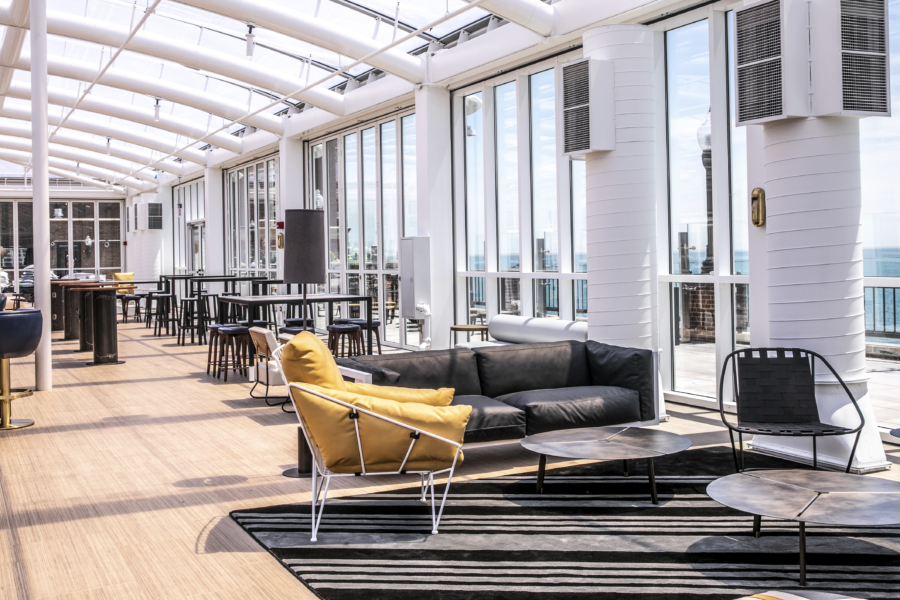 Located on Navy Pier, Offshore is the largest rooftop bar in the world. The all-seasons, all-weather space offers stunning views of the surrounding water and skyline, often dusted with snow in the wintertime. Grab a spot in the glass atrium or on the outdoor terrace near one of the cozy firepits. Make your reservation.
J Parker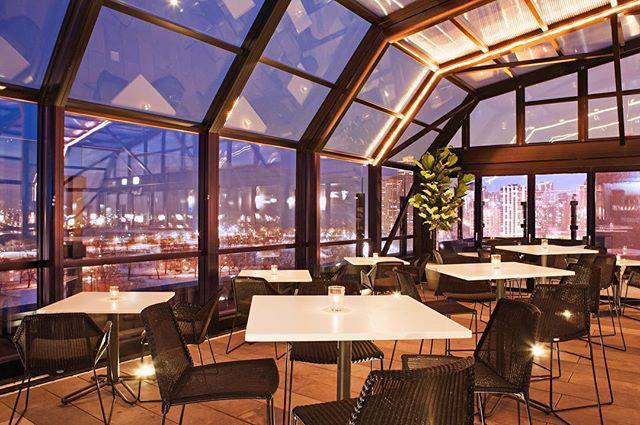 The J. Parker, the all-seasons rooftop atop Hotel Lincoln, offers sweeping views of a frosty Lincoln Park and Lake Michigan. Their outdoor seating features a glass retractable roof and floor-to-ceiling windows, so you'll feel like you're inside a sky-high snow globe. If you're looking for wintery cocktails, their seasonal selection includes a variety of hot toddies, hot mulled wines, and ciders.