This year's Taste of Chicago, the world's largest free-admission food fest, will feature 82 local restaurants, including 24 pop-ups and 17 food trucks. That adds up to more than 300 menu items that represent cuisines from around the world.
With that many options, you'd be hard-pressed to try them all — even if you attended the full five days of the fest. We've narrowed it down for you a bit by rounding up some of our favorite spots that you can try at Taste of Chicago 2019.
Classic Chicago
Get a taste of the true Chicago experience at these long-time local classics.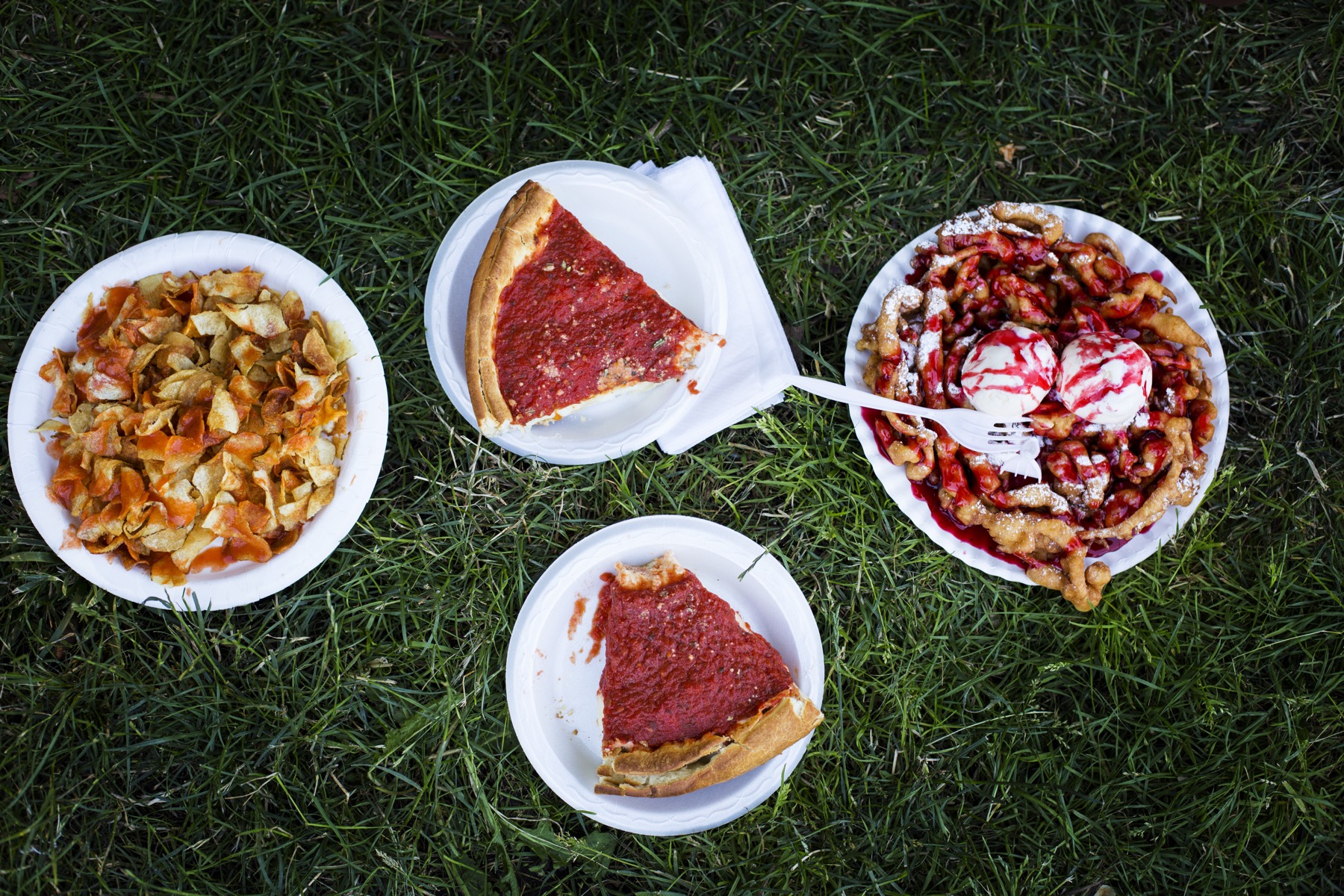 You can't leave Chicago without a taste of our classic deep dish pizza. And Lou's bakes up some of the best in town, with a thick layer of molten cheese and an addictive butter crust.
Menu: cheese pizza, cheese & sausage pizza; cheese & pepperoni pizza; Malnati salad; bruschetta
This long-standing Chicago institution is normally a bit of a trek from downtown. But for five days only, you can get a plate full of Lawrence's perfectly fried seafood right in Grant Park.
Menu: lightly breaded shrimp; corn fritter
Eli's Original Plain Cheesecake, an unbelievably silky creation surrounded by a shortbread cookie crust, is a Taste of Chicago showstopper. They also offer a chocolate-dipped version on a stick, for easy snacking on the go.
Menu: Original Plain Cheesecake with strawberries; Cookie Cheesecake smoosh made with Oreo topped with vanilla ice cream & chocolate sauce; Chocolate Chip Crunch Dipper (frozen Chocolate Chip Cheesecake on a stick, dipped in crunchy dark chocolate); Turtle Cheesecake; Lemon Mixed Berry Cheesecake; Chocolate Vegan Cheesecake
If the name Harold's sounds familiar, it might be because the beloved chicken joint has gotten a shoutout in songs by Common, Chance the Rapper, Kanye West, and more. One bite of their out-of-this-world fried chicken, and you'll understand the hype.
Menu: Wings with sauce; fries; okra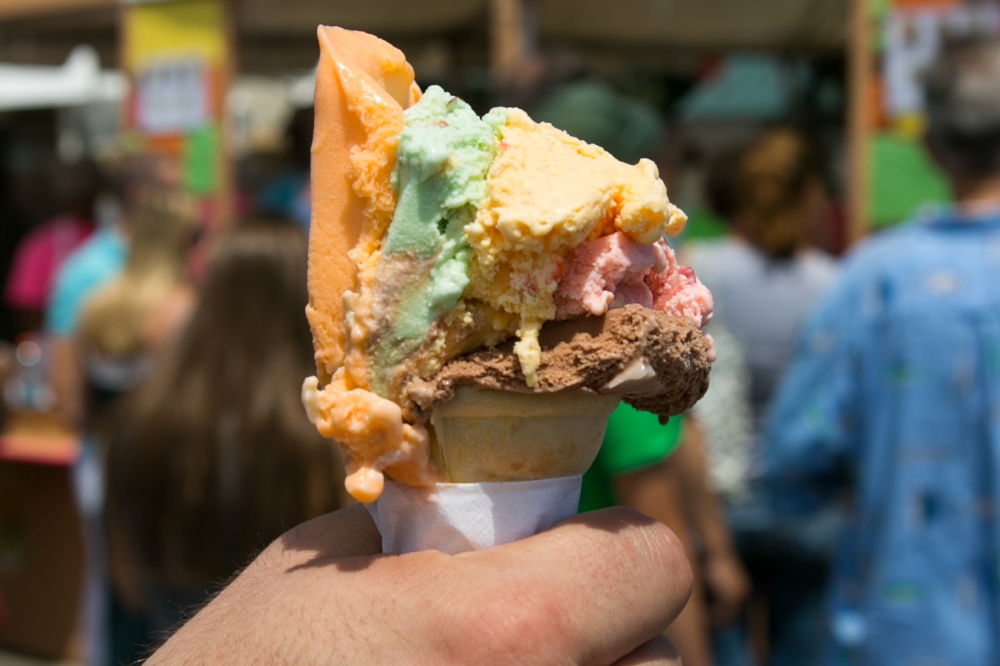 Don't miss this summertime staple. Cool down with a mile-high cone stacked with five flavors: chocolate, strawberry, vanilla with walnuts and cherries, pistachio, and orange sherbet. Make sure to snap a photo before it starts to melt.
Menu: Original Rainbow Cone; Cookies & Cream; Dream Cup; Rainbow taster cup
Other top picks: Connie's Pizza, Billy Goat Tavern, Robinson's No. 1 Ribs, Giordano's
International bites
This year boasts the fest's most diverse lineup ever. Try cuisines from around the world at these international spots.
Goat is the specialty at this fan-favorite Taste vendor. Order a plate of sauteed goat meat that comes covered in tomato sauce and topped with caramelized plantains.
Menu: jerk chicken with red beans & rice; fried plantain with sautéed goat; jollof rice with sautéed goat; fried plantain & jollof rice
Chicago has deep Polish roots and Kasia's is one of the best place to try authentic Polish fare. Order a few of their classic pierogi for a snack or their Polish sausage sandwich for a whole meal.
Menu: pierogi with sour cream (potato & cheese, potato cheddar & jalapeno, buffalo chicken, sauerkraut or beef); polish sausage sandwich with sautéed onion, pickle, tomato, sauerkraut & giardiniera; combo plate (2 pierogi, potato pancake, sausage & sauerkraut); potato pancakes (latkes) w/ sour cream or apple sauce; potato & cheese pierogi; blueberry blintz with chocolate sauce & whipped cream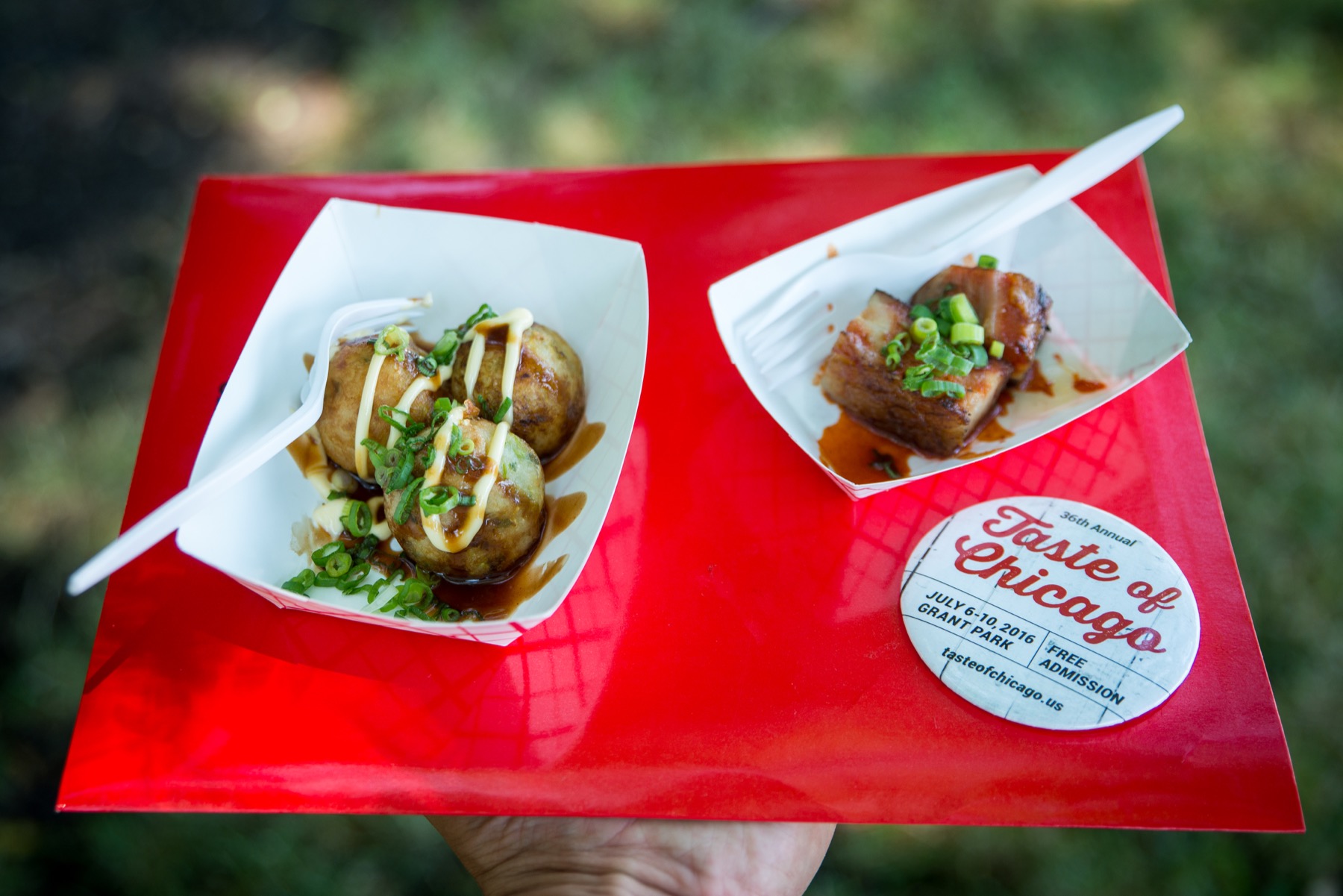 Get a taste of Chicago's Chinatown with bites from Lao Sze Chuan. The acclaimed spot is known as masters of bold Sichuan cuisine.
Menu: five-spice Szechuan style chicken, Szechuan cold noodle salad
These homemade tamales are well worth the pilgrimage to Pilsen. During Taste of Chicago, you can try their authentic Mexican specialities made with local ingredients in the heart of downtown.
Menu: vegan tamale (kale w/ multicolor peppers in mole or quinoa with lentils); vegetarian tamale (poblano pepper with cheese or spinach with cheese); chicken tamale (red mole or green mole); rice & mole; cauliflower vegan ceviche
You'll probably get more than a taste at this Caribbean-inspired spot. Expect heaping portions of jerk chicken and panades, which are fried pockets stuff with chicken and corn.
Menu: jerk chicken with rice & beans & ripe plantain; panades; jerk chicken tacos; fried ripe plantain
Other top picks: Bar Takito, BITES Asian Kitchen + Bar, Texas de Brazil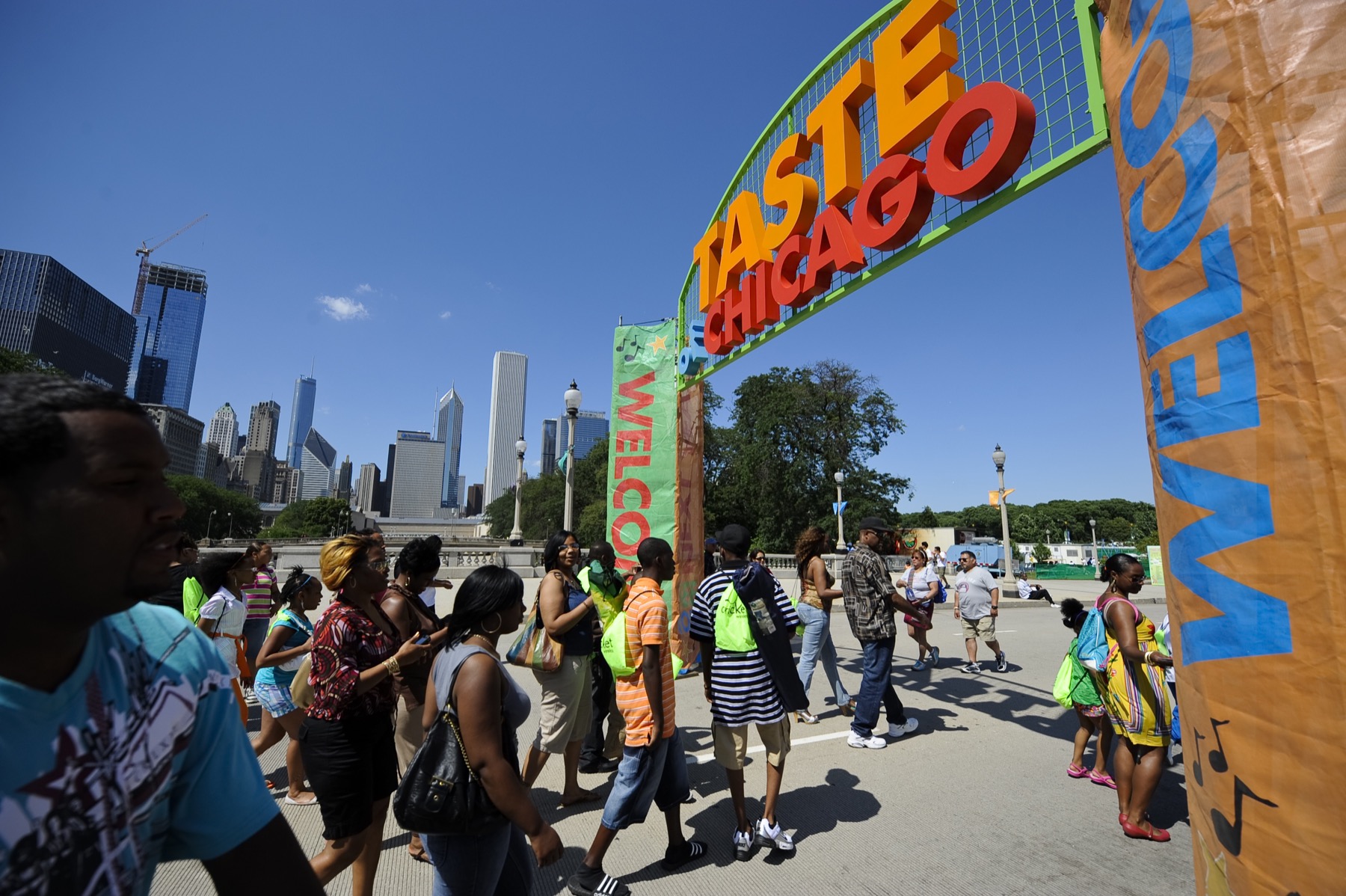 Something new
These vendors make their Taste of Chicago debut in 2019. Check out a few of our favorites from the 37 new vendors this year.
Pink Taco
The Pink Taco food truck will be making a pit stop at Taste of Chicago. Expect a selection of their creative tacos, like their namesake option: achiote chicken topped with black beans, cotija cheese, and habanero pickled onions.
Menu: barbacoa taco; shrimp taco; carnitas taco; guacamole & chips; Pink Taco; street corn
This family-owned business uses a slow smoking process and special blend of seasoning to make their incredibly tender rib tips, brisket, wings and more.
Menu: rib tips; turkey legs; hand cut fries; pork hot links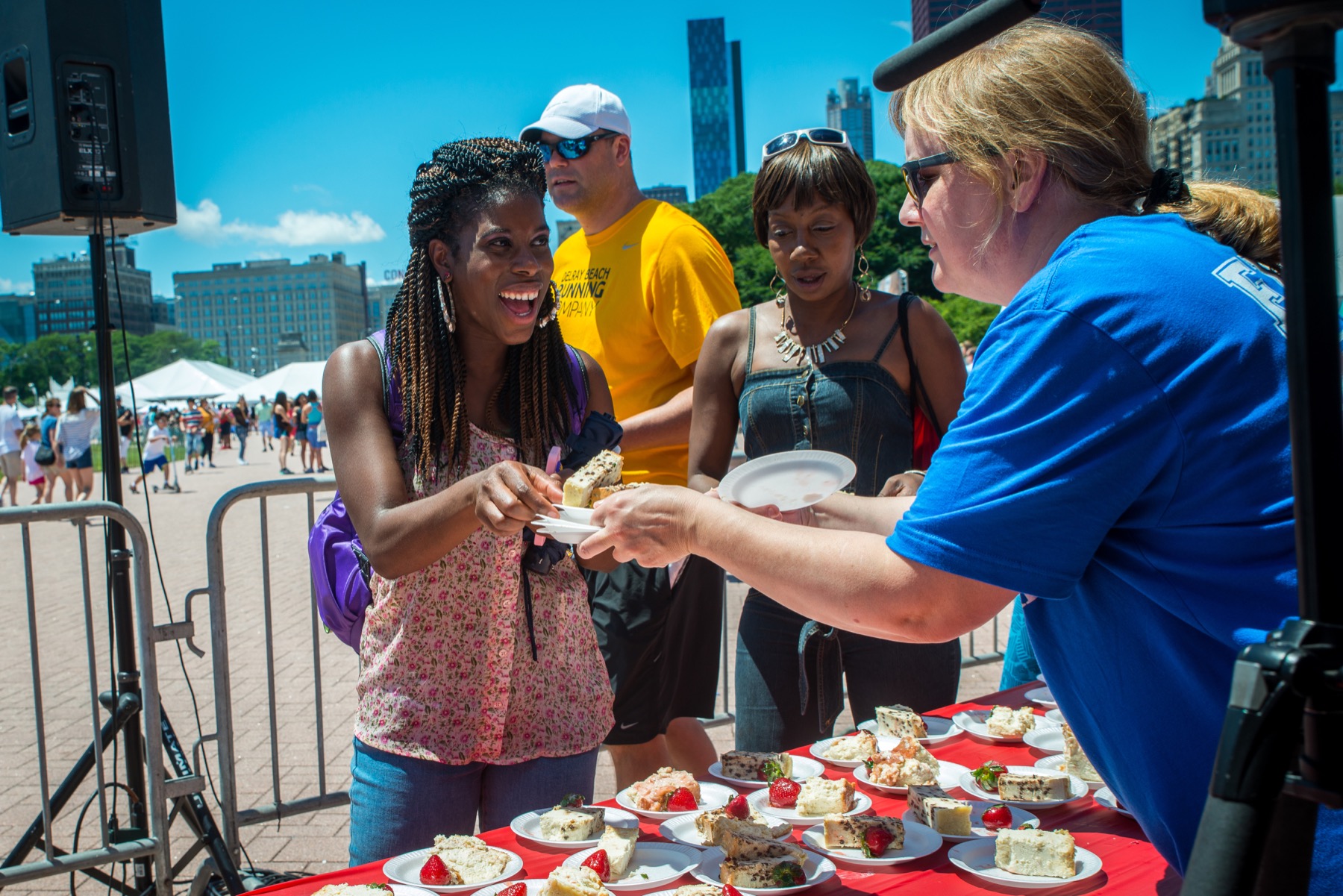 It's a fact that Cuban food tastes even better when you're eating it outside in the sun. This local favorite is known for their authentic Cubanos, a griddled sandwich with ham, roast Pork, swiss Cheese, pickle, and mustard.
Menu: masitas de puerco; maduros; cheese empanada; guava y cheese empanada; beef empanada; chicken empanada
This new-ish Bucktown restaurant is already making its mark on the local dining scene. Their signature Gospel Bird is a hefty helping of fried chicken drenched with a tangy creole sauce.
Menu: Georgia-style shrimp & grits, chicken & waffles; gospel chicken wings
Other top picks: Black Dog Gelato, Pink Flamingo truck, A Place by Damao