Whether you're single or spending the day with your sweetheart, Valentine's Day is a time to treat yourself to something special. Here are a few ways to celebrate the most romantic day of the year in Chicago.
1. Share fondue at Geja's Cafe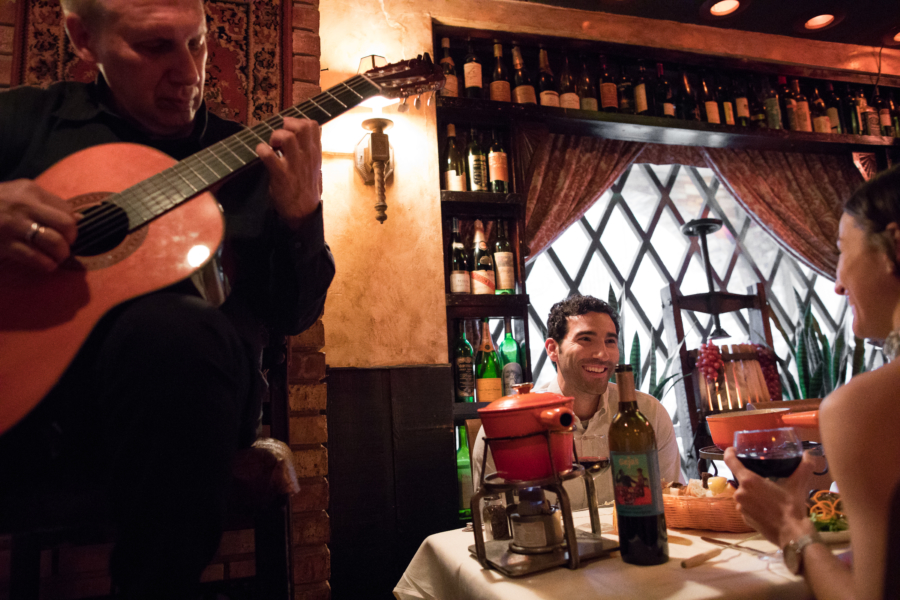 Geja's Cafe has been a mainstay in Lincoln Park for more than 50 years. The fondue spot is well-known by locals for being one of the most romantic restaurants in the city. Their indulgent menu includes their famous cheese fondue, along with fresh seafood, meat and vegetables. For dessert, dip treats into pots of rich chocolate fondue.
Tip: You can order fresh flowers to be waiting at your table.
2. Sightsee on a Valentine's cruise
Take your Valentine's day dinner to the next level with a lakefront cruise. Step aboard one of Chicago's many cruise lines, where you'll dine and dance the night away with the city skyline in the background. Whether you're looking for a seated meal, buffet or even brunch, there's a cruise for you.
Odyssey Valentine's Cruises (three-course seated dinner, dance floor, or brunch buffet)
Spirit Cruises Valentine's Dinner Cruises (dinner buffet, dancing with live DJ)
3. Take a dip at AIRE Ancient Baths

This is far from your typical spa experience. Housed in a restored 1900s factory, AIRE offers ancient baths inspired by Roman, Greek and Ottoman tradition. Start with a candlelit thermal bath and add on experiences, such as an aromatherapy steam room, salt exfoliation, and luxurious massages. You can even submerge yourself in a bath filled with red wine.
4. Stop and smell the flowers at Chicago Botanic Garden Orchid Show

The annual Orchid Show at Chicago Botanic Garden is the perfect backdrop for a Valentine's date. The show features more than 10,000 blooms from all over the world, instantly transporting you and your date to the tropics. You can even buy a potted orchid to bring home.
Tip: On Valentine's Day, check out Orchids After Hours from 4 – 8 p.m.
5. See a show (for a discount!) during Chicago Theatre Week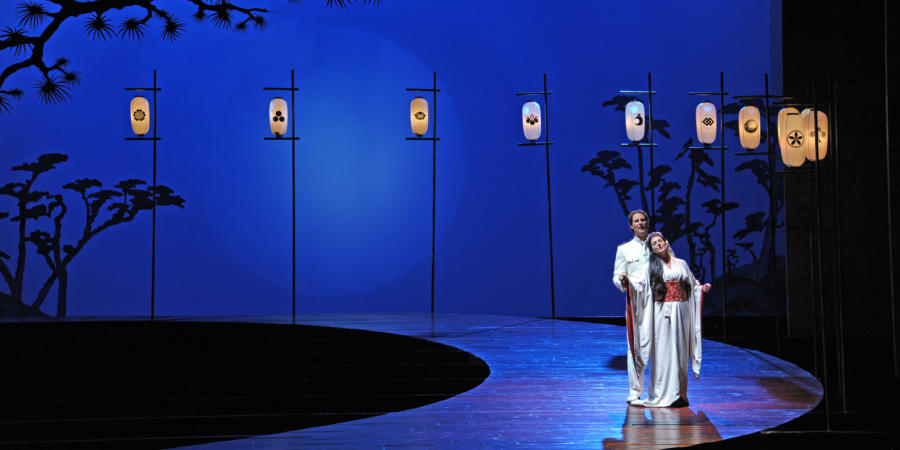 Starting on Feb, 13, Chicago Theatre Week is a great chance for theatre-goers to enjoy discounted tickets to a date night at more than 120 different performances across the city. Impress your date with a classic opera, laugh it up at The Second City, get messy at Blue Man Group, and more. Tickets are on sale now, and Valentine's Day shows are sure to go fast.
6. Sharpen your skills at a cooking class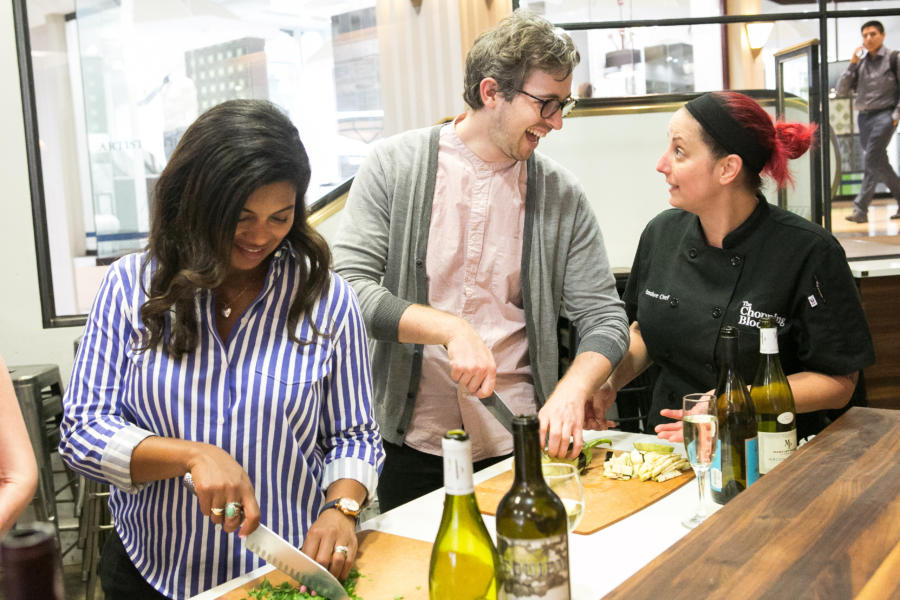 They say the way to someone's heart is through their stomach, so why not test that theory during a cooking class at The Chopping Block? For Valentine's Day, both the Lincoln Square and Merchandise Mart locations are offering a variety of hands-on classes where you and your sweetheart can craft an elegant, multi-course meal with expert instruction. Choose from themes like California Wine Country and Midnight in Paris. Explore the full schedule.
7. Indulge at Vosges Haut-Chocolat

It's not Valentine's Day without chocolate. Skip the heart-shaped box from the drugstore and splurge on the artisan kind. At local chocolate boutique Vosges Haut-Chocolat, the handcrafted truffles and bars make a perfect gift for your sweetheart (or yourself).
Tip: Try one of the exotic flavors, like the manchego and cherry or coconut ash and banana chocolate bars.
8. Ice skate in Millennium Park

Glide along in the shadow of The Bean at the McCormick Tribune Ice Rink. Or head over to neighboring Maggie Daley Park to explore the winding Skating Ribbon. Admission is free, skate rentals are available for a fee.
Tip: When you're done skating, head across the street to Cindy's at Chicago Athletic Association, where you can warm up with a drink while you watch skaters from above.
9. Take a spin on the Centennial Wheel

See the city skyline from a whole new perspective aboard the Centennial Wheel. The year-round attraction features 360-degree views of Chicago and Lake Michigan from comfortable, enclosed gondolas.
Tip: Buy your tickets online to save a few bucks.
10. Go on a scavenger hunt through the Art Institute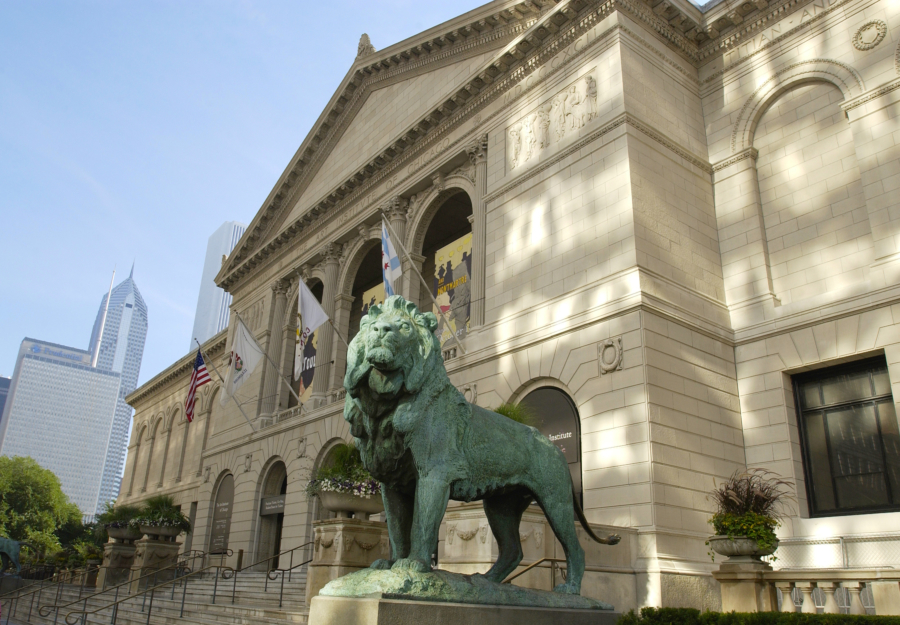 The Art Institute of Chicago is going au natural for a unique scavenger hunt on Saturday, Feb. 15. During the Naked at the Art Museum Scavenger Hunt ($38), guests will embark on an artistic adventure in search of various clues hidden around the museum in nude-related pieces of art. Get your tickets here.
11. Soak up legendary live jazz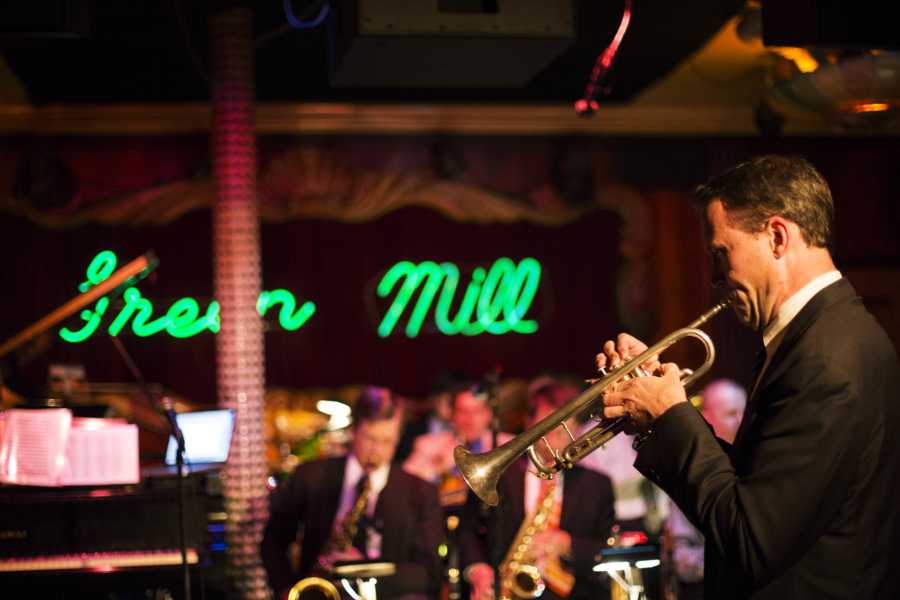 Uptown's beloved Green Mill Cocktail Lounge is an iconic spot for cozying up and taking in the smooth sounds of Chicago's jazz scene. On Valentine's Day, the shows starts at 5 p.m. with Andy Brown Solo Jazz Guitar Cocktail Hour Show, followed by the vintage-style big band Alan Gresik Swing Shift Orchestra (the Green Mill's resident Thursday band for more than 20 years). And the music continues all weekend long — see the full calendar.
12. Sip cocktails in a hidden speakeasy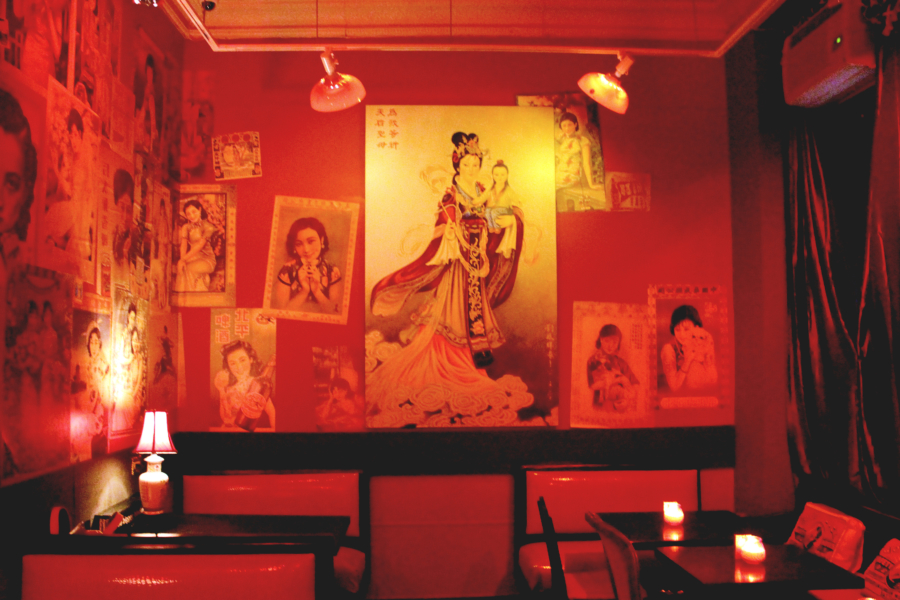 Chicago is home to a thriving cocktail scene — but you'll need to look carefully to spot these under-the-radar speakeasies. These intimate cocktail bars are some of the city's worst kept secrets, but they make the best date nights. Check out the acclaimed Violet Hour in Wicker Park (hidden behind an ever-changing wall of graffiti), The Ladies Room in Logan Square (tucked behind the shelves of bread inside The Bakery at Fat Rice) and The Drifter underneath Green Door Tavern in River North (where the nightly cocktail menu is printed on tarot cards).
Tip: Tell the doorman "I'm with the club" to get into Brighton Park's Coco Club, which features a variety of dueling pianos, comedians, and lounge singers.
13. Be awed at a magic show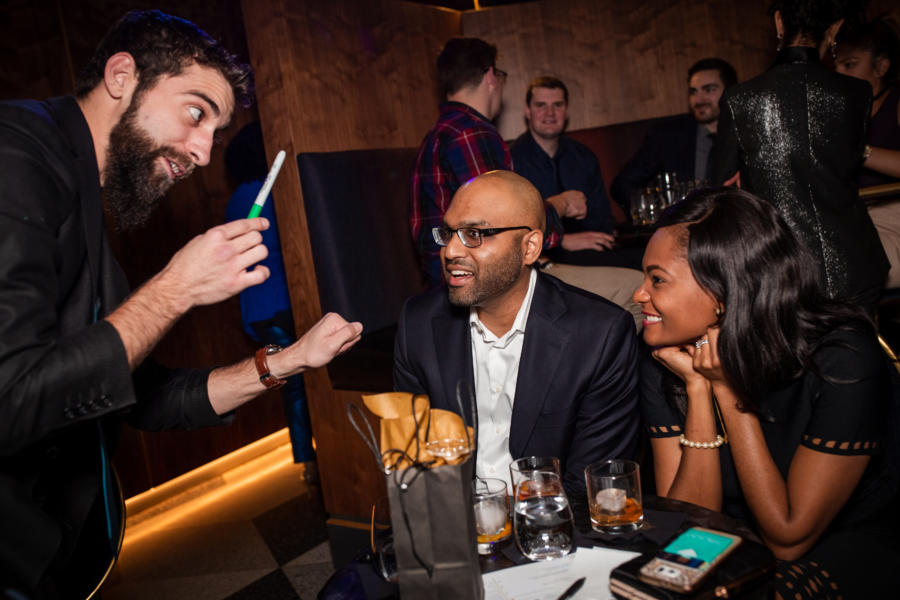 If you're looking for a truly magical date night, there's no better place than the Chicago Magic Lounge. The hidden venue (you'll have to walk through an abandoned laundromat to find it) is home to some of the city's best magicians, performing everything from up-close card tricks to mind-bending illusions. On Friday, Feb. 14, the lounge offers two signature showings of a special Valentine's Day show featuring table-side magic and two stage performances. Snag your tickets for either the 7 p.m. or 10 p.m. showing.
14. Explore the aquarium after hours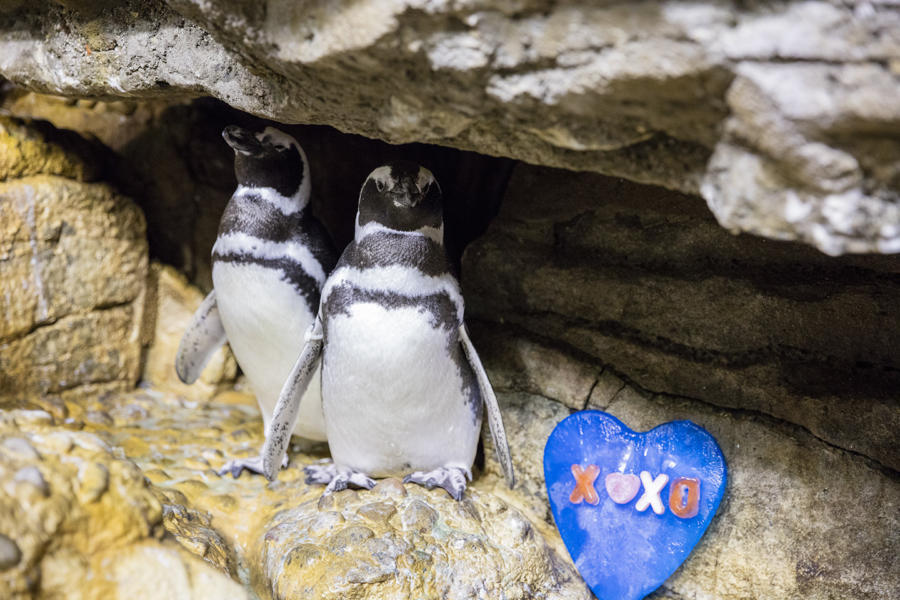 The Shedd Aquarium will be hosting an after-hours events in Thursday, Feb. 13. Explore the Shedd's mind-blowing exhibits, enjoy classic love songs, cast your vote on Shedd's cutest animal pair, take part in interactive games, and sip on the evening's specialty cocktails. Get your tickets today.
15. Attend an immersive art experience (with cocktails!)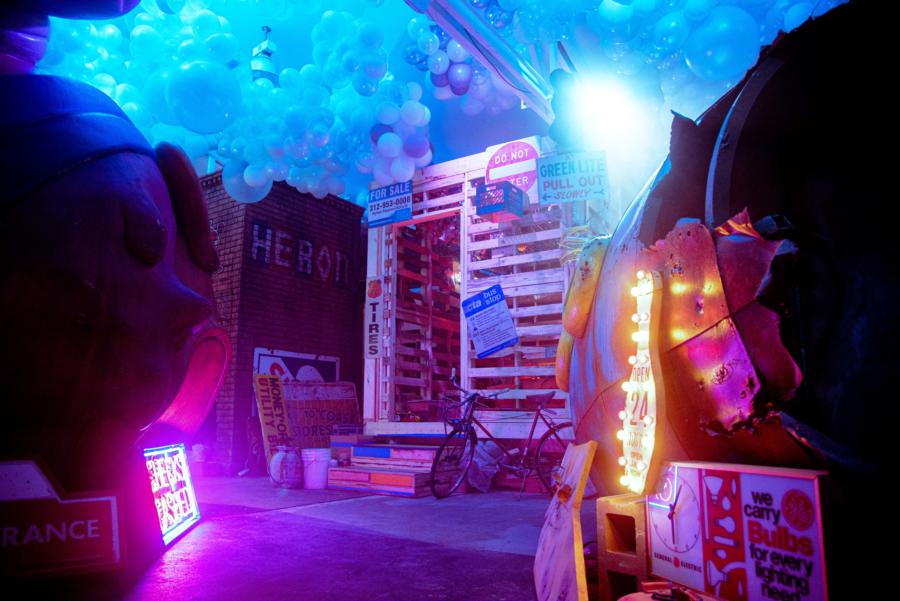 Step inside the mind of iconic local street artist Hebru Brantley at his pop-up art exhibit Nevermore Park. The immersive experience will be hosting a couple's night on Feb. 14 featuring discounted admission (with coupon code NVMLUV), a 90's-themed photo booth, complimentary cocktails, and more.