The best way to end a great meal in Chicago? One of our famous desserts. We've rounded up some of the city's most-loved treats, from technicolor ice cream cones to candies that have been made the same way for almost a century. One bite, and you'll know why they call it sweet home Chicago.
Original Rainbow Cone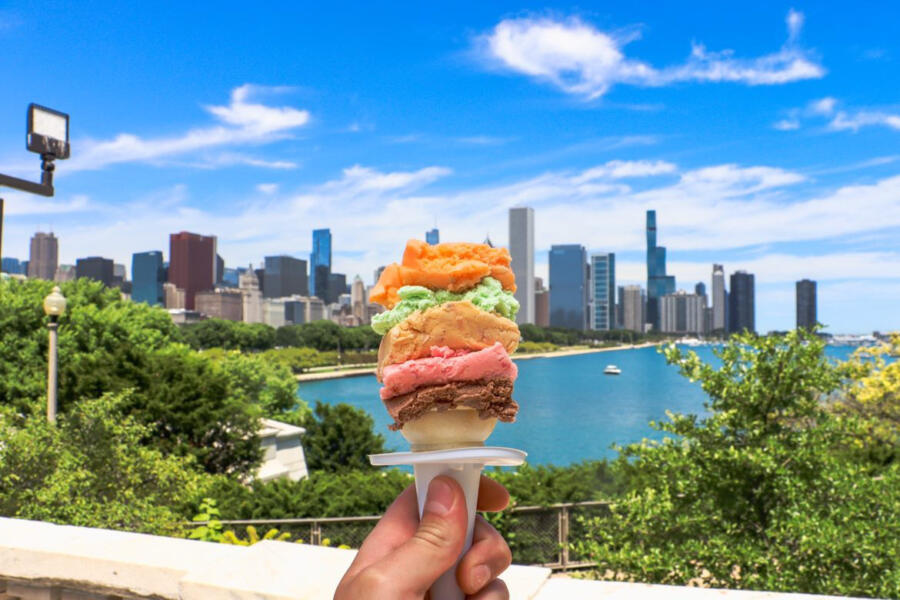 The Original Rainbow Cone might be Chicago's most colorful (and Instagrammed) treat. The cone is piled high with five signature ice cream flavors: orange sherbert, pistachio, strawberry, chocolate, and vanilla with walnuts and cherries, just like it has been since 1926. Grab a cone at their Beverly location or at the Navy Pier outpost.
JoJo's Shake Bar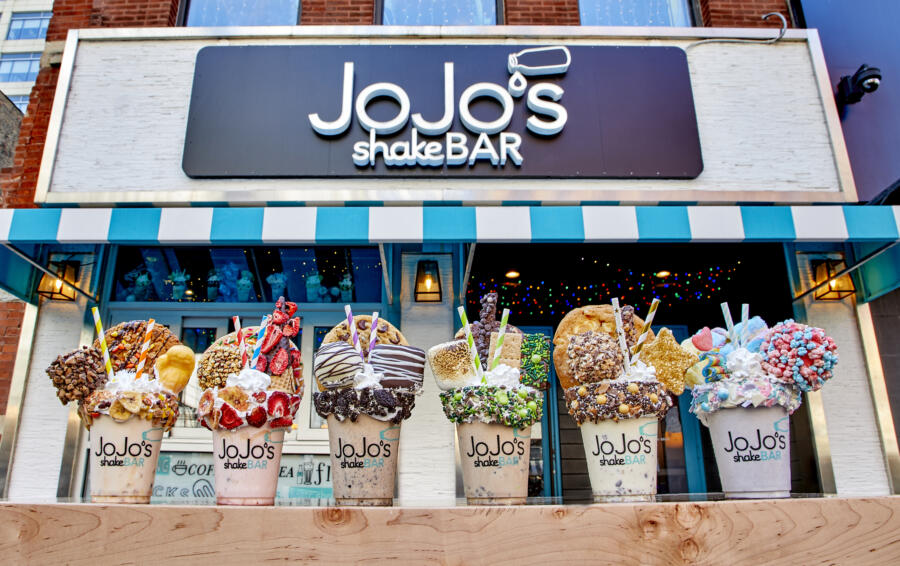 Blending rustic-chic charm with retro diner vibes, JoJo's Shake Bar in River North delights visitors of all ages with decadent frozen desserts. Design your own creation with sweet mix-ins like candy bars and Oreos or go big with signature milkshakes decked out with doughnut holes, toffee marshmallows, chocolate cookies, and more. JoJo's also serves up ice cream floats and boozy popsicles in the summer and deluxe hot chocolate drinks in the winter.
Cloud Cookie
Cloud Cookie takes gourmet baked goods to a whole new stratosphere. Known for their signature powdered sugar-dusted cookie, this Wrigleyville gem offers cookies galore — take your pick from peanut butter, oatmeal chocolate chip, snickerdoodles, double-chocolate chunk, and gluten-friendly strawberries and cream, just to name a few. 
Sugar Factory
True to its name, Sugar Factory is a sweet tooth's paradise. This River North attraction is a chef-driven restaurant, retail store, and event venue all rolled into one. The seemingly endless menu at Sugar Factory offers everything from familiar favorites like sweet crepes and waffles à la mode to over-the-top indulgences. Treat yourself to candy-infused cocktails before digging into the famous King Kong Sundae — an extravagant treat involving 20-plus scoops of ice cream and an assortment of candy and baked goods as toppings. 
Geja's Café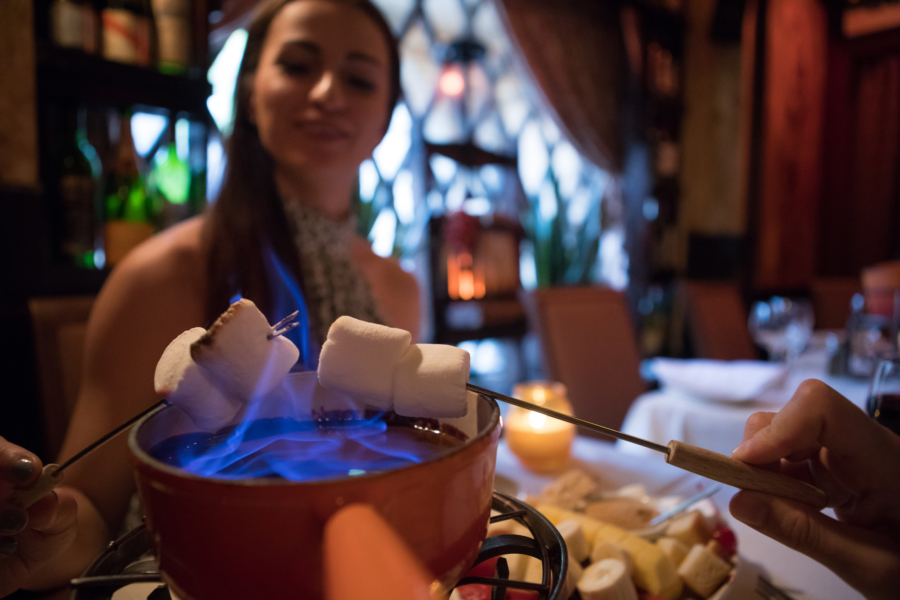 Embark on a hands-on culinary adventure at Geja's Café in Lincoln Park. This beloved fondue restaurant provides an unmatched interactive dining experience complete with music by live classical and flamenco guitarists. One highlight of the menu is the silky Belgian dark chocolate fondue. Look forward to roasting marshmallows over flaming orange liqueur, then dipping fresh fruits and sweets like pound cake and churros into irresistibly melty velvety chocolate fondue. 
Kilwins
The comforting aroma of handcrafted fudge and nostalgia fills the air at Navy Pier's Kilwins, an old-fashioned confectionery and ice cream shop. Since 1947, the Michigan-based brand has served up chocolate-dipped treats, caramel apples, nut brittles, and their signature fudge to generations of sweet tooths across the country. Stop by the locally-owned Navy Pier location any time of year for a taste of traditional confections made with premium ingredients. 
Ida's Artisan Ice Cream and Treats
Ida's Artisan Ice Cream and Treats offers truly next-level handmade frozen treats. A Black woman-owned business, this one-of-a-kind small-batch ice cream offers a magnificent range of both dairy and vegan flavors. Dairy-free options include Key lime, mango Tajín, Mexican hot chocolate, and more. The bestselling product is undoubtedly the banana pudding ice cream, which is a blend of crispy Nilla Wafers and the creamy goodness of bananas. 
Ghirardelli Ice Cream and Chocolate Shop
Sweet tooths will feel right at home when visiting Ghirardelli Ice Cream and Chocolate Shop. A sweet staple of households around the world, Ghirardelli confections are renowned for their exceptional quality – so expect no less from the brand's dessert shop in River North. What's not to love about extravagant hot fudge sundaes, thick milkshakes, refreshing ice cream floats, and iconic squares of chocolate? 
Bang Bang Pie & Biscuits
Locals line up at this hip bakery for a piece of their famous pies. Flavors at Bang Bang Pie & Biscuits rotate seasonally, with favorites like strawberry rhubarb, chocolate raspberry, and lemon lavender flying off the shelves daily. Grab a slice at their Logan Square location and enjoy it on the backyard patio.
Black Dog Gelato
A former pastry chef, Black Dog Gelato founder Jessica Oloroso now uses her knack for flavors to make artisanal gelato. Choose from favorites like goat cheese cashew caramel, strawberry balsamic, and chocolate coffee toffee, all handmade in small batches each day at their West Town shop.
Eli's Cheesecake Bakery & Café
Love cheesecake? Then Eli's Cheesecake will be a slice of heaven. This family-owned bakery has been making their signature dessert in Chicago since 1980. Try a slice of their most popular flavors, like original, chocolate chip, toffee, and strawberry — all made with Eli's famous all-butter cookie crust.
Hoosier Mama Pie Company
This retro shop specializes in handcrafted, artisanal bakes, with just a touch of whimsy. One fan favorite is the Fat Elvis, a mix of chocolate, peanut butter, and fresh bananas layered on top of a graham-cracker-peanut-pretzel crust. The menu at Hoosier Mama Pie Company in West Town rotates frequently and pies go quickly, so get there early to snag the best flavors.
Mindy's Bakery
You know you're in for something good when there's a James Beard Award-winning pastry chef in the kitchen. And Mindy's Bakery in Wicker Park doesn't disappoint. Stock up on chef-crafted pastries, including croissants, donuts, cookies, cake, and some of the best bagels in town.
Margie's Candies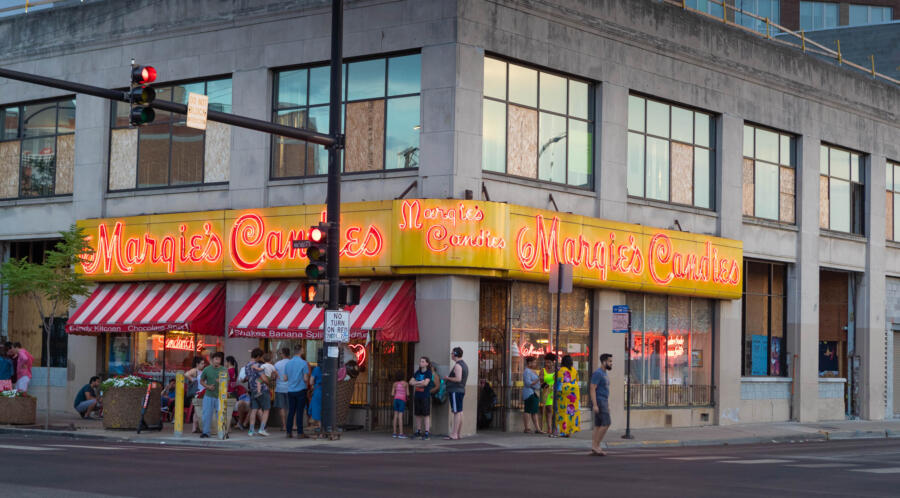 This candy shop and soda fountain looks a lot like it did when it opened in 1921, and they still serve a lot of the same treats. Order a sundae in a vintage clamshell dish, an extra thick milkshake (a Margie's classic), or a box of homemade chocolates. Visit Margie's Candies at their Bucktown or Ravenswood locations.
Sweet Mandy B's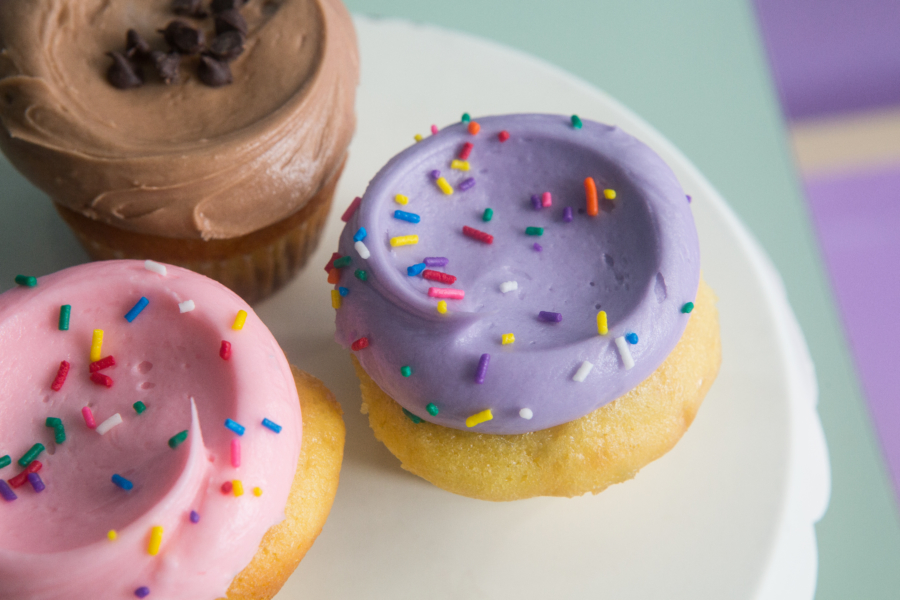 This pastel-colored bakery is as pretty as the treats in their display case. Sweet Mandy B's is all about sugar-coated nostalgia, with gourmet versions of old-fashioned desserts like banana cream pie, confetti cake, Rice Krispie treats, and snickerdoodle cookies. Stop by their Lincoln Park or Streeterville locations.
Vosges Haut-Chocolat
The luxe confections at Vosges Haut-Choolat are made with exotic ingredients, like Bulgarian rose water, sweet Indian curry, and Sri Lankan coconut ash. Stop by their Chocolate Temple Boutique to grab a box of their handcrafted truffles or a few creative chocolate bars, all in their signature purple packaging.