Urban explorers love the Chicago Riverwalk, a 1.25-mile stretch located on the south bank of the Chicago River, right in the heart of downtown Chicago. This multi-award-winning, pedestrian-friendly attraction is populated with intimate coves; waterfront cafes, wineries, and bars; history-making public art; monuments; museums; and amazing excursions on the water. It's also a great place to take in Chicago's stunning architecture.
If spending a day on the Chicago Riverwalk is on your bucket list of things to do, check out our suggested itinerary, which touches on some of many river experiences. Note that the Riverwalk is open from 6 a.m. – 11 p.m. throughout the year, with attractions and boat excursions generally coming to life from May through October.
Morning — Breakfast and boat watching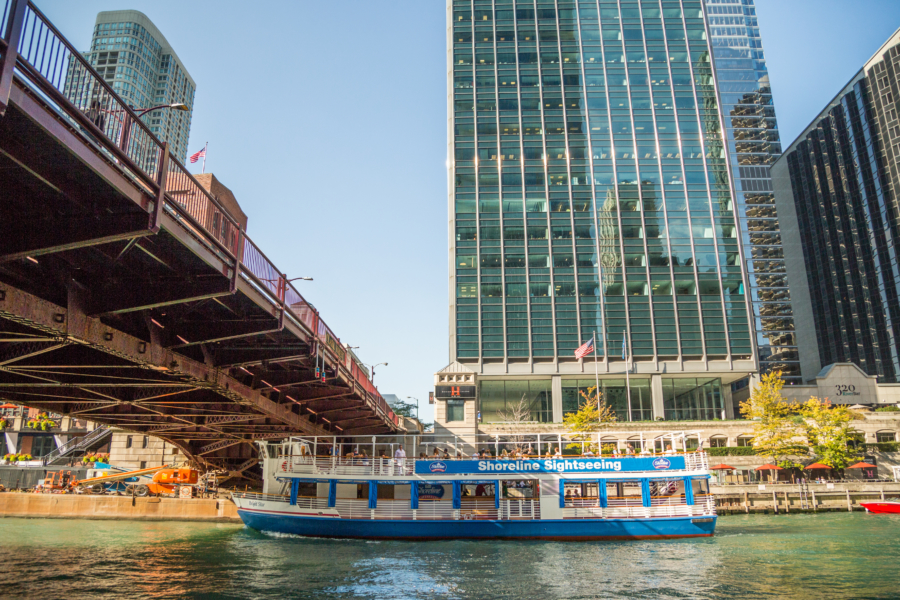 Stop into Tiny Tapp & Cafe, serving up locally roasted coffees and sweet treats around the breakfast hour. Either dine in, or take your goodies to go and eat them picnic style on the steps of the River Theater (Clark to LaSalle), a tree-shaded urban oasis just west of Tiny Tapp & Cafe, where you can watch boats sail idly by.
Depending on just how early a riser you are, you can also enjoy a spot of fishing at The Jetty (Wells to Franklin, Illinois fishing license required), as well as bird-watching with the National Audubon Society (every first Friday from July through October).
On the way to your next stop, take a moment to view the Riverwalk's Vietnam Veteran's Memorial Plaza (between State Street and Wabash Street), which commemorates the men and women across America who lost their lives in the Vietnam War. It's one of the largest memorials in the nation outside of Washington, D.C., and a tranquil spot for a timeout from the bustling city.
Afternoon — Architecture touring and river cruising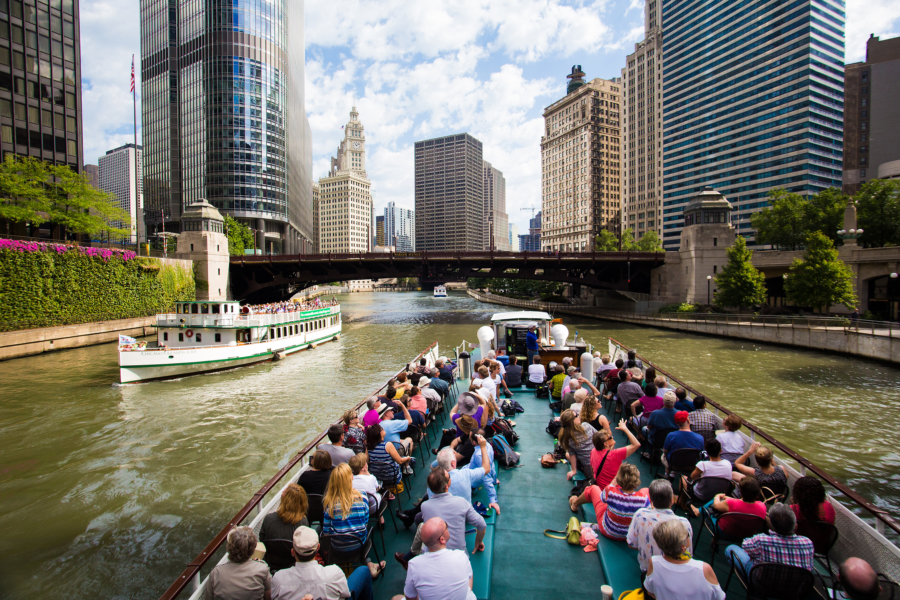 Your first afternoon stop on the Riverwalk is the McCormick Bridgehouse & Chicago River Museum, a beautiful tower-like structure tucked beneath DuSable Bridge. Here, you'll ascend five stories past massive gears that move Chicago's famous bridges up and down, all the way to magnificent 360-degree views of the city at the very top. You can also take tower tours (Friday and Saturday beginning in June), see the bridges in action during a bridge lift viewing, and sign up for other special tours. (Note: the Museum is open from May through October, closed Tuesdays and Wednesdays, and always free on Sundays.)
Exit the Riverwalk for just a little while to explore the nearby Chicago Architecture Center at One Illinois Center. Get an immersion course in Chicago and world architecture (don't miss the Building Tall skyscraper exhibit and City of Chicago model), before heading to the center's box office to book a tour on the Chicago Architecture Foundation Center River Cruise aboard Chicago's First Lady.
The center's renowned river cruise takes you on a 90-minute, docent-led tour of more than 50 buildings along the Chicago River, and boards right on the Riverwalk (look for the blue awning marking the stairway entrance at the southeast corner of the Michigan Avenue Bridge at Wacker Drive).
You've got plenty of great options when it comes to lunch. A couple of favorites include City Winery for housemade wine, fine food, and heaps of people and boat watching; and Island Party Hut Tiki Bar & Grill, with tiny lights strung on tall, shady trees, a bar hut, live music, and a ton of outdoor games — corn hole, bocce ball, and the Bimini island ring game included. Explore all Chicago Riverwalk restaurants and bars.
If you find yourself at Island Party Hut, then you're in just the right place for kayak rentals at Urban Kayak. You don't need prior experience to enjoy a truly unique experience, touring the Riverwalk's skyscraper canyon in your single or tandem kayak.
Evening: Dinner cruising and art gazing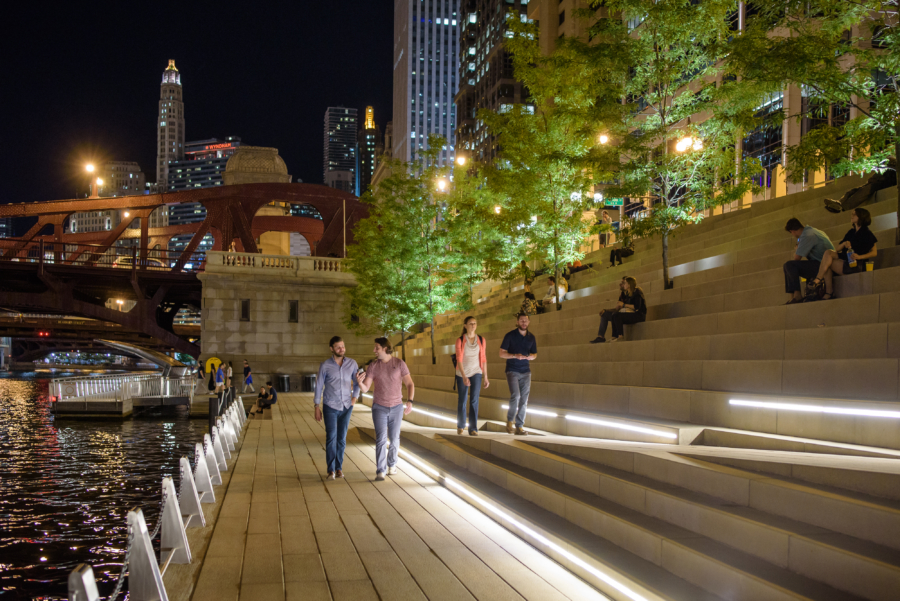 Odyssey Chicago River offers an elegant, out-of-the-ordinary river experience in the form of a state-of-the-art, glass-enclosed vessel, blessing all who sail with 360-degree city views. The cruise showcases Chicago's incredible architecture and jaw-dropping vistas, while creating a refined environment where you can enjoy an upscale, three-course dinner, with plated service. There's an onboard DJ and dance floor, too. Cruises board at 455 N. Cityfront Plaza
Art on theMART is one of the sights you'll be wowed by whether you're strolling the Riverwalk or dining on a riverboat. It's the world's largest video-projection art installation, taking up 2.5 acres of theMART's river-facing facade. A rotating, curated series of works by leading video artists are on display from March through December.
End the evening with a moonlit stroll to see other public artworks on the Riverwalk, including Ellen Lanyon's Riverwalk Gateway, a 27-foot-long trellised, cast-concrete walkway that links the Riverwalk with the lakefront. It includes 28 ceramic panels that depict the rise of Chicago and the significance of the river to the city. Carolyn Ottmers Allium (between Columbus Drive and Lake Shore Drive) is also worth a visit. This 10-foot-tall cast aluminum allium flower is one in a series of three sculptures, collectively called Equilibrium, that pay homage to Chicago's native plants.