Take the ultimate Chicago culture trip to discover public art by the likes of Picasso and Chagall, art gallery districts exploding with fine art, incredible shows at award-winning theatres, an urban canvas for celebrated street artists — and a home away from home for lovers of the arts.
We've listed just 18 of the many must-sees while you're in town. Simply mix and match to create your perfect itinerary.
Stop 1: The Art Institute of Chicago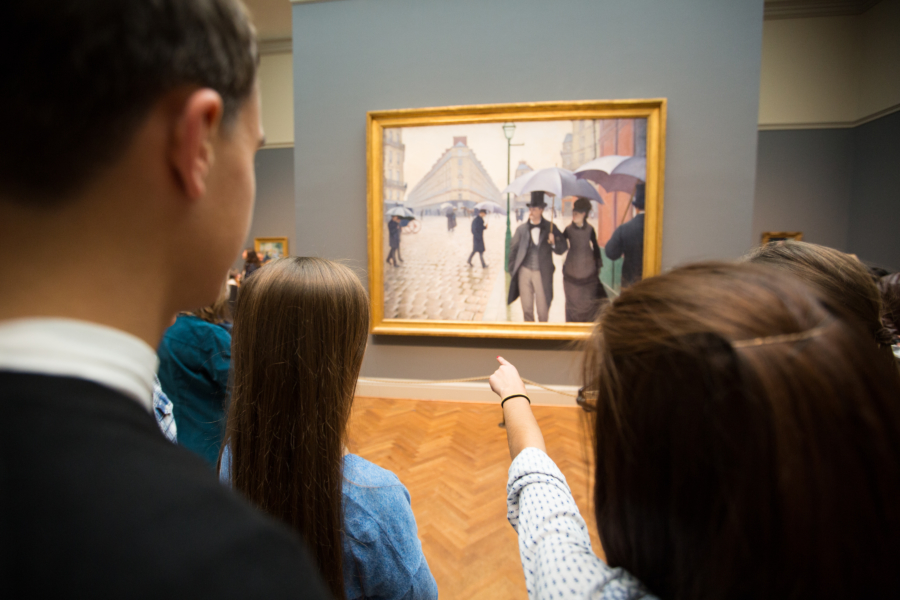 Wander the halls and galleries of one of the largest and oldest art museums in the country. Not only is this home to one of the most extensive Impressionist and Post-Impressionist collections outside of the Louvre in Paris, but the museum also displays some of the most famous works in art history, including Pablo Picasso's The Old Guitarist, Andy Warhol's Mao, Rene Magritte's Time Transfixed, and Vincent van Gogh's The Bedroom (the first in a series of three the artist created).
The critically acclaimed Modern Wing transitions visitors from ancient sculpture and decorative arts to modern paintings and installations that intrigue and inspire. If all that art makes you a little hungry, visit farm-to-table Terzo Piano at the Modern Wing. Over the summer months, you can dine on the Bluhm Family Terrace amid even more art, while enjoying great views of Millennium Park.
Art Institute of Chicago, 111 S. Michigan Ave., Loop
Stop 2: Harris Theater for Music and Dance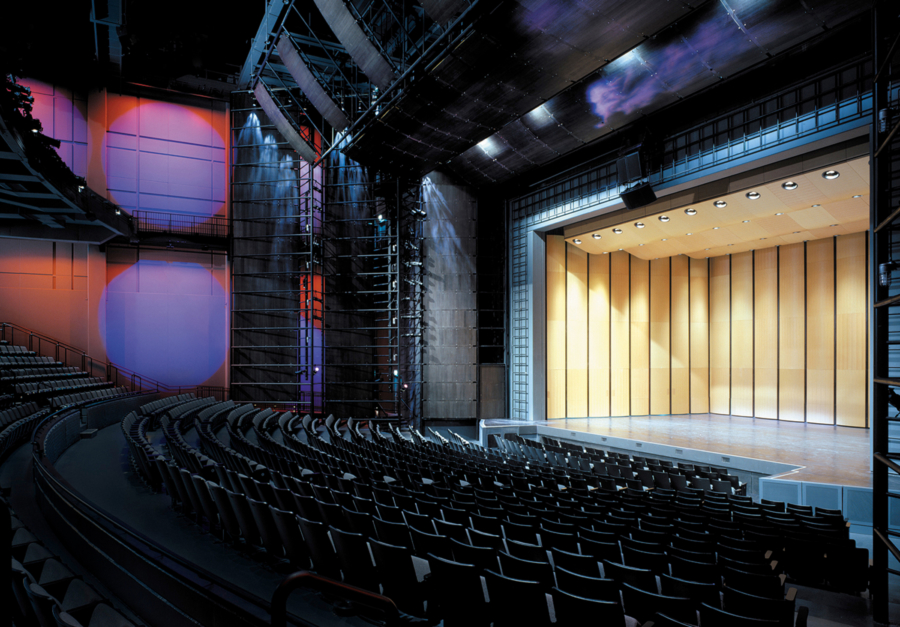 There's something pretty special about going to the park to see theatre, music, and dance — especially when the park in question is Millennium Park. What makes the experience even more magical is the fact that state-of-the-art Harris Theater is located largely below ground. That doesn't mean you won't enjoy the great outdoors; the Harris' rooftop is where you'll find a fabulous terrace with views over Millennium Park. Regional, national, and international companies grace the stage here, with the Joffrey Ballet, Hubbard Street Dance Chicago, and Chicago Opera Theater being among Harris' regularly featured local groups.
Harris Theater for Music and Dance, Millennium Park Campus, 205 E. Randolph St., Loop.
Stop 3: Chicago Cultural Center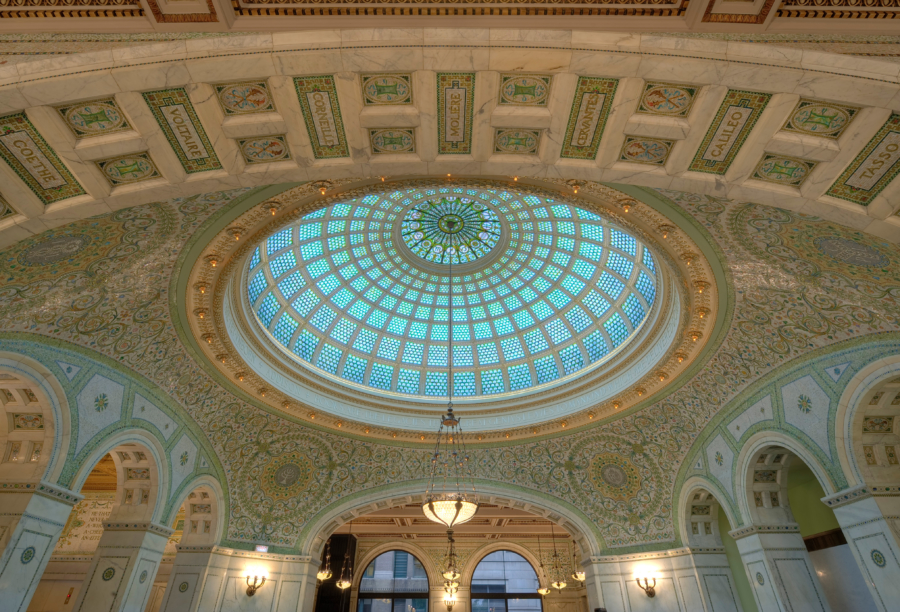 Walk a few blocks from the Art Institute of Chicago to the Chicago Cultural Center, the city's arts and culture haven. It's home to free classical concerts, dance performances, theatrical productions, art exhibits, film screenings, lectures, family activities, and more. Architecture buffs will be wowed by this landmark building's rare imported marbles, polished brass, and Favrile glass, mother-of-pearl, and colored stone mosaics. And the sight of the largest Tiffany stained-glass dome in the world — measuring 38 feet in diameter and featuring roughly 30,000 pieces of glass — will make jaws drop.
Insider tip: While you're at the Chicago Cultural Center, sign up for a free tour to get the inside scoop on the building's history and architecture. You can also meet up with a free InstaGreeter tour guide to see the city in the company of the people who know it best — aka the locals.
Chicago Cultural Center, 78 E. Washington St., Loop
Stop 4: American Writers Museum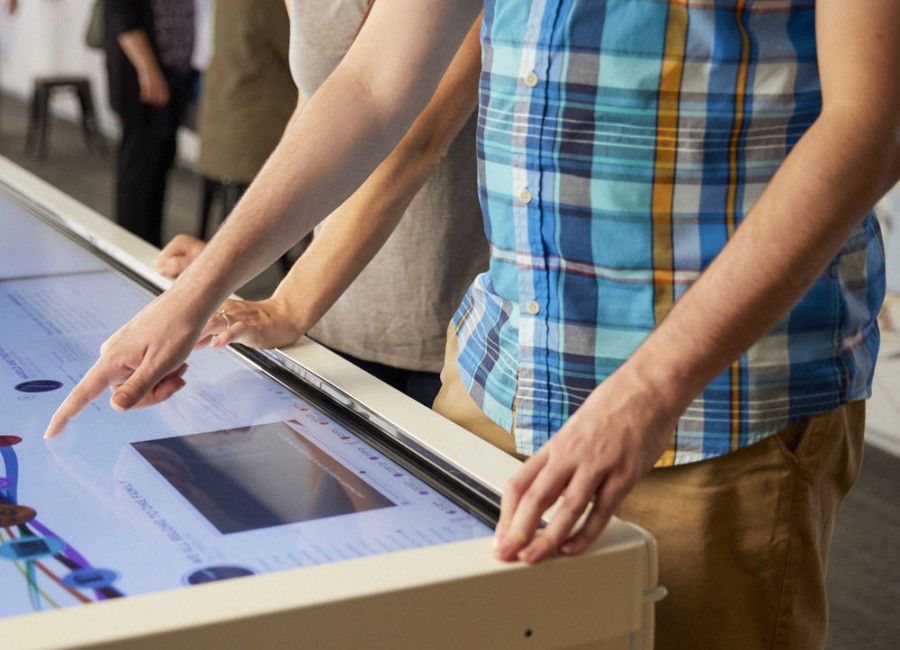 A short distance from the Chicago Cultural Center, you'll find the American Writers Museum, which celebrates the enduring influence of American writers on our history, identity, and culture. This is the only museum devoted to American writers and their works in the country. The museum spans favorite authors and writings from more than five centuries, and includes poetry, lyrics, speeches, drama, fiction, nonfiction, and journalistic works.
American Writers Museum, 180 N. Michigan Ave., 2nd Floor, Loop
Stop 5: Public art by legendary artists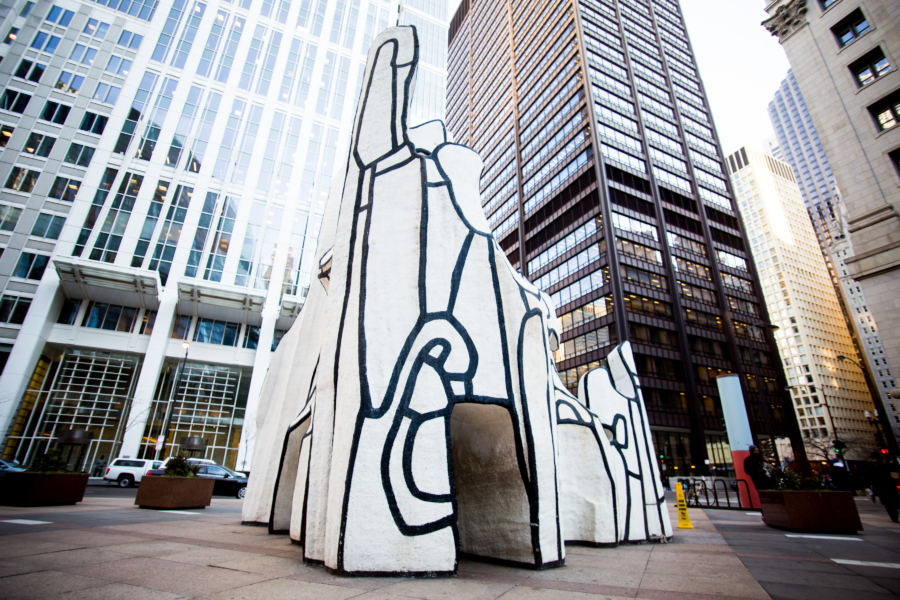 You could argue that downtown Chicago is public art, with architectural jewels, sculptures, and murals ornamenting so many city streets. As you wander the Loop, you'll meet the likes of Pablo Picasso's The Picasso at the Daley Center, Marc Chagall's mosaic mural, The Four Seasons, at Chase Tower Plaza, Joan Miró's mixed-media sculpture, Chicago, at the Brunswick Building Plaza, Alexander Calder's striking red Flamingoat Federal Plaza, and Jean Dubuffet's Monument with Standing Beast (affectionately known as "Snoopy in a blender" among the locals) at the James R. Thompson Center.
Don't miss iconic Cloud Gate, aka "The Bean," and whimsical Crown Fountain at Millennium Park. And for even more of Chicago's contemporary public art, check out the Muddy Waters Mural by Brazilian artist Eduardo Kobra, and the Chicago Cultural Center's Garland Court for Kerry James Marshall's Mural, honoring 20 women who shaped the city's arts and culture scene.
Stop 6: Museum of Contemporary Photography
Walk south down Michigan Avenue toward Columbia College, and you'll find a carefully curated collection at the Museum of Contemporary Photography. At its center is the Midwest Photographers Project, which, for over 35 years, has featured a revolving collection of portfolios by 65 established and emerging Midwestern photographers. Each portfolio is loaned to the museum for a 3-year period. You'll also gaze upon a collection of over 500 images by legendary Dorothea Lange, images created by the Farm Security Administration in the 1930s, contemporary Asian photography, and more.
Museum of Contemporary Photography, 600 S. Michigan Ave., South Loop
Stop 7: Wabash Arts Corridor
The Wabash Arts Corridor in the South Loop is one of Chicago's most exciting public art destinations. With around 20 large-scale murals condensed into a seven-block stretch along Wabash Avenue (between Van Buren and Roosevelt Road), this "living urban canvas" features an ever-growing number of large-scale mural installations and collaborative projects by some of today's most notable street artists. Use this map of mural locations to plan your route.
Stop 8: Broadway In Chicago
Broadway In Chicago lights up the Chicago Theatre District with musicals and plays at five historic theatres: CIBC Theatre, James M. Nederlander Theatre, Cadillac Palace Theatre, the Auditorium Theatre of Roosevelt University (which hosts a variety of performances, including music and dance), and, just off The Magnificent Mile, the Broadway Playhouse at Water Tower Place. Broadway In Chicago is best known for attracting pre-Broadway productions, as well as long-run engagements — think Wicked and Hamilton. To get a feel for the life of the theatre, book a behind-the-scenes tour of these centuries-old stages.
Insider tip: Visit Chicago for Chicago Theatre Week, held each year in February. You'll enjoy discounted tickets to groundbreaking shows at many of Chicago's historic and storefront theatres.
Stop 9: Lyric Opera of Chicago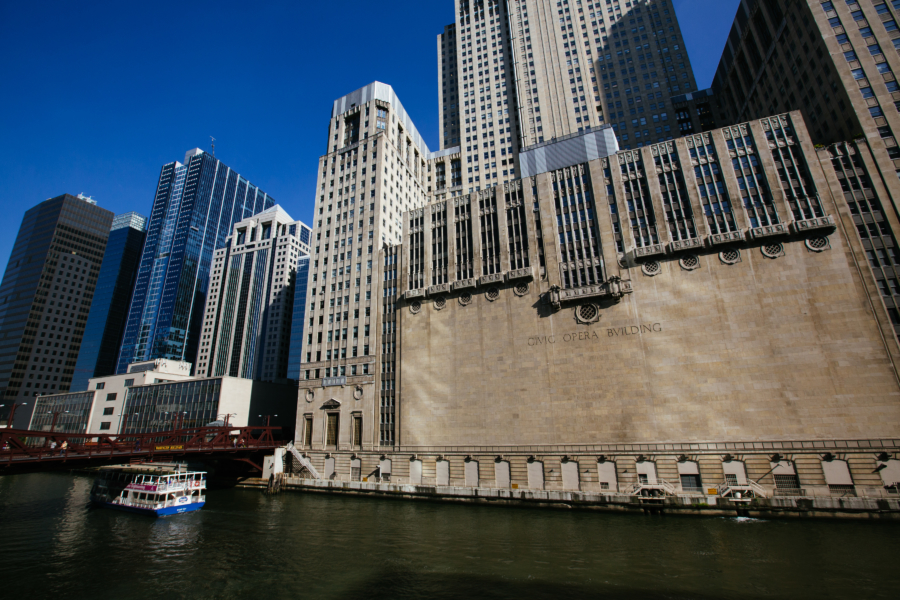 Founded in 1954, Lyric Opera is recognized for its internationally acclaimed performers, conductors, and directors, as well as its world-premiere productions. The Opera House itself is stunning. A colonnaded portico runs the entire length of the building, overlooking the Chicago River. Once inside, your jaw will drop at the sight of Austrian crystal chandeliers, elaborately stenciled ceilings, pink and gray Tennessee marble, and fluted Roman travertine and gold-leaf columns and pilasters. Book a backstage tour at the Lyric, and get a close-up look at this historic building.
Lyric Opera of Chicago, 20 N. Upper Wacker Drive, Loop.
Stop 10: Chicago Symphony Orchestra
Come listen to the classics live at the Chicago Symphony Orchestra. Music has romanced audiences here for over 125 years — which is about the number of performances you'll see every year either at the symphony's downtown home or at the Ravinia Festival on Chicago's North Shore over the summer. Check out this season's performances.
Chicago Symphony Orchestra, 220 S. Michigan Ave., Loop.
Stop 11: Chicago Architecture Center
If architecture's your jam, then you won't want to miss the Chicago Architecture Center. It's a great place to learn all about Chicago's architectural legacy, and your gateway to amazing walking, bus, and boat tours. The Chicago Architecture Foundation Center River Cruise aboard Chicago's First Lady is a fan favorite, and departs from the Chicago Riverwalk just across the street (the blue awning marks the spot).
Enter the center on the main level for tour and exhibit tickets, then take a look at the Chicago City Model Experience — an interactive, multimedia reproduction of over 4,000 buildings. It tells you all about the city's history, including the devastating Great Chicago Fire of 1871 and subsequent rebuilding of Chicago — the catalyst for all that groundbreaking architecture. Then go up one level to the show-stopping Building Tall exhibit in the Skyscraper Gallery. Towering scale models all in white take you on a journey through the world's tallest buildings.
Chicago Architecture Center, One Illinois Center, 111 E. Wacker Drive, Loop
Stop 12: Art on theMART
As twilight falls over the city, you'll see a mesmerizing sight on the Chicago Riverwalk. Art on theMART is the largest digital art installation in the world, taking up 2.5 acres of theMART's river-facing facade. The seasonal show begins in the evening; check the Art on theMART website for the complete schedule.
Before the sun sets, take a tour of the Riverwalk's other permanent and rotating public art installations, including Carolyn Ottmers Allium and Ellen Lanyon's Riverwalk Gateway (401 E. River Drive), which links the Riverwalk with the lakefront.
theMART, 222 W. Merchandise Mart Plaza, River North
Stop 13: River North gallery district
River North's art gallery scene started all the way back in the 1970s — and it remains a go-to for fine art lovers to this day. The neighborhood is jam-packed with galleries housed in former warehouses, making it a great place to browse and soak in the urban-chic vibe. New exhibitions generally open here on the first Friday of January, March, May, July, September, and November. And on Saturday mornings at 11 a.m., Chicago Gallery News hosts free gallery tours departing from 714 N. Wells St.
Stop 14: Poetry Foundation
Tap into your poetic side at The Poetry Foundation. In addition to having a 30,000-volume poetry library, the foundation features exhibits and hosts a packed calendar of events that includes workshops, lectures, readings, discussions, and fun activities for kids.
Poetry Foundation, 61 W. Superior St., River North
Stop 15: Driehaus Museum
Formerly the Nickerson Mansion, the Driehaus Museum preserves and celebrates Chicago's Gilded Age. Marble floors, grand staircases, ornate decorative arts, imposing fireplaces, and antique furnishings dazzle visitors, revealing exactly why the mansion became known as the "Marble Palace." The museum hosts rotating fine art and decorative art exhibitions, plus special events like murder mysteries and afternoon teas. Guided tours and audio tours are available, and a great way to get to know the interesting history behind this River North gem.
Driehaus Museum, 40 E. Erie St., River North
Stop 16: Museum of Contemporary Art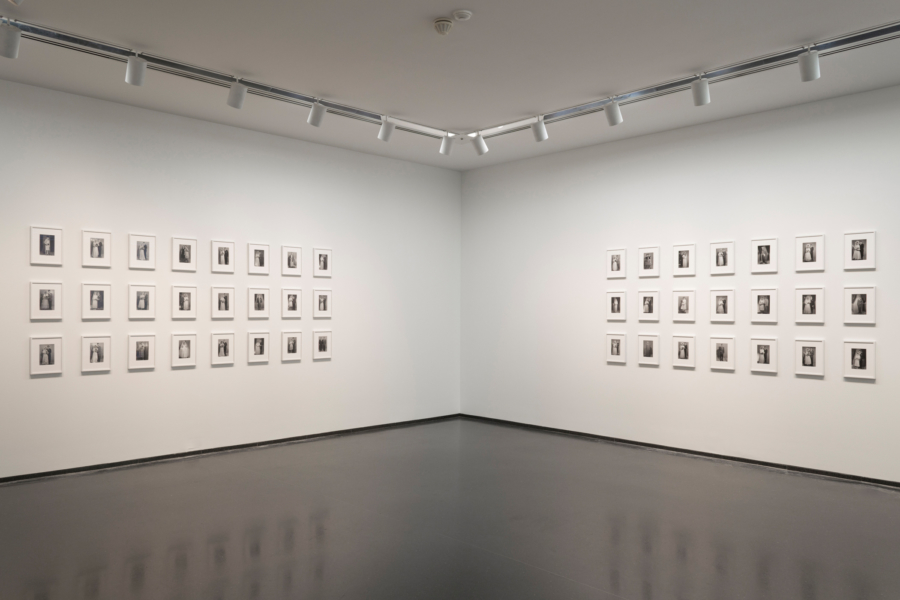 If you love art that pushes creative boundaries, then you shouldn't miss the Museum of Contemporary Art, located just one block east of historic Water Tower Place on The Magnificent Mile. Art exhibits aren't the only thing you'll see here. The museum hosts innovative performances and programs throughout the year, as well as Tuesdays on the Terrace, with free, live jazz in the museum's gorgeous gardens over the summer months. Make a day of it with Tuesday morning farmer's markets at the base of the museum's monumental front steps. At any time of year, stop into the museum's acclaimed restaurant, Marisol, for works of culinary art, and don't miss out on the museum store — it's one of the best in the city.
Museum of Contemporary Art, 220 E. Chicago Ave., Streeterville
Stop 17: Lookingglass Theatre and City Gallery at Historic Water Tower
Two Gothic Revival buildings on The Magnificent Mile both hold the distinction of being among the few buildings to survive the Great Chicago Fire of 1871.
Lookingglass Theatre Company occupies Water Tower Water Works, sharing space with a still-functioning water pump that drives 250,000 gallons of water every day (you can sneak a peek at the pumps, which are framed by glass walls). Lookingglass is acclaimed for pushing the boundaries of classic theatre, often incorporating dance, circus arts, and other artforms into its performances. Actor David Schwimmer, who played Ross on the hit TV show Friends, is a co-founder, ensemble member, and director.
Right across the street you'll see the charming City Gallery at Historic Water Tower, crowned by its iconic Gothic Revival spire. The building originally housed a 135-foot iron standpipe used to regulate water pressure. It's now a frequent venue for cool exhibitions, displayed in an airy, chapel-like interior.
Lookingglass Theatre, 821 N. Michigan Ave., & City Gallery, 806 N. Michigan Ave., The Magnificent Mile
Stop 18: Chicago Shakespeare Theater at Navy Pier
At Tony-award-winning Chicago Shakespeare Theater, three venues bring great plays to the lakefront all through the year. It features the 500-seat Courtyard Theater, the 200-seat Upstairs at Chicago Shakespeare, and The Yard at Chicago Shakespeare, a groundbreaking venue made up of nine mobile audience towers (about the size of a city bus turned on its end) that can be rearranged to create the appearance of anything from an intimate cabaret to a dramatic thrust stage with runway aisles.
Chicago Shakespeare Theater, Navy Pier, 800 E. Grand Ave., Streeterville