Chicago is an internationally recognized art and design hub, so it's little surprise that you'll find commercial art galleries here in abundance. A number of neighborhoods in particular have blossomed into art districts over the years, with galleries ranging from fun, experimental studios to museum-like spaces, where every masterwork is available for sale.
Here's a guide to exploring the city's art gallery scene.
Pilsen
In Pilsen, many artist-run galleries can be found at 18th and Halsted, forming the Chicago Arts District that features established and emerging artists across a diverse array of mediums. Take part in gallery walks the second Friday of every month, during which you can wander open studios and meet the artists in person.
Bridgeport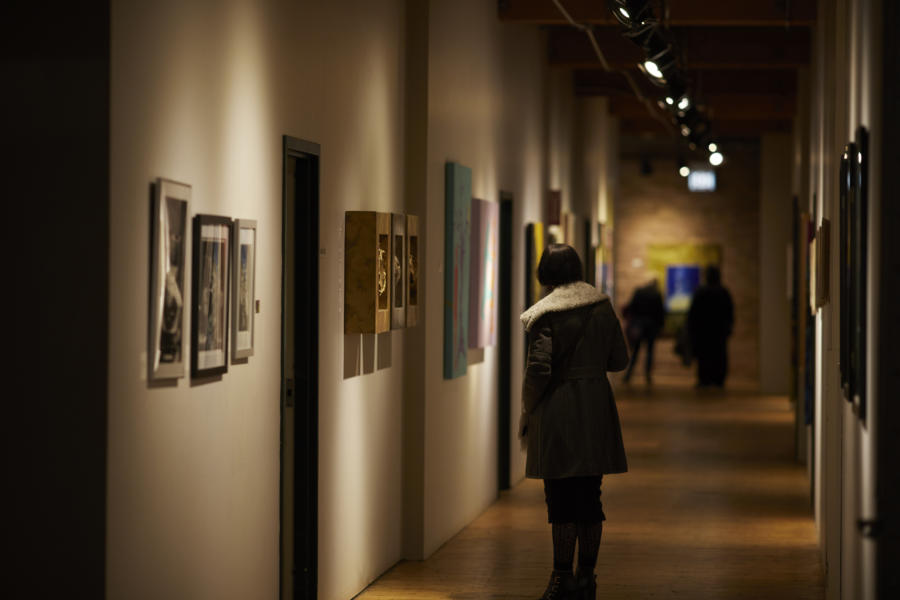 Bridgeport is home to the Bridgeport Art Center and Zhou B Art Center, situated in large warehouses on W. 35th St. The Bridgeport Art Center features three curated art galleries, artist studios, the Fashion Design Center, Chicago Ceramic Center, the Skyline Loft and the Sculpture Garden Gallery. You can pay them a visit on 3rd Fridays for free and tour at your leisure. Zhou B Art Center hosts its own free 3rd Fridays, kicking off with opening receptions, and giving you the chance to view amazing local and international contemporary art.
Hyde Park
In Hyde Park and Kenwood, visitors find contemporary works at the Hyde Park Art Center, the oldest alternative exhibition space in the city and a catalyst for ambitious new projects. The University of Chicago's Reva & David Logan Center for the Arts showcases emerging, local, and student artists, so if you love cutting-edge art, this is a great place to visit.
Bronzeville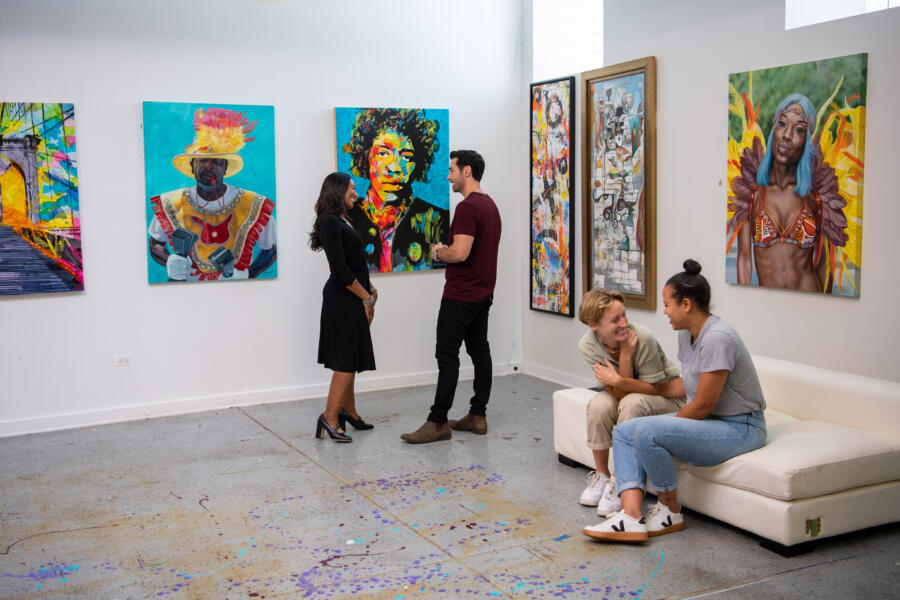 A neighborhood known for its Black history and culture, Bronzeville is also a hub for artists. The Bronzeville Art District includes five unique galleries that explore the art of the African diaspora and beyond, including the Bronzeville Artist Lofts, Faie Afrikan Art, and Gallery Guichard. A great time to visit is during the seasonal trolley tours that take visitors to the galleries for free.
River North
River North's art gallery scene started back in the 1970s, and it's been going strong ever since. The River North Art District is jam-packed with galleries housed in former warehouses, making it a great place to browse and soak in the urban-chic vibe.
West Loop
Known predominantly for its acclaimed Restaurant Row, the West Loop is also home to a vibrant, emerging art scene. Galleries and auction houses are tucked into chic industrial buildings and former meat-packing plants, giving them an edgy vibe. You'll find galleries throughout the neighborhood, but West Chicago Avenue beyond Addison, as well as along industrial West Carroll and Fulton Street are good places to venture.
Wicker Park/Bucktown
Attracting emerging and outlier artists, Wicker Park/Bucktown has quickly grown into one of the most cutting-edge art gallery districts in Chicago. Many artists live and work at the Flat Iron Arts Building and open their studios to the public every first Friday. Also, the Bloomingdale Arts Building in West Bucktown hosts art events and exhibits throughout the year, right along The 606 elevated park and trail. Both Bucktown and Wicker Park are where funky and experimental live, which makes them ideal places to find unusual, one-of-a-kind artworks that won't break the bank.