Chicago is something of a public art mecca. Picasso, Chagall, Miro, Calder, Dubuffet — legendary artists ornament the Loop, making the city streets an urban art museum everyone can enjoy.
Here are just a few of the must-see masterpieces to get you started.
The Picasso by Pablo Picasso

Standing 50 feet tall and weighing over 160 tons, The Picasso, as it is known, is an untitled sculpture that some liken to an insect or baboon. Pablo Picasso gifted the sculpture to the people of Chicago in 1967, without ever explaining what it was intended to represent. Today, it's one of the city's most famous and iconic public artworks. Taking two years to create, Picasso combined and modified sketches and motifs from his earlier works to develop his concept. The resulting 42-inch-tall model of the sculpture can be seen at the Art Institute of Chicago, along with the artist's sketches for the piece. 50 W. Washington St.
Chicago by Joan Miró

Joan Miró's mixed-media sculpture stands approximately 40-feet tall and is composed of steel, wire mesh, concrete, bronze, and ceramic tile. It's a celestially inspired work, representing a female figure with a moon at her center and a star above her head. At the same time, her bell-shaped base stresses her closeness to the earth. As with many groundbreaking works, the immediate public response upon the sculpture's 1981 unveiling wasn't all positive. One member of the public even threw a can of paint over it. But today, "Miss Chicago," as the sculpture is affectionately known, is beloved by all. Brunswick Building Plaza, 69 W. Washington St.
The Four Seasons by Marc Chagall

Composed of thousands of inlaid chips in over 250 colors, the design for this mosaic was created in Chagall's studio in France, transferred onto full-scale panels, and installed in Chicago with the help of a skilled mosaicist. Even after its arrival, Chagall continued to modify his design, updating those areas that featured the city skyline (last seen by the artist 30 years before the mosaic's installation). He also added pieces of native Chicago brick. In its entirety, the mosaic portrays the four seasons through six Chicago scenes, filled with birds, fish, flowers, suns, and pairs of lovers. Chagall commented that, "the seasons represent human life, both physical and spiritual, at its different ages." Chase Tower Plaza, 10 S. Dearborn St.
Flamingo by Alexander Calder

You can't miss Alexander Calder's 53-foot-tall, bright red Flamingo, with its curved lines contrasting dramatically with the steel and glass Mies van der Rohe buildings that surround it. Though weighing 50 tons, Flamingo features an open design that invites you to walk under and around it. Flamingo was unveiled in 1974 and remains one of Chicago's most distinct icons. Federal Plaza, 50 W. Adams St.
Cloud Gate, aka "The Bean" by Anish Kapoor
Its official name is Cloud Gate, but this much-loved sculpture is definitely "The Bean" to locals. Measuring 66-feet long by 33-feet high, and weighing a colossal 110 tons, it's among the largest sculptures of its kind in the world, and was British artist Anish Kapoor's first U.S. public outdoor artwork. The elliptical sculpture, which was inspired by mercury, utilizes a seamless series of highly polished stainless steel plates that reflect Chicago's famous skyline on its surface. A 12-foot-high arch provides a "gate" to Millennium Park, inviting visitors to enter, touch its mirror-like steel, and see their distorted images reflected back at them. 201 E. Randolph St., between Michigan Ave. & Columbus Ave.
Crown Fountain by Jaume Plensa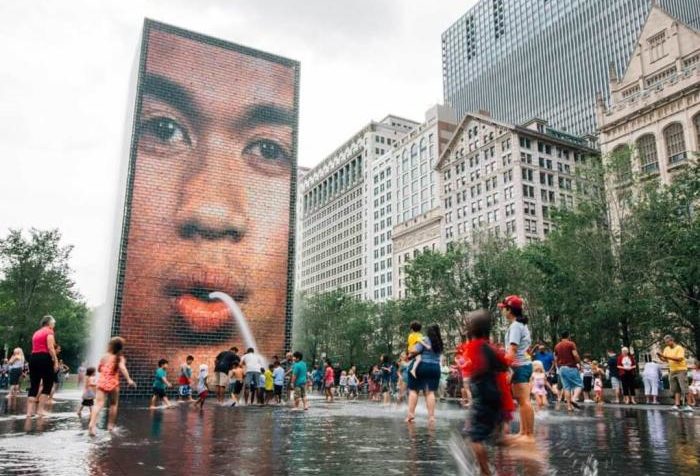 Designed by Spanish artist Jaume Plensa, Crown Fountain is a highly interactive art installation consisting of two 50-foot glass block towers at each end of a shallow reflecting pool. The towers project video images of Chicago locals, who spout jets of water from their pouting lips. The design was inspired by the tradition of using gargoyles in fountains, sculpted with open mouths to allow water, a symbol of life, to flow. See the fountain in action from mid-spring to mid-fall, with LED images remaining on view year-round. Millennium Park, 201 E. Randolph St., between Michigan Avenue and Columbus Avenue.
Monument with Standing Beast by Jean Dubuffet
Beginning with an exhibition at the Arts Club of Chicago in 1951, French artist Jean Dubuffet forged a special connection with Chicago, home to one of only three monumental Dubuffet commissions in the United States. The artist's 29-foot-tall, 10-ton fiberglass Monument with Standing Beast is composed of four elements that suggest a standing animal, a tree, a portal, and an architectural form. You can't help but want to enter the sculpture and explore — just as the artist had intended (he wanted to create a work that would resonate with the average person on the street). Affectionately referred to as "Snoopy in a blender" by locals, the artist described the sculpture as a "drawing which extends…into space." It's a great example of Dubuffet's Art Brut style, which mimicked visual works produced by children and untrained artists. James R. Thompson Center, 100 W. Randolph St.
Agora by Magdalena Abakanowicz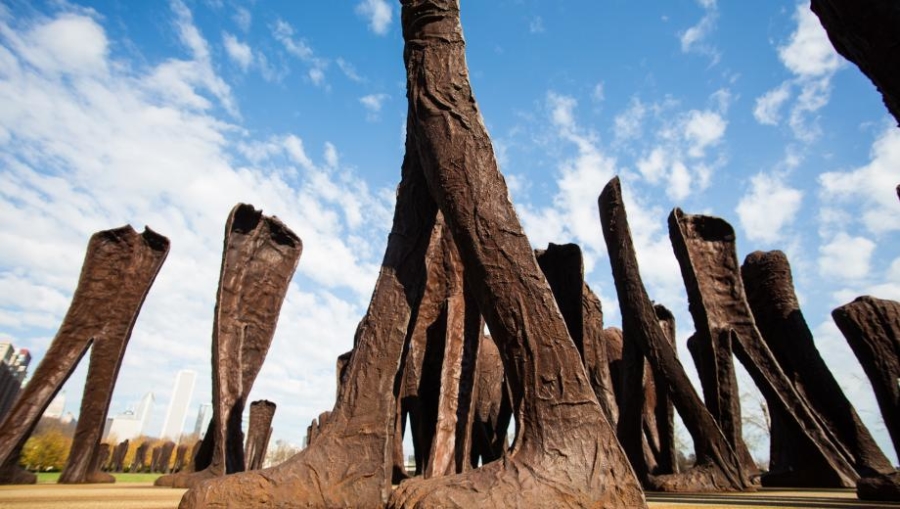 Located along the southwest side of Grant Park, Agora derives its name from the Greek word for meeting place. This striking cast-iron art installation comprises 106, 9-foot-tall headless torsos. The figures are posed either walking in groups in various directions or standing still. Internationally renowned Polish artist Magdalena Abakanowicz donated the sculptural group in cooperation with the Polish Ministry of Culture and other private donors. Although Abakanowicz has frequently exhibited in museums and public spaces throughout the world, Agora remains her largest permanent installation. Grant Park, South Michigan Avenue & East Roosevelt Drive
Bronze Cow by Nathan Mason
In 1999, a herd of fiberglass cows united citizens, visitors, and businesses through a unique community-based public art event, Cows on Parade, that called upon local artists to produce designs to decorate each unadorned bovine. The commemorative bronze cow you'll meet outside the Chicago Cultural Center was created by Nathan Mason in 2001, as a gift from the Hanig family (responsible for bringing the Cows on Parade event to Chicago all the way from Zurich, Switzerland). Look closely, and you'll see two famous Chicago landmarks — The Picasso and Historic Water Tower — reflected in the cow's eyes. 78 E. Washington St.
Art on theMART by various artists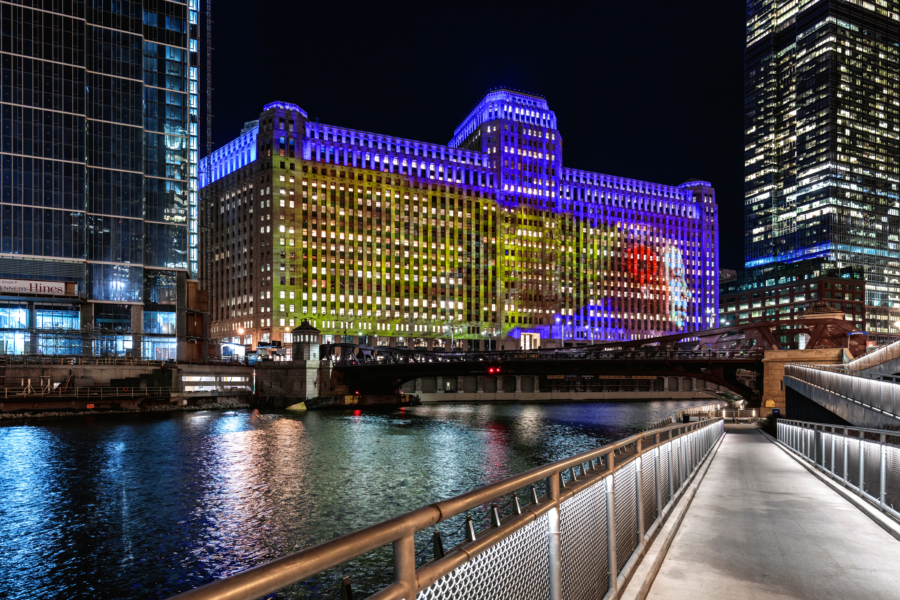 Chicago's significant public art and cultural legacy continues to this day. And nowhere is this better seen than at Art on theMART, the largest video-projection art installation in the world. Approximately 2.5 acres of theMART's Chicago Riverwalk-facing facade has become a next-generation public art space, with curated international and local video art projected seasonally. 222 W. Merchandise Mart Plaza
Muddy Waters Mural by Eduardo Kobra
In 2016, the late, great Chicago blues musician Muddy Waters was honored with a nine-story mural by internationally acclaimed Brazilian street artist Eduardo Kobra. A kaleidoscope of bright colors and bold lines are the artist's trademark — you can't miss them as you walk along State Street towards Washington Street. Kobra is known the world over for his massive murals of famous people, including musicians Bob Dylan in Minneapolis and David Bowie in Jersey City. His Muddy Waters Mural is part of the Wabash Arts Corridor, a Chicago hotspot for street art devotees. 17 N. State St.
Rushmore by Kerry James Marshall
Artist and MacArthur Fellow Kerry James Marshall designed an epic mural for the Chicago Cultural Center's Garland Court facade, honoring 20 women who shaped the city's arts and culture scene. At 132-feet by 100-feet, this is the largest artwork Marshall has ever conceived. It's an explosion of bright pinks, greens, golds, and purples, depicting the likes of dancer and choreographer Ruth Page, cultural icon Oprah Winfrey, and Barbara Gaines, founder and artistic director of the Chicago Shakespeare Theater. Marshall's vision for the mural was executed by artist Jeff Zimmermann and his team from Jazim, Inc. Garland Court, 78 E. Washington St.
Looking for more? Check out this guide to public art from the Chicago Loop Alliance.