Any season is a great season to visit Chicago with the kids. Whether they love the sun or go giddy for snow, our two-day itinerary will have them feeling right at home indoors and out.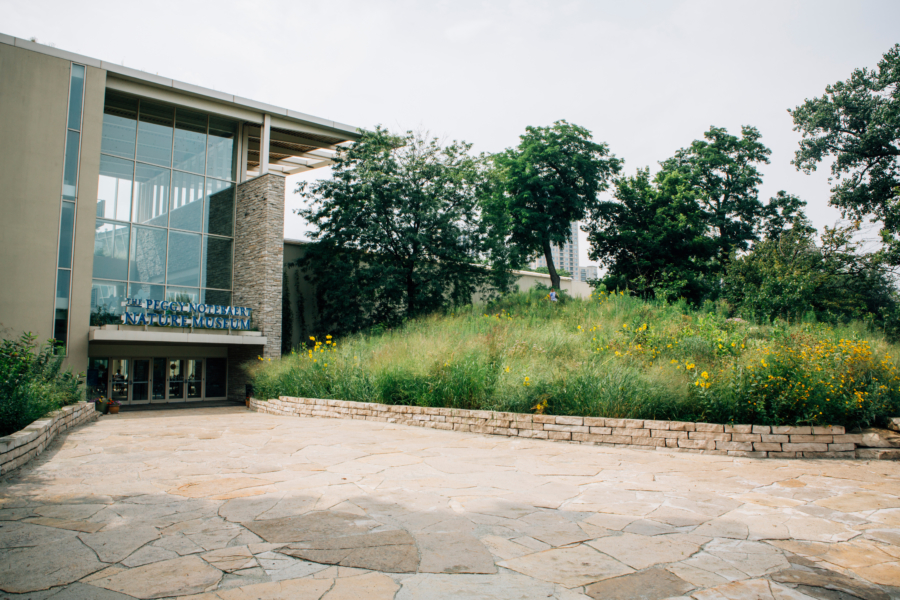 Warm-weather itinerary
Day 1
Morning
Head to Pier Park at Navy Pier for breakfast on the go and old-school thrill rides. Don't miss the famed Centennial Wheel with views of the lakefront and city skyline from almost 200-feet up, the Pepsi Wave Swinger, and a whimsical, musical 1920s-inspired carousel.
Afternoon
From Navy Pier, take Shoreline Sightseeing Water Taxi's Lake Route to Shedd Aquarium at Museum Campus, where you'll also find Adler Planetarium, the Field Museum, and stunning views over Lake Michigan. A couple of highlights include joining in a shark feeding tour and interacting with stingrays at the Shedd Aquarium, grabbing a selfie with Máximo the Titanosaur (the largest dinosaur known to man) and SUE the T.rex at the Field Museum, and stargazing at the Adler's Doane Observatory.
In between all that activity, grab lunch at the Field Museum, alongside an amazing narwhal diorama.
Evening
Take a return boat to Navy Pier to wow them with a spectacular fireworks display (Wednesdays and Saturdays, Memorial Day through Labor Day). They're synchronized to music and light up the Chicago sky and Lake Michigan waters. You can even book a dinner or evening sightseeing cruise to see them from the water. End the evening with alfresco bites at the family-friendly Miller Lite Beer Garden, with a little live music and lake views thrown in.
Day 2
Morning
The first part of the day is all about discovering Lincoln Park. Grab breakfast outdoors at picturesque The Patio at Café Brauer before exploring an ecology haven at the Nature Boardwalk. Kids love spotting birds, fish, insects, and wildlife as they meander pond-surrounded pathways.
Afternoon
Continue exploring at Lincoln Park Zoo, one of the oldest zoos in the nation, and one of the few that offers free admission. In addition to lions and tigers and bears, you'll find an old-school carousel here, as well as locomotive rides and the Pritzker Family Children's Zoo. The free Farm-in-a-Zoo sits right next door, giving kids the chance to pet goats and ponies and see a little country life in the city.
Don't leave Lincoln Park without a visit to the Peggy Notebaert Nature Museum and its balmy, beautiful Judy Istock Butterfly Haven. It's a truly magical place that hosts Bunking with the Butterflies overnight stays for kids and adults.
Evening
It's off to Maggie Daley Parkfor inline skating, wall-climbing, playtime in the play garden, and mini-golfing. Then cool off at Millennium Park's Crown Fountain, splashing in the black granite pool between the fountain's two water-spouting video-projection towers. End the evening dining with Cloud Gate, aka "The Bean," at alfresco Park Grill.
Chilly weather itinerary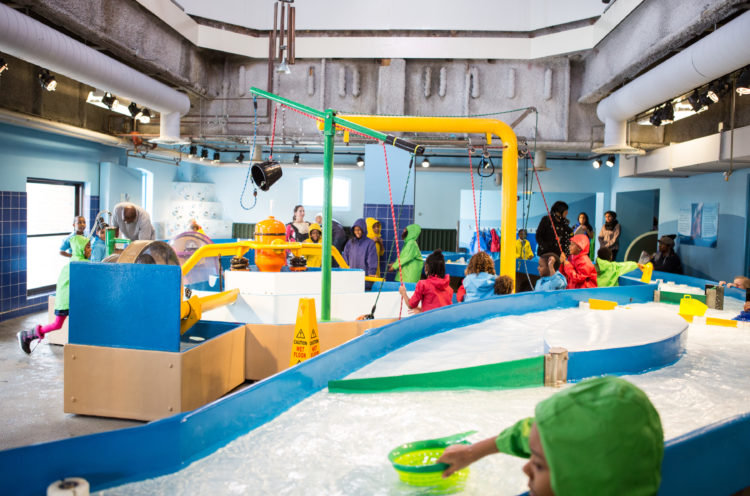 Day 1
Morning
Get going with gourmet doughnuts the size of your head at Stan's Donuts. There are multiple locations throughout Chicago, including downtown, which means you're in the perfect spot to get to your next stop.
Whether you're entertaining toddlers or teens, Navy Pier isn't only about summer fun. It's an amazing, expansive indoor playground as well. Kids can spend hours immersed in the Chicago Children's Museum, the Build-a-Bear Workshop, the AMC Navy Pier IMAX Theatre, Amazing Chicago's Funhouse Maze, and VR thrill rides at Virtual Rush: Chicago. Even the famed Centennial Wheel has climate-controlled gondolas, which means kids can still get excited about a ride when temperatures turn a little chilly. Not to mention all the great stores, market stalls, and eateries throughout this historic sight.
If you're visiting over December, Fifth Third Bank's Winter WonderFest at Navy Pier features 170,000 square feet of attractions, including rides, giant slides, ice skating, and an explosion of holiday decorations — and it's all indoors.
Afternoon
Recharge with lunch at Navy Pier, then head to the Museum of Science and Industry, where you can spend the rest of the day in a U-505 submarine, a coal mine, a mirror maze, and more. For a bit of a timeout, buy tickets for the Giant Dome Theater, where scientific adventures and discoveries come to life on an enthralling five-story, wrap-around screen.
Over the holiday season, the museum also hosts its annual Christmas Around the World and Holidays of Light, which features a four-story Grand Tree surrounded by more than 50 trees and displays decorated to represent the holiday traditions of cultures from around the globe.
If you're traveling with older kids, iFLY Chicago located in Lincoln Park is a great cool-weather pick. This body-lift experience replicates skydiving from the safety of an indoor tunnel and cushion of air. Alternatively, take your teens and tweens on the greatest adventure ever with a Chicago escape room. Explore a goldmine, escape an 'L' car, and even take a mission to Mars while at venues such as Escape Artistry,The Escape Game Chicago, and Fox in a Box – Chicago, among others.
Evening
End the day at Medici on 57th, where pizza, burgers, and families are king. This Hyde Park institution with a hippie vibe is a neighborhood favorite and close to the Museum of Science & Industry. If you go the escape room route, Italian Village in the Loop is a fun, centrally located place to take kids of all ages. It's three restaurants in one, with a focus on creating the fun-loving and artistic ambience of Italy.
And if you head to Lincoln Park for iFLY Chicago, Cafe Ba-Ba-Reeba! is a vibrant tapas restaurant in the heart of the Armitage and Halsted shopping district. You might even catch a flamenco show while you're there.
Day 2
Morning
Today's all about The Magnificent Mile. Start the morning with a visit to Ghirardelli Ice Cream & Chocolate Shop and make their sugar-coated dreams come true. Then head over to indoor Water Tower Place for equally dream-inspired shopping at the likes of American Girl Place and Candyality.
Afternoon
Harry Caray's 7th Inning Stretch combines with the Chicago Sports Museum on Water Tower Place's 7th floor, making lunch easy breezy. Have the kids try Bird on a Biscuit with fried chicken and honey on a buttermilk biscuit, one of the many fan favorites.
Afterwards, head into the highly interactive Chicago Sports Museum, where kids can test their skills against some of the all-time greats, use CSI-type technology to unravel some of Chicago's most infamous sports mysteries, step into a replica broadcast booth and call a game just like Harry Caray, and so much more.
Evening
Grab a bite at The Cheesecake Factory or Benihana at 875 N. Michigan Ave. (formerly the John Hancock Building). Then head up to 360 CHICAGO, which gives you in-the-round views of the city skyline and Lake Michigan from 1,000 feet up. It's also home to TILT, a heart-pounding thrill ride that literally tilts you out over The Magnificent Mile. Open late into the evening, seeing all the city lights aglow from this vantage point is jaw-dropping whatever your age.