Looking for a Chicago venue that will wow guests at your next event? The city delivers in a big way, with spaces ranging from sky-high perches with amazing views in some of the world's tallest buildings to lakeside venues that take full advantage of Chicago's stunning waterfront. We've selected six to get you started.
1. Millennium Park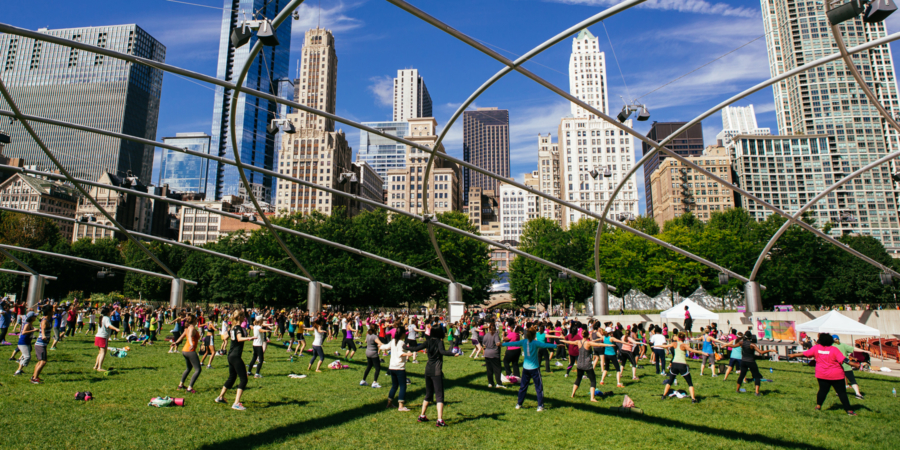 Millennium Park is Chicago's downtown playground for the arts, creating a giant expanse of green space in the Loop. There are several event venues located throughout the sprawling park, including the stage of the architecturally (and acoustically) impressive Jay Pritzker Pavilion, and the Rooftop Terrace that offers dazzling skyline views and the tree-lined Chase Promenades, just steps from Michigan Avenue and overlooking the popular Cloud Gate sculpture. Depending on which venue you choose, Millennium Park can accommodate up to 7,000 people.
2. Navy Pier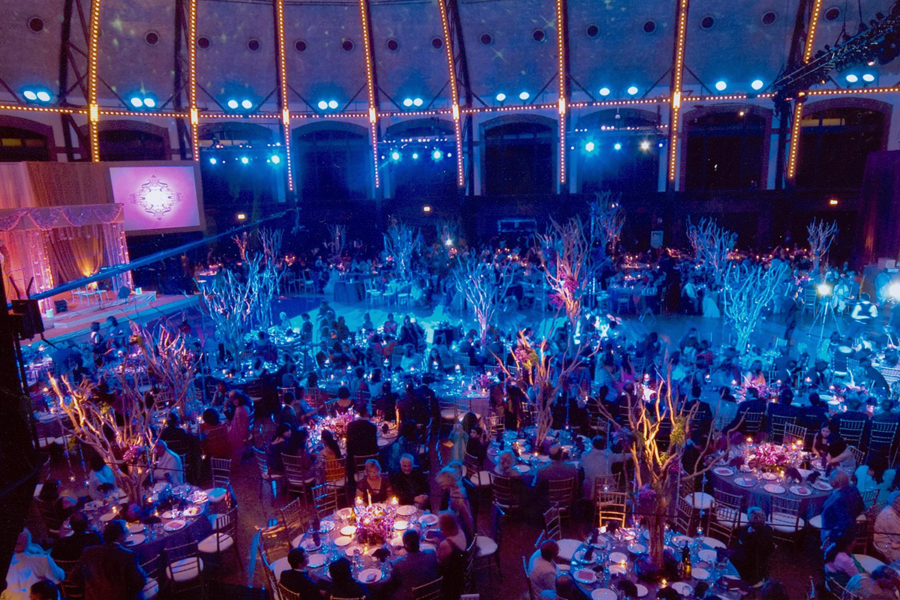 This iconic Chicago landmark dramatically juts out into Lake Michigan, providing sweeping water and skyline views. Navy Pier offers two exhibit halls and 36 meeting rooms. But the real stunners are the nostalgic 18,000-sq.-ft. Aon Grand Ballroom, which is original to Navy Pier's 1916 construction and features an 80-foot-tall domed ceiling (accommodating up to 1,100 for dinner, with additional seating for 300 in the balcony); and Offshore Rooftop & Bar, a 36,000 sq. ft. all-seasons, all-weather venue that includes a 20,000 sq. ft. outdoor Terrace with fire pits as well as an entertainment and gaming area.
3. Adler Planetarium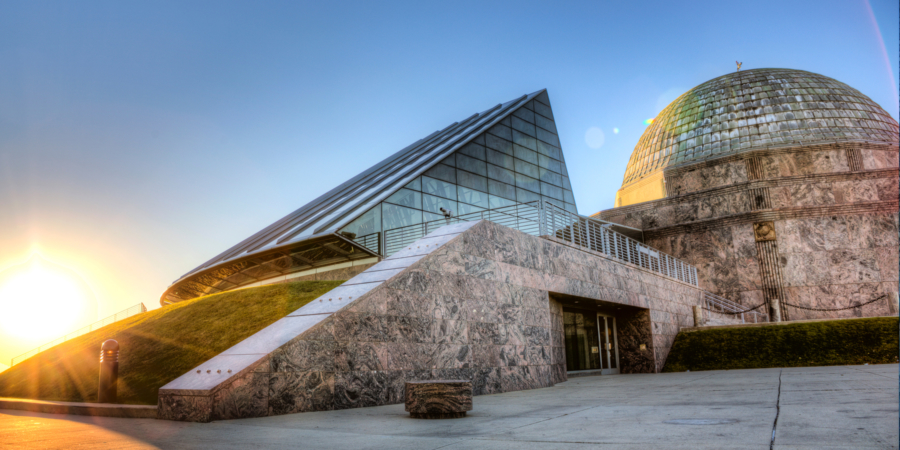 Adler Planetarium is a waterfront space science museum that offers out-of-this-world venue options. The spectacular Solarium features floor-to-ceiling windows overlooking Lake Michigan. Book the Solarium (370 seated dinner/477 cocktail reception) and guests will have access to the adjacent outdoor terraces with Chicago skyline views. The Grainger Sky Theater is perfect for presentations or cocktails (195 theater seating/400 reception), and features a dramatic 36-foot-tall domed ceiling. The Clark Family Welcome Gallery features futuristic architecture and colorful customizable lighting, making it the perfect spot for an intimate dinner or reception (80 seated/150 cocktails). Arrange for a thrilling private sky show or high-tech telescope viewing in the Doane Observatory.
4. 360 Chicago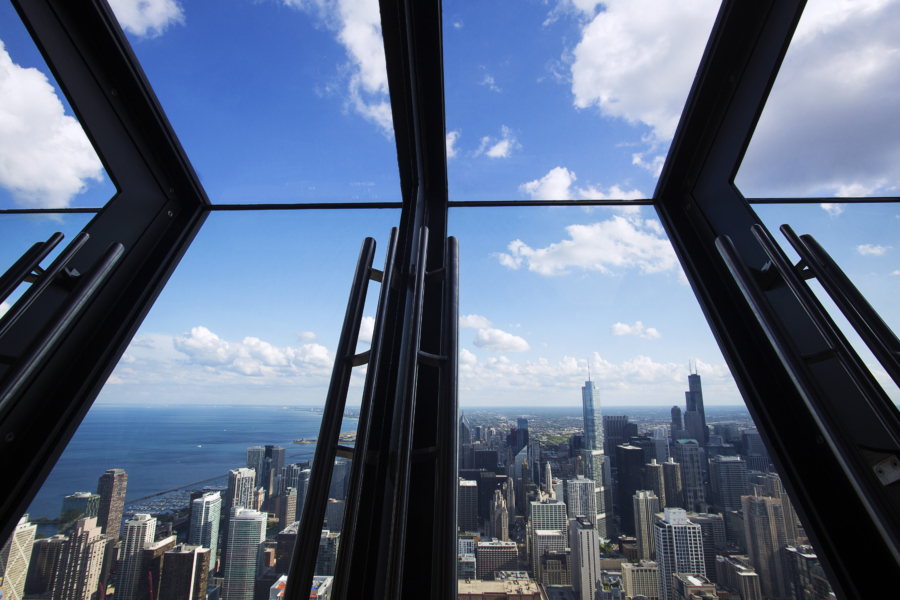 Located on the 94th floor of 875 N Michigan (formerly the John Hancock Center) (the fourth-tallest building in the city), 360 CHICAGO was named one of the Best Views in America by Travel + Leisure, offering panoramic views of the city, Lake Michigan and four states. 360 CHICAGO offers four flexible event spaces that can accommodate groups as small as 10 and up to 550. Each space offers stunning views, with vistas of the cityscape, lakefront, and The Magnificent Mile below. Or do a full buyout of the entire 94th floor and bask in true 360-degree views.
5. Willis Tower Skydeck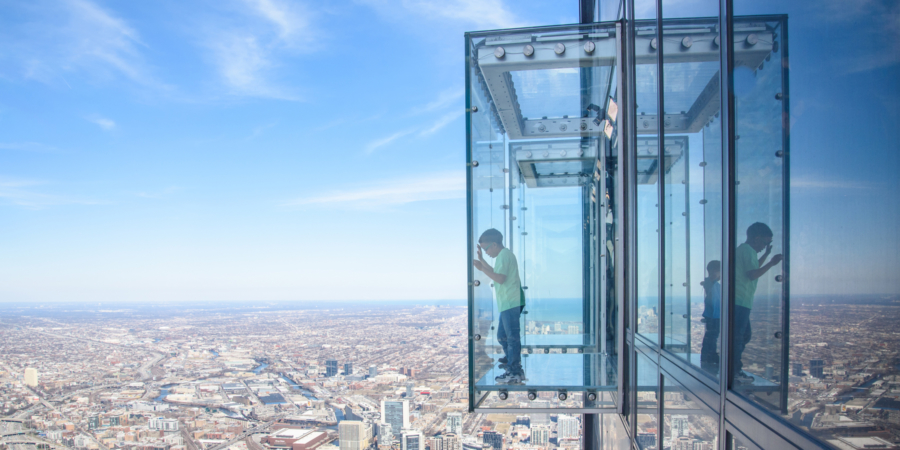 Take your next meeting or event to new heights at the 99th-floor Willis Tower Skydeck. Your guests will be treated to jaw-dropping panoramic views that can span up to four states and nearly 50 miles on a clear day. The flexible venue space can be set up theater, classroom or reception style, accommodating up to 175 seated/300 for a reception. Time your cocktail event at sunset to see the city transform from day to glittering night. You can also arrange for private VIP access to The Ledge, composed of glass balconies that extend four feet beyond the building to create an unforgettable viewing experience from 1,353 feet up in the air, located on the 103rd-floor Skydeck Chicago (the highest observation deck in the United States).