If you haven't made it to the Cultural Center for the centerpiece exhibit of the Chicago Architecture Biennial you still have time — but not much. The exhibition wraps on January 5, 2020 and it's absolutely worth a visit. 
What is the Chicago Architecture Biennial?
The Chicago Architecture Biennial is a citywide architecture festival that first began in 2015. Every two years, the free event takes over the Chicago Cultural Center and other sites around the city with events and exhibits that explore the past, present, and future of architecture. Each exhibition is developed by a new group of curators from a variety of art and design disciplines and features new themes and collaborators from around the world.
This year, the massive exhibit showcases 44 unique works. And all of it is free and open to the public. Don't know where to start? There are hour-long free tours led by curators, docents, or youth ambassadors.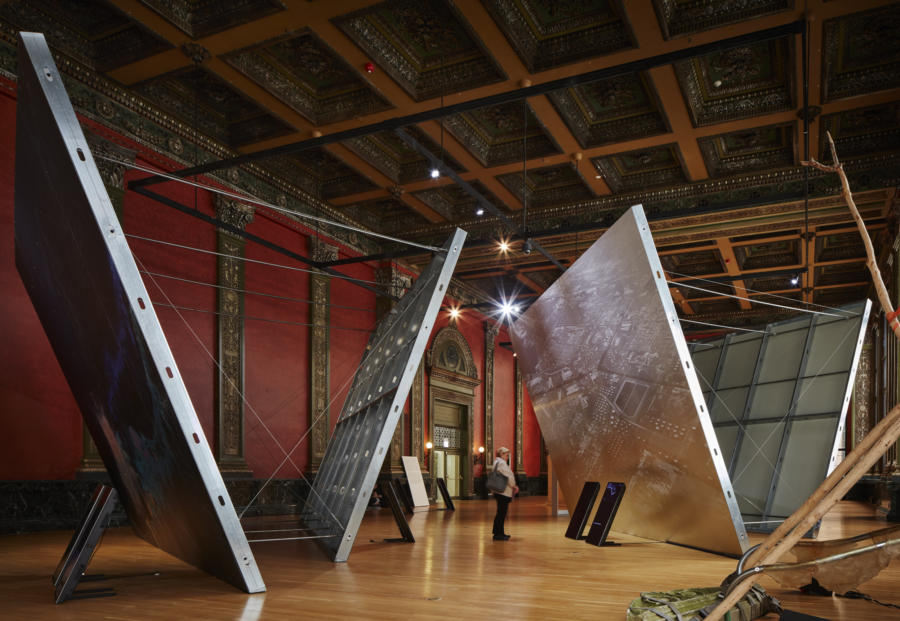 What to expect
This year's theme, "…and other such stories", is designed to reflect the many voices impacted by the built environment, including those whose lives have been supported by architecture and those who have been marginalized by it. The goal is to encourage visitors to think about how architecture shapes our communities, cities, and environment.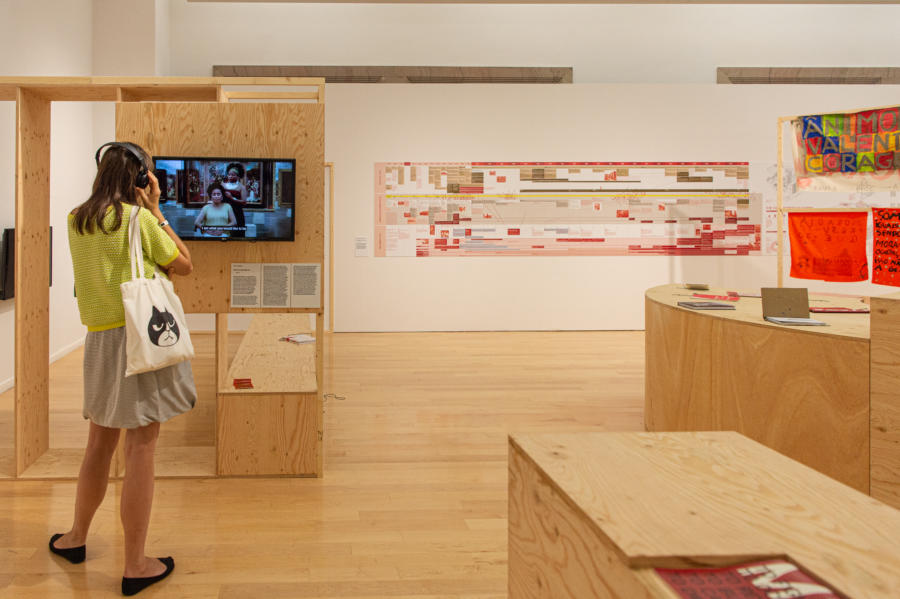 But this isn't your typical architectural exhibit. Instead, it's a sweeping and ambitious consideration of thorny topics like gun violence, disinvestment, colonization, and housing inequality. Given such charged topics, the exhibition could come across as preachy, but it doesn't. Instead, it presents thoughtful, beautiful displays that conceptualize these issues accompanied by written descriptions of each piece that make the works engaging and accessible.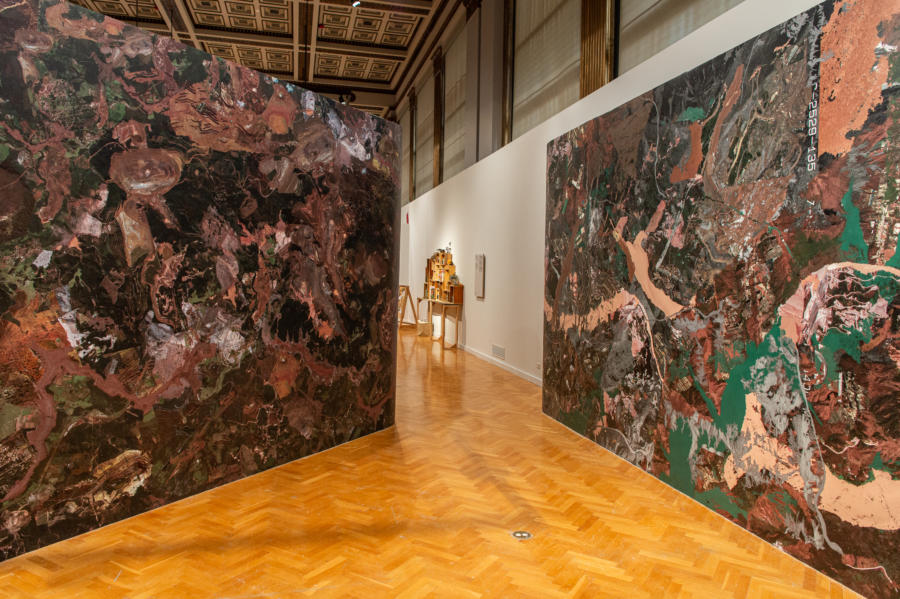 What to see
While creating the exhibition, the curatorial team sought out global perspectives — from indigenous groups in Canada to affordable housing advocates in Brazil. The insights they gathered are woven through the exhibition to build on themes of land ownership, rights, memory, and advocacy that run through the exhibition. Here are some stops not to miss at the Chicago Cultural Center exhibit:
The Land Acknowledgement
Written in collaboration with the American Indian Center of Chicago, the Land Acknowledgement recognizes the history of the Cultural Center and the land it occupies. Think of it (and the 10 other placards expanding on the building's history displayed next to the permanent signage around the Center) as a history lesson you didn't get in school.
Theaster Gates' creative display of his quest to reinvest in black communities
The artist and urban planner has a unique M.O.: He purchases buildings in systematically disenfranchised black communities, restores them as community spaces, and uses material from the restoration to create artwork he sells to finance new building acquisitions.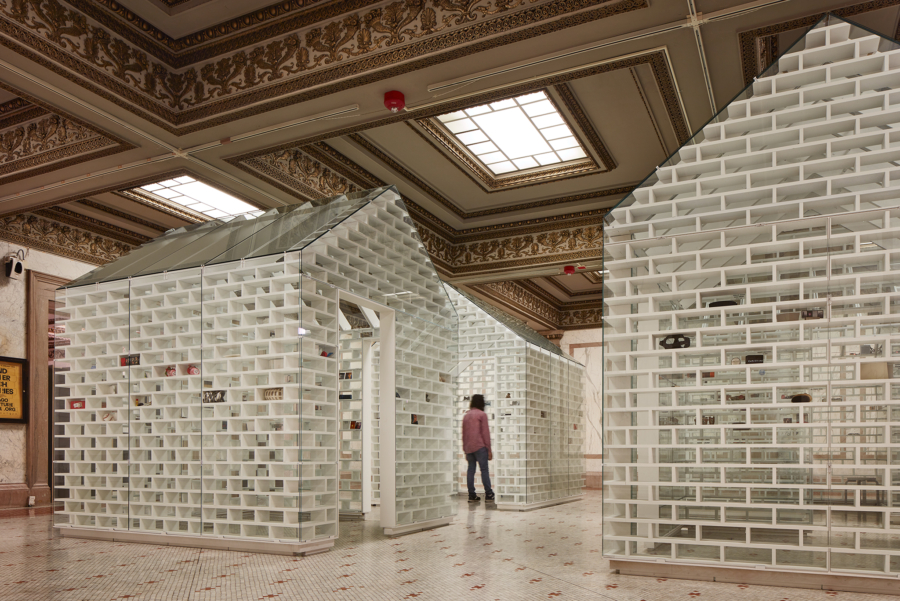 The Gun Violence Memorial by MASS Design Group
Each of the four glass houses in this piece contains 700 brick "frames" where the friends and family of victims of gun violence across the country can display a personal item to memorialize the person they lost. There are 700 deaths from gun violence every month in the U.S. and this exhibit is designed to memorialize the individuals so their memories transcend the statistic. 
Maria Gaspar's photo mural of the wall of Cook County Jail
The Chicago native recreated the looming presence of the wall of Cook County Jail so visitors can consider what it feels like to live in an environment where the structure is both imposing and invisible.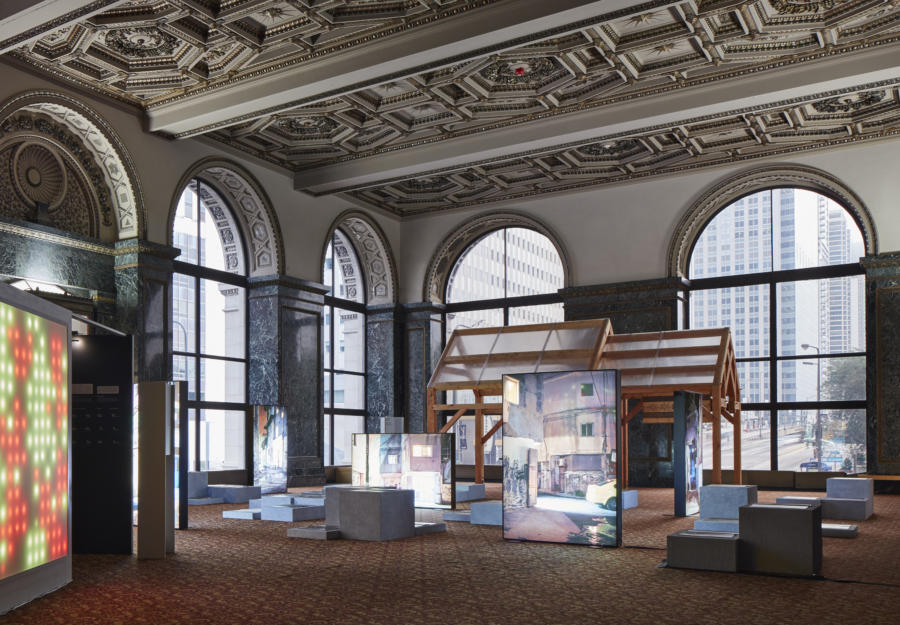 Akinbode Akinbiyi's photos of Chicago's North Lawndale neighborhood
The South African photographer is known for his intimate studies of urban landscapes. During his stay in Chicago, he took daily hyper-slow walks through North Lawndale and other neighborhoods, documenting the city and its residents with unique attention. 
Do Ho Suh's film on the Robin Hood Gardens housing development in London
The film shows a public housing development slated for demolition through cross-section videos of still-occupied units. As cranes move closer, erecting luxury skyscrapers, viewers can consider whether the development was actually a failure, or if it was sacrificed for its real estate value. 
Plan your visit
When: Open through Jan. 5, 2020
Hours: Open 10 a.m. – 7 p.m. on weekdays and 10 a.m. – 5 p.m. on weekends; free public tours available on Wednesdays and Thursdays from 5 – 6 p.m. and Fridays and Saturdays from 11 a.m. – noon. The building will be closed on Christmas and New Year's Day and have limited hours on Dec. 24 and 31.
Where: 78 E. Washington St.
Admission: Free
Getting there: The Chicago Cultural Center is just a few blocks from the Washington/Wabash stop, which serves the Brown, Green, Orange, Pink, and Purple CTA Lines. You can also get there via several CTA bus lines or by taking a Metra train to Millennium Station.