Juneteenth commemorates the end of slavery in the United States. Officially observed on June 19, this holiday commemorates the day in 1865 that news of the emancipation proclamation (issued more than two years earlier on Jan. 1, 1863) reached Texas, the last Confederate state to practice slavery.
Whether your ideal celebration is cultural, educational, or just a plain good time — Juneteenth serves as the perfect occasion to learn more about Black culture, traditions, and the contributions of Black Chicagoans past and present. Here's what's going on in Chicago for Juneteenth 2023.
Cultural events for Juneteenth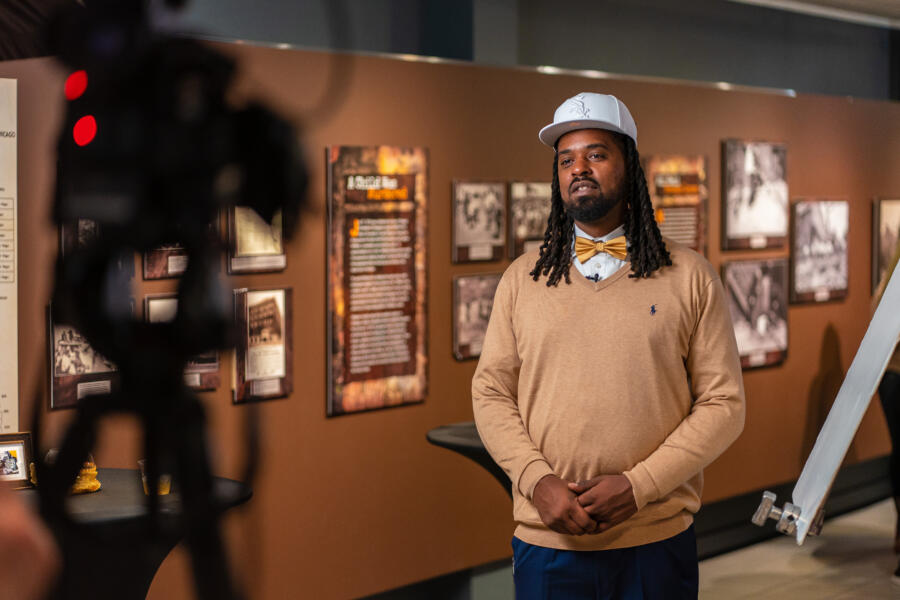 Juneteenth South Side Tour with Shermann "Dilla" Thomas: Take a ride with Chicago's own urban historian, Sherman "Dilla" Thomas! This Juneteenth-themed edition of his bus tour will depart from the South Side Culture Center on Monday, June 19 for a two-hour adventure highlighting the historical context of different landmarks and neighborhoods. In the Juneteenth spirit of fellowship, participants can look forward to a beach party at the tour's close. 
1619: The Journey of a People, The Musical: Enjoy an afternoon at the theatre and a panel discussion to follow with 1619: The Journey of a People, The Musical. Showing at the University of Chicago's Logan Center for the Arts on Monday, June 19 this production uses various Black musical styles including hip-hop, jazz, and blues to commemorate the struggle for equality and celebrate the story of America's African sons and daughters.
Juneteenth Celebration at the American Writers Museum: Visit the American Writers Museum for its Juneteenth celebration on Monday, June 19. The evening includes artists readings, gallery talks, and a special chat with Chicago artists Dorothy Burge, Damon Reed, and Dorian Sylvain. And don't miss the special exhibition featuring the work of Black writers and artists.
African Diaspora International Film Festival: Explore the Black and Indigenous experience through film at the 20th annual African Diaspora Film Festival. From June 15 – 18 at The Facets and Siskel Film Center, visitors can view the international debut of several new culturally significant films that explore the interaction between immigrants and their surroundings.
Juneteenth celebrations in Chicago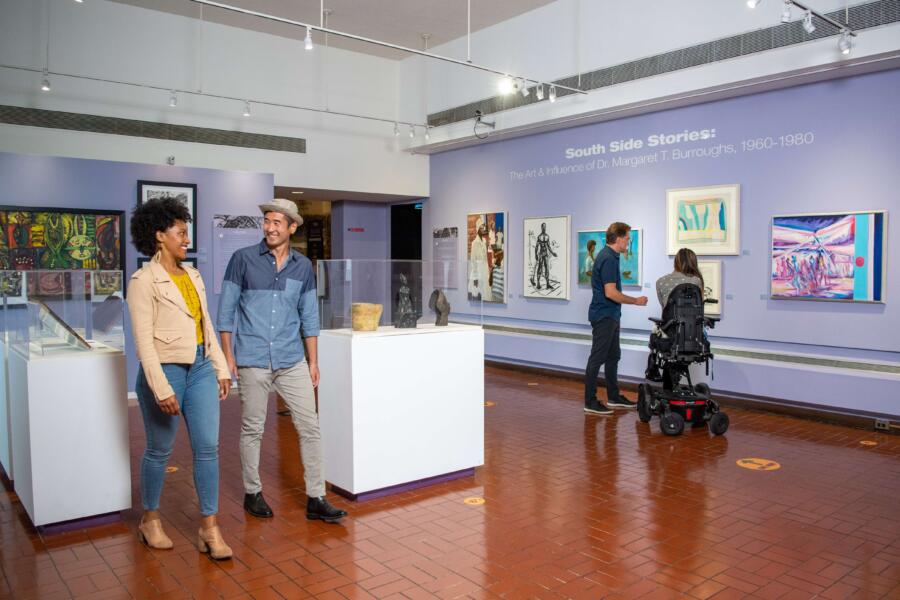 Juneteenth BBQ at DuSable Black History Museum: Enjoy a community barbecue on the historic lawn of the DuSable Black History Museum in a special celebration of Juneteenth and the 50th anniversary of hip hop with a special performance from Kool Moe Dee. A family-friendly event, the barbecue will also feature food vendors, live entertainment, and activities for the kids. 
The Emancipation Ball 2023: Toast to "brilliance and resilience" with Moor's Brewing Company at The Emancipation Ball on June 16 at Rockwell on the River. This year's ball will include passed hors d'oeuvres, an open bar, live band entertainment, a custom cigar rolling station, and so much more for a beautiful celebration of Black entrepreneurship.
Juneteenth Yacht Cruise with Skyline Yacht Cruises: Sail off into the horizon with Skyline Yacht Cruises for their "All White Attire Yacht Cruise" on June 17. With three levels of music, two dance floors, and everyone dressed to impress, this event is sure to be a great way to celebrate Juneteenth weekend. 
Juneteenth Village Fest: Come jam with Angie Stone, Marsha Ambrosius, Talib Kweli, BJ The Chicago Kid, and Kindred and the Family Soul at Juneteenth Village Fest. This free event in Douglass Park provides a space for the community to commemorate Juneteenth with programming that highlights Black culture and the resilience, solidarity, and progress of Black communities.
GoldGrrl Fest: GoldGrrl Fest is a community event and album release party organized by alternative artist, GoldGrrl. This event is billed as a space "where racialized rockers can celebrate Juneteenth as their most authentic selves" and will feature local vendors, live performances, and a "face-melting dance party." GoldGrrl Fest is being held on Saturday, June 17 at Elastic Arts in Logan Square.
Accessible Juneteenth Celebration: Celebrate freedom and inclusion at UIC's second annual Juneteenth on Saturday, June 17 at the UIC Quad at 750 S. Halsted St. The third annual celebration prioritizes accessibility and commemorates Black disabled communities and the work they've done to help create a more free world for Black people everywhere.
Juneteenth markets
Thank You Chicago Juneteenth Market at The Promontory: Shop Black-owned businesses at this year's Thank You Chicago Market – Juneteenth Edition. This pop-up marketplace will be held Monday, June 19 at The Promontory in Hyde Park and will feature various businesses ranging from beauty to fashion to food selling a range of goods and one-of-a-kind clothing and accessories.
Juneteenth Freedom Market – Refine Collective x MCA Chicago: Refine Collective's Juneteenth Freedom Market at the Museum of Contemporary Art highlights Black creativity and entrepreneurship in Chicago with over 50 local Black-owned businesses and creators. This year's festival will also feature a performance by the renowned 40+ Double Dutch Club. Visitors will have an opportunity to learn to jump rope and join in on the fun!
Juneteenth at 360 CHICAGO: Shop a community market of Black-owned businesses at 360 CHICAGO observation deck, located on the 94th floor at 875 N. Michigan. The event will also include the unveiling of a freedom quilt, skyline views, beats from a DJ, and access to TILT and the new CloudBar.
Chicago neighborhood Juneteenth events
Walk South Shore with Sister Outsider: Celebrate the cultural history of South Shore with the inaugural Juneteenth edition walk from Sister Outsider. This walking program promotes the usage of outdoor space to young Black girls, women, and gender nonconforming individuals. Participants are joined by a local fitness creative and a number of community members who serve as docents and share in the neighborhood's history during a conversational walk through South Shore.
Bronzeville's 2023 Juneteenth Celebration: The theme for this year's Juneteenth Celebration in Bronzeville is strengthening the roots that tie us all together. On Saturday, June 17, local historians, visual and performing artists, crafters, and other creatives from all over the Chicagoland area will come together at Absolutely Anything Essential to showcase their talents, share stories, and celebrate Juneteenth's significance and the history of emancipation. 
Hyde Park Juneteenth Fest: Join local dance company The Hawkins House of Horton and The Silver Room in Hyde Park at Harper's Court on Sunday June 18 for Juneteenth Fest. Festivities will feature lots of opportunities to get out and move including performances, dance classes, food, and lots of fun for the entire community. 
The 1865 Juneteenth Fest in Garfield Park: The 1865 Coalition is a collaboration of community organizations members who have come together to host a three-day Juneteenth celebration in Garfield Park. The event will run from June 17 – 19 and will cultural workshops,  live music, food, a Father's Day grill-off, and more.
Uptown's Juneteenth Jubilee: Uptown's third annual Juneteenth Jubilee is a way for neighbors to come together and foster community while participating in a collaborative art project: an Uptown Family Tree. The project invites attendees to recognize their roots by highlighting the importance of our personal histories. There will also be free games, prizes, food, and live entertainment.
Juneteenth Celebration in Austin: Austin residents can look forward to celebrating another Juneteenth at Columbus Park. On Saturday, June 17, attendees will find Black cultural programming, live entertainment, games, food, a senior area, children's activities and bounce houses, and a youth kick-back area at this multi-generational festival.
Juneteenth Celebration in North Center: Open to all, this neighborhood event will feature entertainment, food, and a marketplace with Black-owned vendors selling products and services. There will also be interactive activities including hair braiding, dance lessons, double dutch, horseback riding, and more.
Juneteenth in Englewood: Head to Englewood's Lindblom Park for a day of celebration, love, and unity, featuring free food, activities, and music.