Take a bit of our home to yours with a one-of-a-kind Chicago souvenir. For a truly special memento, check out our eclectic boutiques, specialty shops, and museums stores where you can browse Chicago-themed items and locally made gifts.
Here are a few of our favorite places for the perfect Chicago souvenir.
Chicago museum stores
Chicago's museums are home to some of the world's greatest treasures — and some pretty sweet souvenirs. Here's a guide to gift hunting at some of the city's one-of-a-kind museum stores.
Museum of Contemporary Art
The Museum of Contemporary Art is known for their bold, thought-provoking exhibits — and that vibe extends to the gift shop. The MCA Store is as carefully curated as the museum itself, a sleek space filled with design books, charming kids toys, avant-garde clothing, home decor, plus gifts and objects related to their major exhibits. If you can't make it to the museum, you can shop the collection online.
Art Institute of Chicago
As one of the largest art museums in the country, it's no surprise that the Art Institute of Chicago has not one, but two museum stores — one at its main entrance on Michigan Avenue, and the other in the Modern Wing on East Monroe Street. They're both worth a visit. Shop one-of-a-kind treasures like a silk bow tie featuring the Art Institute's iconic lions, an umbrella adorned with Monet's water lilies, and a near endless selection of artful objects that bring a bit of Chicago home with you.
Field Museum
You'll find gift shops throughout the museum — like the SUE store right next to the T. rex's home in the Evolving Planet gallery or the Rockology store on the lower level — each stocked with unique gifts for every nature and history lover on your list. For the mother load of Field Museum finds, head to the South Entrance on the main floor. You'll find souvenirs inspired by different cultures covered at the museum, like China, Egypt, and more. Browse miniature reproductions of ancient artifacts, locally made jewelry, educational games, and a stuffed version of one of Field Museum's most famous residents, Máximo the Titanosaur.
National Museum of Mexican Art
Located in the heart of Pilsen, home to the city's vibrant Latino community, the museum holds one of the largest collections of Mexican art in the country. It's also home to a wonderfully eclectic gift shop — Tienda Tzintzuntzán, which means Place of the Hummingbird. The store is filled with artwork, jewelry, textiles, and toys sourced directly from Oaxaca, Puebla, and other regions of Mexico.
International Museum of Surgical Science
Explore curious and quirky finds that all relate to the human body at the International Museum of Surgical Science's gift store. It may be tiny, but it's big on wow factor. The shop, part of the only surgical museum in the United States, has a fascinating collection, with everything from glass eyes and monkey skulls to fine art and antique anatomy books.
Chicago candy stores
Chicago was once considered the candy capital of the world, with famous treats like brownies, Lemonhead, and Cracker Jack getting their sweet start here. Check out some of these local sugar stops serving up everything from old-school sweets to high-end treats.
Garrett's Popcorn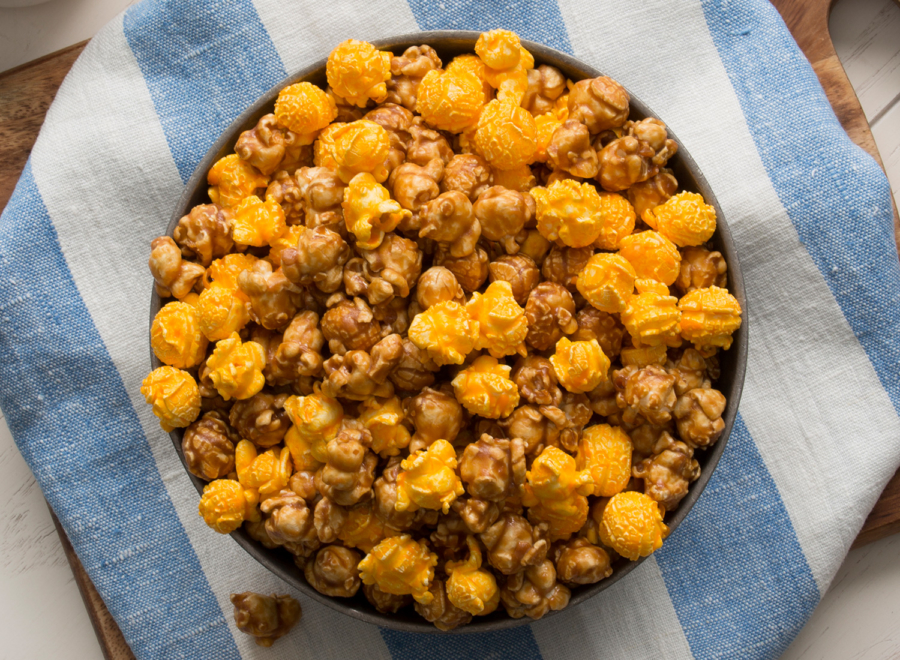 You'll probably smell Garrett's before you see it. The gourmet popcorn shop has been filling Chicago streets with their irresistible buttery scent since 1949. Grab a bag of Garrett Mix®, which blends Garrett's famous CaramelCrisp® and CheeseCorn varieties. The mix was developed in answer to fans' requests for sweet and savory all in one bite. You'll find multiple Garrett's locations throughout Chicago.
Vosges Haut-Chocolat
Treat yourself to Vosges famous truffles made with exotic ingredients like oysters, wild Tuscan fennel pollen, and Hungarian paprika. The luxe chocolate brand uses organic and sustainable ingredients from around the world to craft their creative bars and truffles. Check out their classic purple gift boxes where you can try a bite of everything. You'll find locations on The Magnificent Mile and at O'Hare International Airport.
Frango Mints at Macy's on State Street
Take a sugary bite out of Chicago history with the famed Frango Mint. The addicting combo of smooth milk chocolate and refreshing mint dates back to 1927, when it was the signature chocolate of Marshall Field & Company. Pick up a box while checking out the department store's original flagship location, now the Macy's on State Street.
Katherine Anne Confections
Katherine Anne Confections is well worth the trip to Logan Square. The chocolates and caramels are made with the finest local ingredients, like cream from Illinois cows and wildflower honey instead of corn syrup. Pick out a box of perfect truffles (with flavors like lemon poppyseed and toasted coconut rum) or grab a seat in their charming storefront to sip on decadent hot chocolate topped with homemade marshmallows.
Insider tip: Craving savory over sweet? Pick up a classic Chicago deep dish pizza from Lou Malnati's locations throughout Chicago (many offer frozen or half-baked pies that you can take home). Or stop by The Spice House in Old Town for a boxed set of spice blends inspired by Chicago neighborhoods, like Bronzeville Rib Rub, Old Taylor Street Cheese Sprinkle (named for Little Italy), and Lake Shore Drive Seasoning.
Chicago fashion souvenirs
Dig through vintage treasures, pick up a piece of locally made jewelry, or commission a one-of-a-kind custom piece. You'll find all that and more in our downtown and neighborhoods, where local artisans create and curate a distinctive Chicago-style fashion.
Optimo Hats
Optimo is known for their classic Hollywood-style men's hats made with old-world craftsmanship, right down to the vintage Singer sewing machines used to hand stitch each piece. Don't see exactly what you're looking for? You can get your own custom-designed piece and join the long list of Optimo-wearing celebrities, musicians, and artists.
Andersonville Galleria
This artisanal market is quirky, fun, and quintessentially Chicago. Inside, you can make your way through a labyrinth of galleries overflowing with pieces from over 100 local artisans, including metalsmiths, printmakers, fashion designers, ceramicists, and more. The Galleria is located in charming Andersonville, home to a vibrant mix of locally owned shops. It's a great place to find something special for everyone on your list.
Wolfbait and B-Girls
Wolfbait and B-Girls is a go-to for funky finds that locals love. The women-owned boutique features the wares of more than 250 Chicago-area artisans and locally based fair-trade companies. Stock up on unique clothing, playful accessories, handcrafted treasures, and the owners' own fashion line that's created in-house.
Chicago beers and spirits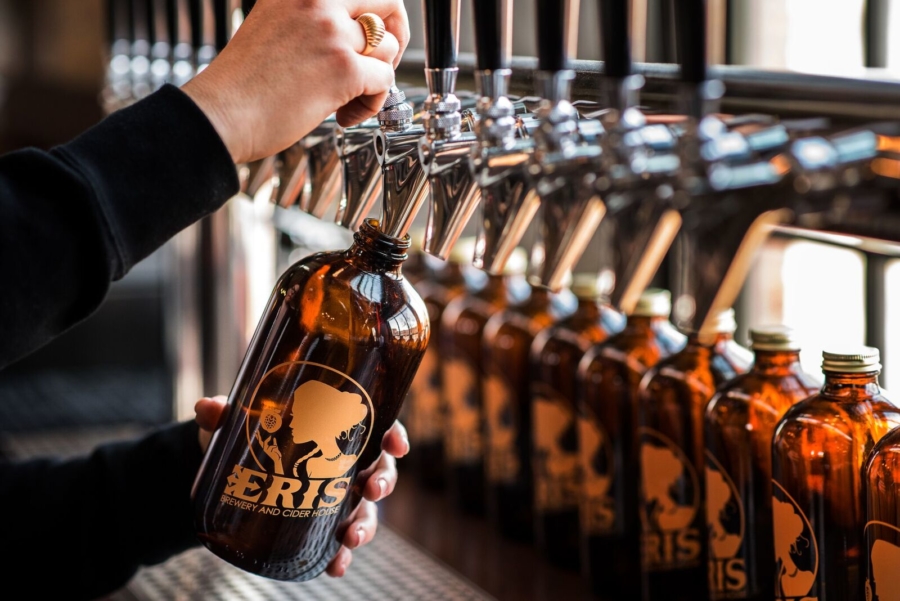 Chicago is a craft beer mecca, with more than 167 breweries in the metro area. Pick up a few brews (and try a few samples) at Revolution Brewing in Logan Square, Whiner Beer Co. in Back of the Yards, ERIS Brewery and Cider House in Irving Park, Dryhop Brewers in Lakeview, Half Acre Beer Co. on Malt Row — and that's just for starters. Find out more about Chicago's breweries.
Or pay a visit to any one of Chicago's distilleries, where you can take a tour, meet the distillers, and pick up a few bottles to bring back home. There's CH Distillery in the West Loop, best known for its vodka; small-batch spirits at Chicago Distilling Company in Logan Square; organic whiskeys, liqueurs, and spirits made from scratch at KOVAL in Ravenswood; and handcrafted fruit brandies and schnapps at Rhine Hall in the West Loop, among many others. Check out more Chicago distilleries.