---
Why we love it
There are so many reasons to love Humboldt Park, from its rich Puerto Rican roots, to its historic namesake park, to the neighborhood's bustling cultural corridor. 
You can feel the residents' pride in their heritage and community everywhere you turn. There is a wide variety of family-owned restaurants serving traditional dishes, colorful murals created by local artists, and a seemingly endless parade of vibrant cultural events that draw thousands of visitors each year.
Explore like a local
Paddle through a sprawling lagoon on a vintage-inspired swan paddle boat at

Humboldt Park Boathouse

. 

Dig into a jibarito, a plantain-based dish that was invented in Humboldt Park. You can find jibaritos all over the neighborhood — don't miss the versions at

La Bruquena

and

Papa'sCache Sabroso

.

Absorb a local perspective with

Paseo Boricua Tour Company

, where a lifelong neighborhood resident will guide you through the area's unique cultural and commercial corridor. 
Insider tips
Explore Division Street: You'll know you're in Humboldt Park when you pass under one of the monumental Puerto Rican flags that serve as gateways into the neighborhood. These flags mark the boundaries of the Paseo Boricua, an area that has transformed over several generations into the cultural heart of Chicago's Puerto Rican community. 
This stretch of Division Street is lined with one-of-a-kind street art projects, bustling coffee shops, casual Puerto Rican cafes, and more. Don't miss the Mercado Del Pueblo, a rotating marketplace of local artisans, and La Casita de Don Pedro, which includes a public gallery, garden, and performance space.
Attend a cultural festival: The Humboldt Park community honors its heritage with a ton of annual events. The Puerto Rican Parade in June draws more than a million people each year, making it one of the highest-attended Latino celebrations in the country. Or check out Fiesta Boricua in August, an annual block party that honors the community's cultural identity.
Explore the historic park grounds: Throughout the year, you can visit the National Museum of Puerto Rican Arts and Culture, which celebrates Puerto Rico's rich arts tradition with three galleries, performance spaces, arts classrooms, and more. The museum is housed in the landmark Humboldt Park stables, the park's oldest surviving building, which was built in 1895 to hold horses and landscape equipment.
The museum is just one of many picturesque spots in Humboldt Park, one of Chicago's earliest public green spaces. Wander around tranquil lagoons, dip your toes in the water at Humboldt Beach, and then stop by the historic boat house where you can snap gorgeous photos, watch ducks paddle by, and admire sweeping views of the lush park.
Chicago Greeter: free guided tours
Taste, shop and explore the neighborhoods with a friendly local as your guide. Explore rich histories, diverse cultural traditions and hidden treasures. See sides of the city you may not have adventured out to on your own, and take away a truly authentic Chicago experience. Greeter visits are customized based on your choice of neighborhoods, language and interests.
Request a tour with a Chicago Greeter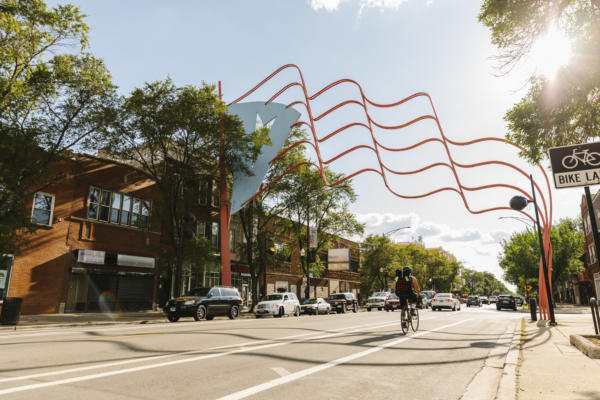 This walking tour explores the area's Puerto Rican heritage, colorful public art, and lush green space.