When in Chicago, meeting attendees don't have to watch glorious summer months pass them by from a conference room window. They can experience them firsthand in Chicago's fabulous outdoor event spaces. Plan your next event on an urban terrace, an awe-inspiring rooftop or a boat cruising the scenic Chicago River.
Adler Planetarium: North and Sundial Terraces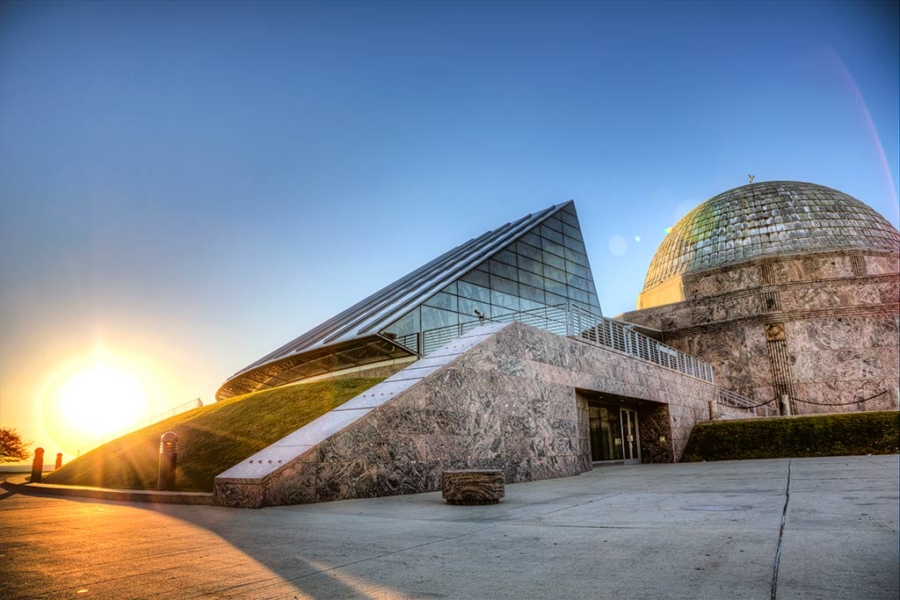 Two terraces provide unparalleled views of the Chicago skyline from Adler Planetarium — the largest planetarium in the Western Hemisphere. Telescopes on the terrace allow guests to zoom in on the city's world-famous architecture while special solar telescopes give guests a safe glimpse at the sun. During the evenings, the serenely lit city sparkles across Lake Michigan. Submit an inquiry form. 1300 S. Lake Shore Drive
Chicago History Museum: Uihlein Plaza 
Give your guests an event that is distinctly Chicago at the Chicago History Museum, the city's oldest cultural institution. Set among the gardens of Lincoln Park, Uihlein Plaza is both picturesque and elegant. The 15,000-square-foot plaza can be open or tented, and because it is accessible from the museum's Chicago Room, your attendees can move seamlessly from outdoors to indoors. Submit an inquiry form. 1601 N. Clark St.
Hotel Lincoln: The J. Parker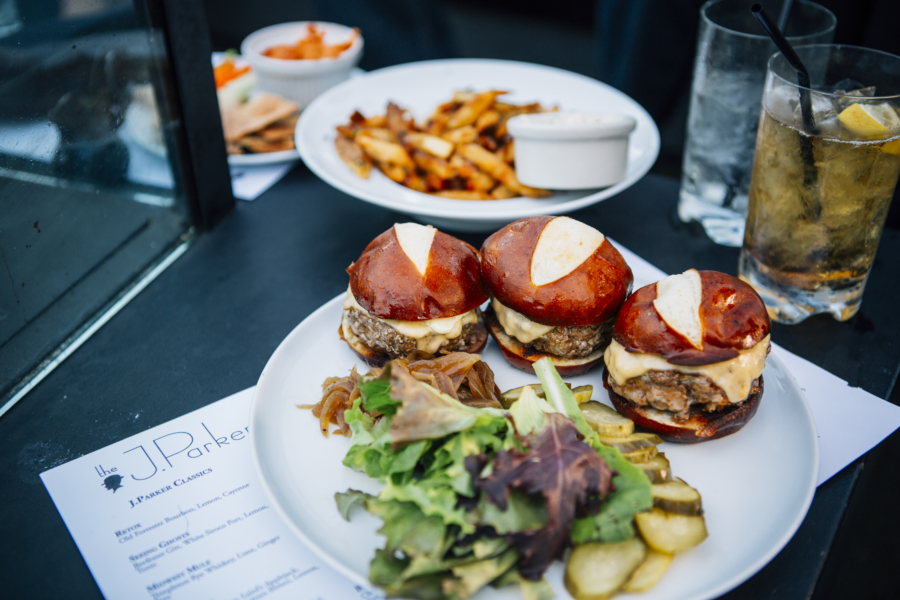 Hotel Lincoln features The J. Parker, dramatic rooftop bar/lounge/salumeria by Michelin-star chef Paul Virant and BOKA Restaurant Group, perched 12 stories high with sweeping, 360-degree views, ranging from the silver skyscrapers of downtown to the green treetops of Lincoln Park. Submit an inquiry form. 1816 N. Clark St. 
Shedd Aquarium: Lakefront Terrace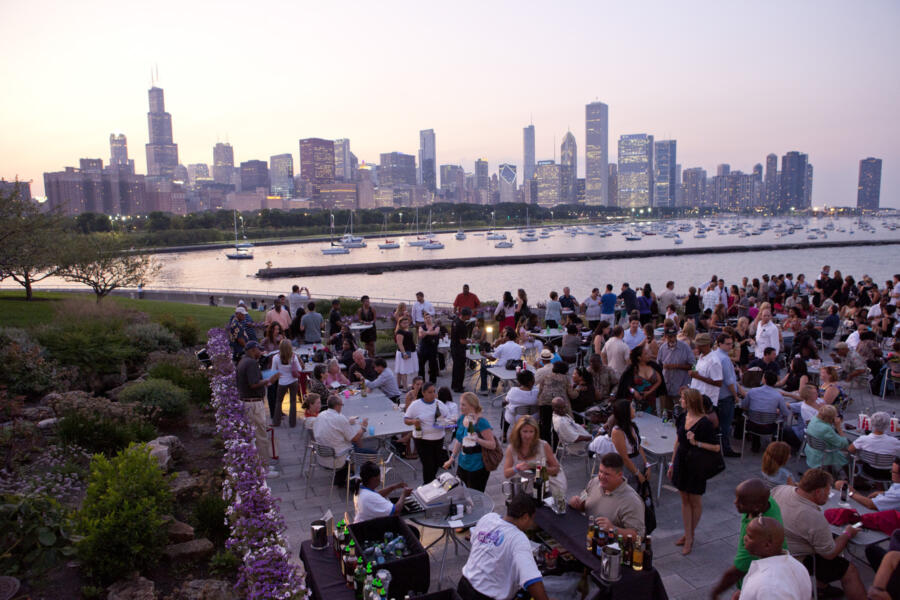 If you're planning an outdoor event that takes place May through October, consider hosting it at the Shedd Aquarium's Lakefront Terrace. It combines stunning views of the lakefront and skyline, with a gentle waterfall and wildflower garden. Plus, on Wednesdays (at 9:30 p.m.) and Saturdays (at 10:15 p.m.) through Labor Day, your guests will get to enjoy the sight of fireworks bursting over Navy Pier. See corporate events details or submit an inquiry form. 200 S. Lake Shore Drive
NoMI Garden at Park Hyatt Chicago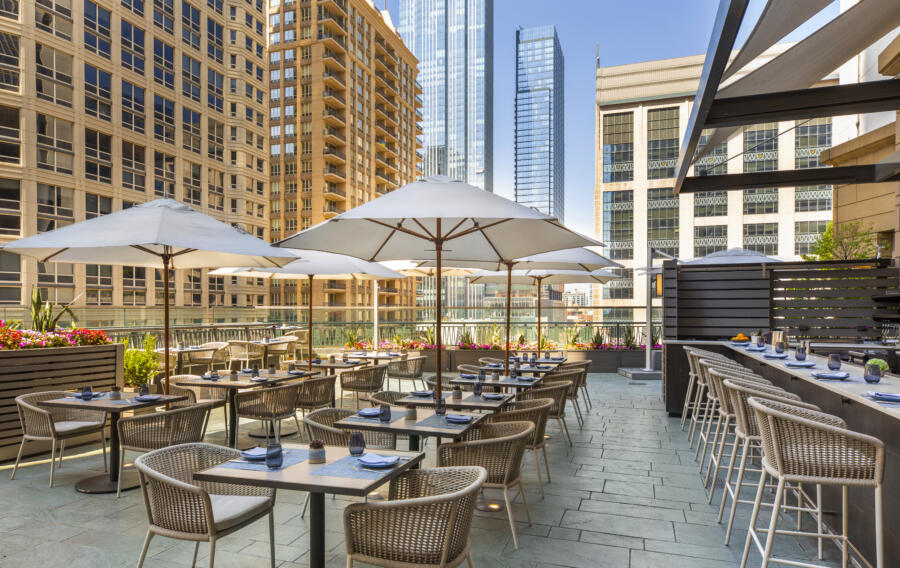 NoMI Kitchen's secluded seventh-floor rooftop, the NoMI Garden, is a scenic sanctuary for your next event. This seasonal bar and lounge offers customizable alfresco spaces for groups from 10 to 120. It's the perfect setting for summertime dinners, cocktail parties, and receptions. Email nomi.chiph@hyatt.com for more information. 800 N. Michigan Ave. 
Chicago's First Lady Cruises
For events ranging from six to 300, Chicago's First Lady features a fine fleet of yachts ready to set sail with your private party. The larger luxury vessels have open-air upper decks so your groups can gather under the sun or stars, while the smaller Lady Grebe preserves the vintage style with intimate exterior desk space on one level. Submit an inquiry form.112 E. Wacker Dr.
Shoreline Sightseeing Cruises
Founded in 1939, Shoreline Sightseeing is the city's largest tour boat fleet. What began with one vessel offering tours and private charters has evolved into a fleet of 21 boats, including nine touring vessels and 12 water taxis. For private events, Shoreline has commissioned two beautiful boats: the Celebration (an open-air boat with a climate-controlled lower deck) and the Evening Star (a spacious vessel with a flexible floor plan). Submit an inquiry form. 600 E. Grand Ave. (Navy Pier)
Wendella Tours & Cruises
In addition to their popular lake and river tours, Wendella also has accessible private charters for your special event, whether you'd like to plan anything from a corporate outing to a cocktail reception to a private architecture tour. Each vessel features a flexible floor plan to accommodate any event specifications. Submit an inquiry form. 400 N. Michigan Ave.
Free Spirit Yacht Cruises
With two luxuriously comfortable yachts — one for meetings and smaller parties, and one for larger groups — Free Spirit Yacht Cruisescovers a wide range of needs from April through October. The larger vessel, the Free Spirit, cruises Lake Michigan and features everything from climate-controlled cabins to an on-board television. The smaller vessel, the Gypsy Spirit, cruises the Chicago River in addition to Lake Michigan, and features soft leather sofas, a salon, gallery and deck lounge area. Submit an inquiry form. Burnham Harbor, east of Soldier Field