Update: Chicago bars, clubs, theaters, and performance venues are temporarily closed for indoor seating. Check back for updates.
Looking to get your live event fix? Chicago concerts and comedy are making a comeback. Many of the city's most famed venues are opening back up, with new distancing measures and smaller crowd sizes. The city's reopening plan allows for performance venues to operate at limited capacity, so make sure to snag your tickets early. And don't forget to bring your mask — all patrons must wear face coverings to enter and move about the venue.
Check out where to catch live music, comedy, drag shows, theatre, and more in Chicago.
Live music in Chicago
Lakeshore Drive-In: Catch outdoor concerts with a skyline view at this new open-air venue. Located just outside the Adler Planetarium, the drive-in will offer a diverse line-up of local and national music and comedy for up to 200 cars. Tickets are on sale now.
The Wild Hare: Enjoy dinner with a side of live music at The Wild Hare & Singing Armadillo Frog Sanctuary . This Lincoln Park spot features a revamped Caribbean menu, live reggae music, and a new socially distant setup.
Kaiser Tiger: In the West Loop, this popular beer garden hangout is offering live blues music every Thursday. There's no cover, but they recommend making a reservation online to save your outdoor seat.
CELESTE & DISCO: These River North venues are launching a Summer Music Series beginning Saturday, Aug. 8. The weekend shows will features DJs from around the world and an exclusive concert experience. Tickets are on sale now and include a three-hour open bar and seasonal bites in a private lounge.
Carol's Pub: Enjoy a burger, beer, and some live music at Carol's Pub in Uptown. The friendly dive bar has a full lineup of country and western music all summer long.
City Winery: Live music is returning to City Winery. The West Loop spot hosting a new series of outdoor patio concerts on Wednesday nights. Get your tickets here.
Tortoise Supper Club: Live jazz is back at Tortoise Supper Club. The River North establishment will feature live music in their elegant dining room on Saturday evenings from 8 to 11 p.m.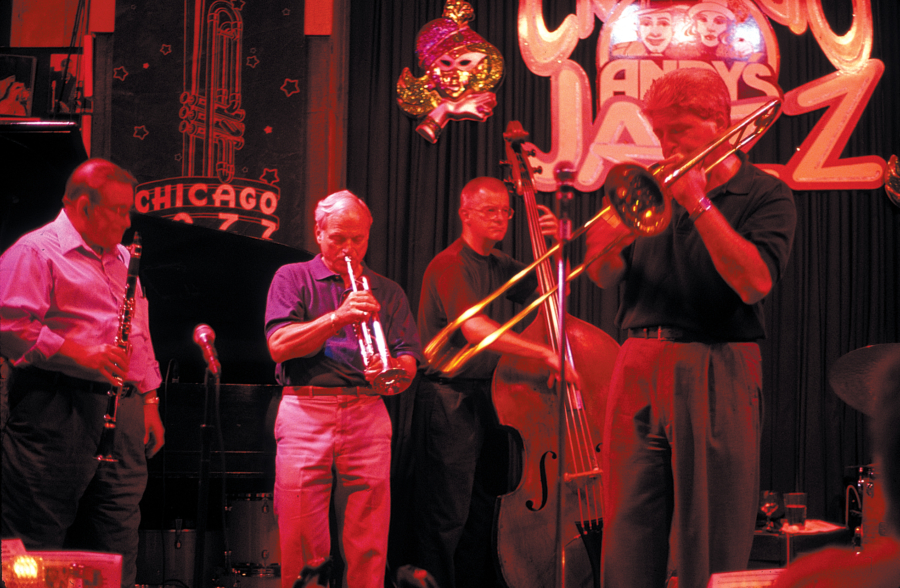 Andy's Jazz Club: The respected jazz institution in River North will be open Wednesday through Sunday for two shows a night. Shows begin at 7 p.m. and 9 p.m., make your reservations beforehand.
Schubas: While you won't find any bands at Schubas yet, you can still enjoy live music. The classic spot will be streaming live shows from their sister venue Lincoln Hall. They've also got limited seating, open windows, and plenty of food and beer.
Rosa's Lounge: Rosa's, billed as Chicago's friendliest blues lounge, is currently broadcasting live shows for remote viewing at home.
Reggie's: In the South Loop, Reggie's is introducing new acoustic entertainment on their covered rooftop bar. Stop by on select Fridays and Saturdays to catch a live show.
CHI-Together at Soldier Field: This new outdoor venue promises nightly entertainment. Each evening features live entertainment from local DJs and musicians, followed by a classic movie like Breakfast Club or Mission Impossible. Tickets ($55 for up to 6 people, plus a bucket of popcorn) are on sale now.
Jazz Showcase: This classic spot in the South Loop, known for showcasing both local and national acts, is open for weekend sets with shows Thursday through Saturday. Reservations are required.
Constellation: This progressive space on the northwest side is open for remote and in-person music. Check their calendar for details.
Live comedy, drag shows, and more
Zanies: Grab your mask and get ready to laugh. This classic comedy club has reopened their doors in the heart of Old Town. The schedule includes a full line-up of local and national comedians, plus free admission for Chicago residents on Aug. 4 and 11. Temperature checks and face coverings are mandatory for all guests.
Laugh Factory: In Lakeview, the Laugh Factory has returned with their legendary comedy shows. The upcoming schedule includes weekend packed with local and touring comedians. Catch their Chicago's Best Stand Up show or see insult comic Colin Kane live on Sept. 24. Get your tickets today.
Kit Kat Lounge: The Kit Kat Lounge's famous drag divas are back in action. The Northalsted (also known as Boystown) hot spot is open for limited indoor dining from Tuesday through Sunday. Don't miss the Divalicious Brunch on weekends, featuring Madam X and her dazzling costumes.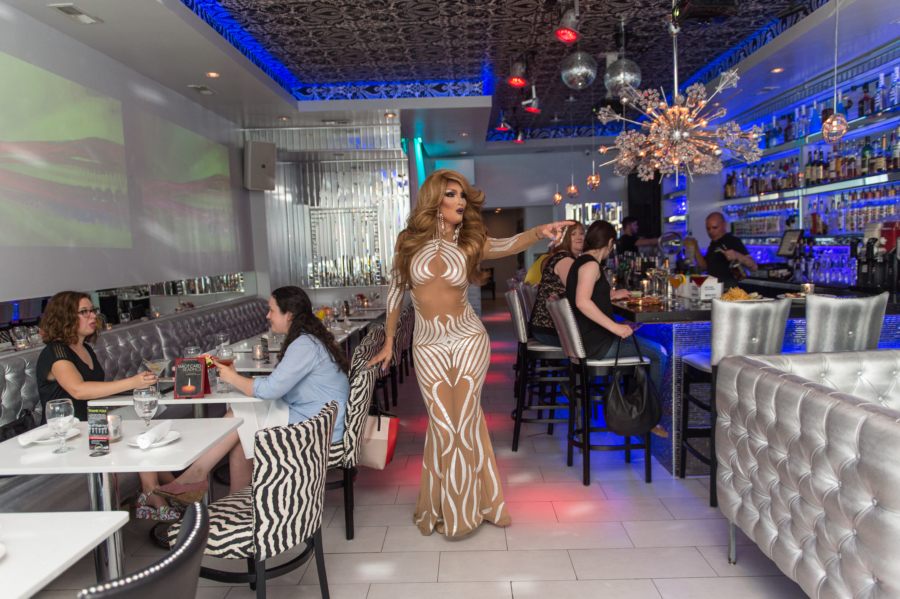 Baton Show Lounge: This famous cabaret in Uptown is taking the show outside. Grab a drink on the patio and you'll be visited by a top-notch cast of drag performers. The mini outdoor performances even include professional lighting and glamorous costumes. Plus, patrons can enjoy an while you enjoy the al-new food menu. Shows begin at 6 p.m. on weeknights and 2 p.m. on weekends.
Lips Drag Dining: Meet all the fabulous divas of Lips when the drag dining experience reopens on Sept. 24. The ladies, who wear ultra-glamorous face masks, will embody top celebrities from Cher to Taylor Swift to Nicki Minaj and more for opening night. The schedule changes throughout the week, with events like Las Vegas showgirls and gospel drag brunch.
Chicago Children's Theatre: If you're looking for some live entertainment, the Chicago Children's Theatre will be presenting a special drive-in theatre event this October. Based on classic stories by Beatrix Potter, the high-quality puppet performances will be projected onto a giant screen in their West Loop parking lot. Tickets are on sale now and must be purchased in advance.
Midnight Circus in the Parks: This late-night spectacle has launched their Open Air Tour, visiting several Chicago parks through October. The circus includes an eclectic ensemble of artists and performers who have been staging free shows in local parks for 13 years. Check the schedule and reserve your free tickets online.