Planning one last fling before the ring? Chicago is the perfect spot for a getaway with your Bachelorette crew. That's because there's a little something for everyone, whether the bride wants to bliss out at a spa, have a low-key beach weekend, sip exotic cocktails, or dance 'til dawn.
Here are some of the best places for a Chicago bachelorette party or girls' weekend:
Treat yourself at a spa
What better way to prep for the big day than celebrate with a bit of pre-wedding pampering? Chicago is home to a variety of relaxing and rejuvenating spas that include everything from mani-pedi combos to luxurious massages, brightening facials, and even ancient bath rituals.
In Lincoln Park, the Kohler Waters Spais known for nourishing rituals and services, with a special focus on hydrotherapy treatments. What bride-to-be wouldn't love a signature lavender rain treatment? 
For something extra special, head to The Peninsula Sparight off The Magnificent Mile inside The Peninsula Chicago. In addition to luxury spa treatments, spa guests have access to the sun terrace, pool, and fitness centre as well as the spa's relaxation lounge and yoga room. 
You can't go wrong with theCowshed Spa at Soho House. Located in the heart of the West Loop, Cowshed Spa offers an intimate, natural space for full-body massages, scrubs and facials, waxing and nail treatments. And it's the perfect location for those looking to grab a bite to eat or a few drinks afterward.
If the bride is open to something totally unique, it's hard to resist the AIRE Ancient Bathsin River West. Surrounded by exposed brick and wooden beams, you can float your wedding planning stress away in various services, including massages, thermal baths and even a specialty wine bath experience.
Get out on the water
When the weather warms up, many Chicagoans would agree that there's no better way to explore the city than by boat, whether that's Lake Michigan or the Chicago River. If your bachelorette crew is down to get out on the water, Chicago has plenty of options. 
Island Party Boat, with locations along the Chicago Riverwalk or Monroe Harbor, opens for the season in April. Whether you're looking for tiki-themed party boats or smaller pontoon boats fit with a waterslide, there are plenty of party-ready options. 
For brides looking for a unique spin, the Chicago Electric Boat Company (opens in April) is home to the city's first ever BYOB cycleboat. With eight cycling stations on each side, there's plenty of room to be had and sights to be seen as you pedal your way across the river. 
If the Bachelorette crew is down to get active while also enjoying soaring views of the city, there's no better way to explore than by kayak. Urban Kayaks reopens for the season in May and offers both Riverwalk and lakefront locations. Single and tandem kayaks are available and perfect for peddling as a group and enjoying the city's finest architecture. 
Have drinks with a view
There's no better place to sip cocktails than a rooftop bar with a view. Grab a table at Cindy's Rooftop, which boasts an Insta-famous view of Millennium Park and Lake Michigan, after they reopen from a long hiatus on April 1.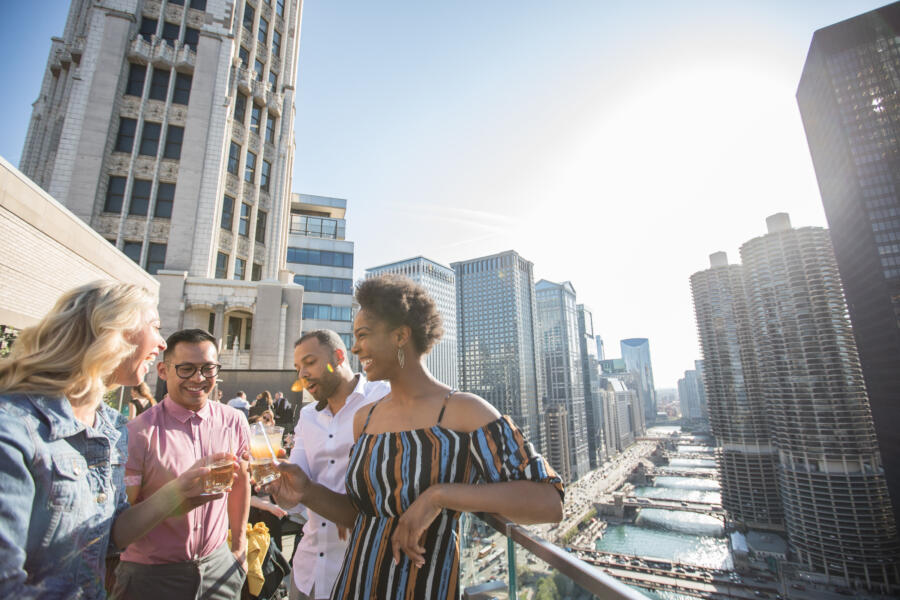 VU Rooftop offers a rare view of the Chicago skyline from the South Loop. The sleek space, located 22 stories in the air, is filled with cozy nooks, fire pits, and comfy seating to kick back and enjoy a cocktail (or two).
LH Rooftop is Chicago's only tri-level rooftop venue. Situated atop the LondonHouse Chicago, guests can dine on creative American cuisine and cocktails indoors or out while enjoying unique views up and down the Chicago River.
ROOF on theWit is the lively rooftop lounge on the 27th floor of theWit hotel, with a modern design, glittering city views, and nightclub atmosphere. It's no wonder Travel + Leisure named it one of the top three rooftop bars in the world.
Explore our roundup of Chicago rooftop bars and restaurants for more.
Hit the beach
There's not many places you can get all the amenities of an urban city, plus 26 miles of sparkling waterfront. Our lakefront includes 24 free beaches, each with a unique vibe and view. If you're looking for a party, hit the sands of North Avenue beach. You'll find sunbathers, volleyball courts, kayak and jet ski rentals, plus a killer skyline view.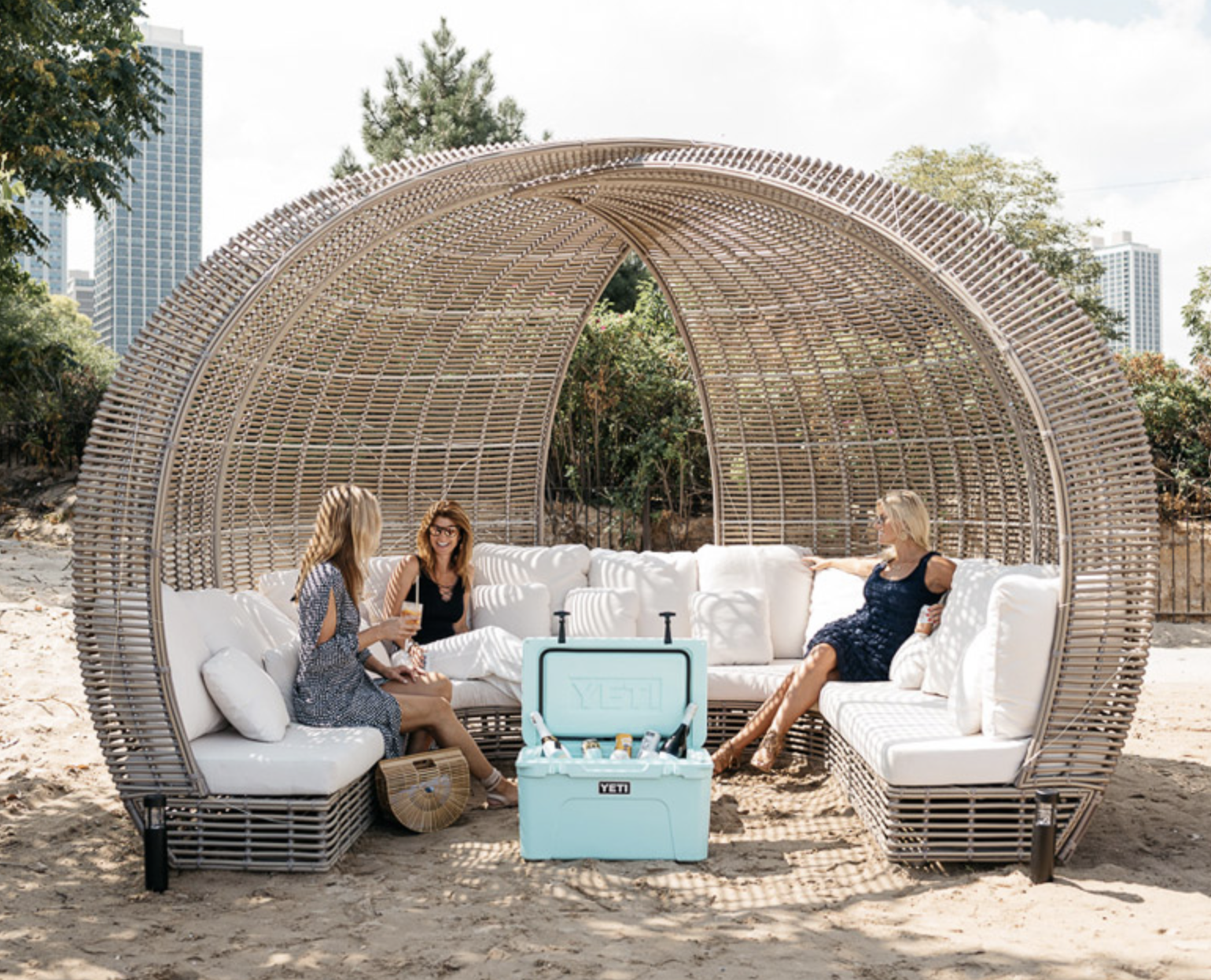 For sustenance, hit up Castaways. The giant beachside bar and grill offers appetizers, salads, sandwiches and plenty of frozen drinks on their top deck. Or head to the swanky Shore Club, where you can feel like a VIP with your own cabana or daybed. They've even got high-end bubbly and bottle service if your bride wants to go all out.
Love water sports? 31st Street Beach (also called Margaret T. Burroughs Beach) is the place to be. Head to the 31st Street Harbor to find Chicago Water Sports Rentals, where you can rent jet skis, pontoon boats, kayaks, and paddleboards.
Explore our Chicago beach guide for more fun in the sun. And check out some of the city's waterfront restaurants.
Make memorable dinner plans
There's no shortage of great restaurants in Chicago, especially for a special night on the town celebrating the bride-to-be. Whether you're looking to splurge on an upscale experience or keep it fun and casual, there are a variety of hot spots worth checking out for your bachelorette-filled weekend.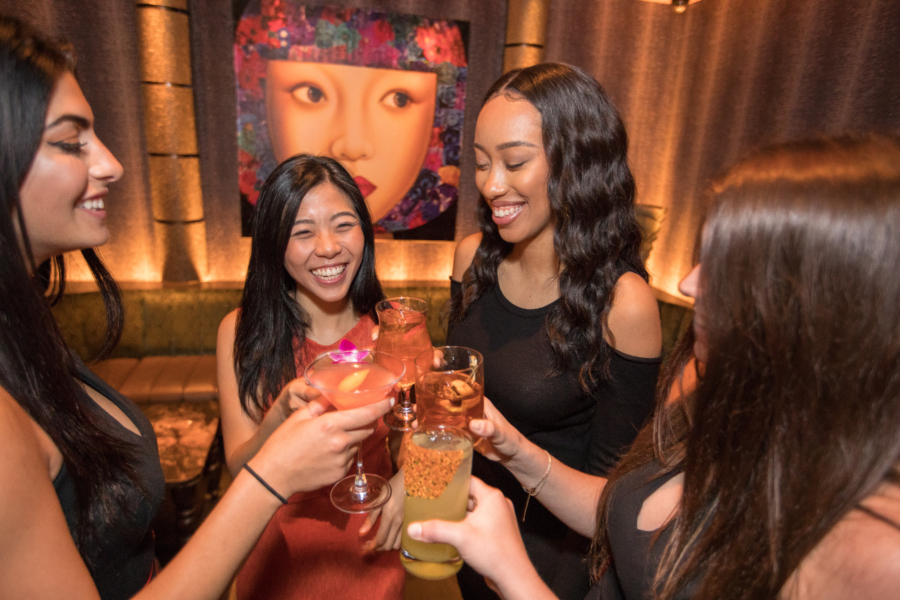 For those looking to dance the night away after dining and drinking, you'll want to check out TAO in River North. The two-story space features both a restaurant and nightclub, pulling Chinese-decor inspiration and cuisine from its popular mainstay in New York. Plus, you never know, you might bump elbows with a local celebrity or two. 
The Hampton Social, with locations in Streeterville and River North, transports you straight to the water, with coastal vibes, playful decor and endless amounts of rosé. It's hard not to have fun while noshing on lobster rolls, shrimp tacos, and avocado corn pizza.
If shared plates and greenhouse vibes are your thing, check out Aba in the West Loop. Their rooftop patio is in the heart of the Fulton Market District, making it a perfect spot to people watch and enjoy delicious, Mediterranean-inspired food. Standout dishes include the short rib hummus, whipped feta spread, green falafel, and more. 
For dinner and drinks with waterfront views, head to Pizzeria Portofino in River North. Sitting directly on the edge of the Chicago River, it's hard not to be transported to the Italian riviera with their sun-drenched patio, expansive wine list, and beautiful decor. Their Italian-inspired menu of appetizers, eight different pizzas, and five pastas are all perfect for sharing. 
Hyde Park is quickly becoming one of Chicago's hottest neighborhoods, thanks in part to the Sophy Hotel and their new restaurant, Mesler Kitchen. Grab the crew and cozy up in their sanctuary outdoor space which includes an outdoor fire pit and cozy igloos. You can't go wrong with either brunch, lunch or dinner, just be sure to grab a cocktail (or two) as you enjoy.
In West Town, Beatnik is a true bohemian escape, and is a must visit for exotic cocktails, unique architecture and design, and of course, delicious cuisine. The menu pulls inspiration from Spain, South America, and Asia and includes dishes like pistachio tzatziki, green curry meatball "pozole", brussels sprouts with smoked romesco, and more.
Ina Mae Tavern in Wicker Park is one hotspot that will make you feel as though you're dining in the French Quarter in New Orleans. Popular dishes range from seafood towers, to po'boys, fried chicken, shrimp, catfish and more. Grab the crew and settle in for a feast, and don't forget to wash it all down with a hurricane and Sazerac. 
Looking for more? Check out our guide to outdoor dining for Chicago restaurants with great patios.
Try something new
If you're looking to surprise the bride-to-be and her besties with a new kind of bachelorette experience, Chicago has lots of fun ideas to choose from.
To unleash your artistic side, check out Spray Paint n Sip with Native312, a BYOB, interactive art experience with spray paint. You'll be able to create your very own masterpiece, while sipping on your favorite beverage of choice.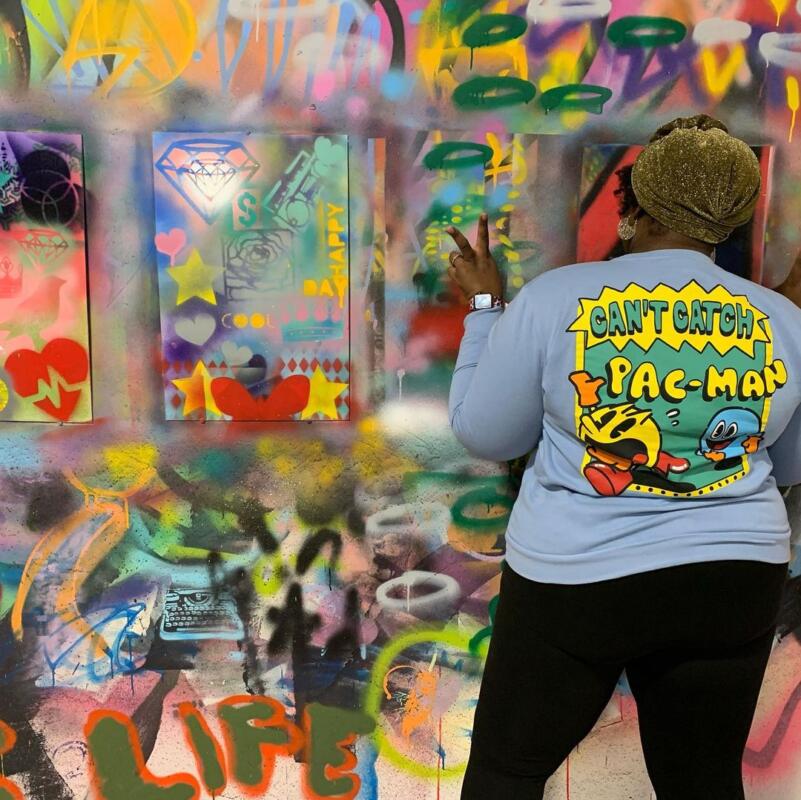 Who doesn't love donuts? Chicago is home to endless amounts of incredible donuts and with the Underground Donut Tour, you and your friends can try the best of the best. There are two Chicago tours to choose from: Wicker Park and downtown. You'll get to explore two exciting neighborhoods, while also trying some of the city's best sweet treats. 
If your bride is a craft beer fan, then you won't want to miss the Chicago Beer Experience which offers virtual tastings that showcase some of the city's tastiest brews, while also learning a bit about Chicago's history. Private group tours are available, and different options are included if you want to arrange different styles of beer to try and taste throughout the tour. 
And if your group is more into wine, The Hubbard Innin River North offers private wine tastings that include twelve tastings of a variety of red, white and rosé wines from California, New Zealand, Italy, Oregon, and more.
Root for the home team
Chicago's iconic baseball teams are back in action, with limited capacities and new safety measures. Starting in April, fans flock to the north and south sides to cheer on their team at Chicago's two MLB parks.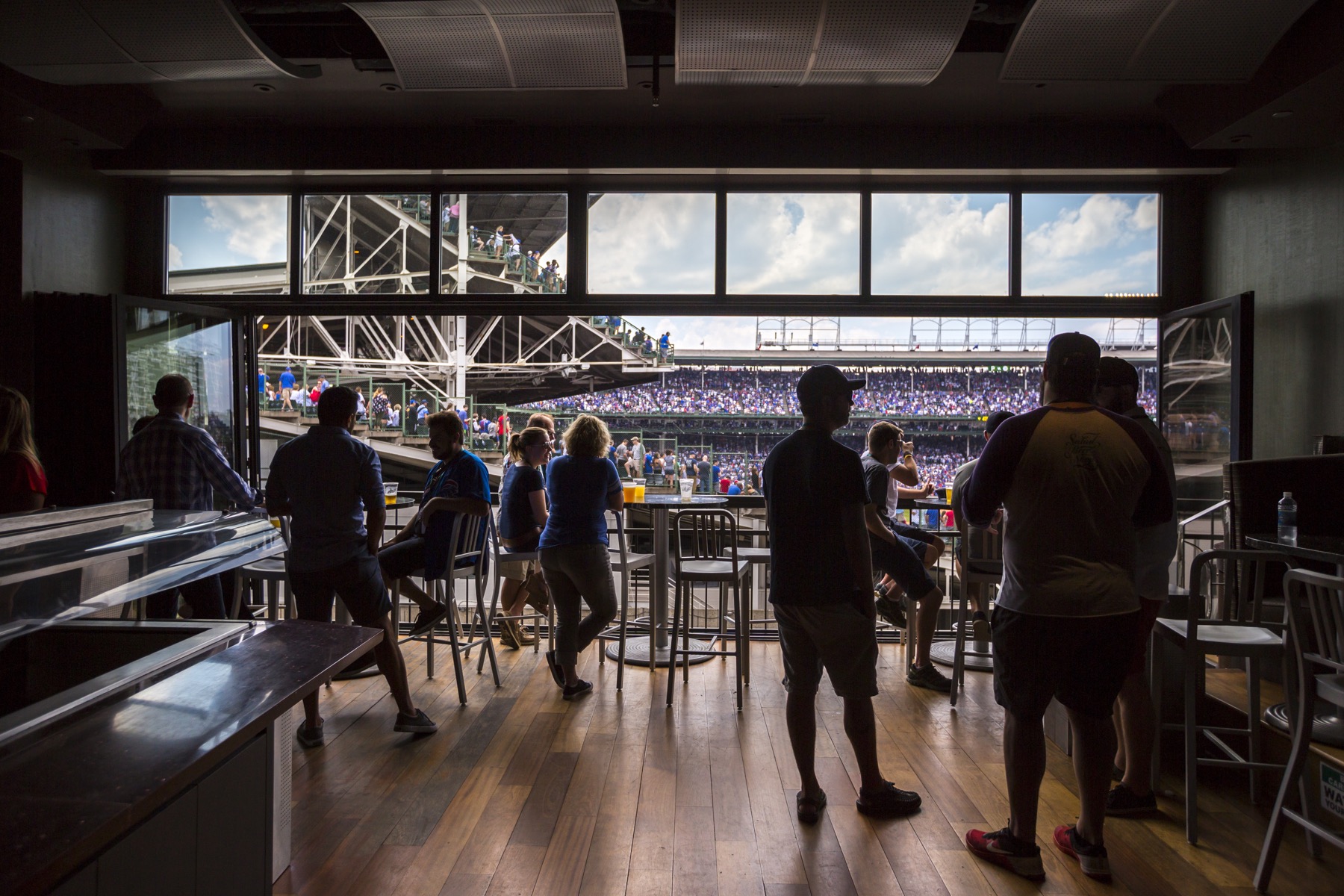 The Chicago Cubs call the north side home, with their historic stadium that has spawned at entire neighborhood. Wrigleyville is a party year round, but it really comes to life during baseball season. Grab some drinks at one of the many sports bars surrounding the park before heading to the game. Or cheer from the Wrigley Rooftops, a series of residential buildings outfitted with rooftop bleachers so you can watch the game from above. Plus, your price of admission typically includes unlimited food and drink.
On the south side, the White Sox reign. Guaranteed Rate Field is blessed with the one thing Wrigley doesn't have — tons of parking. And with giant lots comes plenty of room to tailgate. Pull up in a spot or just hop through the rows clustered with grills, coolers, and ongoing bags tournaments. If you can, get tickets in the Fan Deck, a laid-back area where you can watch the game with an all-inclusive buffet and your own bartender.
Be outdoors-y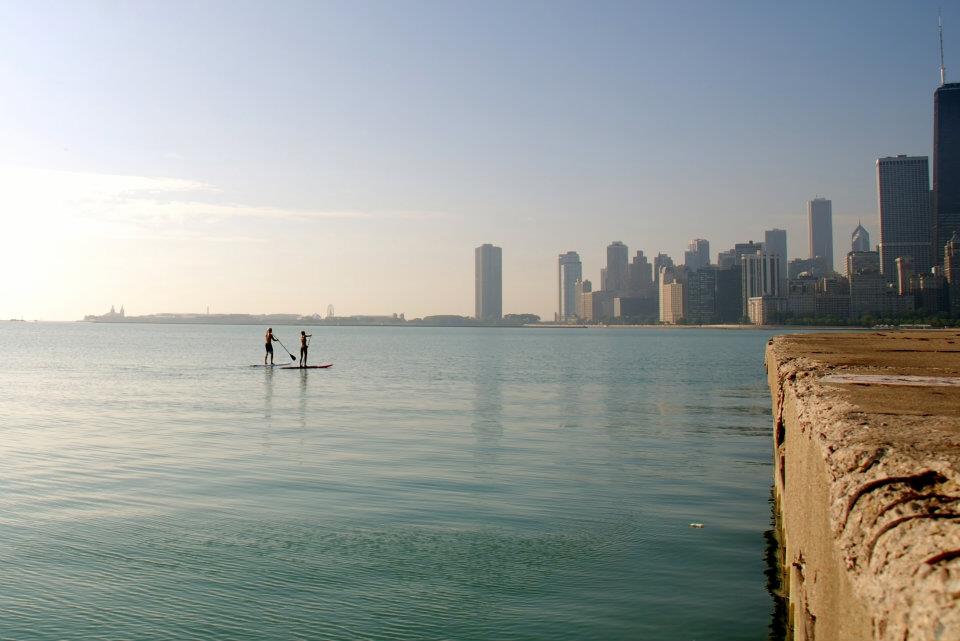 If your bride is an adventure seeker, Chicago has plenty of ways to get her adrenaline fix. Maggie Daley Park, which neighbors downtown Millennium Park, offers a lakeside climbing wall that soars 40 feet in the air. The park is encircled by an all-seasons skating ribbon — roller skate or scooter in the summer and ice skate in winter.
Want to get on the water? Rent a kayak and paddle down the Chicago river, surrounded by soaring skyscrapers and some of the city's most iconic architecture. There's also kayak, paddle board and jet ski rentals available on the lake, all a great excuse to snap a photo with the city's gorgeous skyline.
Or grab a bike from one of Chicago's 570 bike share stations and ride along the Lakefront Trail. On the west side, The 606 is an elevated trail that runs above some of the city's most eclectic neighborhoods. Your crew can take a leisurely ride to tour Chicago's west side, with plenty of stops at the popular bars and restaurants along the route.