The Millennium Park Campus is the heart of Chicago. Locals and visitors alike gather here to picnic in the grass, cool off in the fountain, catch free concerts and movie screenings, and so much more all throughout the year.
There's a near-endless list of things to see and do here, and there's something for everyone — nature lovers, art and architecture aficionados, kids and families, music buffs, fitness fiends, and more. We've narrowed it down to just 10 of the can't-miss things to do at Chicago's Millennium Park Campus.
1. Splash around in Crown Fountain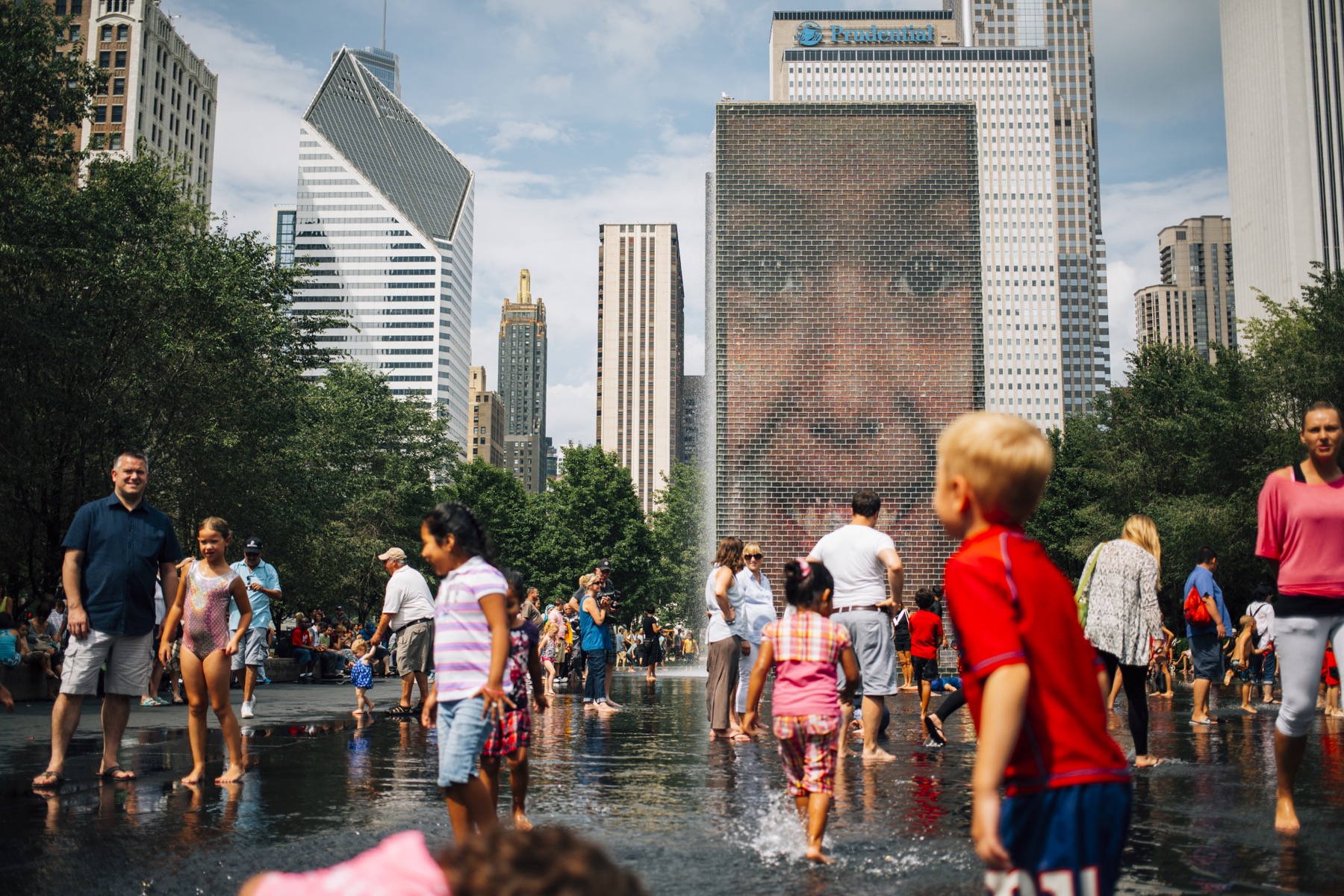 The first time I saw Crown Fountain I was equal parts entertained and blown away. This whimsical example of public art/video sculpture brilliance was designed by Catalan artist Jaume Plensa and executed by Krueck and Sexton Architects, making its debut in July 2004. The interactive fountain is composed of a black granite reflecting pool positioned between a pair of 50-foot (15.2 meter) glass brick towers that use light-emitting diodes (LEDs) to display digital videos. From May through October, the faces of Chicago locals spout water from their pouting lips, showering paddlers with cooling spray.
2. Take a selfie with The Bean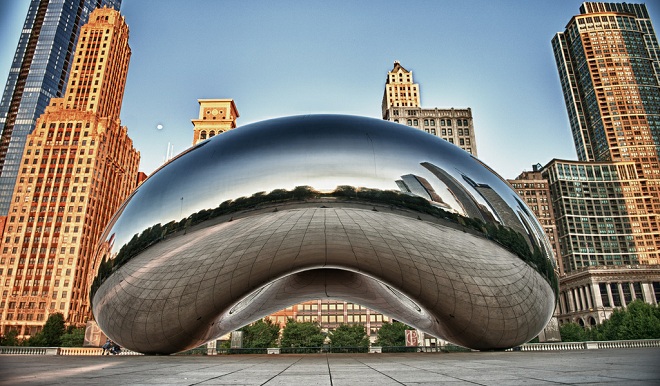 It's hard not to fall in love with Cloud Gate, aka "The Bean."Forming a glistening archway into Millennium Park, visitors stroll under the monumental structure and gaze inquisitively upon their distorted reflections. No wonder it's #1 for selfies!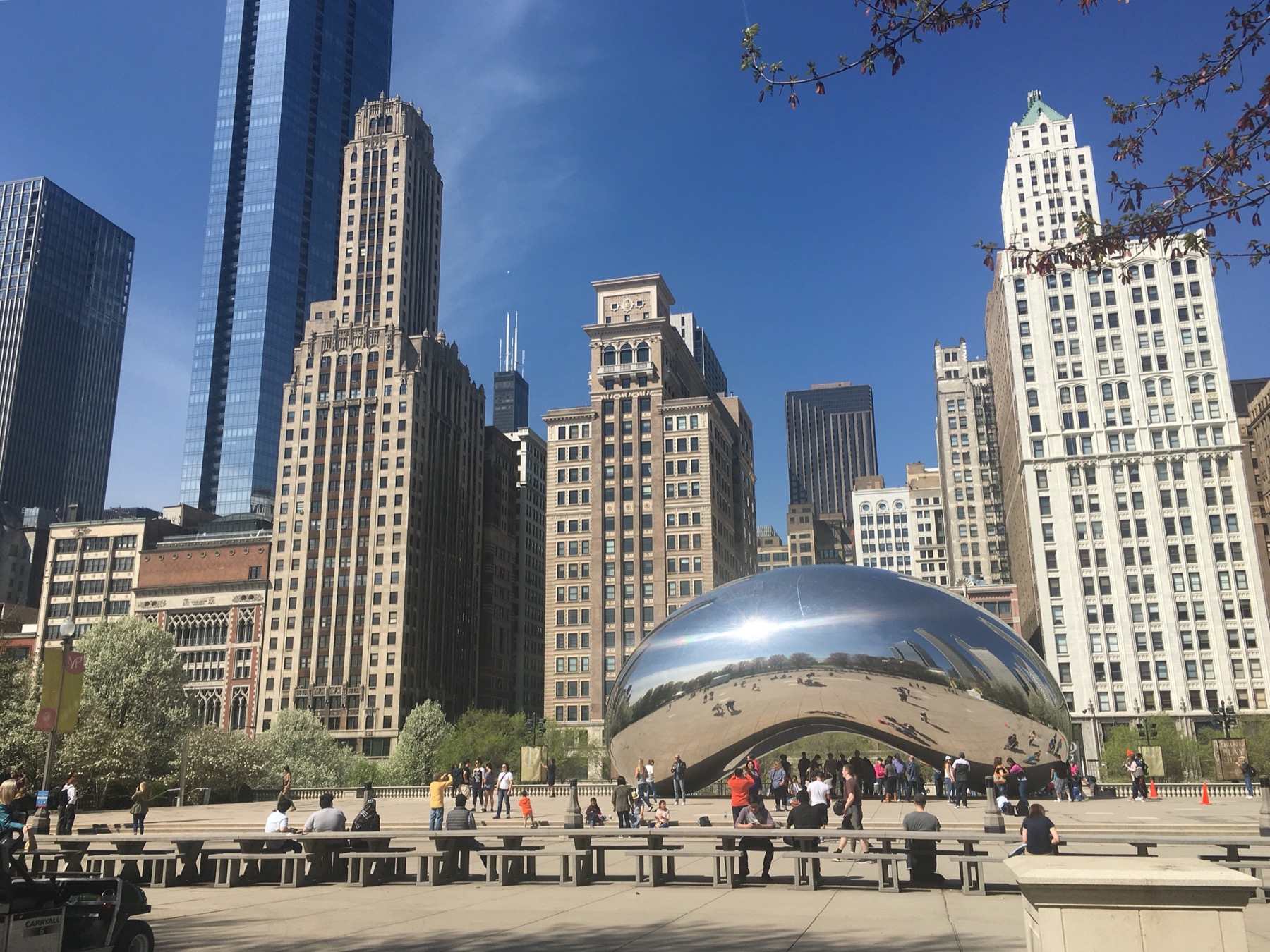 Cloud Gate was created between 2004 and 2006 by Indian-born British artist Sir Anish Kapoor, who was inspired by the qualities of liquid mercury. The sculpture is, in fact, made up of 168 stainless steel plates welded together and then highly polished to obscure any visible seams, making your selfie equally as flawless.
3. Find a moment of zen at Lurie Garden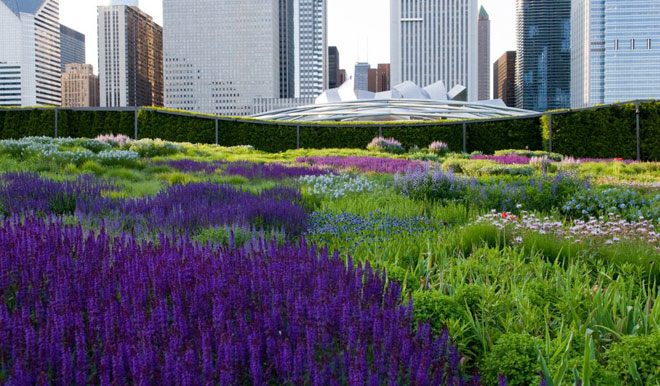 Ok, it's rare that I have time to grab my Kindle and escape into the realms of fiction. But when I do, my go to spot is beguiling Lurie Garden. Dotted with benched hideaways and a tranquil 5-foot-wide canal along which to sit, bird life thrives in the middle of the city, perching on prairie grasses and patiently watching for random crumbs to fall from the lunches of unsuspecting visitors.
Opened in July 2004, the 2.5 acre (10,000 square meter) garden is composed of perennials, bulbs, grasses, shrubs and trees that form dense, sheltering hedges and wide expanses of colorful movement.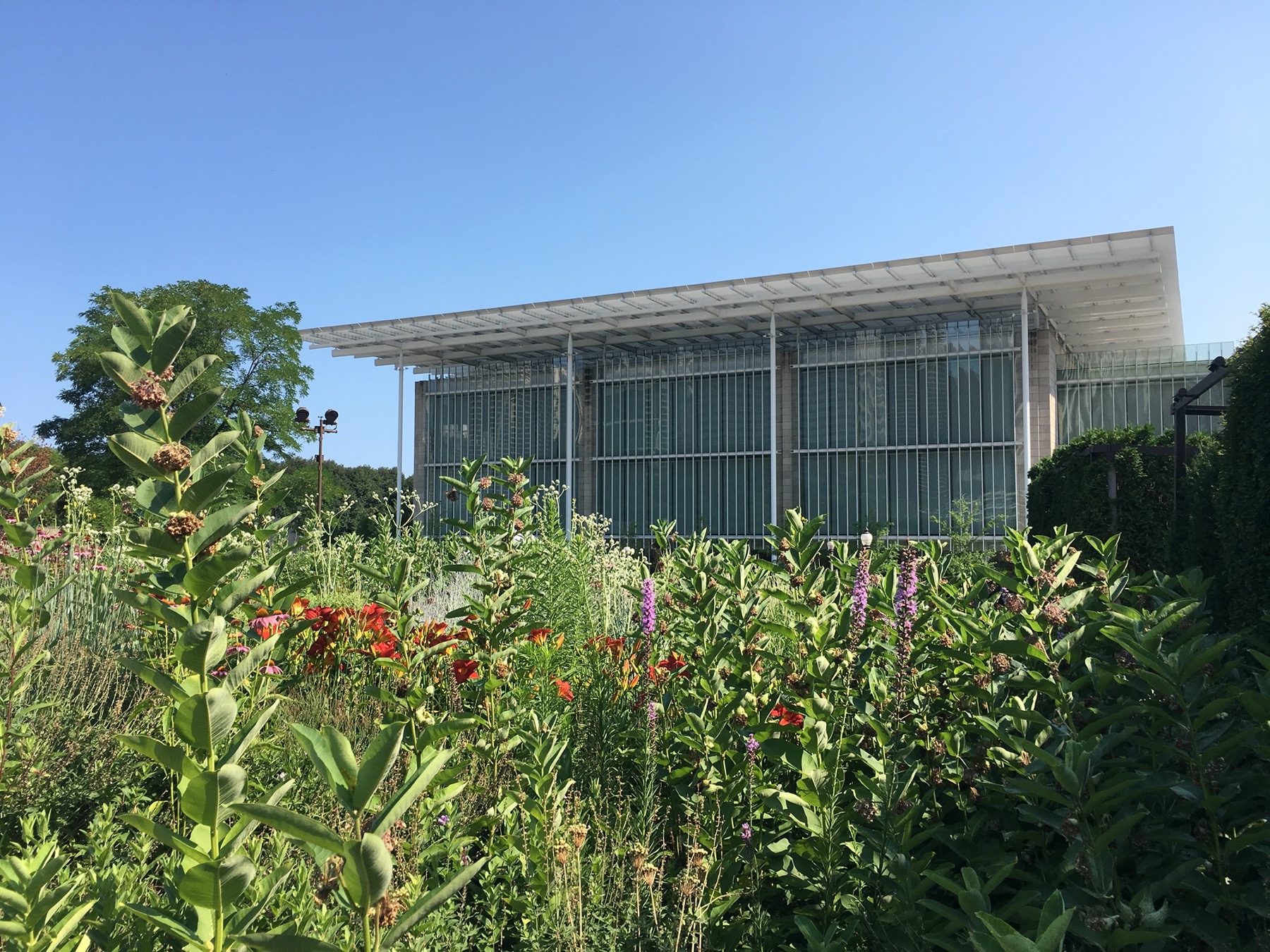 ​If sitting and reading isn't your thing, lectures, workshops and free guided walks are scheduled throughout the summer months.
4. Rock climb at Maggie Daley Park
Maggie Daley Park screams fun – and you don't have to be a kid to appreciate it. Take the BP Pedestrian Bridge from Millennium Park to reach this lakeside oasis, designed by landscape architect Michael Van Valkenburgh.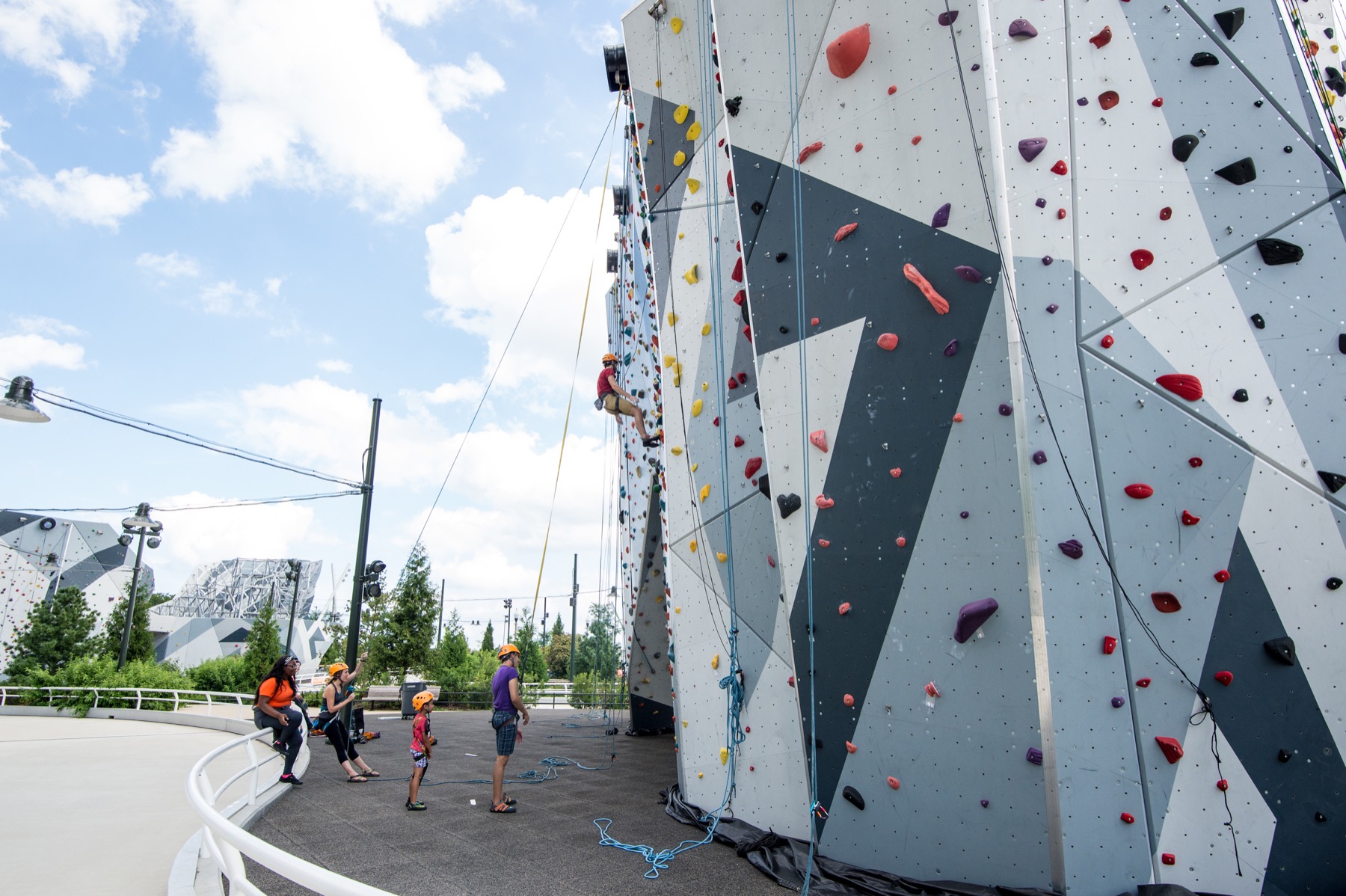 The first thing you'll notice is rollerbladers (and ice-skaters in the winter) gliding down a quarter-of-a-mile (40 km) skating ribbon, that meanders through trees, lawns and a 3-acre Play Garden – the type of place that fulfills every child's wildest dreams (think The Enchanted Forest with upside trees, the Slide Crater with a Tower Bridge to climb, and The Harbor where full-sized play boats nestle amongst the greenery).
However, my favorite features of Maggie Daley Park are the two 40-foot rock-climbing walls. This is, in fact, Chicago's first and only climbing park.
It really doesn't matter whether you're an absolute beginner or Spiderman-level expert – if you'd like to climb, there's a surface that's made just for you. The 19,000 square foot climbing area is divided into three climbing types: bouldering, lead-harnessed and top rope. Between 25 and 100 climbers can scale the walls at any one time. Best of all, it's absolutely free … oh, and you get great views of Lake Michigan and the Chicago city skyline from 40 feet up!
5. Grab lunch at the Plaza at Park Grill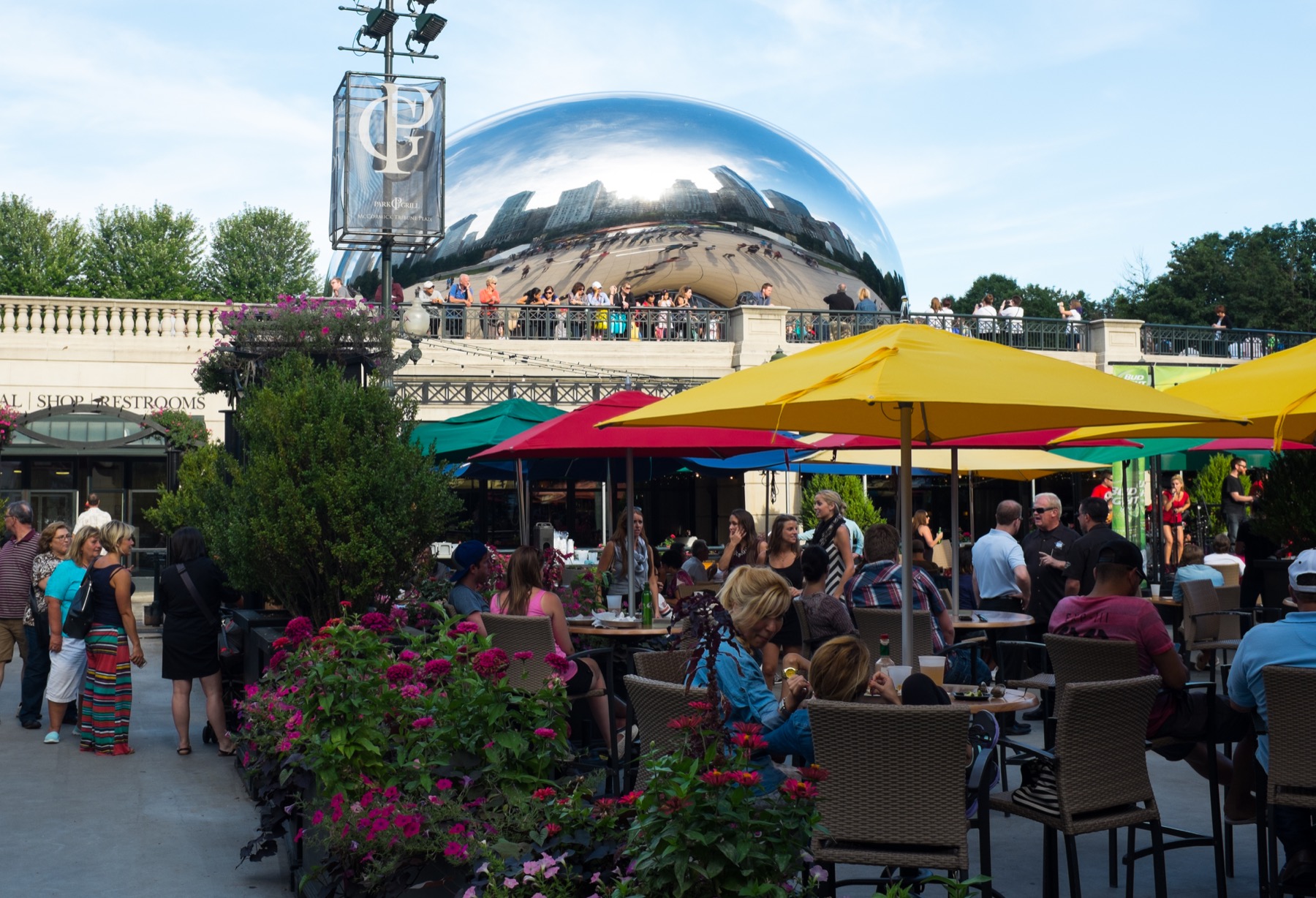 People flock to the Plaza at Park Grill, and it's pretty easy to see why. Chicago's largest outdoor dining venue sits in the shadow of Cloud Gate and at the foot of the Pritzker Pavilion, commanding views both of Millennium Park and the iconic Chicago skyline. It features a large walk-up bar, a casual menu (312 Beer Can Chicken anyone?) and a live music line up, including "Music Paired With Beer" on Fridays from 4:30 – 6:30 p.m.
6. Listen and watch at Jay Pritzker Pavilion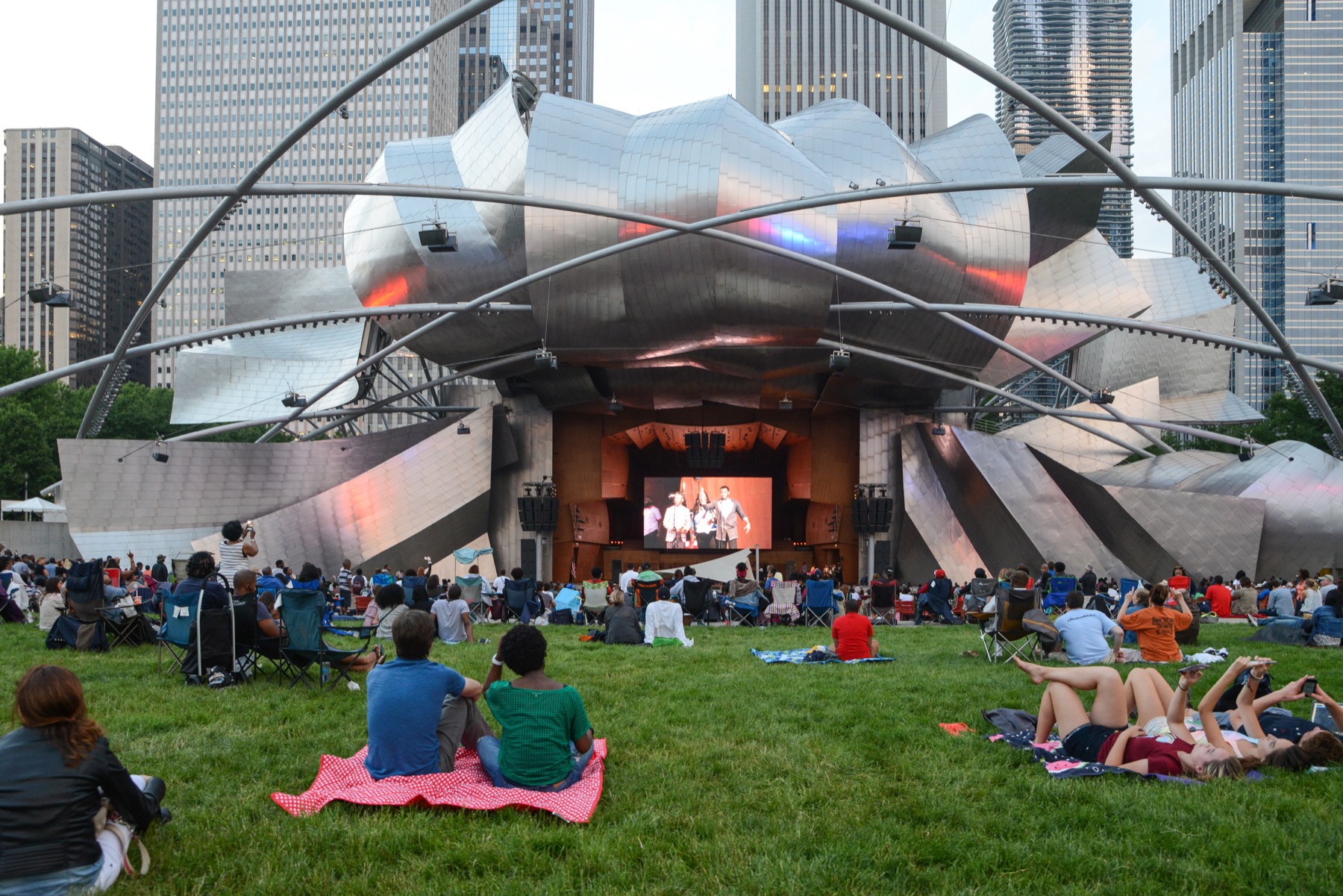 Seeing a show at the Jay Pritzker Pavilion is an hypnotic experience. Above you floats a brushed stainless steel canopy that casts an artistic network of shadows across the pavilion's Great Lawn. Created by notable architect Frank Gehry, the acoustically perfect bandshell is encased in sheets of brushed steel that resemble an aerodynamic tiered headdress.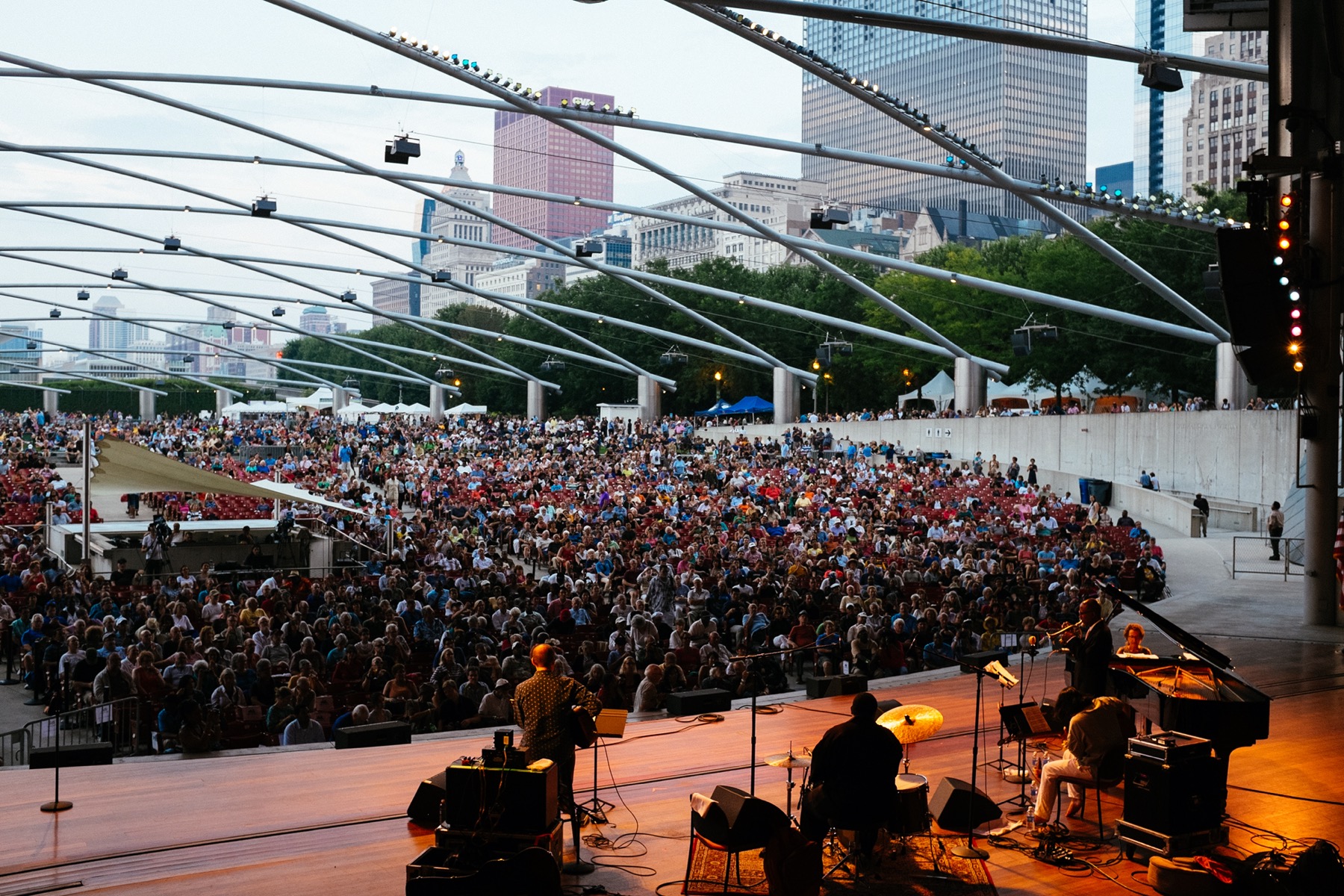 Every summer the City of Chicago hosts a Summer Film Series and Summer Music Series at the pavilion, which is also the main stage for historic free music festivals, most notably the Chicago Blues Festival, Chicago Jazz Festival and the Grant Park Music Festival, the nation's only remaining free outdoor classical music series. Throughout the summer months, music emanates from Pritzker Pavilion as an exhaustive list of festivals and concerts take hold of the lakefront.
Even on quiet days at Jay Pritzker Pavilion, it's the perfect place to stretch out on a blanket, unpack a picnic, and watch the sun go down.
7. Catch a show at Harris Theater for Music & Dance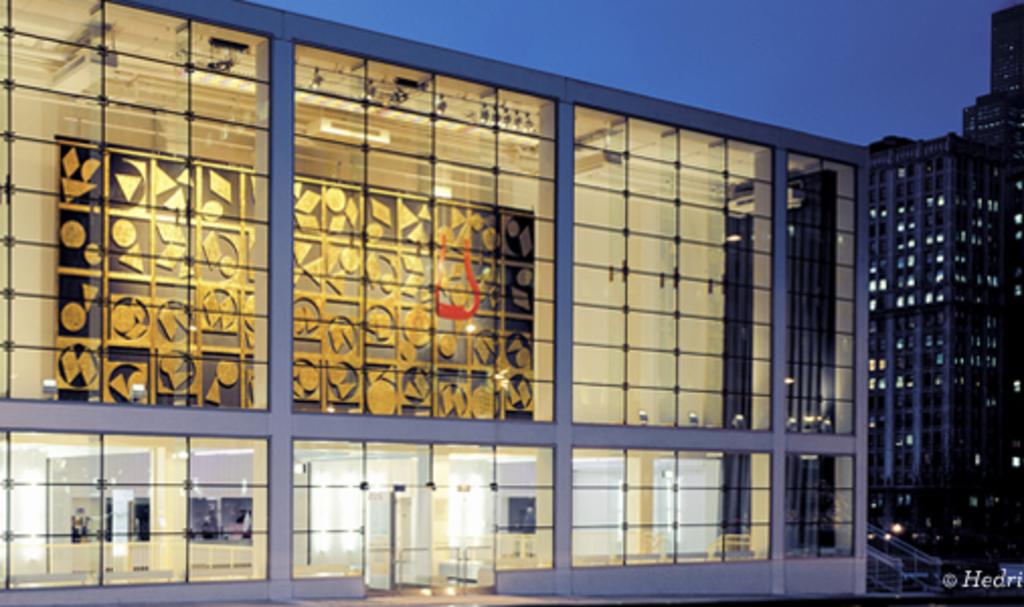 While the Jay Pritzker Pavilion hosts outdoor concerts, movies and shows, Harris Theater provides a jaw-dropping indoor venue for the performing arts. Seating approximately 1500 theater, music, and dance lovers, Harris regularly features acclaimed local companies such as the Joffrey Ballet, Hubbard Street Dance Chicago, and Chicago Opera Theater. It's also responsible for hosting notable national and international performers, including the New York City Ballet, which chose Harris Theater for its first visit to Chicago in more than 25 years.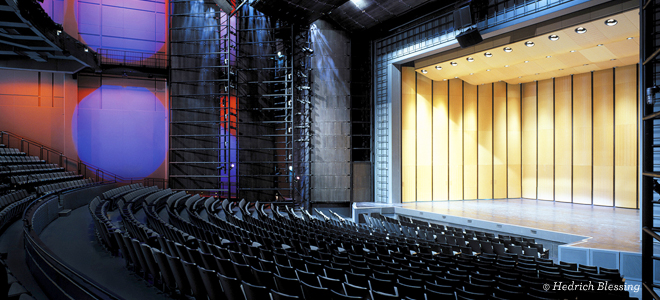 Designed by Hammond Beeby Rupert Ainge Architects, the architecture of the Harris Theater is every bit as unique as Millennium Park itself. The above-ground entrance is comprised of towering glass walls, while the stage is located mostly underground. A gorgeous roof terrace commands views over the park, and is available for private events. Check out upcoming performances here.
8. See outdoor art at the Boeing Galleries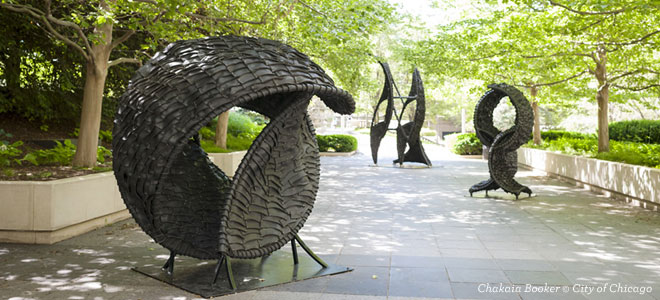 The Boeing Galleries consist of a North Gallery and a South Gallery in which site-responsive, outdoor exhibitions take place throughout the year.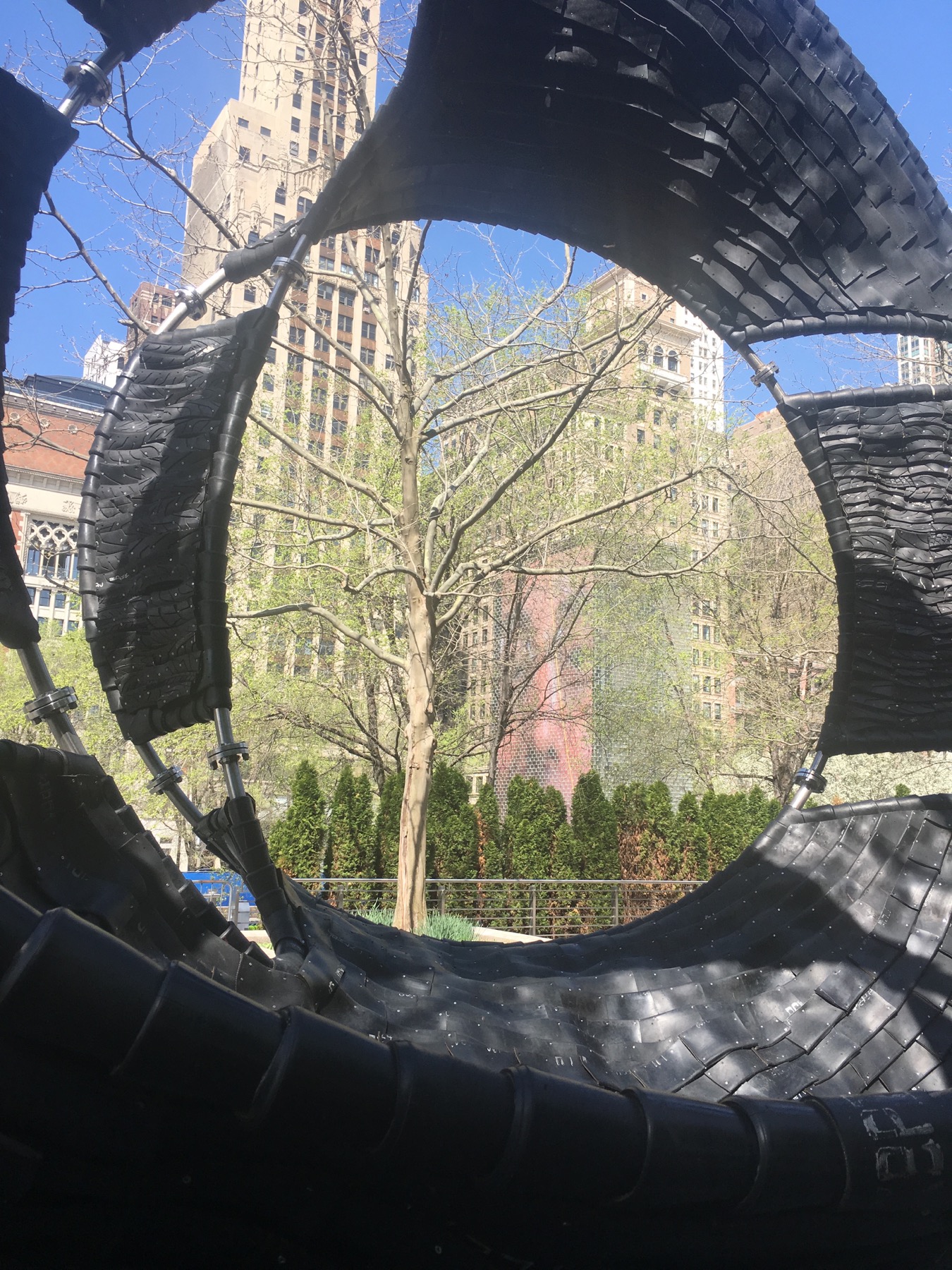 Dotted with benches, the galleries are designed for sitting, contemplating and appreciating progressive sculptural installations, past examples of which include Chakaia Booker, Jaume Plensa and Jean-Luc Mylayne.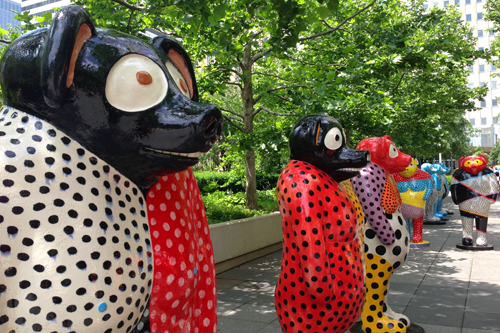 Fittingly, you'll come across the Boeing Galleries on your walk to the Nichols Bridgeway and #9 on my list of favorite things.
9. Visit modern masterpieces at the Art Institute of Chicago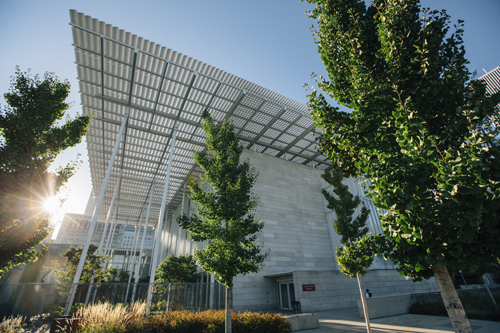 I love the Art Institute of Chicago Modern Wing, not only for its collection of 20th and 21st century art, but for the clean-lined beauty that is the architecture of Renzo Piano. My favorite feature is undoubtedly the Pritzker Garden on the main level. As minimalist and airy as the interior (the perfect backdrop for 2D art), tall, skinny pillars rise upwards, mimicking the sinewy trees that pattern the space. It's a tranquil spot, and the ideal place to contemplate the likes of Henri Matisse, Vasily Kandinsky, Constantin Brancusi and Rene Magritte. Which brings me to another Modern Wing favorite – Magritte's famous Time Transfixed (1938).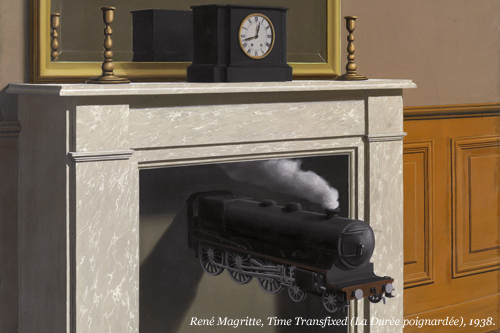 10. Indulge in culinary art at Terzo Piano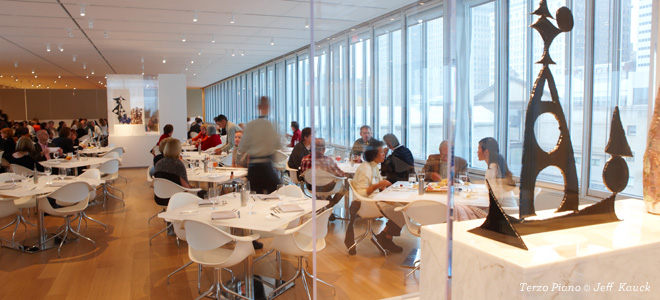 On the upper level of the Art Institute of Chicago's Modern Wing you'll find Terzo Piano, a fabulous restaurant offering a curated menu of elevated Italian-inspired delicacies. Menu items change with the seasons, dictated in part by the locally sourced, farm-to-table ingredients available at any given time of year. Led by noted chef, Tony Mantuano of Spiaggia fame, dishes currently on the menu include swordfish salad, rabbit cannelloni and charred octopus.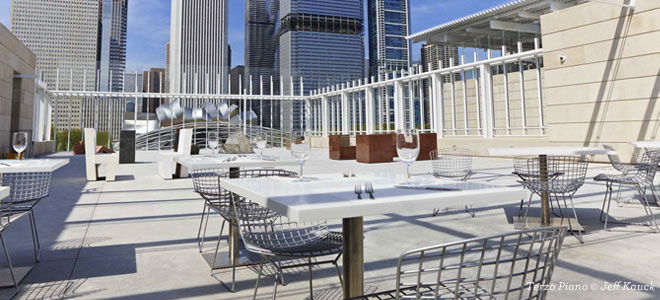 Photo: Jeff Kauck
The interior is glimmering white, adhering to a minimalist aesthetic that's an ideal backdrop for the food and cocktails that assume the qualities of 3D art. However, If you're fortunate to visit over the summer months, definitely book a table on the Bluhm Family Terrace. Rotating art installations are only part of what makes this terrace so special. You'll also have the benefit of a commanding view of Millennium Park and the Chicago skyline from your spacious table.
Bonus tip: Check out the free Chicago Cultural Center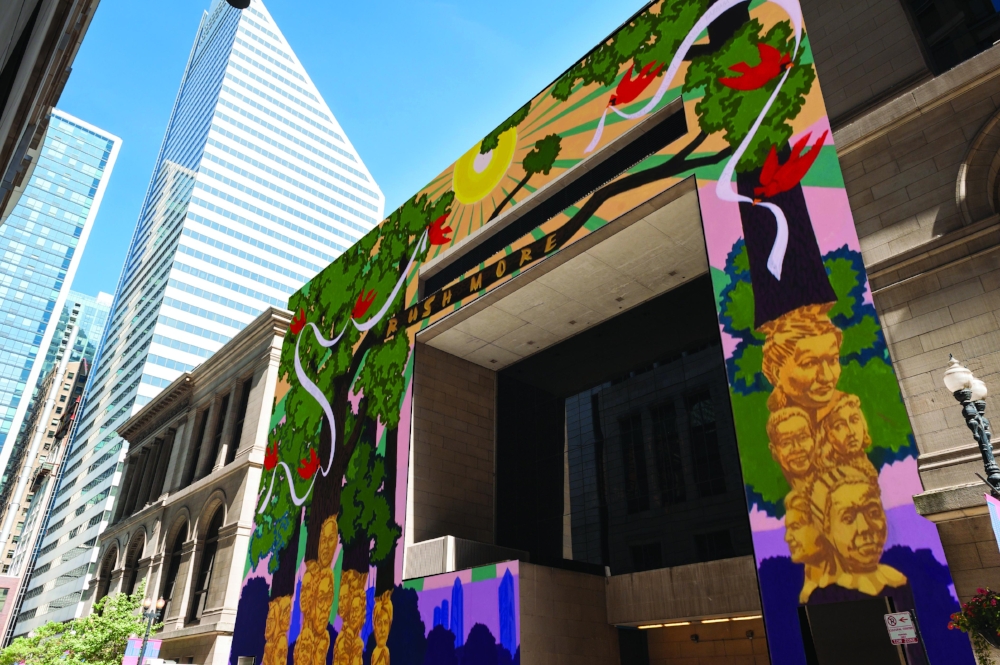 Across the Street from Millennium Park on Michigan Avenue, but technically part of the Millennium Park Campus, the Chicago Cultural Center is architecturally stunning and hosts a calendar-packed schedule of free things to do. From guided tours and midday classical concerts to thought-provoking art exhibits and an Oral History Project, it's definitely worth the visit. Check out all the free things to do here.