There's so much more to do at the Chicago Riverwalk than simply stroll along a picturesque river. The Riverwalk is a lifestyle — a uniquely Chicago one, with a little of something for everyone. Eat, drink, play, and explore with stunning outdoor bars and restaurants, museums, pier fishing, boat trips, kayaking, public art, bird-watching, and a harmonious blend of sublime nature and shiny city.
Discover the Chicago Riverwalk gems with these seven things to know.
1. It's made up of six coves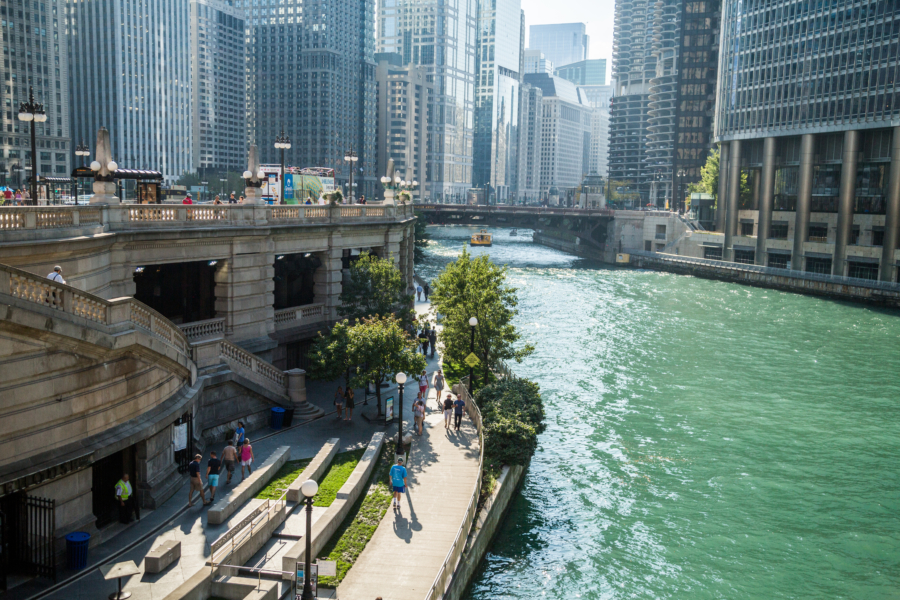 Each cove has its own nickname, urban landscape, and activities:
The Marina (State to Dearborn): Here, docking boaters and strollers find a bevy of restaurants, as well as great spots to view the Chicago River. The cove was named for Marina City, which overlooks the Riverwalk. This is the perfect spot to take pics of the "twin corn cobs," a Chicago architectural icon.
The Cove (Dearborn to Clark): Stop for a snack or rent a kayak right along the waterfront.
The River Theater (Clark to LaSalle): This tree-shaded urban oasis offers a unique respite for city explorers.
The Water Plaza (LaSalle to Wells): This sunny cove is great for families. Adults can relax around a fountain, while the little ones romp in its sprays.
The Jetty (Wells to Franklin): See floating wetland gardens, learn all about river ecology — and do a little fishing and bird watching while you're there.
The Boardwalk (Franklin to Lake): The Boardwalk offers stunning views of the Chicago River's three branches.
2. It's a great date night out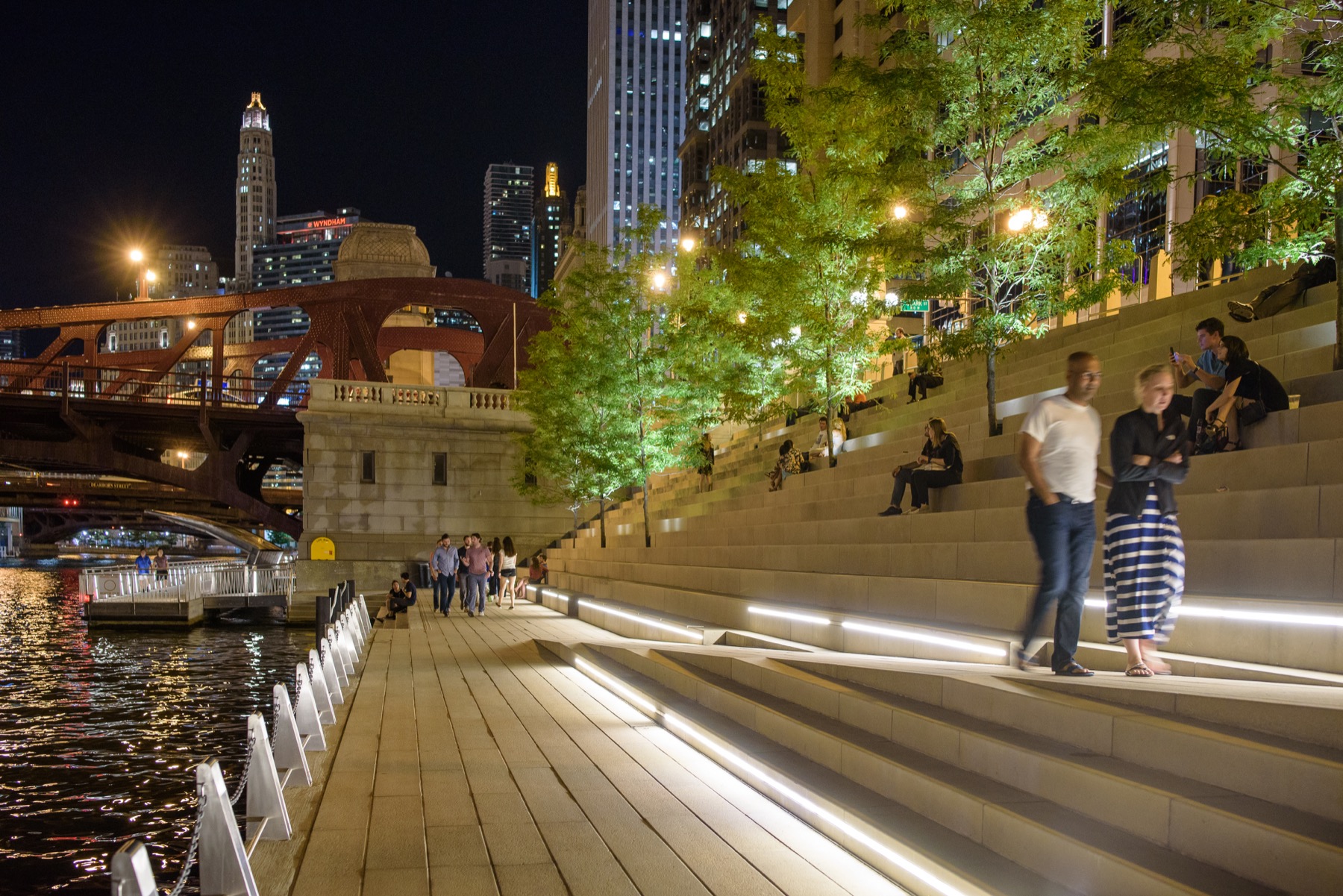 The Riverwalk is the epitome of romance as the sun goes down. Listen to live music, sip wine on a riverside patio, take a boat tour under the stars, and gaze dreamily at the glittering lights that illuminate the calm river waters.
3. It's easy to get out on the water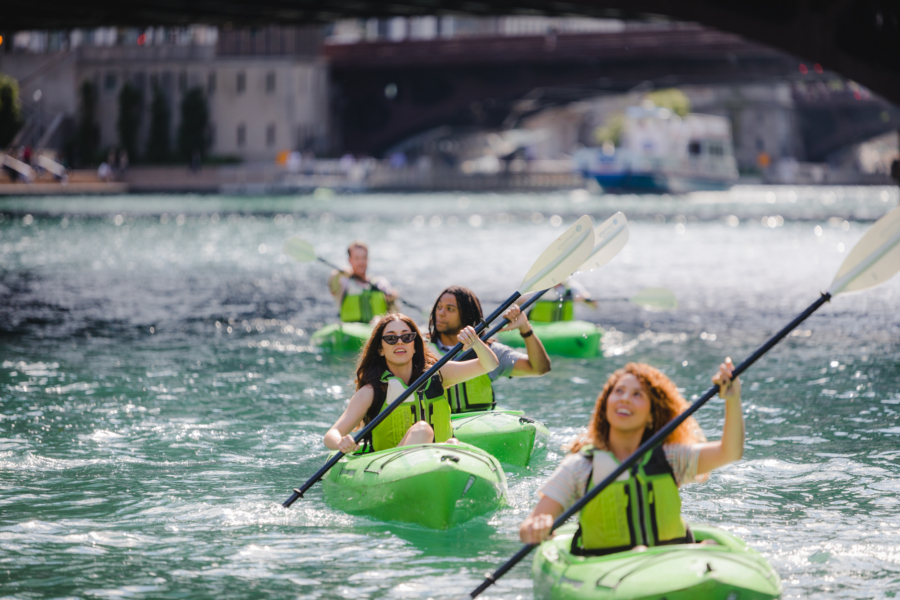 The Riverwalk is all about recreational experiences. Call on Urban Kayaks for Chicago River kayak tours and rentals. Book an outing with Wendella Sightseeing or Mercury, a Skyline Cruiseline. Join the Chicago Architecture Foundation Center River Cruise aboard Chicago's First Lady Cruises to hear the stories behind the city's most iconic buildings. And enjoy panoramic views while you dine on Odyssey's glass-enclosed Chicago River dinner cruises. Other boat experiences include Chicago Cycle Boats, eco-conscious Chicago Electric Boat Company, Island Party Hut tiki boats, and water taxis.
4. It's a lesson in ecology
Visit The Jetty to learn about the river's system of canals and fascinating feats of engineering. Or head to the fishing pier and cast a line (make sure you get your fishing license first). Bird watchers should keep an eye out for mallards, ring-billed and herring gulls, rock pigeons, American robins, European starlings, and Peregrine falcons that swoop among the skyscrapers. Check out the calendar of events for scheduled bird walks and more.
5. It's an outdoor art gallery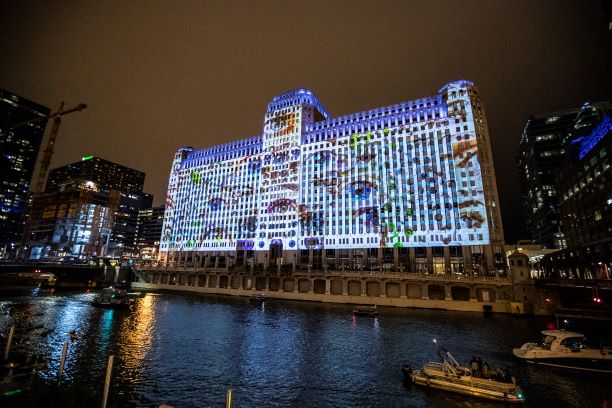 Public art is on show throughout the pedestrian trail. But Art on theMART is perhaps the Riverwalk's most famous work. This is the largest video-projection art installation in the world, taking up approximately 2.5 acres of theMART's river-facing facade. See curated video art Wednesdays through Sundays, from March through December, 7:15 — 9:15 p.m.
6. There's a museum right on the riverfront
Stop into the fascinating McCormick Bridgehouse & Chicago River Museum for the inside scoop on the Chicago River and its famous movable bridges. Climb to the top of the bridgehouse, and you'll be treated to panoramic views of the city.
7. It has a "murky" past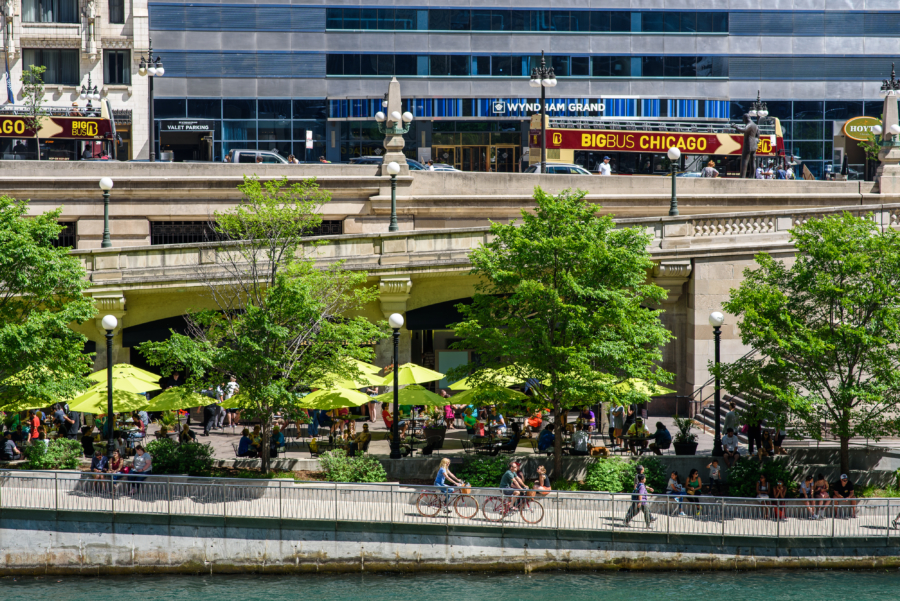 Strolling along the picturesque Riverwalk, it's hard to imagine that it was once a shipping channel — and a smelly one at that. After a lot of effort and dedication, though, it has become one of Chicago's star attractions.