The Loop's major museums are among the largest of their kind in the country, home to collections you won't see anywhere else in the nation. In other words, whether you're in love with all things art or hopelessly devoted to science, these museums are can't-miss stops during any Chicago visit.
Art Institute of Chicago
It's been voted one of the top museums in the world by TripAdvisor users, it's one of the oldest and largest art museums in the country, and it's home to one of the biggest collections of Impressionist and Post-Impressionist art outside the Louvre in Paris. Need we say more about the Art Institute of Chicago? Probably not, but we will. It's also where you'll see some of art history's most famous paintings, including Picasso's The Old Guitarist, Edward Hopper's Nighthawks, Georges Seurat's A Sunday Afternoon on the Island of La Grande Jatte, René Magritte's Time Transfixed, Grant Wood's American Gothic, and Vincent Van Gogh's The Bedroom (the first in his series of three). The museum's Modern Wing is sublime, and its gardens are breathtaking. Oh, and Terzo Piano, the museum's farm-to-table restaurant, will have you clamoring for a seat on the Bluhm Family Terrace, with unobstructed views of Millennium Park over the summer months.
Art Institute of Chicago, 111 S. Michigan Ave.
Adler Planetarium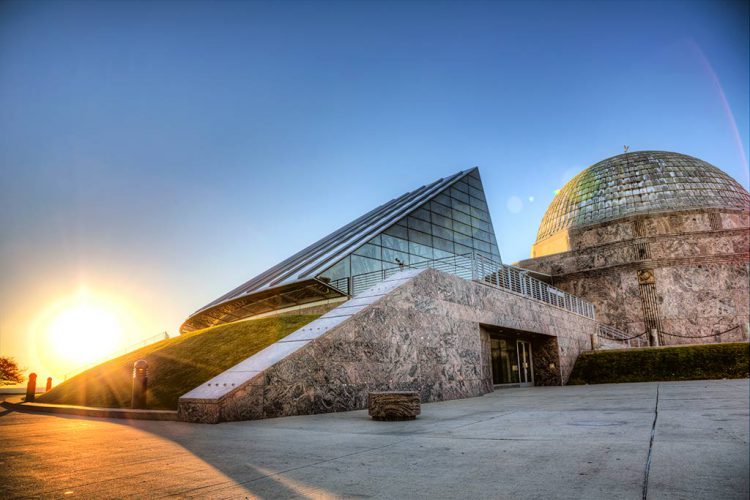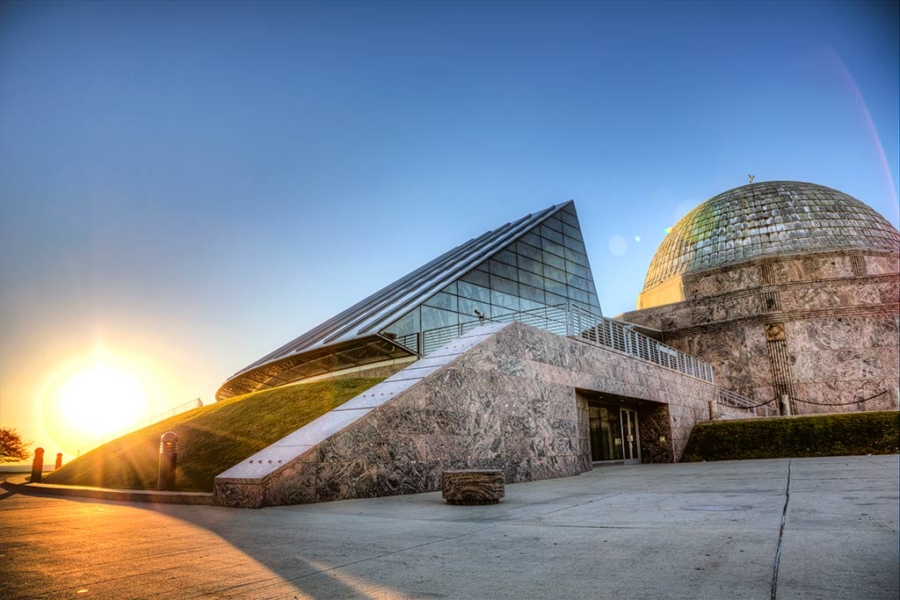 Explore the origins of the universe, peer through ancient telescopes, and view the stars at this lakefront planetarium and museum, part of Chicago's Museum Campus alongside the Field Museum and Shedd Aquarium. This is, in fact, the Western Hemisphere's oldest planetarium. Not that you'd be able to tell from the state-of-the-art exhibits you'll see here. Pop-up programs, an after-dark series for grown-ups, and amazing planetarium shows are just part of what makes the Adler a major Chicago attraction.
Adler Planetarium, Museum Campus, 1300 S. Lake Shore Drive
Richard H. Driehaus Museum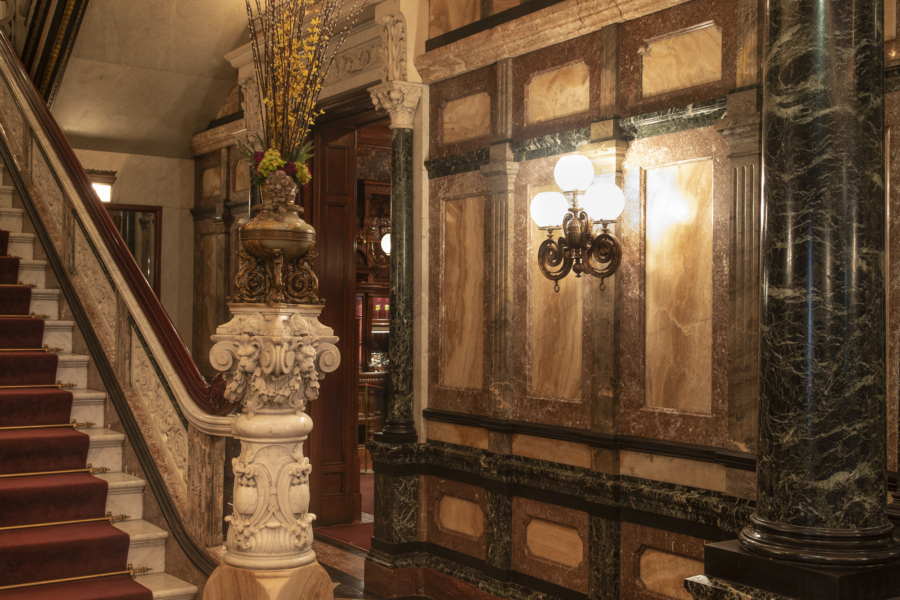 As soon as you step through the door, you're going to be wowed by Driehaus Museum's glistening marble floors, grand staircases, ornate decorative arts, imposing fireplaces, and antique furnishings. The museum is housed in the former Nickerson Mansion, which became known as the "Marble Palace" — a fitting place to bring Chicago's Gilded Age to life. The museum hosts rotating exhibits, as well as special events such as Halloween whodunits and Mother's Day teas, throughout the year.
Richard H. Driehaus Museum, 40 E. Erie St.
Field Museum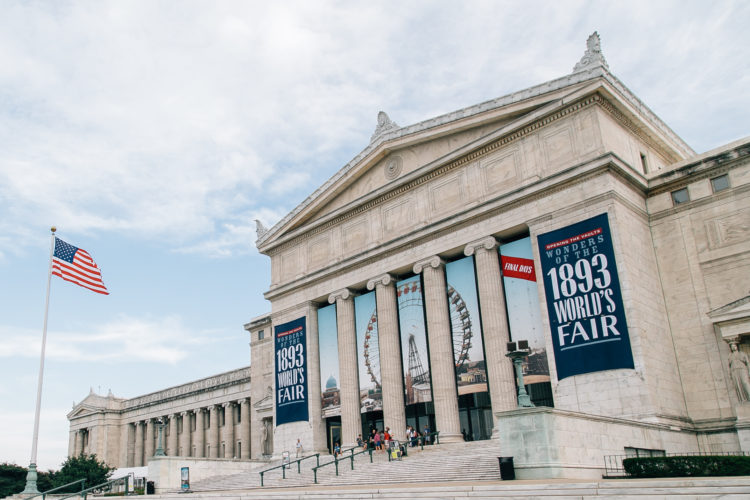 Snap a selfie with the largest creature to ever roam the Earth at the Field Museum, where Máximo the Titanosaur greets you as soon as you walk through the doors. After, explore the museum galleries and say hello to SUE the T.rex, man-eating tigers, mummified Pharaohs, rare gemstones, and giant bugs. You can also do some Dozin' With the Dinos, when families and groups with kids ages 6 to 12 experience the museum after the lights go out.
The Field is part of the city's lakeside Museum Campus, which means you're right next door to the Shedd Aquarium and Adler Planetarium, too.
Field Museum, Museum Campus, 1400 S. Lake Shore Drive
Shedd Aquarium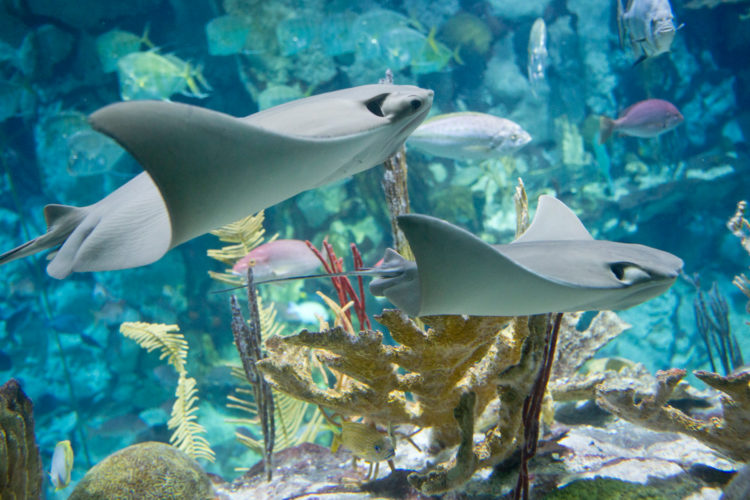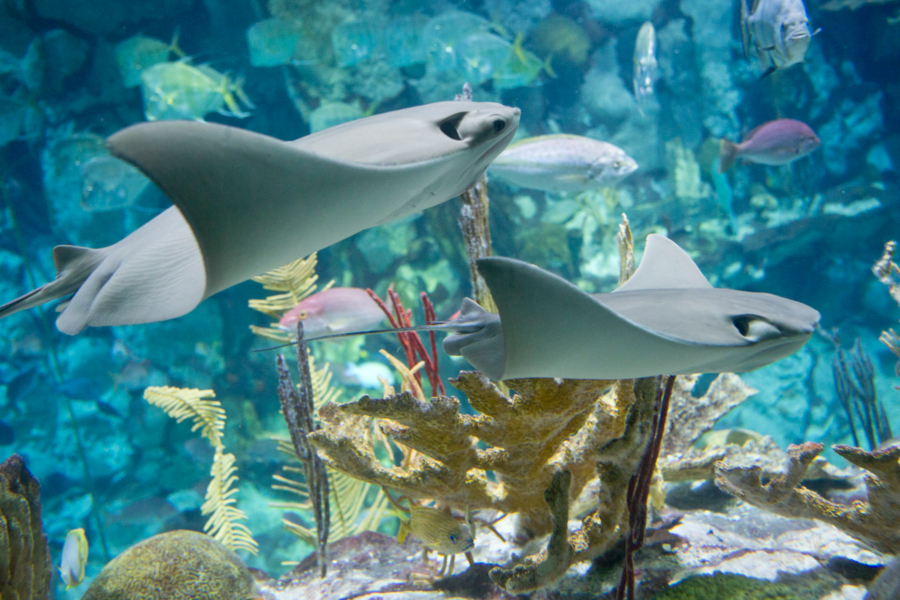 Watch sharks feed, sea otters swim, stingray glide, and dolphins play at Shedd Aquarium, one of the largest aquariums in the world. Although not strictly a museum, Shedd Aquarium is part of Chicago's Museum Campus, along with the Field Museum and Adler Planetarium — so think of it more as a living museum filled with exotic aquatic life. The views are spectacular, stretching across Lake Michigan. You can even go the scenic route with a Shoreline Sightseeing boat ride, sailing between Shedd Aquarium and Navy Pier or Willis Tower.
Shedd Aquarium, Museum Campus, 1200 S. Lake Shore Drive
Museum of Contemporary Art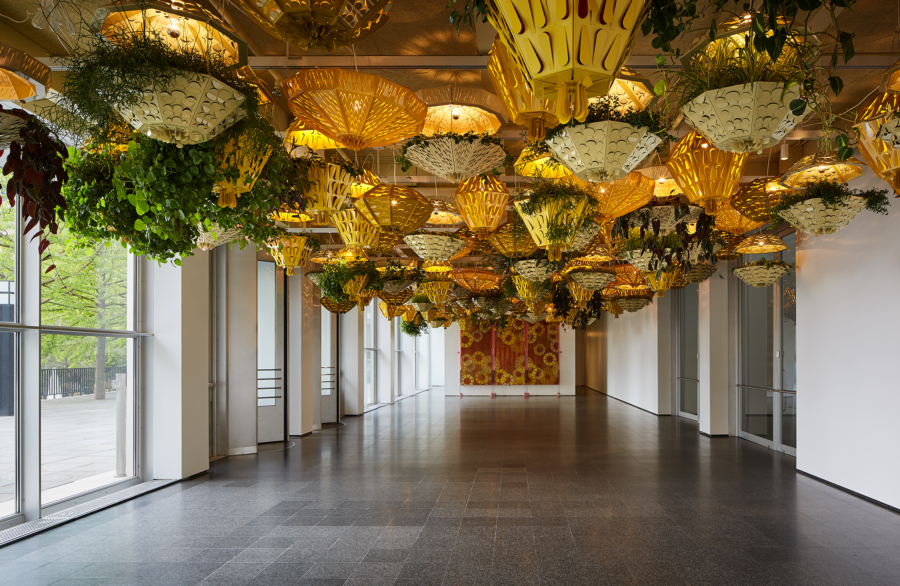 Get a little bold and adventurous at the Museum of Contemporary Art, located just one block east of historic Water Tower Place on The Magnificent Mile. Browse the museum's permanent collection, which includes more than 2,500 works, displayed in rotation, spanning media and movements from the 1920s to the present. Over the summer, Tuesdays on the Terrace brings you free, live jazz in the museum gardens, while morning visitors are greeted with weekly farmer's markets at the museum's monumental front steps. Check out the MCA Stage, too, where provocative performances are staged throughout the year.
Museum of Contemporary Art, 220 E. Chicago Ave., Streeterville. 
Chicago Architecture Center
There couldn't be a better location for the Chicago Architecture Center than legendary Ludwig Mies van der Rohe's skyscraper at One Illinois Center, overlooking the Chicago Riverwalk. As if that wasn't enough to entice you, the center offers more than 85 walking, bus, and boat tours, including the Chicago Architecture Foundation Center River Cruise aboard Chicago's First Lady, voted Chicago's #1 tour by TripAdvisor users. Before stepping aboard, check out the center's exhibits, including the Skyscraper Gallery, with its towering scale models of the tallest buildings in the world, and the City of Chicago model, which recreates the Great Chicago Fire and other significant moments in the city's history.
Chicago Architecture Center, One Illinois Center, 111 E. Wacker Drive
American Writers Museum
The writing's on the wall at the American Writers Museum — literally. Located a short walk from Millennium Park, this is the first museum of its kind in the nation, with exhibits that explore the history of American writing in all its guises, including fiction, poetry, journalism, and more. A couple of the museum's many highlights include Paul O. Zelinsky's whimsical mural depicting 42 squirrels reading 34 books that represent milestones in American children's literature, and the chance to tap away on a bunch of vintage typewriters, just like Hemingway used to do, in the Mind of a Writer Gallery.
American Writers Museum, 180 N. Michigan Ave., 2nd Floor
Federal Reserve Bank of Chicago Money Museum
Want more bang for your buck on your tour of the Loop's museums? A visit to the Money Museum won't cost you a dime. The collection spotlights historical currency and artifacts, so if you're wondering what money looked like in Colonial times, this is the place to go. There are games and simulations, too, so you can experience how the Federal Reserve works, and even try your hand at monetary policy-making.
Money Museum, 230 S. LaSalle St.
Pritzker Military Museum & Library
At the Pritzker Military Museum & Library, You'll find thousands of artifacts, books, posters, photographs, maps, and manuscripts, ranging from military medals to swords, that tell America's history through the eyes of the citizen soldier. Take a tour any day of the week (free with admission) or wander collections ranging from WWII and Korean War training comics to medical research files on topics like early ambulances and Civil War nurses.
Pritzker Military Museum & Library, 104 S. Michigan Ave., 2nd Floor
Museum of Contemporary Photography
The small but mighty Museum of Contemporary Photography's permanent collection is a hidden gem, with vintage photos, contemporary works, a vast Dorothea Lange collection (she's famous for her touching Dust Bowl images during the Great Depression), Farm Security Administration photography from the same era, and more. The museum's centerpiece, though, is the Midwest Photographers Project, which cycles through the portfolios of new and established Midwest photographers, each examining a different social experience, from the slums of Mumbai to electronics and teens.
Museum of Contemporary Photography, 600 S. Michigan Ave.
---
Go Chicago
Save up to 55% admissions to Chicago's top attractions with Go Chicago. Explore Chicago at your own pace. Pay nothing at the gate — just use the pass on your phone or print it out in advance. No need to exchange money or hand over a credit card with contactless scanning at the attraction. The interactive mobile app will have you traveling around the city like a local! Choose from 25+ attractions, including:
Skydeck Chicago

Shoreline Architecture River Cruise

Hop-On Hop-Off Big Bus Tour

Art Institute of Chicago

Navy Pier rides

And so much more!
Explore Go Chicago options:
Go Chicago — All Inclusive
Go Chicago — Explorer
Go Chicago — Build Your Own
Get your CityPASS
Planning a future trip to Chicago? Experience the city's famous attractions at a 50% savings with Chicago CityPASS. Take your time and enjoy each attraction with 9 consecutive days to use your tickets. And, with convenient mobile tickets and prepaid admission, you'll get to skip select lines. Rest assured that should your plans change, you're covered by flexible 365-day risk-free returns. Trusted by 23 million travelers for 23 years.
Includes prepaid admission to 5 must-see attractions:
Spend less, experience more. Learn more.