Here's the skinny on two days of budget-friendly Chicago sights and experiences, covering everything from beer tastings to neighborhood tours and attractions you won't want to miss. Whether you're into the classic Chicago experience, or like to venture off the beaten track, you'll find a bunch of things to see and do without breaking the bank.
Day 1: Palm trees, craft beer, and sketch comedy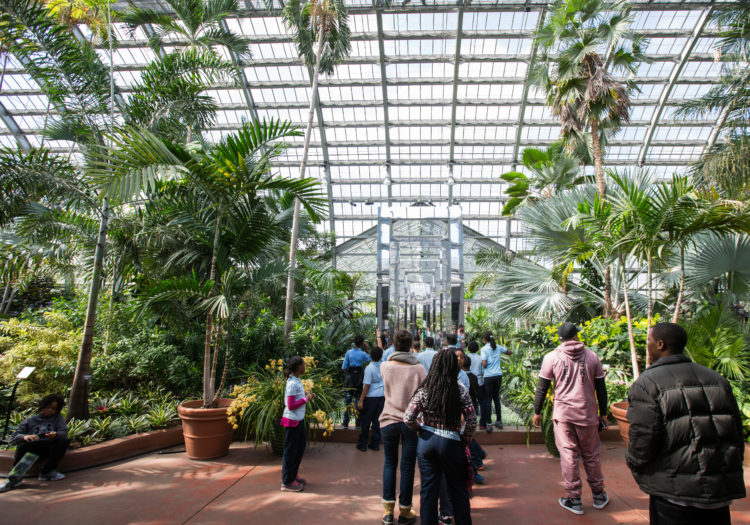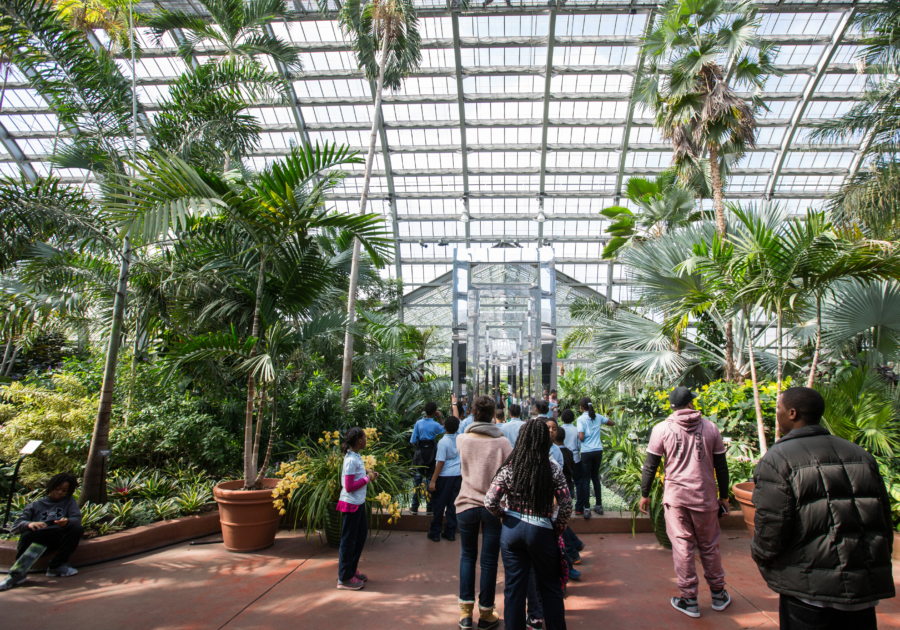 Morning
Wander from forest to desert at the free Garfield Park Conservatory, one of the largest and most stunning in the nation. Then take in even more nature at Humboldt Park Boathouse Cafe, where you'll enjoy an early alfresco lunch while watching ducks glide around the picturesque lagoon.
Afternoon
Head for urban chic (the affordable kind) with a one-hour behind-the-scenes tour and tasting at the Goose Island Fulton Tap Room. Three drink samples, plus a souvenir beer glass, all for only $12.
Follow it up with a free Chicago Greeter visit, which matches you with a knowledgeable Chicago local who'll show you around the city's classics as well as its hidden gems. Love architecture? Want to tour some LGBTQ+ hotspots? Looking to explore the best of Chinatown? Take your pick from a long list of interest areas and languages.
Evening
Head just north of downtown for some classic Chicago deep-dish pizza and sketch comedy. Take a bite out of Lou Malnati's decadent pizzas in the city's fabled Gold Coast neighborhood before heading to Old Town, where you'll fill up on improv at The Second City's Ten Dollar Comedy. This weekly showcase features some of Chicago's best improv, stand up, and sketch comedy, all for only $10. The Second City has an incredible list of alumni (Tina Fey, Stephen Colbert, and Bill Murray among them), so it's worth the trip just to walk the hallways emblazoned with their photographs.
End the night with cool, cheap sleeps at Freehand, which combines the social culture of a hostel with innovative design, great food and drink, and a community-driven atmosphere. Best of all, it's located in the heart of River North, which means you're in easy reach of downtown Chicago, Old Town, the Gold Coast, and more.
Day 2: Unique ways to see famous Chicago sights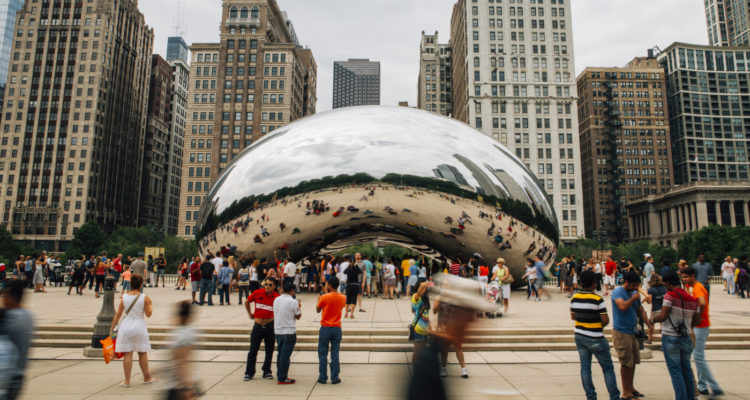 Morning
Wake up early and head to the Jay Pritzker Pavilion lawn at Millennium Park for free morning yoga over the summer months. Or for a little more of a thrill ride, walk over to Maggie Daley Park and take a spin around its free Skating Ribbon (rollerblades and scooters are available for rent). In colder months, you can still get your fitness kick with some early morning ice-skating.
For your pick of brunch goodies, walk over to Revival Food Hall, an all-local dining concept spotlighting some of the best of Chicago's acclaimed culinary scene all under one roof. As an added bonus, said roof belongs to The National, a restored 1907 Daniel Burnham-designed 20-story beauty.
Afternoon
Millennium Park is a sightseeing must. Free to the public all day long, your first stop is a shiny selfie at Cloud Gate, aka "The Bean", followed by a paddle in plain sight of Crown Fountain's video-projected faces (water spouts from 50-foot projections of Chicago locals). Rest up with a picnic in Lurie Garden, an award-winning botanical treat filled with native plants, birds, and wildlife, before heading to another iconic Chicago attraction.
Evening
Take a short walk to the Chicago Riverwalk, explore its coves, watch boats sail by, and gaze at the city lights reflected in the river's calm waters. From March through September, don't miss out on history-making Art on theMART, the largest video-projection art project in the world. A curated series of videos embellish 2.5-miles of theMART's river-facing facade from 7:15 – 9:15 p.m. from Wednesday through Sunday, and it's a little mind-blowing.
For dinner, embrace a Spanish vibe in authentic Andalusian surroundings at River North'sCafe Iberico. Seafood paella is a great pick here. It takes about 30-minutes to prepare, but you'll be rewarded with food for two-to-three people for less than $20.
For more on free and cheap Chicago, see our Chicago on a budget guide.
Here's a tip for Illinois residents: Chicago museums offer free museum days throughout the year. All you need is your state ID or driver's license.