Looking for an environmentally friendly caterer for your next meeting or event? We've rounded up some of Chicago's top earth-friendly companies, from the first certified green caterer in the city to an innovator that sources ingredients from a rooftop garden that's the biggest in the Midwest.
Use an eco-conscious Chicago caterer and you'll be rewarded with healthier and happier attendees.
Blue Plate Catering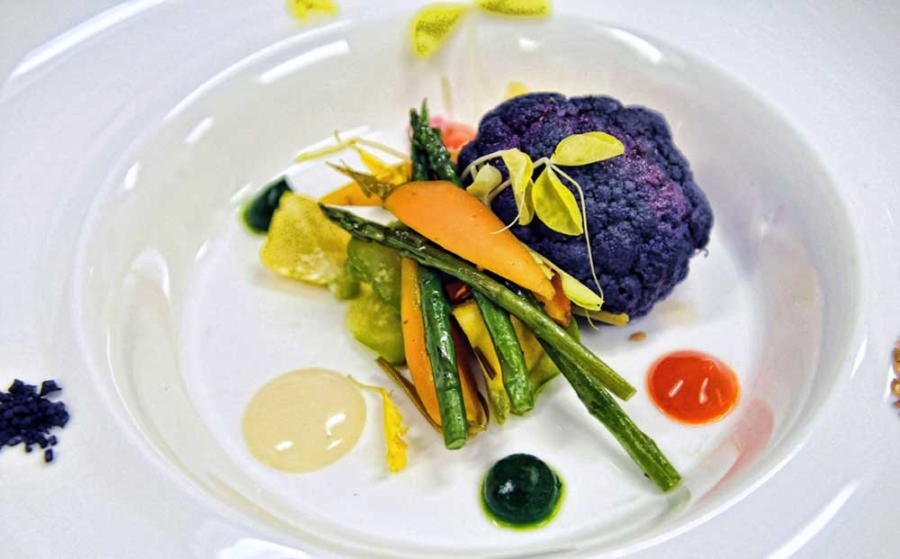 Five years ago, Blue Plate became one of Chicago's first green caterers, certified by the Green Restaurant Association. Environmentally friendly practices at Blue Plate include the composting of food scraps, averaging 150 pounds per day, which are recycled into fertilizer for city parks. Various kitchen waste materials are recycled, including cooking oil that is turned into biodiesel. Blue Plate also uses Green Seal-certified paper products and cleaning supplies. 1362 W. Fulton St.
Savor…Chicago at McCormick Place
As the exclusive food and beverage provider at McCormick Place, SAVOR… takes sustainability seriously. Its 2.5-acre rooftop garden atop the LEED-certified West Building of McCormick Place is the Midwest's largest, producing seasonal harvests of vegetables and herbs that are used in SAVOR… kitchens. SAVOR… leads the convention industry in green certifications and recognition, including Green Seal and Green Meetings Industry Council certification. More than 30% of all food served at McCormick Place is local or organic, meats are antibiotic-free and nearly all seafood is sustainably harvested. SAVOR… offers Green Meeting packages that include healthy menu options and eco-friendly beverage choices. 2301 S. Lake Shore Drive
Catered by Design
Catered by Design has been serving delicious food to the Chicagoland area for more than 40 years. As a Certified Green Restaurant by the Green Restaurant Association, Catered by Design believes strongly in being a good steward of the environment by lowering food waste, energy usage, and more. They serve venues all over the city and surrounding suburbs, including SkyDeck Chicago, Bridgeport Art Center, the Chicago Cultural Center, Harold Washington Library, and beyond.
Limelight Catering
Limelight's founders were early pioneers in the local-vore and green movement, making sustainable and environmentally friendly practices a priority. Part of Limelight's green mission includes using all cage-free eggs and no trans fats. Limelight also has its own beehives, producing its own honey. In a unique eco-friendly approach to food preparation, Limelight has a stationary "blender bike" in its kitchen that chefs peddle to power a blender. In addition to a comprehensive composting and recycling program, Limelight uses a green commercial dishwashing system that was the first of its kind in Chicago.  2000 N. Racine Ave.
Catering by Michael's
Catering by Michael's has a long history in the conscious catering movement as one of the founding members of the Illinois Food Scrap Coalition, and holds both Green Restaurant Association and Green Seal certifications. In both 2013 and 2014, Michael's received the peer-voted NICE Award for Best Responsible Event (Lollapalooza). The caterer offers clients the option of using returnable packaging, such as baskets and Pyrex, along with biodegradable products that include tree-free napkins, compostable paper plates and cutlery made of recycled materials. 6203 Park Ave., Morton Grove, IL
Fig (for intimate gatherings)
FIG offers creative menus that feature locally sourced foods from organic farmers, with vegetarian and vegan options available. Crackers, breads, pastries, and other products are produced in-house to reduce packaging and shipping impacts (and are made with unbleached organic flour and sugar). Its bar catering packages include sustainably produced wines, plus craft beers and spirits from local producers. Any disposable products used by FIG are corn, sugar, soy or paper based, and are easily recycled or compostable. FIG also does not offer plastic bottled water. FIG is a Green Seal-approved vendor and a member of the Green Chicago Restaurant Coalition. 1850 S. Blue Island Ave. 
Big Delicious Planet
With more than 20 years in the catering business, Big Delicious Planet has fed everyone from rock stars to Barack Obama and the Dalai Lama. The company specializes in tastes from all over the globe, and is well-versed in vegetarian, vegan, and gluten-free dishes. Perhaps most impressive is the fact that Big Delicious Planet has its own urban farm, with two busy beehives and 50 raised beds of organic vegetables and herbs growing just 15 feet outside its kitchen door. You can arrange to hold a unique farm-to-table dinner right in the garden. Big Delicious Planet is four-star certified by the Green Restaurant Association. 412 N. Wolcott Ave. 
Food For Thought
Food for Thought focuses on creating dishes that are elegant, while at the same time being ethically sourced and sustainable. The caterer recognizes that the foodservice industry has a significant impact on the environment, and takes steps to be earth-friendly. This includes using environmentally friendly products and operating a responsible recycling program. Food for Thought is certified by Green Seal and is a member of the Green Chicago Restaurant Coalition. It caters events in venues around the city, as well as at its own 19 East, a stunning historic space in the South Loop. 7001 N. Ridgeway Ave., Lincolnwood, IL
Sopraffina Marketcaffe
Sopraffina buys local meats, fruits, and vegetables that have been proved sustainable by third-party certifiers. All of the meats used by Sopraffina are antibiotic- and growth hormone-free. Its salmon and tuna are 100% sustainably harvested under rigid state and federal guidelines, and are certified by the Marine Stewardship Council. Sopraffina does not use any Styrofoam or polystyrene, and nearly all of its paper and cardboard products are made with recycled content. It partners with Zero Percent, a local company, to ensure that all donated leftover food gets to the people who need it most. Sopraffina Marketcaffe is certified by Green Seal. Various Chicago locations