The best Chicago team-building exercises are ones that are fun, interactive and get coworkers excited — but where to start?
Take a departure from the ordinary with fun team games, thrilling adventures and even a little competition. Your team will build rapport and learn to work together, all while having a great time. Here are a few ideas for team building activities in Chicago to get you started.
Go indoor skydiving at iFLY Lincoln Park
Why they'll love it: Even for team members who may not know each other very well, the thrill and excitement of skydiving can create an instant connection and give them something to talk about. Pair up team members so they can soar together and share in the exhilaration.

Book it: Get the party package with two or four flights per package.
Play ping-pong at SPiN CHICAGO
Why they'll love it: Coworkers can let loose while enjoying a friendly game of ping-pong. Take a break to socialize over drinks and casual food, from pizzas and burgers to upscale comfort dishes.

Book it: Reserve a spot for your Chicago team-building event, and pick one of the food and beverage packages from the convenient catering menu.
See up close magic at The Magic Penthouse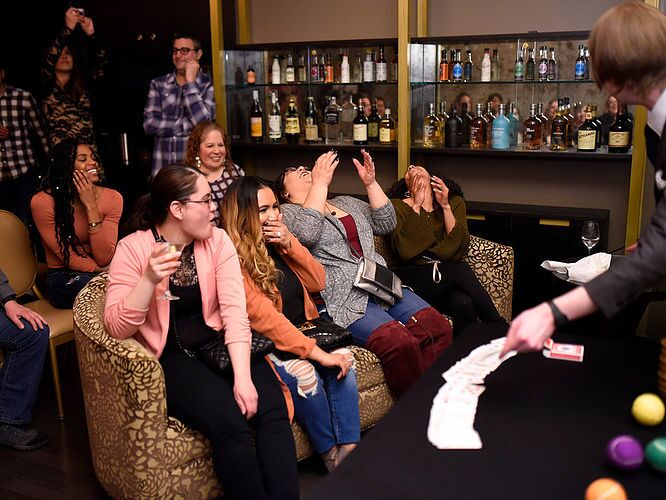 Why they'll love it: Cocktails and entertainment are a sure-fire combination. But this isn't a normal happy hour. At The Magic Penthouse, you'll be in the company of professional magicians who person mystifying feats of up-close magic. No props, no sawing people in half — all the acts are done with a deck of card, your phone, or wallet. Combine that with a premium open bar and hors d'oeuvres, and our attendees will be talking about the event for weeks to come.
Book it: Book your private event with food, top shelf open bar, live music, and three magicians, starting at $200/person.
Compete in a ping-pong tournament at AceBounce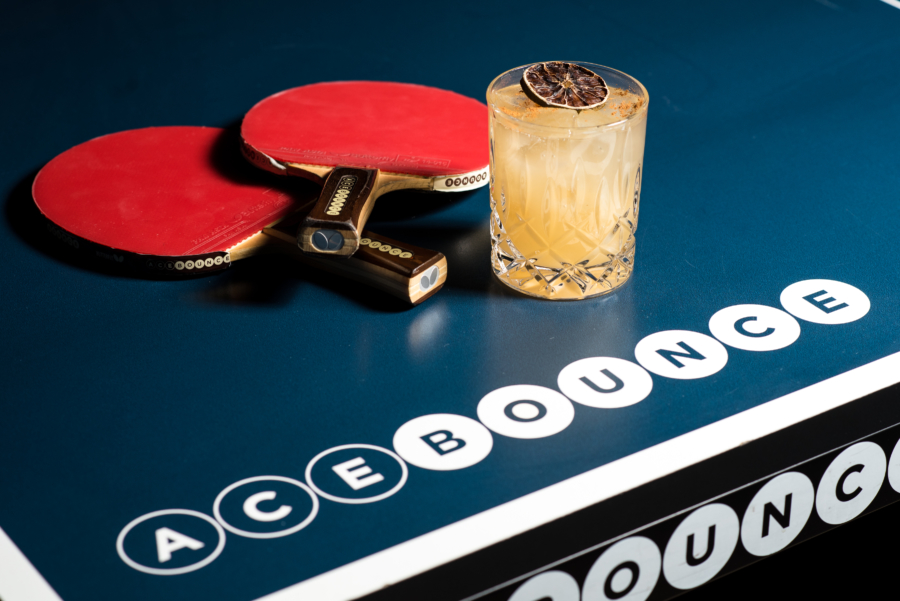 Why they'll love it: Team members can tap into their competitive side with some fast-paced ping-pong action — and then refuel with expertly crafted cocktails and globally inspired dishes.
Book it: Book a Chicago ping-pong party for an all-out fun experience with DJ music, drinks, and food. Reserve The Parlor private room (with its own cocktail bar and dedicated bartender) or one of the two semi-private spaces.
Bowl and play bocce at Pinstripes Chicago
Why they'll love it: The elegant yet rustic vibe of this Italian bistro sets the scene for an upscale gathering, but the fun of bowling and bocce creates a relaxed setting to get to know coworkers.
Book it: Reserve a bowling lane (up to eight people each) or bocce court (up to 10 people each), followed by a sit-down dinner in the bistro. Group packages make it easy to plan larger events combining games and food.
Score at WhirlyBall
Why they'll love it: No matter their sports background or previous experience, everyone is on an even playing field in this innovative game, which combines basketball, whiffle ball and bumper cars.
Book it: The Chicago location has three courts, as well as 12 bowling lanes and a laser tag arena for even more game-time options. Book the private VIP space and relax on the rooftop terrace after the game.
Cook, compete, and dine at Chicago Dine-Around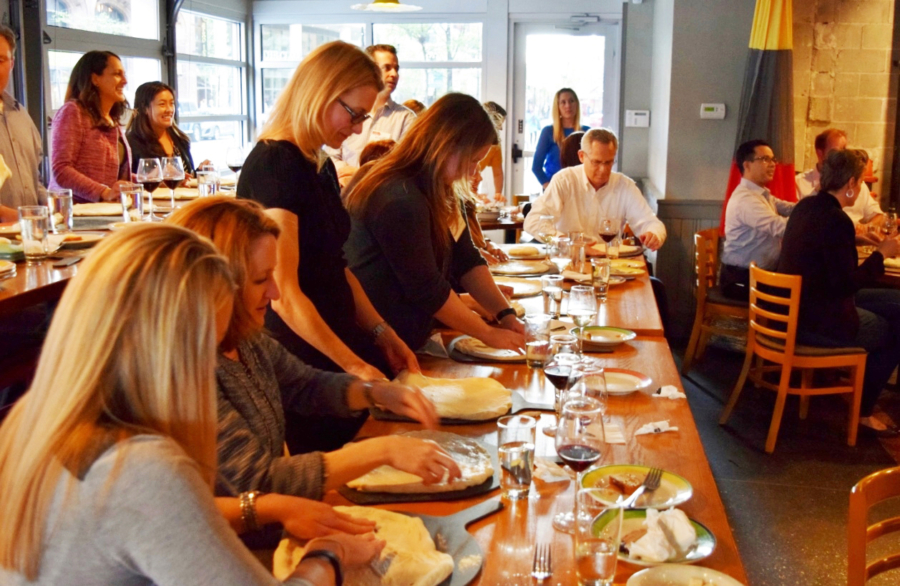 Why they'll love it: Teams embark on a culinary team-building experience that starts with an arrival reception with passed hors d'oeuvres, followed by one or more hands-on activities, and ultimately a delectable meal. During the hands-on activities, guests learn recipes and cooking methods, make part of their meal, and/or compete in teams, depending on the particular activity selected. Current themes include Authentic Italian, Latin-American, and Mixology.
Book it: Packages start at $49 per person, for a minimum of 12 guests and a maximum of 250 guests. Chicago Dine-Around offers flexible start times. Get more info here.
Escape the room at Fox in a Box
Why they'll love it: Team members can use their problem-solving skills-and imagination-while getting to know their teammates in these intense yet fun escape rooms, featuring scenarios like saving the world from zombies.
Book It: Take your pick from one of the four unique rooms, or book all four to host up to 25 people at once.
Hone super-secret spy skills at Escapehouse Chicago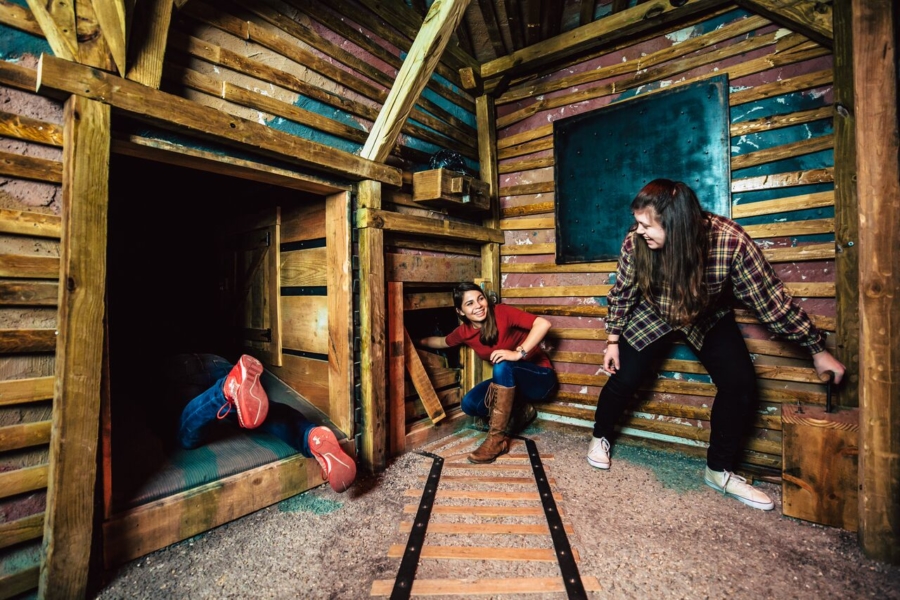 Why They'll Love It: Coworkers will need to work together in these escape rooms: not as themselves, but as secret agents. With two different top-secret missions, team members will learn how to work together in exciting role-play scenarios.
Book It: Reserve your escape room for up to 10 people at a time.
Solve clues and take hilarious pictures with CityHunt Chicago
Why they'll love it: Part Chicago scavenger hunt, part role play, part city tour, these interactive adventures will have coworkers exploring Chicago, having fun and learning about each other in the process.
Book it: Fill out a request form to book your Chicago hunt.
Play games at Game Night Out
Why they'll love it: This isn't just any old game night. Game Night Out offers a new opportunity to connect with family, friends, or co-workers, to showcase your knowledge, compete head-to-head and work as a team. You and a group of six to 16 friends, family, or colleagues compete head-to-head, in teams, during a private 2-hour experience of all original party games. Each game moves fast, keeps you on your toes, and requires you to think quickly and work as a team. A host guides the experience — introducing you to the games, explaining the rules, encouraging competition, and keeping the experience on track and full of fun.
Book It: Prices are $45 per person, with a minimum of 6 people and maximum of 24. Fill out your reservation request form here.