One of the most anticipated openings of the year — Time Out Market Chicago — is now open in the West Loop. The new food hall brings together some of the city's most revered chefs, restaurants, and mixologists all under one roof, for a one-of-a-kind food and culture experience.
Time Out Market will feature an impressive culinary lineup of 18 eateries serving cuisine from the city's top restaurants, with everything from cult-favorite burger joints to Michelin-starred spots. The food stalls are a mix of new concepts exclusive to Time Out and extensions of existing Chicago favorites. There will also be a rooftop bar, a hidden speakeasy, a demo kitchen, event space, and more.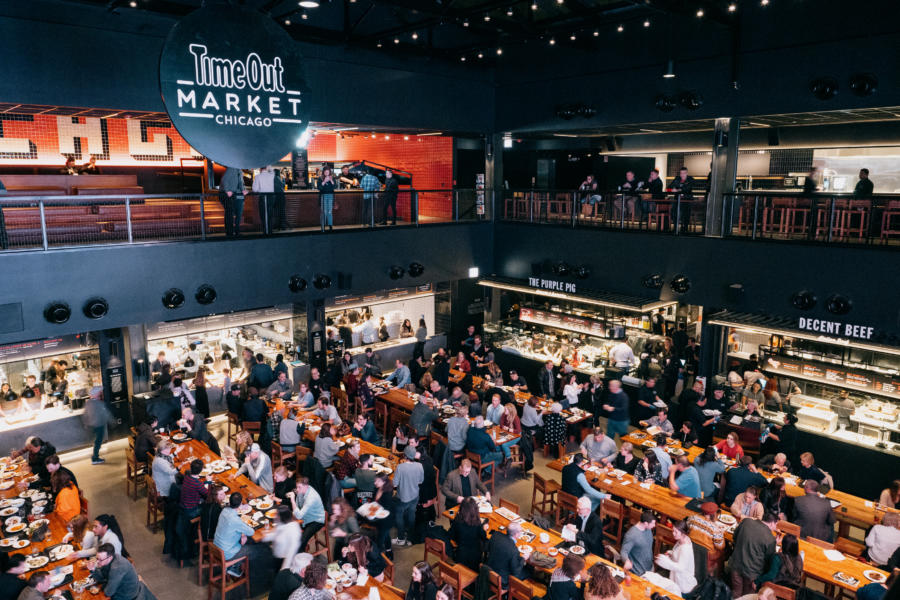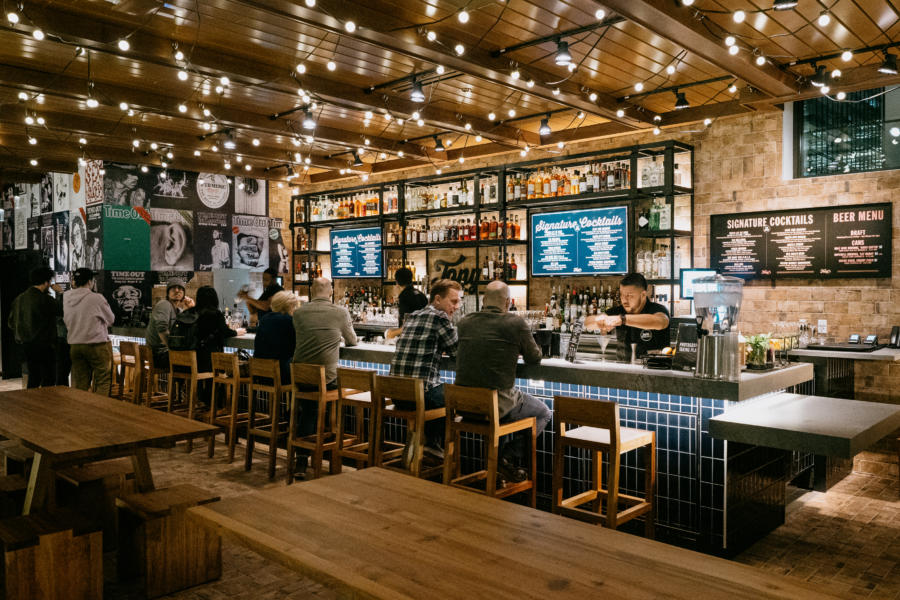 The market is located in the heart of Fulton Market, one of the city's hottest dining destinations. Guests can sample fare from a variety of chefs to get an of-the-moment taste of the city's acclaimed dining scene. The current lineup includes:
Time Out Market chefs
Chef Brian Fisher of Michelin-starred Entente brings approachable, upscale fare
Chef Bill Kim of urbanbelly is serving fresh takes on casual Asian cuisine
Chef Thai Dang of Haisous offers the vibrant flavors of modern Vietnamese fare
Chef Kevin Hickey ofThe Duck Inn brings his signature duck hot dog
Chef Abe Conlon of Fat Rice is debuting an eclectic Portuguese-inspired menu
Chef John Manion of El Che Steakhouse and Bar will be cooking meats over a live fire
Chef Erick Williams of Virtue is heading a culinary event series for local youth at the second-floor demonstration kitchen
Time Out Market restaurants
The Purple Pig brings their famous shareable charcuterie boards
Split-Rail is serving their signature fried chicken and biscuits
Mini Mott will offer its beloved burger, known as one of the best in the country
The Art of Pizza will serve their award-winning deep dish pies
Pretty Cool Ice Cream offers their Insta-worthy artisan ice cream bars
Lost Larson has crafted a delectable morning pastry menu
FARE will offer healthy, plant-based dishes and bowls
Dos Urban Cantina serves a contemporary Mexican menu
Band of Bohemia brings their Michelin-starred brewpub fare
Lost Lake has unveiled a brand-new cocktail concept called Secret Sound
Tortello brings their authentic, hand-crafted pasta dishes
Sugar Cube is serving whimsical sweets and treats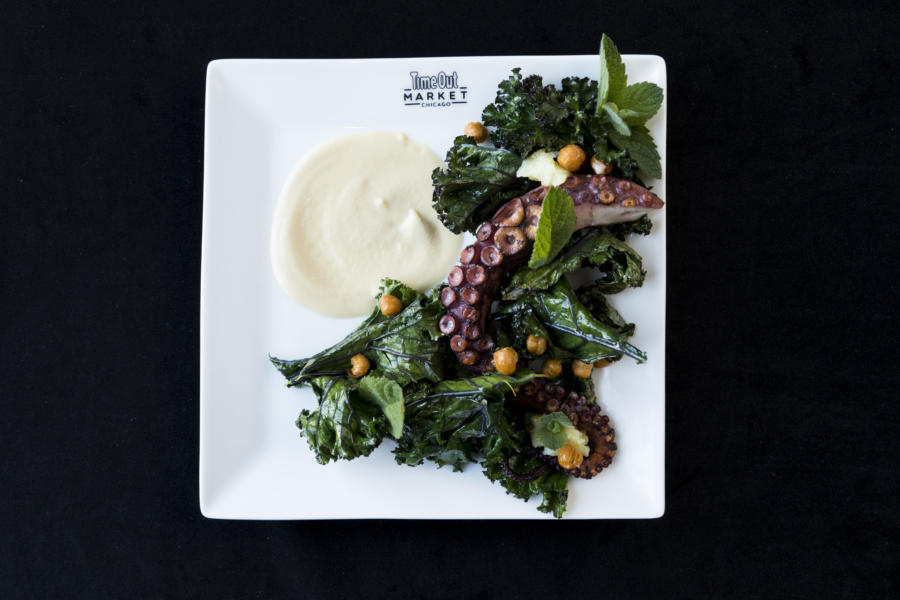 And you'll need drinks to go with all that food. Time Out Market boasts three bars — a massive bar on the first floor, an indoor/outdoor rooftop bar serving Chicago-inspired cocktails, and a hidden speakeasy from the team behind Lost Lake. To find the speakeasy, just look for the bell on the second floor. Give it a ring, and a window slides open to reveal a secret tiki bar with a full menu of tropical drinks.
Along with all the food and drinks, there's also an entertainment area with bleacher seating for live performances and a demo kitchen that will host chefs and events.
The Chicago location is one of several Time Out Markets around the globe, joining locations in Lisbon, New York, and Miami. The fifth location to open this year, Chicago now claims the title of largest Time Out Market in North America with 50,000 square feet and three floors.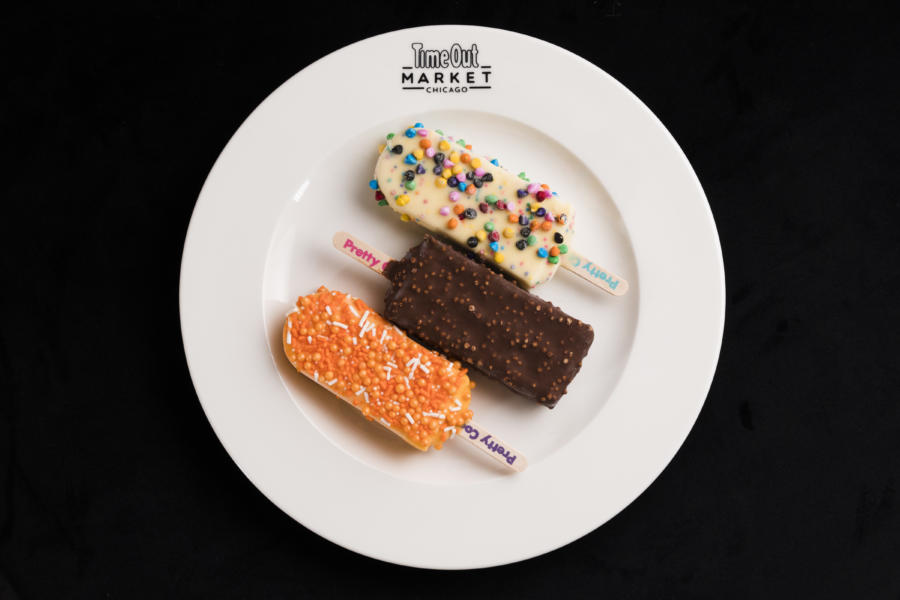 What to know: Time Out Market
When: Opens at 8 a.m. on Nov. 21, 2019
Where: 916 W. Fulton Market
Hours: Sunday through Thursday, 8 a.m. – 10 p.m.; Friday through Saturday, 8 a.m. – 11 p.m. Select eateries will serve breakfast items in the morning, while most others will open at 11 a.m.; bars will stay open until midnight on Friday and Saturday.
Getting there: The market is a short walk from the Morgan CTA stop on the Green Line or the Grand stop on the Blue Line.