The upcoming Mardi Gras festivities may be smaller in scale than year's past, but there are still plenty of opportunities to celebrate. The holiday kicks off on Fat Tuesday, Feb. 16, 2021.
One of our favorite ways to kick off the holiday is by enjoying a paczki (or two) on Paczki Day. The classic Polish doughnuts are a beloved Chicago tradition. Just to make sure to order yours in advance.
The foodie fun doesn't have to stop on Paczki Day, since restaurants across Chicago are offering a taste of NOLA during the Mardi Gras holiday. Take a look at some of our favorite spots to stock up on paczkis and enjoy a Mardi Gras-inspired meal from the comfort of your home.
Paczki Day specials in Chicago
Roeser's Bakery: Paczki Day is one to celebrate at Roeser's Bakery in Humboldt Park, and the esteemed bakery sells out quickly. With flavors such as raspberry, peanut butter and jelly, Nutella, caramel custard, and more, be sure to pre-order your favorites by calling the bakery ahead of time.
Alliance Bakery: The Wicker Park bakery is offering a variety of paczkis, including blueberry lemon, raspberry rose, apple cinnamon, vanilla bean ganache, chocolate salted caramel and strawberry. King cakes will also be available for pre-order and pick-up.
Stan's Donuts: Starting Friday, Feb. 12 through the 16, Stan's will be offering paczkis at all locations and ship them nationwide as well. Flavors include cherry, cannoli cream, chocolate cream, and vanilla pastry cream.
Marz Community Brewing: Head to Bridgeport to get a special selection of paczkis from Mom's, including decadent flavors like truffle paczki with Acacia honey truffle custard, vanilla bean custard, and Mick Klug farm raspberry. Pair the treat with Marz specialty Milk Stout.
Brite Donuts: West Fulton Market is home to Brite Donuts, makers of small-batch donuts and baked goods. Indulge in paczki flavors like lemon poppy-seed brown butter, cherry cheesecake, and coffee pecan.
Cafe Selmarie: Lincoln Square bakery Cafe Selmarie is teaming up with Evanston's Bennison's Bakery to showcase some incredibly delicious paczki flavors, such as lemon, raspberry, praline chocolate mousse, strawberry, and more. Pre-order boxes of two, four, or twelve.
Delightful Pastries: Delightful Pastries in Jefferson Park has an immense variety of paczkis to choose from for Fat Tuesday. Popular flavors from custard paczki with chocolate fudge to raspberry, apricot, strawberry, plum butter, rose petal, and more.
Dinkel's Bakery: Dinkel's has been a mainstay in Roscoe Village since 1922 and has the paczkis to prove it. Popular flavors include strawberry cheesecake, lemon, raspberry, chocolate silk, apricot, and fresh strawberry.
Bridgeport Bakery: In the heart of Bridgeport lies Bridgeport Bakery, and they're celebrating with a variety of sixteen paczkis, including plum, Oreo, apple, peach, pineapple, poppyseed, and more. Pre-order on their website or call for pick-up.
West Town Bakery: West Town Bakery has locations in both West Town, River North, and Wrigleyville. Pre-order of paczkis that comes with two vanilla pastry cream, two raspberry jam, and two chocolate fudge. Pre-orders will be accepted until Feb. 11 and walk-ins starting on Fat Tuesday.
Racine Bakery: Family-owned Racine Bakery has been home to the South Side since 1984. For Paczki Day, they offer sixteen traditional flavors, including raspberry, apricot, cheese, fresh strawberry, rosehip, and more. Pre-order by calling or fill out their order form.
Kolatek's Bakery: Kolatek's Bakery is a mainstay of Elmwood Park, especially around Fat Tuesday. To celebrate, they're offering a large variety of paczki flavors, including blueberry, cherry, plum butter, limoncello, black currant, banana cream, and many more. To secure your favorite, be sure to pre-order by phone or on Facebook.
Weber's Bakery: The Garfield Ridge neighborhood is home to Weber's Bakery, and has been since 1930. For Paczki Day, the bakery is showcasing 13 different flavors, including chocolate, strawberry, apple cinnamon, poppyseed, lemon and so much more. Knowing how busy the holiday can get, they suggest calling and pre-ordering your favorites.
Mardi Gras celebrations and specials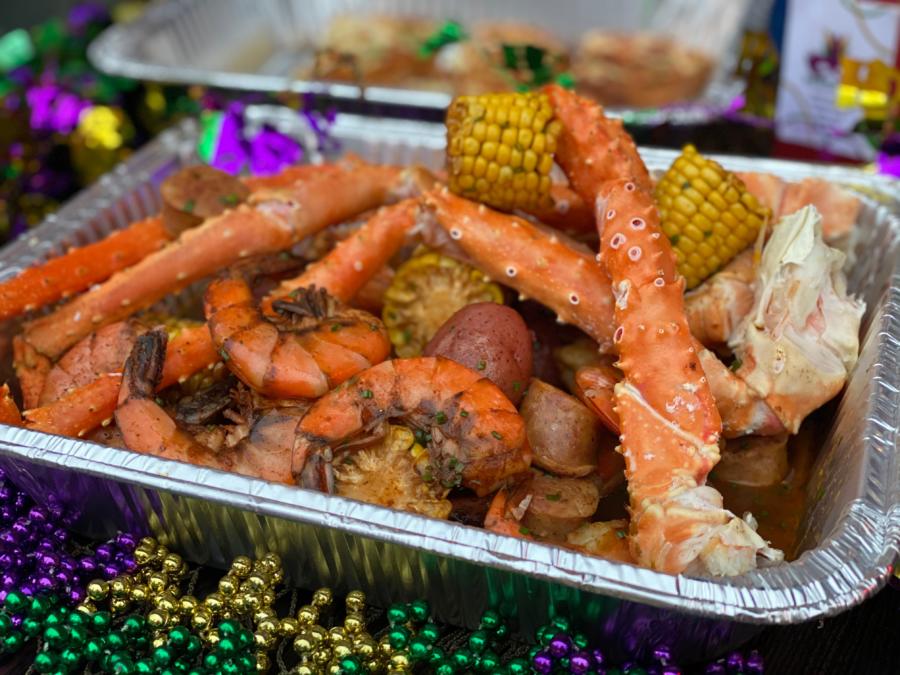 Ina Mae Tavern: Wicker Park's Ina Mae's Tavern is bringing out all the stops to celebrate a week of Mardi Gras, starting Friday, Feb. 12. Enjoy hurricane and sazerac drink kits, virtual cooking classes, shrimp platters, po' boys, beignets, and so much more. They're open for indoor dining, and also offer heated outdoor dining, carry-out, and delivery.
Quality Crab & Oyster Bah: Get a taste of an authentic New Orleans seafood boil at home thanks to Lincoln Park's Quality Crab & Oyster Bah. The two-person boil includes jumbo shrimp, andouille sausage, corn-on-the-cob, and red potatoes. Upgrade with Alaskan king crab legs or whole Maine lobsters.
Big Jones: In Andersonville, Big Jones, is offering multiple takeout and delivery Mardi Gras specials, including po'boys, seafood okra gumbo, a muffaletta meal, as well as a special three-course dinner package featuring alligator-andouille sauce piquant, crawfish étouffée, fried seafood platter, sweet potato barley jambalaya, and king cake and beignets for dessert. 
Luella's Southern Kitchen: For a true Southern feast, you can't go wrong with Luella's Southern Kitchen in Ravenswood. The beloved shrimp and grits, chicken and waffles, 5-cheese mac and cheese, skillet cornbread, and so much more is available for pick-up and delivery. For dessert, don't skip on their pecan raisin and cinnamon roll king cakes via their Bayes Little Bakery.
Virtue Restaurant: Hyde Park's Virtue Restaurant has an entire delivery and pick-up menu dedicated to daily Mardi Gras specials. From a fried shrimp po'boy to blackened catfish and shrimp étouffée to chicken and andouille jambalaya, there are plenty of opportunities to indulge in Creole favorites. Save room for the specialty cocktails and dessert, too.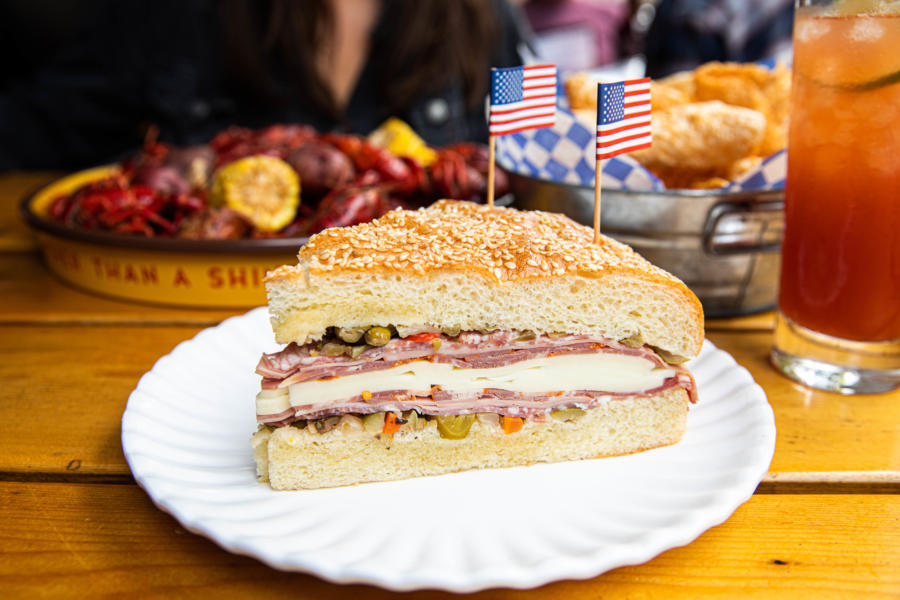 Alinea: For an authentic feast of New Orleans favorites, Lincoln's Park Michelin-starred Alinea is offering a four-course menu of turtle soup, barbecue shrimp, pork butt jumbalaya, and king cake. The menu is available for pickup only, and requires an oven and stove for reheating.
Lottie's Pub: Bucktown's beloved neighborhood bar has transformed into a pop-up experience, Camp Lottie's. On Feb. 16, enjoy a safe and socially distant Mardi Gras celebration with hurricanes, sazeracs, gumbo, shrimp, and po'boys. Reserve your own private tent and enjoy the NOLA-themed movie Girls Trip at 6 and 8:30 p.m. as an accompaniment to food and drink. Reserve your space here.
Bub City: River North's Bub City is taking part in the Mardi Gras experience from Feb. 11 – 16 with cajun gumbo with shrimp and andouille sausage and a muffuletta sandwich, available for dine-in in their indoor dining room or heated tent, as well as carry out and delivery.
Frontier: Seafood lovers won't want to miss out on an all-you-can-eat shrimp boil at Frontier on Fat Tuesday. The smokehouse is offering both indoor, outdoor, and pick-up options for the $35 feast, which also includes $10 hurricane and sazerac cocktails.
Pearl's Southern Comfort: Get a taste of the bayou in Edgewater with Pearl's Southern Comfort. Indulge in southern favorites, like crawfish cheesecake, catfish bites, po'boys, barbecue, and white chocolate banana bread pudding. Get your fix with both pickup and delivery options.
Junebug: The menu at Junebug cafe might be small, but the flavors are mighty. From fresh beignets to chicken and sausage gumbo, this Old Irving Park standby is the perfect spot to enjoy Mardi Gras favorites. Homemade king cakes will be a holiday special this year, so order ahead to get this treat.
Soulé: West Town's Soulé is another great favorite to pick-up (Tuesday – Sunday) this Mardi Gras season. Enjoy dishes like jerk shrimp, fried green tomatoes, blacked catfish, po'boys, fried chicken, and more.
Lowcountry: Both Lakeview and South Loop Lowcountry locations are great spots to enjoy some deliciously messy seafood this Mardi Gras. A take on the Southern seafood boil, Lowcountry offers guests their pick of seafood (shrimp, lobster tail, mussels, and crab) paired with a sauce, heat level and side dish. Whether you dine-in or pick-up, just be sure to grab extra napkins.
The Angry Crab: Seafood lovers have plenty to choose from in Edgewater and Wicker Park's The Angry Crab locations. Whether it's fried fish, sandwiches, hot dogs (alligator sausage included), oysters, grilled fish, or whole fish, the options are endless to take part in a southern feast this holiday.