When we venture downtown, with the snow of winter or the humidity of summer, the Chicago Pedway System comes in handy. This mostly underground system of passages connects buildings so that you can walk downtown while avoiding the elements.
You know you're in the Pedway System when you see this symbol. In this network of passages that connect buildings, train stations, and parking lots, you find government offices, food courts, and most importantly during wintertime — warmth. As part of downtown infrastructure, the Pedway eases foot traffic on street level and provides a quicker route, as you don't have to wait at any stoplights. Pretty much everyone you pass is in a hurry like you.
That is, if you know where you're going.  A few maps of the Underground Pedway System are out there, but some only show the location of the passages, which isn't enough to help the unfamiliar user confidently access this system of passages that goes both underground and above street level.
A different approach to map-making is necessary to elucidate the Pedway System. This map designed by my tour company, Chicago Detours, is a helpful guide with the user experience in mind as it includes all kinds of tips on navigating the system. In addition to showing the passages, this map marks all stairways and buildings that connect with the Pedway to explicitly show where people are permitted to enter a building. Check out the two-page map and you'll find where to access the 40-plus-block-long network of passages, the disparate open hours for different sections, and tips on navigating the system.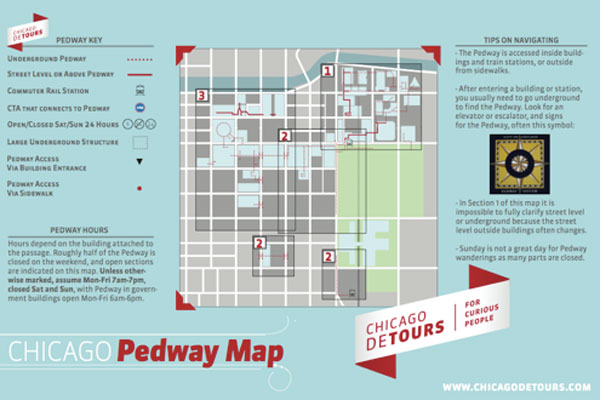 While some suspect that the Chicago Pedway System involves underground tunnels that connect buildings downtown, really they are not tunnels but passages, like hallways, that create a network between buildings and places of transport.
The Pedway provides a convenient escape from Chicago's challenging weather. However, it is not necessarily a space where you would want to spend an afternoon. The mostly underground system is essentially a basement (see the area by Macy's pictured below), and you'll find better architectural eye candy on street-level. What's really exciting about the Pedway is the discovery that the city is navigable in spaces under our feet. It's about uncovering the unseen layers of the city.
Beyond Chicago Detours, which offers an interior architectural tour that includes magnificent lobbies, other tour companies venture underground. Comedian Margaret Hicks of Chicago Elevated, aka the "Pedway Lady," knows every inch of the system and offers tours of the Pedway several days a week.